Avantgarde's NYC Showroom
Making good on a
promise
made several months back,
Avantgarde Acoustic
is moving into the retail realm. The company's German-made horn loudspeakers are the featured products at
Avantgarde Music & Cinema
, a new showroom at 27 West 24th Street, Suite 502 in Manhattan. The store is privately owned and operated by
Bob Visintainer
, who emphasized that his business is "definitely Avantgarde focused" but also carries other brands of electronics and accessories.
Avantgarde USA, the company's American distributor, will join in celebrating the grand opening of the New York City showroom on November 13 and 14 from 4pm to 10pm. Refreshments will be served, and several audio industry luminaries will be on hand, among them Jim Smith of Avantgarde USA and Holger Fromme of Avantgarde Acoustic, Amadeo Schembri of Italy's Viva, David Elrod of Elrod Power Systems, Jeff Madison of RPG, Bob Rullo of Cardas, Ralph Bauer of Audio Aero, and Eduardo de Lima, from Audiopax in Brazil.
The grand opening will feature the North American debut of Avantgarde's new BassHorn, a powerful rapid-response, high-sensitivity low-frequency system said to bring a new realism to reproduced music. The BassHorn is a completely new creation by Mathias Ruff, with two 12" drivers and a built-in 350W amplifier–and it's rated at a hard-to-credit 102dB sensitivity.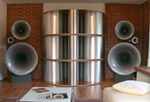 The BassHorn is a modular design that allows music fans to assemble as many pairs of them as they wish. Each additional pair doubles the available power and adds 3dB to the sensitivity rating; four BassHorn modules offer 105dB sensitivity and 1400W. Avantgarde developed a new dynamic compensation circuit for the BassHorn, known as ADRIC (Active Dynamic Radiation Impedance Compensation), which linearizes the bass response below the cutoff frequency of the horn and "dynamically compensates for small horn-mouth dimensions." ADRIC allows the BassHorn to reach as low as 18Hz despite its relatively small horn-mouth area of only 0.85 sq.m (9 sq. ft.), normally too small to achieve true low bass reproduction. Avantgarde has applied for a patent on the design.
Avantgarde company managing director Holger Fromme says the Trio Omega speaker system augmented by BassHorn modules sounds effortless and natural at all volume levels. "Transients are out of this world," he says. "The sound is always amazing: very fast, very detailed, very powerful, very precise. Even tracks with no bass, such as acoustical guitar, benefit dramatically from this new bass quality. The energy content is gigantic."
A few years ago, Stereophile's Bob Deutsch was mightily impressed by Avantgarde's Uno. Music fans in New York can experience horn magic themselves at Avantgarde Music & Cinema, now open business. The store can be reached by telephone at (212) 229-1842.