Two Days in August: Stereophile's First Jazz Recording
The genesis of this project goes back nearly 17 years, when my wife, Joan, and I moved into a brownstone floorthrough in Brooklyn. As we were about to sign the lease, our soon-to-be landlord said, "Oh, one more thing: your upstairs neighbor is a musician." This did not exactly discourage us from signing the lease, however, and soon I began to see a steady stream of musicians trudging up the stairs outside our apartment: Oliver Lake, Sonny Rollins, Pheeroan akLaff, Bob Moses, Marty Ehrlich, and a whole bunch of other people I was reading about in the jazz press. Just who was this guy?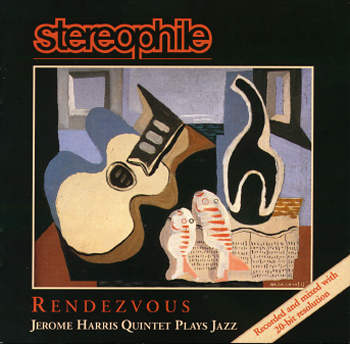 A fellow audiophile and Stereophile subscriber, I discovered after Jerome Harris saw me loading in my Quad ESLs. We spent many evenings listening to music and talking about just about everything, and, when our apartments grew too small for his family and my record collection, respectively, we kept in touch—even after I moved to Santa Fe to work for Stereophile. One day, I asked John Atkinson if he'd ever thought of recording a jazz band. From the glow in his eyes, I knew that he had.
So we called Jerome and began planning this record: Jerome would write the songs and hire the musicians, John would record the project, and I'd produce the sessions—whatever that meant. But where would we record? New York studios were just too far away for a couple of New Mexico-based journalists, and there was no place suitable in Santa Fe. Then, Acoustic Sounds' Chad Kassem told us that he was going to turn the Salina, Kansas church he'd bought in March 1996 into a recording studio. Did we know anybody who might want to record there? Perfect! Salina would be quiet, and its central location as "the crossroads of America" would guarantee that it was equally inconvenient for all parties concerned.
Which it certainly was. It entailed a full day of travel to get there and another to get back for everyone involved, which, given the busy schedules of all the principals, left only two days to record the whole disc.
Knowing that Chad's Blue Heaven Studios was a converted church, I guess that I, at least, expected something out of Little House on the Prairie. Instead, when we arrived on the morning of August 25, 1998, we found an imposing brick edifice in downtown Salina, its enormous two-storey sanctuary filled with gem-colored dust motes dancing in shafts of amber light from the stained-glass windows that softened the summer Kansas sun. At the back of the sanctuary, two state-of-the-art control rooms overlooked the performing space through double-glazed windows, while downstairs were a spacious kitchen, additional offices, and even additional practice spaces.
Trombonist Art Baron and saxophonist Marty Ehrlich made for those practice rooms to loosen up their chops while the rest of us set up. Steve Nelson assembled his Müsser vibes; Billy Drummond unpacked his '50s-vintage Gretsch drumkit and K. Zildjian cymbals; Jerome Harris tuned his Taylor acoustic bass guitar and scrambled about for a stand on which to elevate his Eden bass cabinet; and through it all, John Atkinson and I loaded the recording gear into one of the control rooms in the rear of the studio, then began threading balanced analog and AES/EBU digital cables down to the performing area.