Wolf Audio Systems Alpha 3 SX music server Measurements
Sidebar 3: Measurements
With music servers that have USB outputs, like the Roon Nucleus + that I reviewed in August 2018 and the Innuos Statement that Jason Victor Serinus reviewed in April 2020, it's difficult to decide what measurements could be meaningful. However, as I had done with the Innuos server, I could use two D/A processors with USB inputs—an original Mytek Brooklyn and an AudioQuest DragonFly Red—with which I could compare the effect of sourcing data from the Wolf server instead of my MacBook Pro laptop.
Before I ran the JRiver Media Center 25 app on the Wolf and used it to enable each DAC as an output device, I copied 16- and 24-bit J-Test files from a USB stick onto the server's internal storage. I then used my Audio Precision SYS2722 analyzer to examine the analog output spectrum of each of the DACs fed USB J-Test data sampled at 44.1kHz, first from my MacBook Pro and then from the recommended port on the Alpha 3 SX's Flux Capacitor USB card. While, strictly speaking, the J-Test isn't diagnostic with a serial datastream that doesn't have the word clock embedded in it, I have found that it still can be sensitive to differences between sources of data.
With the Alpha 3 SX connected to my network with 50' of generic CAT-5 cable, the DAC plugged into the server was recognized by the Roon app on my iPad mini. I could therefore also compare the jitter spectra playing the J-Test files from the Wolf's internal storage to the spectra using Roon to send the same data to the Wolf from my Netgear router.
I looked first at the performance with the Mytek Brooklyn but found no differences in its jitter rejection when it was fed J-Test data via USB from my MacBook Pro and from the Alpha 3 SX. I then repeated the tests with the AudioQuest DragonFly Red, with its volume control set to maximum. Fig.1 shows the spectrum of its output when fed 24-bit J-Test data sourced from the laptop. Other than a pair of jitter-related sidebands at ±229.6875Hz, lower-level sidebands at higher frequencies, and a slight rise in the noise floor to the sides of the spike that represents the high-level tone at 11.205kHz, the spectrum is clean.
Fig.2 shows the spectrum when I fed the DragonFly data sourced from the network via the Alpha 3 SX. While the spectrum looks basically similar to that in fig.1, the Wolf has eliminated the upper sideband from the laptop-sourced spectrum and reduced the level of the lower-frequency sideband. Finally, I used JRiver running on the Wolf to send the 24-bit J-Test data from the Alpha 3 SX's internal storage to the AudioQuest DragonFly Red (fig.3). While the very low-level, higher-order sidebands have been eliminated, a sideband pair at ±229.6875Hz with symmetrical levels has appeared, as has another pair at ±459.375Hz. While I did find spectral differences,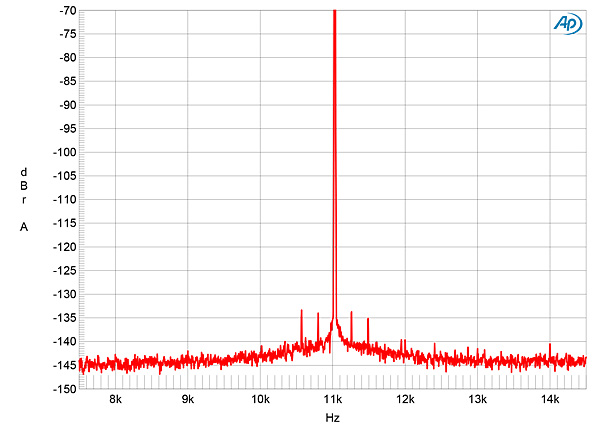 I have no idea what they mean, especially as they are very small in absolute terms. But it is possible to conclude that the Wolf Alpha 3 SX is an impressively engineered piece of kit with an excellent integration with JRiver Media Center.—John Atkinson