T.H.E. Show Newport: Sasha's Day Two (Part Two)
High Fidelity Cables CEO and Designer Ricky Schultz has a magnetic personality, and I mean that literally. Schultz made it clear that in his gear, "Everything is a magnet": all the component parts are heavily magnetized.
High Fidelity Cables strategically hosted two rooms. A sign on the door of one said, "Learn How Magnets Make More Music," and a sign on the other read, "Listen in Here." Sitting at a desk and holding forth with all kinds of hardware and a PowerPoint screen, Ricky Shultz was taking direct aim at the skeptics. He has taken on a tough assignment here, given that some audio agnostics have a difficult time getting their heads around cabling in general; add to that a magnetic dimension and you really have your evangelical work cut out for you. I think Mr. Schultz enjoys the challenge: He practically rolled his eyes and shook his hands when he told me that "My cables are not cables, they are magnets. The magnets propel the electrons…this is magnetic conduction. It reduces grain and grunginess." Can I get an Amen?
I have before me a price list as long as my right arm. Some selections from High Fidelity Cables include: the Ultimate Reference Helix power cable ($12,900/m), the Pro Series Helix RCA interconnect pair ($18,900/m), the Ultimate speaker cable ($7,500/m pair), the Enhance digital cable ($1,400/m), RCA Adapters ($299/pair)—and, in what may set a record, the Professional Series speaker cable ($34,900/m pair). To get into the game, I purchased, at show pricing, a pair of RCA Adapters to try with my analog front end. When I put them in my luggage for the return flight home, I attached a note to the TSA people, to try and explain briefly what their scanners might have alerted them to: "Dear TSA, These are Hi-Fi components. They are magnetic. Nothing active. Thanks." My luggage made it through!
Stein Music Ltd. came to T.H.E. Show from Mulheim, Germany. This company does most of what there is to do in high fidelity: they make traditional components like amplifiers, loudspeakers, and phono cartridges, while also ranging further afield with products like their Harmonizer System and Quantum Organizers. But what first caught my attention in the Stein Music room was the physically imposing Stein V6 loudspeaker ($80,000/pair)—a tall, black cabinet topped off with a very large white horn. These cabinets are practically coated with speakers: six 12" woofers mounted three per side, with three 10" midrange/bass drivers firing forward and a horn above. The lower woofers are powered by 450W amplifiers and controlled by DSP processing. (Sensitivity specs were not available.) This speaker mélange was powered by the Stein Highline Amp 2 ($10,000), and fed by what Designer Holger Stein described for me as, simply, the Stein Player ($10,000). System details may have been a bit sketchy, but the music was not. I heard "My Funny Valentine" from the album 4 Miles: There was Wayne Shorter, blowing in that strong and heroic way that only he has. Bassist Ron Carter, too, who never has had a very heavy tone to his playing, was accurately depicted—no false bottom end. For contrast, we then heard a bit of Rachmaninoff's Symphonic Dances with the Minnesota Orchestra. And for a vocal selection, we had Youn Sun Nah doing "My Favorite Things." The orchestral selection created a super-wide soundstage, whereas the intimacy of the lovely jazz vocal was well preserved. Most impressive sonic firepower here.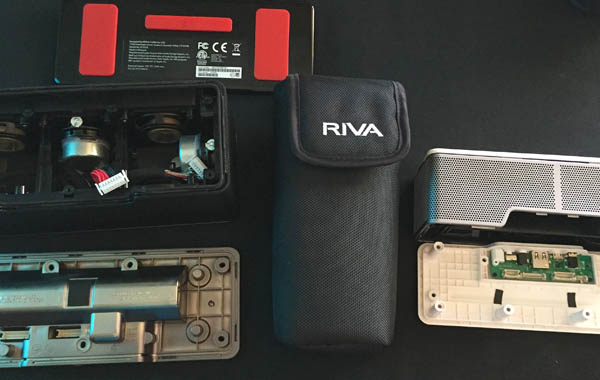 Movin' on up to the 10th floor of Hotel Irvine, my first stop was Riva Audio, the one and only occupant of Rm. 1001. I first heard—and was impressed with—Riva's highly functional portables in Denver, at last year's Rocky Mountain Audio Fest. So far, at least, Riva focuses on doing one thing really well—packing great sound into a small, high-quality, highly portable box crammed with little speakers that can be run wirelessly or wired. The Riva Turbo X ($299) contains an amplifier that outputs 45W into three 60mm drivers, with four passives of the same dimensions. Rechargeable battery time is stated as "26 hours @ normal listening levels." Most impressively, input and control possibilities are varied: Bluetooth playback, an analog input—even a "Phono Mode," which adds 9dB of gain for millennials who want to play vinyl and control it from their iPhones. These are very forward-looking designs, effectively implemented, with great pricing: what's not to like?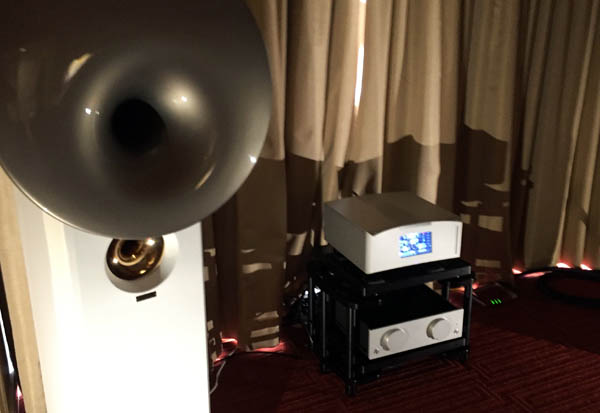 Horns aplenty at T.H.E. Show 2016! A handsome white column with a large, silver-grey horn greeted me when I walked into the room hosted by Acapella Audio Arts from Germany, and their US importer, Audio Federation. I heard here the 91dB-sensitive Acapella Cellini High loudspeaker ($55,000/pair), driven by the Acapella LaMusika integrated amplifier (approximately $100,000—options vary). The news here is that this significant investment in amplification will purchase you 2kW of output: That ought to do it! The LaMusika integrated is described as a hybrid design: "Voltage amplification with Valve E 182 CC, with a zero-feedback MOSFET output stage." Frequency response is stated at 10Hz–60kHz. Acapella Audio Arts describe themselves in their literature as "The Inventor of Spherical Horns." I don't know whether or not that is literally true, but they do currently offer eleven different horn-based loudspeaker designs in their catalog, plus several models that do not utilize horns. I listened to Maria Callas doing Puccini's "Sì, mi chiamano Mimì" from La Bohème: There she was, with her strong yet vulnerable voice, faithfully reproduced. A very fine, truly high-end experience here: I wish I had had more time to spend with Maria—and who wouldn't?
Retailer and distributor GTT Audio & Video hosted a number of exhibits at T.H.E Show, including a pair of side-by-side rooms on the 10th floor. In one, I heard a fine system featuring YG Acoustics Carmel 2 loudspeakers ($24,300/pair). Electronics were from Mola-Mola, manufactured in the Netherlands: their 400W Kaluga monoblock amplifiers ($16,500/pair) and Makua line stage with DAC ($19,590), strung together by Kubala Sosna Elation! cabling (pricing not available). Mola-Mola designer Bruno Putzeys marches to his own drummer, executing high-quality amp deigns utilizing original class-D topologies.
Listening in this room to Diana Krall doing Joni Mitchell's "Black Crow Flying," it was not possible to turn away: The system produced great, commanding vocals, the way Diana wants them to be, with propulsive piano from her soloing. The award for the music selection I heard most at T.H.E. Show goes to Rimsky Korsakov's "Dance of the Tumblers." Here it was again, with spectacular soundstage width and low-end heft coming out of the relatively small, floorstanding YGA Carmel 2 speakers. Lalo Schifrin then hit me hard upside the head with his "Blues in the Basement," from the album Jazz Meets the Symphony: a typical small jazz combo sound, with Ray Brown on bass, but every once in a while Schifrin pounces with his huge, Mission Impossible-type, big-band-plus-orchestra hits. Through this system, it was Mission Accomplished.
Next door, in the other 10th-floor room hosted by GTT Audio & Video, I heard a very self-contained system: This time, Bruno Putzeys-designed amplifiers were built into powered loudspeakers, sold under the Kii moniker. The Kii Three Loudspeaker System ($13,900/pair), demonstrated with partnering stands ($1250) and shown in an optional upgraded finish ($1,960/pair extra), was fed by an Auralic DAC (info not given). The Kii Three is quite a package: Six drivers driven by six 250W mono amplifiers per cabinet—two drivers in back, one on each side, and, up front, a mid-bass and tweeter. Each amp/speaker combo also includes its own DAC. And wouldn't you know it, everyone was going to make darn sure I knew how "Dance of the Tumblers" sounds! Here it was one more time, and this time I felt like RCA's Nipper, turning my ears like I was a bit startled. (Cardioid dispersion from these speakers was part of that effect.) Later, I was treated to some unidentified chamber music, which calmed me down, and I stopped growling. A somewhat unusual design approach from Bruno Putzeys. End result? Magic time.
Next I strolled into a room hosted by Colleen Cardas Imports, featuring Redgum Audio and Axis Loudspeakers. Redgum Audio is based in Australia, and they had the electronics covered: a Redgum Black Series RGi35ENR stereo amplifier ($2,500), the Redgum RGCDSENR DAC/CD player (Price not available), and a Redgum RGDAC5 (new model, price estimated as $3,000). For listening, we had the Axis Voice Box S loudspeaker ($2,500/pair). The Redgum amplifier puts out 65Wpc into 8 ohms, and the small Axis nearfield monitors have a rated sensitivity of 83dB. One cut told me all I need to know—Terry Evans doing "Get Up, Get Ready," from the great Joe Harley-produced AudioQuest album Come to the River. With Ry Cooder anchoring it all with right-on slaps and his burnin' slide licks. They talk about "Red Clay" music down south, yet to hear this recording on this system was to wonder of there's also plenty of red clay in Australia. Can there be a psychic connection here? Sure, happens all the time in music—and music is what I heard from this system: the real deal.