T.H.E. Show Newport's Amazing 2nd Floor
Vying with Audio Element's Wilson/VTL/dCS/Grand Prix/Transparent system for my Best Sound of Day One, the Wilson/Einstein/TechDAS/Graham/Nordost system that Positive-Feedback.com and SonicFlare.com reviewer Danny Kaey uses as his reference had the ability to play at high volume without inducing fatigue. Equally important, it sounded fabulous. The midrange was drop-dead gorgeous on Lori Lieberman's LP track, "Take a Little Piece of Me." After the speakers totally disappeared, both on that track and on London Grammar's "Strong," all that remained was truly glorious, open, clear, extremely seductive, and supremely musical sound.
Although it's dangerous to draw conclusions based on short listens, if pushed to characterize the difference between the sound of VTL gear (which I know quite well) and Einstein Autudio's tube gear—The Preamp preamplifier ($19,000), The Silver Bullet OTL mono amplifiers ($49,000/pair), and The Turntable's Choice phono preamp ($9000)—I'd venture that VTL stresses liquid neutrality, and Einstein highly polished, well-oiled glamour. All I know for certain is that the Einstein electronics, paired with Wilson Audio Sabrina loudspeakers, TechDAS AirForce III turntable ($29,500) with TechDAS TDC01 Ti cartridge ($14,500) and Graham Engineering Elite tonearm ($12,000), and a full complement of Nordost Valhalla 2 cabling, impacted me as few other components have.
"We've been struggling with this room since we got in the door," I was told about an ostensibly square, standard-size hotel room that for some reason had a chunk of one of its corners truncated at a 45-degree angle. To cope with the havoc that little hiccup played with their sound, the Wyred 4 Sound folks oriented their speakers along the long wall, and opted for nearfield listening.
With all the problems, I would have expected disappointing sound. Happily, the opposite was the case. Wyred 4 Sound's forthcoming Roon-ready music server ($ TBD), forthcoming Statement amp (approx. $5000), and SST Thoebe II preamplifier with optional DAC and phono stage ($4250), paired with KEF Reference 3 Foundry Edition speakers ($13,000/pair), exhibited a really nice midrange and some good layering on Bill Frisell's "Pipeline." Switching gears to a high-res period-instrument recording of a Bach cantata, conducted by Masaaki Suzuki, the sound was lovely, the air laudable, and the tenor voice reproduced very well. This was a most enjoyable system, with components whose prices are not out of the reach for someone with a decent job and a penchant for saving pennies.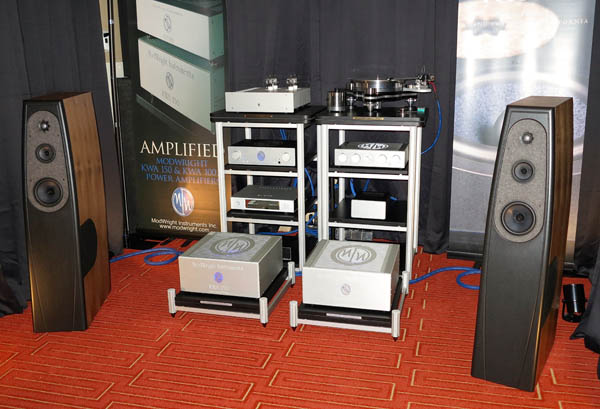 The combination of ModWright Instruments electronics and Ryan loudspeakers surprised me with its beautiful midrange and bordering-on-gorgeous tonalities. Cécile McLorin Salvant's "I Didn't Know What Time it Was" sounded great, and the soft passages in Iván Fischer's recording of Mahler Symphony 4 were quite beautiful. Not everything was perfect: highs occasionally sizzled, and the timbre of timpani seemed a bit off. But on Kan'Nal's "Dragonfly," the midrange was so outstanding as to make me eager for future listens.
Doing the honors: ModWright's SWL 90 Anniversary edition line stage ($2900), two bridged KWA 150SE amplifiers ($8995 each), and PH150 Reference phono stage ($7900); Ryan Speakers Tempus III ($15,995/pair); Aurender N10 music server ($7999); Lampizator Lite 7 balanced DAC ($6750); VPI Industries Avenger turntable ($9500) with VPI JMW-3D 12" tonearm ($3000) plus VAS Audio Nova cartridge; Cardas Clear cabling; and Shunyata Venom PS8 / Venom Defender power conditioner.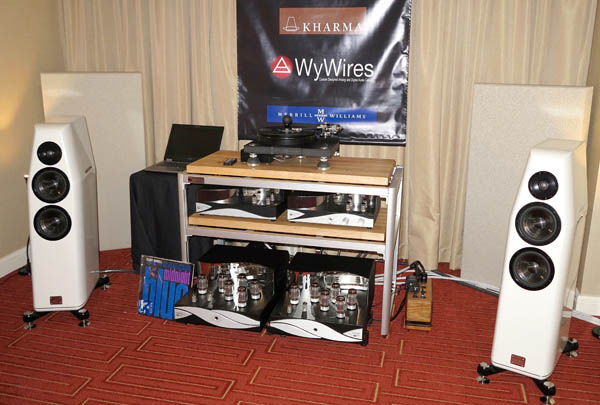 Gorgeous, warm timbres, along with a very spacious and airy presentation on a track by Nat King Cole, distinguished the extremely musical presentation from Zesto Audio, Kharma, and WyWires. Further listening to Sibelius' Finlandia, conducted by Morton Gould, revealed a bit of bass booming and the occasional but by no means predominant intrusion of sandpaper-surfaced highs. But the sound of cello and other lower-octave instruments was just wonderful.
Hats off to Zesto's Andros 1.2 tubed phono stage ($4700), Leto 1.5 tubed preamp ($7500), and Eros 300 class-A monoblocks ($19,900/pair); Kharma Elegance Double Seven (dB7) speakers ($25,000/pair); Merrill-Williams Audio R.E.A.L. 101.2 turntable ($7200) with Tri-Planar U2 tonearm ($6200) and Dynavector XX2 MKII cartridge ($1985); Motu UltraLite mk3 DAC ($600); WyWires Diamond Series speaker cables ($7999) and interconnects ($4495images), Platinum series USB cable ($899), and HC power cords ($999, lengths not specified); and WyWires Daedalus Power Broker ($3299). I'm told the latter has been rewired, with more enhancements coming in the next month.
Perla Audio has come a long way since I first encountered the company in Las Vegas some years back. Specializing in virtually holographic imaging, Perla's PRS-2 speakers ($5500/pair) did quite well with the family-owned company's USB DAC ($3900), monoblock amplifiers ($12,500, presumably for the pair), phono stage ($5500), and integrated amp ($9500). I assume the monoblocks and integrated were not both in use at the same time, but I wasn't told which I was hearing; what they did use was a Paradox Custom Pulse turntable, equipped with a Denon 103R MC phono cartridge mounted in a Paradox Pulse cartridge body.
On the Muddy Waters Folk Singer LP, I experienced an astoundingly high, holographic image and lots of dynamic contrast. The timbre of the guitar was excellent. Switching to full-range classical, we threw all caution to the wind with Johann Strauss, Jr.'s extremely dangerous, banned-in-Kansas Lucifer Polka. Once I got over laughing at the ridiculousness of it all, I realized that the system conveyed the waltz's broad strokes quite well, if not all of the air, instrumental finesse, and overtones on the recording.
Shelley's Stereo of Woodland Hills demonstrated how well the Lyngdorf TDA1-2170 integrated amplifier with room correction and DAC ($3995) tightened bass and increased snap on a drum track by Chuchito Valdez. It didn't get rid of all the booming that the Vienna Acoustics Beethoven Concert Grand loudspeakers ($8500/pair) left in their wake, but it went a long way toward eliminating it. Bass was a little preponderant, and highs a bit bright on Lake Street Dive's "Let Me Roll It," played on a Rega Planar 3 turntable ($945) with Exact 2 cartridge ($595), Shunyata's Denali ($5000) and Venom series cabling.