Nearing the End of T.H.E. Show
The last hours of the show were a decidedly mixed bag. At one point, before Sasha Matson and I strategized as to what still needed coverage, an attendee approached me in the hallway and said, "Is it just me, or are a lot of these rooms bright?"
I assured him that there was nothing wrong with his ears.
Which is not to say that my last hours of coverage were devoid of surprises and revelations. Take, for example, the Callia DAC ($2595) from UK-based Prism Sound. The Callia represents the first venture into the audiophile market by a company that has, up to now, focused exclusively on the pro market. It was Prism Sound's Sadie 6 LRX2 Location Audio Workstation that extraordinary recording engineer Peter McGrath was seen using last February when he recorded the Kalichstein-Laredo-Robinson Trio at the University of Miami.
"Our goal is a neutral, transparent system," Prism Sound's Graham Boswell said of the Callia. A USB and S/PDIF digital preamplifier/DAC, complete with its own low-impedance headphone channel with separate volume control, this baby can play PCM up to 384, and DSD up to 128 via DOP. It also has XLR and RCA phono outputs, and accepts USB, optical, and coaxial inputs.
But it don't mean a thing if it ain't got that swing…which it did. Through ATC SCM 40 Active loudspeakers, tri-amped with an analog crossover, a recording of Dave Brubeck and Roy Hargrove showcased the system's lovely, warm midrange. That fine midrange, again, was several cuts above the norm in a recording of Beethoven's Fifth. And the Phoenix Bach Choir's recording of "Come unto these Yellow Sands" sounded simply wonderful. On solo instruments, full orchestra, and voices, the Callia made music. And, based on an admittedly short audition, it certainly deserves a hearing if you're considering a DAC in this price range. All they gotta do now is add MQA.
Risking life and limb to take it all in, yours truly climbed atop a table in the far corner of Sunny Components' Aerial/T+A /HRS/AudioQuest room in order to photograph everything contributing to the fine sound. First and foremost were Aerial's new diminutive 5T bookshelf monitors ($3795/pair). Measuring 15" x 7.9" x 12.6" and weighing 23 pounds each, they have a frequency response of 48Hz–25kHz, ± 2dB and a sensitivity of 87dB, and employ a front-firing port. These little babies were also holding their own against the big boys. They couldn't convey the full weight and depth of percussion on my Reference Recordings disc of mindlessly lively ballet music by Delibes, of course, but they communicated the complexity of a full orchestra surprisingly well, without any hint of congestion or smudging. They also sounded supremely smooth on the LP version of Anne Bisson's "September in Montreal."
The sound on that LP may have been a little toned down, with a less than lively top, but I found no such issues with silver disc. "Goodbye" by Marilyn Crispell and Gary Peacock was quite alive and color-saturated, with the close-miked, complex harmonies of the piano coming through beautifully.
Also in this winning system: From T+A, the T+A Elektroakustic HV Series A3000HV amplifier ($19,500), P3000HV preamplifier ($16,500), MP3000HV DAC/streaming client/CD player ($15,500), PDP3000HV PCM/DSD SACD Player and DAC ($22,500), and G2000R turntable with T+A cartridge ($8500). Add in HRS RXR series racks and S1 platforms with vortex isolation, and AudioQuest Niagara power conditioners and Wild series cabling.
Virginia-based retailer Well Pleased Audio Vida bravely traveled to the Wide, Wild West to showcase Diesis Audio Aura loudspeakers ($20,000/pair), the Angstrom Audio Lab Stella integrated amplifier ($16,000), Aqua Acoustic's Formula DAC ($13,800) and La Diva CD transport ($8500), Antipodes Audio DS-SSD music server ($4200), and Anticables cabling. This curious mixture of Italian, Polish, and New Zealand-sourced components, held together by American cabling, sounded pretty bright and tipped up on a file from the Ozone Percussion group. Offering up a CD of my own, by pianist Murray Perahia—this time played with the curtains closed to see if they would tone things down—I still found some the bottom of the tone missing in contrast to the brighter top, and the lower notes lacking in color.
Lots of beauty in the midrange, as well as some brightness on top, characterized much of EAR USA's sonic signature. The EAR 509 monoblocks ($15,700 in balanced version), EAR 912 preamplifier ($13,000), and US premiere EAR Acute Classic CD player ($6800) may have also contributed the lovely shine, beautiful transparency, and polish heard on a file of Stokowski conducting Smetana's Ma Vlast, but there was no denying the somewhat sizzly highs. Also heard or present: Helius Viridia turntable ($6500) with Helius Omega Silver Ruby 10" tonearm ($5225) and Kiseki Purpleheart cartridge ($3300), US premiere Marten Mingus Quartet loudspeakers ($50,000/pair), Jorma Prime and Origo cabling, Waveform Fidelity GS Mk2 power cords, Townshend Audio Seismic Stand ($3200) and Seismic Isolation podiums ($3800/pair), Entreq Silver Tellus grounding box ($2700), and World Power Power Wing ($2850).
"A whole lot has changed in our Mother of Burl loudspeakers since you last heard them," I was told upon entering the room sponsored by Burwell & Sons. Indeed, the Mother of Burl three-way loudspeakers with vintage Altec components ($80,000/pair) now include a new single-jack subwoofer system, different crossover, new tweeter type and placement, and more.
I can't tell if those changes were responsible for the lovely midrange and metallic top I heard on the David Grisman Quintet's "Cinderella's Fella," Diana Krall's "Peel Me a Grape," and Yello and Heidi Happy's "Kiss in Blue," or if it had to do with the curious combination of customarily dark Raven electronics—a Raven Blackhawk 20Wpc tube amp ($3500)—and sometimes-bright-to-these-ears HiFidelity cabling and power conditioning. Maybe it was the turntable and cartridge, which were not identified in the list I was sent. All I know for certain is that there was a lot of beauty to the midrange, and that Mytek's Manhattan DAC ($5000) and Brooklyn DAC used as a phono stage ($2000) were also in the system.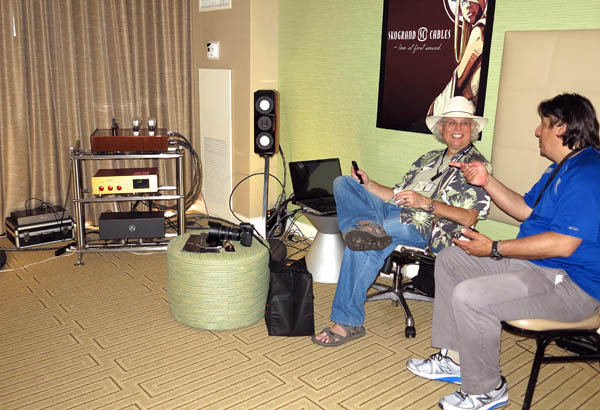 I have always, and I mean always, loved the sound of the Dartzeel/Evolution Acoustics combo. The finest sound I heard one year at T.H.E. Show Las Vegas came from one such large-scaled system, on a visit I shared with John Atkinson. While I never expected to sit quietly and listen in the ever-social, alcohol-lubricated Positive Feedback Hospitality Suite—someday we'll be able to nibble marijuana goodies legally in that suite—I also never expected to hear, on this much more modest setup, bright sound from a Quad DSD file recorded by Cookie Marenco. Don't ask me; I just work here.
It was atmosphere for days in the dimly lit room sponsored by Kevin Deal's Upscale Audio. And I'm not just talking about the lighting. I am extremely happy to say that a beautiful midrange, excellent transparency—excellent everything—distinguished the final system I auditioned at T.H.E. Show. Nor did I audition it alone; Sasha joined me shortly after I entered.
The system sounded so good that instead of moaning when Kevin began to play the LP issue of Nils Lofgren's grossly overplayed "Keith Don't Go," I marveled at the open, clear, colorful warmth, and brilliance of the evenly balanced sound.
"So excellent there's really nothing more to say," I wrote about a system that shared with the outstanding Wilson/Einstein/Nordost system an alluring, pearl-like shine.
The CD layer of my Iván Fischer SACD of Mahler's Symphony 9 [note to editor Art Dudley: I remembered the accent over the a that time!] also exhibited that lovely extra shine. Some of the deep foundation and multi-layered weight and body I'm accustomed to hearing on the SACD layer were missing, but that's par for the course. Besides, as good as they are, the two PrimaLuna DiaLogue Premium HP power amplifiers ($3899 each) and the PrimaLuna DiaLogue Premium preamplifier ($3199) cannot match what VTL Siegfried II amplifiers or my own Pass Labs XA-200.8 monoblocks can output.
Nonetheless, together with KEF Reference 5 Foundry Edition loudspeakers ($18,999/pair), Manley Labs Chinook Special Edition ($2400), PS Audio DirectStream DAC ($5999), Mac Mini serving as the server, PS Audio PerfectWave transport ($3999), VPI Avenger Reference turntable ($20,995) with two tonearms variously equipped with Kiseki's Purpleheart NS ($3499) and Blue NS ($2299) cartridges, VTI Manufacturing 34000 Series equipment rack ($1100), Nordost Odin 2 cabling, and AudioQuest Niagara 7000 power conditioner ($7995), the PrimaLunas made such wonderful sound that I was sorry to leave. But before bidding adieu to this room, and to my final system write-up of the 2016 edition of T.H.E. Show Newport (in Irvine), I want to thank Kevin Deal for sharing his story of marriage with me, and affirming how very important are heart connections to the health of our industry.