T.H.E. Show Newport: Sasha's Day Two (Part One)
A
Game of Thrones
vibe hit me when I visited the room hosted by Texas-based distributor Believe High Fidelity, also designated as "The Believe Hifi Network." But Cyprus, not Dorn, is home to electronics manufacturer Aries Cerat—the rare audio company that includes on their website a motto in Latin:
Nil stasis nisi optimum
, translated as
Nothing but the best is good enough
. And they put that dictum into action with the Aries Cerat Kassandra Reference DAC MK II ($35,000), the Aries Cerat Incito Prestige preamplifier ($12,000), and the Aries Cerat Diana Forte stereo amplifier ($27,500). This latter is a single-ended class-A tube amp that puts out 60Wpc. Vermouth Audio Cables were also featured throughout this system: the Rhapsody Speaker Cables, the Red Velvet Interconnects, and the Red Velvet Power Cable (pricing not given). Super sound at the end of the line from the system's Vandersteen Carbon 5A loudspeakers ($30,000/pair): I noted in particular the lovely percussion and very wide soundstage for the strings from a streaming-sourced RCA recording of Stokowski doing the Liszt "Hungarian Rhapsody 2." As many others have noted before, and others will since I have no doubt, the Vandersteen 5A's are a simply superb sound reproducer, and the Aries Cerat gear is visually stunning, as well as adept at making top-drawer music.
Canadian distributor Wynn Audio, hailing from Toronto, hosted the next room, featuring loudspeakers from Tidal and Reimyo electronics, based I'm note sure where. I asked the friendly young man who was hosting to write down some pricing information so I could have a little time to listen, and he offered: Reimyo CDT-777 CD Transport ($12,000), DAP-999 Ex Ltd DAC ($12,000), CAT-777 mk2 tube preamplifier ($20,000), and KAP-777 amplifier ($25,000). The solid-state amp is built around a single MOSFET per channel, and is said to output 200Wpc. Cabling was by Harmonix (no further info given). The loudspeakers were the Tidal Piano G2 ($22,800/pair). As the model name implies, this handsome floorstander is finished in nice shiny piano black lacquer. I got to hear Vanessa Fernandez doing "Here But I'm Gone" from her album Use Me. This smokin' music was well-served by fine reproduction of the kick-drum that anchored it, and a lead vocal that benefitted from nice presence in the upper mids and lower highs. After that came some Vivaldi, with a nice, deep, focused soundstage, though there was some upper-frequency edge that was noticeable in the string bowing—and Vivaldi is all about string bowing.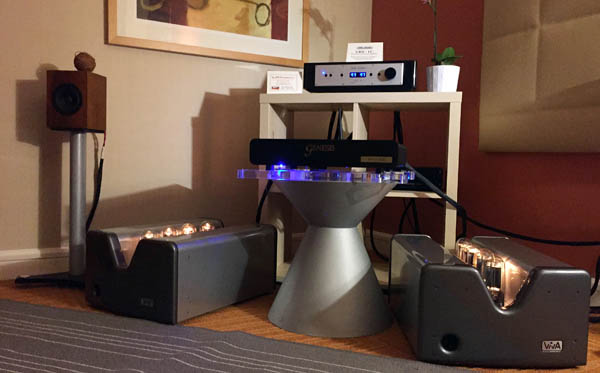 Syncopation Specialty Audio and the Texas-based distributor Profundo co-hosted two well-thought-out rooms—another opportunity to compare playback where there were at least some common threads between systems. In Room 323 I heard the Genesis Advanced Technologies Muse music server (price not available), and from noted designer Steve McCormack, the SMc VRE-1C preamplifier ($19,500). These were driving the Viva Aurora monoblock amplifiers ($45,000), and the Trenner & Friedl Sun loudspeakers ($2,999/pair). The monoblock amps utilize both 845 and 211-type tubes, and put out 36Wpc. The speaker is a quite small two-way cube. A recording of Gershwin's Rhapsody in Blue sounded very grand and New York-like, from a very small package. Moving next door I found Genesis designer Gary Koh demonstrating a system that included a Viva Numerico DAC/transport ($12,000), a Basis Audio 2200 turntable with Superarm 9 tonearm (prices not available) fitted with a Transfiguration Proteus cartridge ($6,000), a Viva Fono phono stage ($18,500), and the Genesis Advanced Technologies 7.2f loudspeakers ($15,000/pair). Gary Koh gleefully described how he had intentionally put together two systems that were "upside down"—ie, in one, more money was allocated for amplification than speakers, and the other was the inverse. In this second room, I heard an LP cut from The Last of the Big Plunger by Al Grey and The Basie Wing. Also from LP was Aaron Neville doing "Everybody Plays the Fool." As I said to Gary Koh on the way out, "Funkiest three watts ever." That earned a big laugh, but I meant it!
Von Gaylord Audio was what I call a "one-stop shop": they do it all, and even if you went all-in here, you would have a modestly priced (by high-end standards) system. Von Gaylord electronics included the Uni Digital MkII DAC ($12,995), the LAD-L3 tube preamplifier ($12,995), and the Return of the Triode 5oW monoblock amplifiers ($6,500/pair), topped off with the Von Gaylord VG-18 loudspeakers ($8,500/pair) with optional stands ($795/pair). Cable offerings included the Von Gaylord 7000s digital interconnect ($1,995/m), the 7000s RCA interconnect pair ($1,995/m), the 7000s speaker cable ($4,995/pair, length not specified), and the 7000s power cable ($1,595/6'). In this room I heard Holly Cole do a version of "Tennessee Waltz" that was clear, simple, and sweet. Other, unidentified acoustic tracks were also well served: this system seemed a natural fit for that kind of music.
I stopped by to see the Austin Hifi, which I remembered from the previous year's T.H.E. Show. Hailing from the far outskirts of Austin, TX, this company is the North American distributor for a number of fine brands, and they also provide repairs and modifications. This year, I heard a vintage Linn Sondek LP12 turntable fitted with a Reson Lexe moving-coil cartridge ($2,600), running into a Crimson CS 710 preamplifier ($7,000/with MC phonostage) and Crimson CS 640E-III monoblock amplifiers ($6,000/pair), driving a pair of Tocaro Model 42 loudspeakers ($14,000/pair with stands). A range of Crimson cabling was in use ("prices vary," the info sheet aptly put it). The Tocaro speaker particularly caught my eyes and ears: its 10" driver has a cellulose-composite diaphragm, and wood fibers are also used to make its tweeter diaphragm—plus all drivers are rigidly fixed to an internal hardwood frame. (The finished wood of the cabinets is also very attractive, in my opinion.) With fine wood everywhere, it was hard not to notice the wonderfully real sound of strings playing pizzicato, as I heard from an LP of Dorati doing Tchaikovsky's Symphony 1. The same aural elements contributed to my enjoyment of the title track from Fiona Apple's Extraordinary Machine. Yum!
Still charging down the third floor hall of Hotel Irvine, I took a meeting with Tony Minasian, principal and designer for the company Tonian Labs. Tonian hails from the Home of the Mouse—the fair city of Burbank, CA. The focus here was on the loudspeaker, and since Tony had nothing for me on paper, we had a discussion. The Tonian Full Range loudspeaker ($18,000/pair) is a quite large floorstander with one 8" driver and one ribbon tweeter, made by Tonian Labs. (Also offered are versions with 10" and 12" woofers.) The wooden cabinets are attractively finished in contrasting woods. All the rest of the playback chain was not noted, as it was not for sale. However, Tony Minasian proudly stated that we were listening to a 33-year old Philips CD player. I listened to CD playback of Rimsky Korsakov's Scheherazade with Andre Previn. It was a little hard to get a handle on things sound-wise, as this recording struck me as a bit too bright for my preferences, but when I asked for a follow-up recording (my apologies for not jotting down the title), things seemed the other way around. From this I would deduce that these speakers are very sensitive to the upstream quality of playback material, source components, and electronics—which is not a bad thing. I would have to spend more time with these to know for sure.
The Red White & Blue was being waved high in Room 332, by Volti Audio ("Built by hand in Benton, Maine"), Vinnie Rossi Audio ("Designed and custom-made to order in the U.S.A."), and Triode Wire Labs ("Proudly & meticulously hand-made in the U.S.A."). Is there an election going on or something? In this room it was analog-city here, starting with an Acoustic Signature Triple X turntable ($5,995) and TA-1000 12" tonearm ($1,995), feeding the Vinnie Rossi LIO integrated amplifier ($10,470 as configured), and driving the Volti Audio Vittora loudspeaker ($25,750/pair). I am assuming that all cabling was by Triode Wire Labs, including their The Obsession power cord ($1,299) and American Speaker Cables ($599, lengths not specified). As configured, the Vinnie Rossi LIO integrated included a DSD/PCM DAC that can handle 384kHz recording, if you have any, and a class-A zero-feedback JFET design phonostage. The amp section is a hybrid: class-A triode for the linestage, and a MOSFET solid-state for the output, delivering 25Wpc into 8 ohms.
If your boat is floated by large, great-looking, wood-cabinet horn speakers, then you are off and sailing with the Vittoras. These whopping beasts weigh 160 lbs for the bottom cabinet and probably about the same for the top cabinet, I was told. To be clear, the Volti Audio Vittora is described as a three-way, fully horn-loaded system, with a separate active low-frequency cabinet that the user isn't required to purchase. These speakers are rated at a sensitivity of 104dB. They are available in different wood finishes. (I think I saw them with the "Sapele Pommele" veneer, which seemed Bentley-worthy.) With those speakers angled directly at my listening chair in the middle of the room, I heard a couple of LP tracks from the great Ella & Louis Again—"Makin' Whoopee" and "Autumn in New York." A little early for the latter track, but I'll take it any time of year. There's Louis in all his gravelly glory: I could hear every one of his breaths and swallows, and feel him reaching for that handkerchief of his. And Ella! Did that woman ever sing a single pitch off-key? I'm not aware of it. Vinnie, Volti, & Triode—this trio of American patriots gets my vote!
Torrance-based Audiophile Direct LLC. was featuring a bouquet of several fine brands for which they are both retailer and US distributors. I heard the Sound Science Music Vault Diamond music server ($4,995), the Wells Audio Majestic integrated amplifier ($3,499), and the Aurum Cantus Melody M-102SE loudspeaker ($2,500/pair). The latter loudspeaker is an attractively mid-sized wood-finish floorstander, with a three-way design that includes an aluminum ribbon tweeter. The Majestic integrated amp was being premiered here at T.H.E. Show, and puts out 150Wpc into 8 Ohms. Aurum Cantus is a collaboration involving two companies—one based in Australia, the other in China.
As it was my job to be objective, whether or not I happened to like the music, I bit down hard when on came Don McLean's "Starry Starry Night." (There's a reason Van Gogh lost an ear.) But you can believe me when I say that this track sounded nice! Then I heard that famous track that Bob Dylan likes to open his live shows with, Aaron Copland's "Fanfare for the Common Man," played by the Minnesota Orchestra. WHAM! Those huge cavern-deep bass-drum whacks and law-giving blasts from the brass were everything they should be. Outstanding value for $ in this room.