More from T.H.E. Show: Sasha Matson's Day Three (Part One)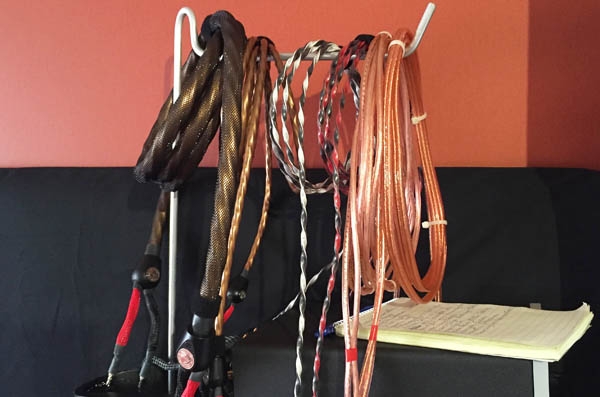 There's more than one way to skin a cat—a profusion of ways to hook together audio components in the high-end world of today—and my hunch is that the number of dedicated cabling companies has increased within the past decade, and now exceeds that of any other audio-hardware category. But there are also those companies that have been around the block for a number of years, and have displayed consistent design approaches of their own—such as Wireworld Cable Technology in Davie, Florida.
On the 10th floor of Hotel Irvine I caught up with Wireworld Designer/Owner David Salz, whose dictum is: "Fidelity is preservation." In discussing the proper way to make observations and to objectively evaluate cabling effects, Salz spoke of "results which are unpredictable, because we don't have the real information on what they do to the sound…and the only thing that works is comparing the sound before and after it went through that cable." He also suggested that improvements and degradations to "frequency [extremes] at both ends, and [to] spatial effects, are the most noticeable." We were so busy discussing and taking notes that no listening got done!
My head hurting from so much engineering talk, I headed next door to a room hosted by Kyron Audio, hailing from Adelaide, Australia, and spoke with designer and co-owner Leon Suter. A relatively new member of the worldwide high-end community, Kyron Audio has hit the ground running, building open-baffled powered loudspeaker systems at the highest apparent levels of technological innovation. The Kyron Kronos Dipole Loudspeaker System ($112,000/pair, with various upcharge finishing options), is described by Kyron as a "3-way DSP-controlled active dipole." It's quite an impressively large cabinet, open to the elements at the rear, housing two 12" woofers, one 7" mid-woofer, and a ring-radiator tweeter. The lower woofer cabinetry is physically separate from the upper-driver unit. Doubled sets of mono amplifiers, a total of six for the system, produce a whopping 2800Wpc. Also included is a stereo preamplifier with all sorts of digital and analog input flexibility. (The front end of the system I heard was not for sale.) Frequency response is given as 30Hz–40kHz. A lot of the technology here is taken from the even larger and more powerful Gaia loudspeaker system previously offered by Kyron. I asked designer Leon Suter, who is a classical clarinetist as well as a designer, to name me three things that are most important to him in his design goals. Leon answered without hesitation: "Transients, complete neutrality, and no resonances."
Time for listening: I was treated to a fine excerpt from Grieg's Holberg Suite 1, fittingly performed by the Australian Chamber Orchestra. And I do mean treated: This was spectacular sound. Leon chose for contrast an unidentified modern percussion-ensemble work—and I could hear why he picked it: the track showed off the ability of this system to create, in an almost unnerving manner, a soundfield that was way beyond the term "stage." It just seemed endless. On the way out, I told Leon Suter that I felt as though I had been sitting alone in the middle of the Australian outback. Absolutely superior music recreation.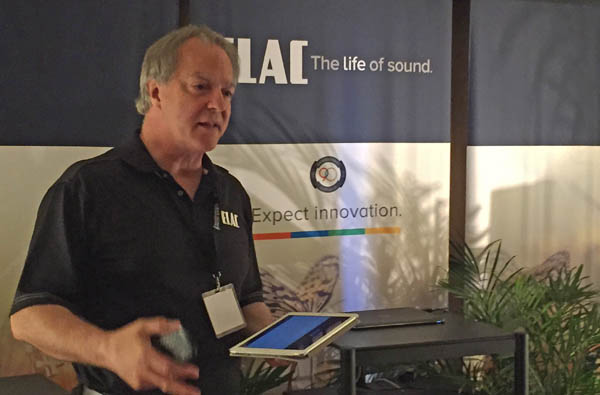 If there is a pop star of high-end audio right now, it must be designer Andrew Jones of Elac, a German company that also has "a dedicated Southern California engineering facility." Having recently stealth-bombed the industry with very small, low-cost, high-quality loudspeakers, Elac is now expanding their offerings with larger packages (and other categories of gear).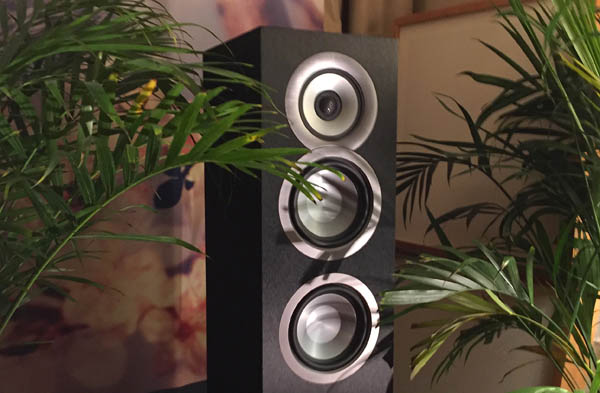 In development for some time and reportedly "shipping now" is the new Elac UF5 loudspeaker ($1,000/pair) from the company's Uni-Fi series. This three-way, rear-ported floorstander boasts three 5" woofers and a 4" midrange driver with a 1" concentric tweeter. Efficiency is given as 85dB—with regard to which Jones stated in his presentation, "I sacrifice efficiency to get bass and extension." Also part of this system was an Elac Discovery DS-S101 music server ($1,099). I could not stay too long, but I did get to hear some of David Chesky's The Zephyrtine—A Ballet Story, and the recreation of the full range of percussion here, from little tiny tinkles to full-bore whacks, was marvelous. Anyone who's paying the slightest attention cannot help but see that this is one of the best cost/quality ratios in today's loudspeaker field.
DEQX High Definition Audio has tasked themselves with making products that use sophisticated DSP to correct or enhance the performance of other audio-system elements: kick that ball further down the field, turn that double, get into overtime—choose your sports metaphor. In my in-room introduction I was told that DEQX was all about "measuring speaker and driver and correcting frequency." DEQX offers several models, including their DEQX PreMate processor ($5,995) and the DEQX HDP-5 preamp/processor ($6,495). There are complete crossovers and preamps within—I was told you could use any passive loudspeaker and simply go from there—along with what are described as the most evolved DSP capabilities on the planet. You don't have to take my word for it: as John Atkinson wrote in his coverage of DEQX at the 2012 Rocky Mountain Audio Fest, "Color me gob-smacked!"
It was good to once again hear Constellation Audio components with Von Schweikert Audio loudspeakers, abetted by Critical Mass Systems platforms. (Some manufacturer's gear just seems to fit best with others.) I got to hear the premiere of the Constellation Centaur II Stereo amplifier ($40,000), which puts out 250Wpc. This new Constellation baby was supported by other Constellation siblings—the Cygnus Media Player DAC ($38,000), and the Virgo III Preamplifier ($32,000). The last two pieces were fitted with optional DC Filters ($6,000 each). Hardware also included an AudioQuest Niagara 7000 power conditioner ($8,000). Final stop was a pair of superb-looking and -sounding Von Schweikert Aktive VR55 loudspeakers ($60,000/pair). The Von Schweikerts are dignified, handsome, fairly large three-way floorstanders, with a full array of drivers—two 8" woofers, one 6.5" mid-woofer, and a Beryllium-dome tweeter. The lower woofers are powered by onboard 525W mono amps, with the final flourish being a rear-firing "Ambience retrieval driver," which is a 75mm ribbon tweeter. I was lucky to hear a chunk of Stravinsky's L'Histoire Du Soldat, and Igor's circus-troupe-like masterpiece had wonderful, juicy depth.
Audio life in Santa Barbara is picking up recently, judging from a room hosted by Voss Audio, based in that fine California community. How recent? When I went to look at the Voss Audio website I read that "This site will be fully functional by the time our revolutionary audio amplification products are ready for market." In the handout I received from Voss they also describe themselves as "an analog revolution" and "a retro revolution." These revolutionaries are off to a good start with their Voss Audio stereo amplifier ($50,000), a MOSFET design that puts out 160Wpc and is housed in a retro-worthy solid copper casing. The Voss preamplifier ($40,000) is described as "Lithium-powered class-A."
Exhibiting with Voss was David Shreve, who has a long history of working on the (analog) front ends of things. Mr. Shreve modified the Rega 25 turntable I heard, replacing the stock Rega tonearm with his own linear tracking Shreve-Rabco tonearm ($4,000), fitted with a Triangle Arts Zeus moving-coil cartridge ($4,000), feeding an Audio Note Level 2 phono stage (price not given). Audio Note loudspeakers—unfortunately, I missed the model names/numbers—were also in use. Information may be have been a bit sketchy, and resumes brand new, but there was nothing missing in the sound I heard. From David Shreve's hot-rodded turntable came "A Nightingale Sang in Berkeley Square," from the album An Evening with George Shearing and Mel Torme. (Me want!) After hearing that and a Live Simon and Garfunkel number, I was sold on this system: it was time to sign up, take an oath, and head for the Santa Barbara hills.