T.H.E. Show Newport: Sasha's Wrap
Odyssey Audio hails from Indianapolis, Indiana. Designer/Owner Klaus Bunge was in the room when I entered—at least I think he was: the stars were out, and it was a dark night. With the room lights back on, and all through my visit, friends and colleagues were coming in and getting and giving big bear hugs: this company is doing something right! (Klaus told me he talks with every customer, and I believe him.)
I asked Klaus for some pricing information, and from his notes I learned that I was hearing, all from Odyssey Audio, their Candela Tube preamplifier ($1600), the Stratos monoblock amplifiers ($2700/pair), the Suspiro phono stage ($1250), and the Kismet Reference Monitor loudspeakers ($4000/pair). The latter are a two-way design featuring a Beryllium tweeter sourced from Scan-Speak. The only component here that was not from Odyssey was the large VPI Avenger turntable (pricing not given), fitted with a van den Hul Calibri MC cartridge (no pricing given for that, either, but I found it for you on Amazon [!] for approximately $3000).
Klaus Bunge invited me to choose an LP from a box, and I picked the fairly recent Mobile Fidelity reissue of Bob Dylan's Blood on the Tracks. And here's the hard part of the story: It's true that the original release never had great sound (the bottom end in particular was feeble), and the new MoFi reissue is one of those cases where the re-mastering betters the original. However, in the Odyssey room on June 5th, 2016, it just wasn't happening for me. Dylan sounded etched, thin, and distant. Room elements? Perhaps. (At one point Klaus had banged on a wall heater behind one speaker to express his frustration.) The loudspeakers themselves? Other system components? I have no way of knowing. I hope that Klaus Bunge and Odyssey Audio will forge ahead, and I look forward to hearing their products again, perhaps under better circumstances.
Distributors Axiss Audio and The Lotus Group—the latter company also manufactures PranaWire products—co-hosted a room with a true super system: a Hanss Acoustics T-60SE turntable ($10,500) fitted with a Durand Kairos Tonearm ($6450) and an Air Tight PC-1S cartridge ($8500), itself driving an Air Tight ATE-2005 phono preamplifier ($9000); Accuphase C-2820 preamplifier ($31,500) and A-70 stereo amplifier ($27,000); Gauder Akustik RC-7 MkII loudspeakers ($60,000/pair); and a huge array of PranaWire cabling, examples including PranaWire's Avatar speaker cable ($24,850/2.5m pair), Cosmos speaker cable (16,800/3m pair), Cosmos RCA interconnect ($16,950/3m pair), and Arhat power cable ($6950/1.5m). During my visit, I heard the track "Wide Open Spaces" from the LP Bob Florence Big Band—Live at Concerts by the Sea. The punchy sound of a kick-ass big band was put across very well. Incidentally, the Lotus Group and Axiss Audio were helpful enough to add up the prices of their demo system, in case you want to get your holiday shopping done early: the grand total is $295,318.
After trying to visit PMC Speakers and finding the door locked and nobody home, (we do care!), I succeeded in locating a trio or rooms co-hosted by a trio of companies: Purist Audio Design, PBN Audio, and Allnic USA. With Purist Audio providing the cabling, and Allnic and PBN taking turns with the electronics and source components, I heard two different systems up and running. In Room A, I heard a PBN GrooveMaster DP6 turntable ($8500 with Jelco SA-750 tonearm)—this is a completely rebuilt 1970s-era Denon direct-drive unit, built into a beautiful new plinth—fitted with a Lyra Etna MC cartridge ($9000). Allnic provided both the H3000 Tube phono stage ($14,900) and D5000 DHT DAC ($11,900). Onwards into an Allnic L3000 tube preamplifier ($13,900), and the Allnic A3000 MK2 monoblock amplifiers ($17,900/pair). Purist Audio cabling prices varies, not all were individually specified, but the total cable system cost was $89,185. In Room B I heard a sister system, this time consisting of mostly PBN Audio electronics, including their Audio Olympia PXi MC phono stage ($22,000), Audio Olympia LXi preamplifier ($22,000), and Audio Olympia EB-SA1 stereo/mono amplifier ($30,000).
Peter Noerbaek, being a man who knows what he likes, had with him a nice new LP of The Beatles' The Beatles, and at his behest we listened to "Rocky Raccoon," and we let that play into "Don't Pass Me By." And there were our old buddies Paul and Ringo—are any voices better known to the world?—sounding as they should sound.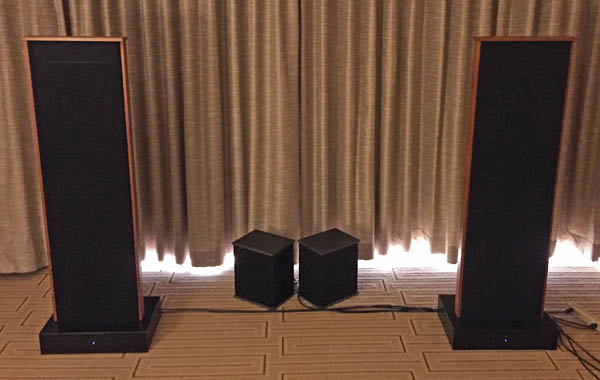 The Day-Three clock was ticking when Jason Serinus and I, the last men standing from Stereophile, converged on the fourth floor and fanned out like a well-trained SWAT Team. (Or would that be "Watt Team?") Among the exhibitors there was Music Reference, which, according to designer Roger Modjeski, relocated to Berkeley one year ago. Modjeski has been involved with electrostatic loudspeaker designs for over thirty years now, and provides an almost complete one-stop shop experience. From a Resolution Audio Cantata DAC/CD ($7995), the signal progressed to an all-Music Reference system: their RM-8 preamplifier with MC phono section ($8950), RMPSE stereo amplifier ($12,000)—which outputs 150 Wpc via its eight EL34 tubes—and ESL Speaker System ($11,450/pair complete). These loudspeakers incorporate modestly sized electrostatics up top, and powered woofers below. We listened to a recording of the Dick Hyman Trio plus an unidentified sax player, and the musical and sonic results were as nourishing, healing, and restful as one should expect from a Berkeley-based business.
Loudspeaker manufacturer Spatial Audio, out of Park City, Utah, was sharing a room with electronics maker Red Dragon from Salt Lake City, Utah, and the contrarian-named cable manufacturer Anticable, from Minnesota. I heard a well-focused, great-value system: for the front-end, a MacBook Air addressed a Lampizator Lite 7 DAC ($6000). From there, it was a Florida-made Toroom with electronictuga Audio LDR3 preamplifier ($1195), the Red Dragon S500 amplifier ($1995), Anticable Full Loom cabling ($1500), the Spatial M3 Turbo S loudspeakers ($2595). Full system price ($13,285). I was able to chat briefly with Clayton Shaw, designer of the Spatial M3 loudspeakers, who told me they included two 15" drivers in parallel, in an open baffle design, with a compression driver for both the mids and the highs. Clayton stated the frequency range as 32Hz–22kHz. My clock was ticking but I did get to hear the great Sara Bareilles cover version of "Over the Rainbow"—she has a powerful set of lungs!— which sounded especially fine.
Jason yelled "Clear!" and I stormed into Rm. 406 at the Hotel Irvine: We were just mopping up now…
The sole inhabitants, Audioengine, told me about their new HD6 powered loudspeakers ($749/pair). My notes remind me that this is a small, two-way— one 5.5" woofer, one 1" silk dome tweeter—stand-mounted speaker, with a built-in 150W amp, and with magnetically detachable grills. The speakers are Bluetooth-friendly, with internal DACs that upsample to 24 bits. I was also shown the smaller Audioengine A5+ model ($399/pair, $469/pair in bamboo.) The line also includes the A2+ powered speaker ($249/pair) and the B2 Bluetooth speaker/receiver.
It was the lull at the end of the last day of T.H.E. Show, and while I didn't intend it to be my last stop of the show, it ended up that way when I finally got to Blue Coast Records in Rms. 411 and 412. And who was waiting to greet me? Motoyuki "Yuki" Sugiura of Sony, with a lovely pair of Sony SS-NA5ES loudspeakers ($6000/pair). These are small, stand-mounted speakers that bear more than a cosmetic relation to the much-praised larger floorstanders Sony has brought to market in recent years. These gems feature what Sony calls their I-Array multiple-tweeter system, which Motoyuki says offers the advantages of wide high-frequency dispersion and superior power handling. The glossily elegant cabinets are constructed of Scandinavian Birch. Also in the room was vocalist Valerie Joyce, who has recorded for Chesky Records and, more recently, for Blue Coast Records. Cookie Marenco is the Executive Producer and Founder of Blue Coast, and I understand Cookie produces most, if not all, of her label's releases at her studio in San Francisco. I hope to visit there sometime soon. I did not leave with any printed literature, but with something even better: a CD titled Newport Blue Coast Sampler 1. Thanks for this Cookie—I look forward to hearing it when I finish writing my blogs. Which means now!