Into T.H.E. Show's Home Stretch
Brooks Berdan Ltd. of Monrovia, CA eschewed the big stuff, and displayed, in two different rooms, "realistically priced Hi Fi Music Systems." This one shows the Jadis Orchestra 40Wpc integrated amp ($4795) and Spendor SP3/1R2 loudspeakers ($3195/pair), driven by a Roksan Radius 7 turntable with Nima arm and Radius cartridge ($4000) and wired with Cardas Clear Light cabling ($985). Supplementing it were the Chord Hugo DAC ($2195), Auralic Mini streamer ($549) with linear power supply ($349), a Thorens 302 phono preamp ($2195), and Roksan K3 CD player ($2500). Not the cheapest system in the world, but one that, with CD, did a simply wonderful job of conveying both the gentle tenderness of the Ebène Quartet and Gautier Capuçon's performance of the glorious Schubert Quintet (
see here
) as well as their energized flourishes. This further visit to this recording convinced me that it is special indeed.
Listening to the LP of Eric Clapton's Live at Royal Albert Hall further confirmed the lovely smoothness and musicality that are at the heart of every fine system. This wasn't the most transparent presentation, but it was most enjoyable.
This little, almost all-Roksan system really swung on an LP track from The Two Sides of Lars Erstrand. It was a case of musicality triumphing over a high noise floor. On my CD of Rosa Passos and Ron Carter's Entre Amigos, I noticed extra warmth and a blending of instruments that I usually experience as distinct entities. Passos' voice sounded so smoothed over as to make it sound as though she was drunk.
Heard: Roksan's Oxygene Integrated, Oxygene CD player, and Xerxes 20 turntable ($6000 each), along with Roksan's Darius S1 speakers with stands ($8500/pair) and Cardas cables ($2150). Also present: Caspian Vinyl System control and phono preamp DX2 ($3000), the excellent Soundsmith The Voice cartridge ($2799), Vertere SG-1 Tonearm ($3200), Auralic Aries Extreme streamer ($1599), and Chord Hugo TT DAC ($4795).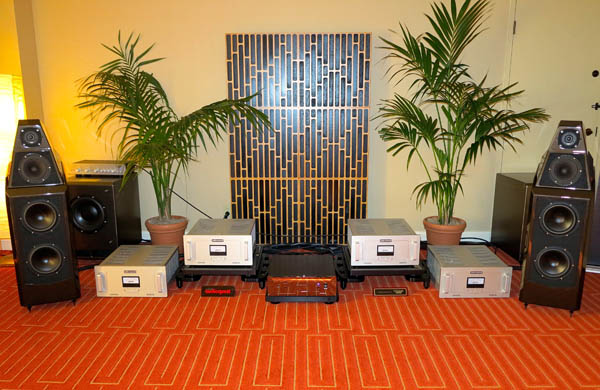 Sunil Merchant's Sunny's Components, Inc. of Covina, CA displayed yet another excellent sounding system headed by Wilson Audio Sasha 2 loudspeakers ($33,900/pair). This time, however, those speakers were augmented by Wilson Watch Dog subs ($10,000/pair). Electronics, too, were different, and included the world premiere of Meridian's MQA-enabled and DSD-accommodating Ultra DAC ($23,000). Besides that, we had Audio Research's new Reference 6 preamp ($14,000), Reference 250 SE monoblocks ($34,000/pair), and Reference CD9 CD player/DAC ($13,000). Racks were HRS SXR with M3X shelves, cabling AudioQuest WEL Signature, power conditioning AudioQuest Niagara, and an unheard Bergmann Sindre turntable ($35,000) with Lyra Etna cartridge ($10,000). Some part of the Meridian Sooloos system was used in playback.
Covering this room was not easy. Upon my first visit, on press day, I eventually learned that the DAC—perhaps the second one off the assembly line—had just been connected, and had only two hours of break-in. Rather than auditioning the product before it was ready, I decided to return another day. Shortly before I intended to return on Friday, I encountered Sunil in the elevator, and learned that he had just introduced into the system another piece of equipment that had temporarily compromised performance. So I stalled again. Finally, when I returned on Sunday, with every expectation of the big listen, I had hardly settled into my chair when I was told, rather abruptly, "Jason, don't listen. We're in the middle of isolating a problem so we can fix it."
Out the door I went (one more time). Happily, when I returned, with fingers crossed, I discovered the sound worth the wait. Utterly beautiful, crystalline highs and a little extra warmth distinguished "Goodbye," a most adventurous and compelling track on Marilyn Crispell and Gary Peacock's ECM album Azure. The same MQA-encoded track by Keith Jarrett, recorded live in Köln on January 24, 1975, sounded even better than it did at CES, with the depth of the piano quite striking. On "Close to Me," one of Frank Sinatra's soppiest recordings, every saccharine, string-drenched sentiment was wrung out to dry, as though Hallmark Corp. had opened its doors wide. Finally, Green Day with MQA sounded totally fabulous. When everything got going at the same time on that recording, every line was totally clear. That can't happen when timing errors muddy things up. With the only caveat being the slight deviation from neutrality to extra warmth (which many audiophiles prefer), one of the Best Sounds at the Show, and a convincing vindication of MQA's claims of sonic superiority.
Less impressive, if only because the Meridian loudspeakers convey darker and less color-saturated images than I prefer, was an ongoing, controlled MQA demonstration on an all-Meridian system that included Meridian's Sooloos server sending data to a Meridian 808v6. I had to work hard to listen over the sounds of hotel maids tidying things up in the hallway, but once I focused, a 24/192, MQA-encoded file of Debussy's "Claire de Lune" sounded absolutely lovely, with all of its delicacy and smallest of gestures perfectly conveyed.
I've been a big fan of Emerald Physics' open-baffle loudspeakers for many years, and was eager to hear their brand new, fourth-generation Carbon Series Controlled Directivity loudspeakers. Listening to the Emerald Physics EP-2.8 with the DSP2.4 digital crossovers ($9995/pair), combined with the new Emerald Physics EP200.2SE Special Edition 200Wpc hybrid digital amplifier/controller with analog power supply ($2995), Exogal Comet Plus DSD/PCM DAC (call Underwood HiFi for US price), and new Core Power Technologies Equi=Core 1800 power conditioner ($1600) with its fully balanced 15 amp, 1800W capacity and 4 Hubbell-grade duplex outlets, I found the images surprisingly small, and the sound not as involving as I had expected. I wish I could have heard this system in a larger room.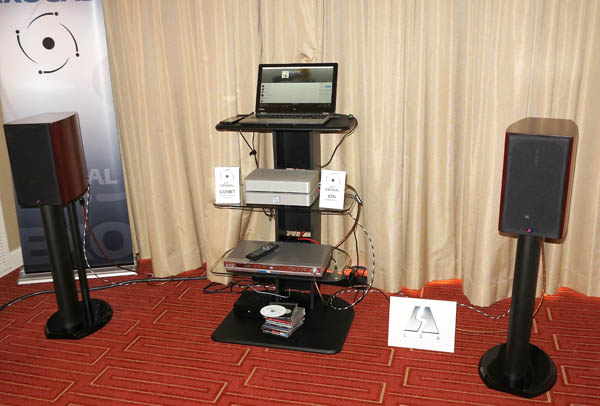 Heading across the hall provided a unique opportunity to confront the absurdity of trying to search for music on a server whose computer interface includes auto-correct. I'm not sure why I was in an operatic mood, but every time I tried to find something by soprano Montserrat Caballé, her first name got either broken in two, changed in mysterious ways, or transformed entirely. After four attempts met with failure, I went with just Caballé, only to discover that the sole entry was of a live performance that sounded as though it had been recorded on a crappy, early-generation iPhone or a first-generation DAT recorder that someone had concealed under a heavy coat.
Instead, we ended up with the Brubeck Quartet's Red Hot and Cool. Images were small, and there were strange resonances through the Emerald Physics Livings Sounds Audio LSA-1 statement monitors ($2800/pair). These were paired with the new Exogal Ion digital amp ($3250 with power supply), which must be used in conjunction with the Exogal Comet DAC ($2995 without optional power supply, or short-term intro price of $4999 for both through August). The amp, it should be noted, outputs 125Wpc into 8 ohms and 250 into 4, while the DAC can play files up to 32/384 as well as DSD. The new Core Power Technologies Equi=Core 1800 ($1600) was also in the chain.
In a good-sized room with an impressive view, eye-catching Legacy Audio V speakers ($49,500/pair, and far more attractive than this back-lit photo can possibly reveal), which offer 98dB efficiency, 1500W subwoofer amplification, and Wavelet room correction, seemed to promise equally impressive sound. But paired with Raven Audio Spirit 300B MK2 monoblocks ($25,995/pair), which output 26W each, Metronome Calypso Premier transport ($30,800), and Douglass Connection cabling, the sound was dark, gray, and a bit muffled in the bass. Timpani on a recording of ballet music by Delibes were muffled and boomy, with lots of overhang. Even on strings, brilliance was MIA, and the triangle seemed stifled and diminished in size.