T.H.E. Show Newport: The Going Keeps Going Good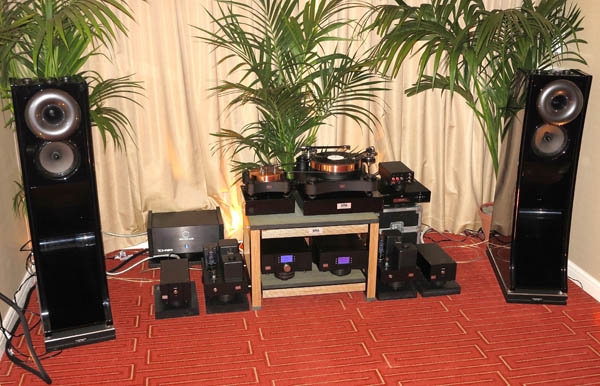 Before singing the praises of High Water Sound, which was unquestionably the most fun room I visited in Irvine—as well as one of the best sounding—I feel the need to expound on my approach to covering shows. These blogs are not reviews; they are simply the verbal equivalent of an aural snapshot in time. To pretend that a 10-minute listen is the equivalent of a mini-review is both absurd and irresponsible.
The reality is that we are covering exhibits that, of necessity, were set up quickly in unfamiliar, challenging, and sometimes downright inhospitable surroundings. That so many of the 19 rooms I entered on the second floor of Hotel Irvine sounded really good is nothing short of a miracle.
Some members of the audio press follow the rule, If you can't say something good about the sound in a room, stick to listing the equipment and, perhaps, throwing in a few descriptors of minimum consequence. Others tend to fudge or even inflate their reports with enough positive adjectives to convince someone that Donald Trump is Goldilocks incarnate.
I on the other hand am aware that, during the course of a show, thousands of people visit the same rooms I do. Those who stay long enough to listen to more than one track hear many of the same things, good and bad, as I. And many of those people share their experiences in comments and on forums. Rather than suggest to those listeners that they are all in desperate need of a trip to the audiologist, I choose to report what I hear. Sometimes it ain't pretty. And sometimes what is true on one day no longer applies the next, as has already been pointed out in a manufacturer's comment appended to the first of my reports. But the reality remains that people who exhibit at shows can only convince other people of the quality of their product by delivering good sound, and people who believe they hear substandard sound deserve to be acknowledged. Hence, I choose to do my best to stick to reality, and report what I actually hear.
Now, on to a consistent high point of any audio show, the mellifluous marriage of music and sound that distinguishes Jeffrey Catalano's High Water Sound room. It's one thing to say that Jeffrey loves music. It's another to acknowledge that his occasionally idiosyncratic, off-the-beaten-path assemblage of equipment rarely fails to honor the intent of composers, artists, and engineers with truly beautiful, full-range sound.
First up in this all-analog setup was an LP of songs by Rossini, Bellini, and Donizetti. The soprano may not have been my favorite, but the way the system conveyed her voice and dynamics was quite wonderful. Then came the most fun music I'd heard since Peter McGrath's German electronica perhaps four hours earlier: "Top Hat, White Tie, and Tales," on a single-disc issue from Fred Astaire's limited edition, four-disc The Astaire Story, a 1952 Norman Granz-conceived sojourn with Oscar Peterson, Alvin Stoller, Ray Brown, Charlie Shavers, Flip Phillips, and Barney Kessel. Astaire, then in his early '50s, sounded a mite self-conscious, but sings wonderfully. Then, with a change of RIAA curve, came more smiles: psychedelic bubblegum music courtesy of The Alan Lorber Orchestra's The Lotus Palace, a Verve LP that Jeffrey found in (where else?) Vegas. Finally, with great depth and snap, ideal contrast between voices, and a bit of brightness, came Ian & Sylvia's "Rock and Gravel." I don't think Jeffrey Catalano has a single hackneyed disc in his ever-astounding collection.
Doing the honors: TW-Acustic Black Knight turntable ($40,000) w/two TW 10.5 tonearms ($5500/each) and Miyajima Labs Madake stereo cartridge ($6000) and Zero mono cartridge ($2000); TW-Acustic RPS 100 phono stage ($17,000), RPA 100 line stage ($17,000), and 300B monoblocks ($18,000/pair); Cessaro Speaker Systems Wagner speakers ($65,000/pair); Silver Circle Audio Tchaik 6 power conditioner ($11,500); Silent Running Audio Scuttle Rack and Ohio XL bases; Symposium Acoustics Super Plus speaker platforms; and Zen Sati Seraphim Mini cabling and Authentica power cords.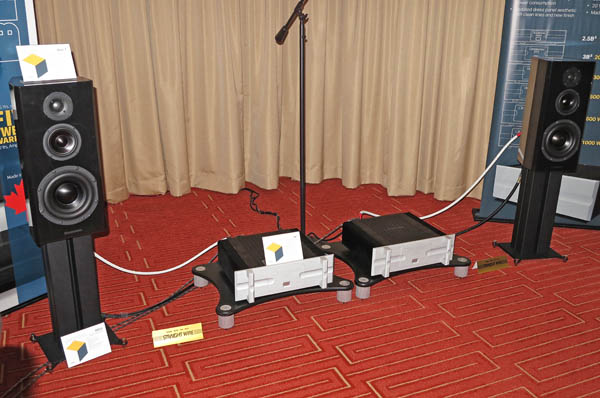 Lots of well-proportioned bass, with control for days, distinguished this all-Bryston presentation. The lower range was superbly filled out on Lucinda Williams's "West Memphis." Ditto on a track from Emmylou Harris, although cymbals were a bit hot. Add to that great bass and bit of sizzle on top—plus fabulous three-dimensionality on music from Supertramp—and you've got the best system I encountered since show's start for filling out the bass line. The winners: Bryston's DDP-2 digital player ($3295), BDA-3 DAC ($3495), BP26 preamp ($3295) with MPS-2 power supply ($1865), 7B3 monoblocks ($5695/each), and Mini T loudspeakers ($3370/pair). The latter can be either single or bi-wired; Bryston chose the latter, with StraightWire cabling.
Sonic Studio enlisted Ampsandsound's Seneca loudspeakers ($20,000/pair), the Mytek Brooklyn DAC ($1995), Pass Labs' gorgeous sounding XA30.8 amplifier ($6500), and AudioQuest cabling, all to preview the forthcoming, all-new Amarra four server-based playback software. We're talking an entirely new look and approach that previews albums, and has separate versions for Windows and Mac. Modeled on Spotify, it can also play native DSD (up to 128) without conversion, and offers built-in EQ, a headphone processor, room correction, Tidal streaming, and integrated Amarra sQ+ inline DSP processing. Expected release date is this fall.
Also coming: Amarra sQ+ 2.4 with integrated headphone processor—created in partnership with Darin Fong Audio—and a new stand-alone iRC Room Correction application.
Next door, Ampsandsound's Hudson loudspeakers ($30,000/pair) and Casablanca 60W push-pull monoblocks ($3995/pair); McIntosh's C22 preamp; a prototype Light Harmonic tube DAC; AudioQuest Niagara power conditioner and cabling; and a VPI Avenger turntable with 10.5" arm and Zu DL103 R/MC cartridge sounded bright on LP, with a muffled midrange. Paradoxically, the system sounded a little too mellow on analogue classical tracks. I have no idea what that was about. Heard was music from/by Art Taylor, Mozart, and Delibes.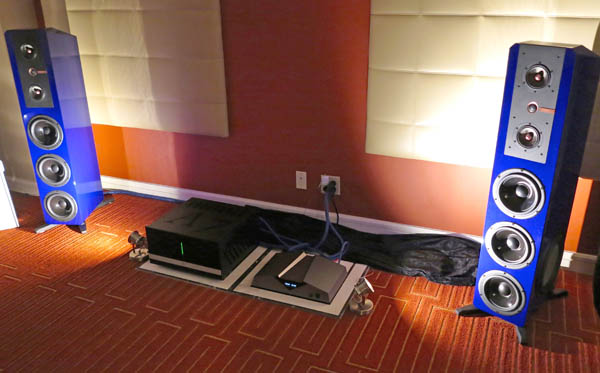 New to me, with hopes of encountering them again soon, was Starke Sound from Pasadena, CA. As striking as the blue IC-H5 Elite loudspeakers ($13,920/pair) may look, what was more striking was how well they and the other Starke components in the system handled Eiji Oue's abysmally slow rendition of the opening movement of Mahler's Symphony 9. Control was superb, percussion stellar, and sound inviting. Previously distributed only in Europe and Asia, and now poised to make their mark in the US, the company's German-assembled loudspeakers, A7-450 amplifiers, ($7800/each), and other components not identified on the sheet I was given deserve an audition.