THE Show Newport: Day Zero Musings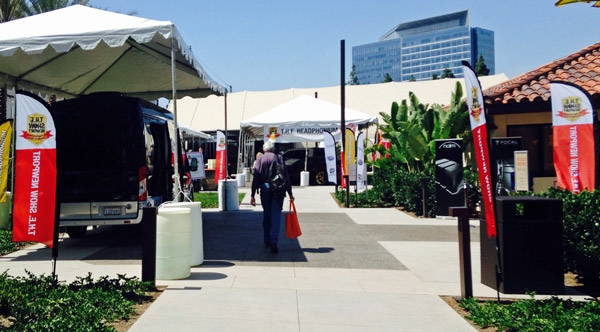 High-end audio is mostly about songs blaring from boxes. Occasionally, you can be sitting near some of these wailing boxes and think: Wow, these songs are sounding pretty darn good! If you're an audiophile that means you've found a home. Today, on my first day in Newport Beach, California I am sitting in the lobby of the Irvine Hotel (home of The Home Entertainment Show Newport) getting myself psyched for room after room of blaring boxes and stacks of brochures, sproutin' like cotton from every horizontal surface. I am feeling jus' like that ol' boo weevil a-sitten' on the square:
Just a-looken' for a home, just a-looking for a home (Doo-doo-wop-wop
).
This is my first THE show, but it is the fifth year for this fun, easy-going southern California happening. How "easy going" is it? Well, that perfect red Porsche in the photo signifies that, in addition to exotic audio there will be exotic "high-end" autos too! And the gearhead's delight will not be limited to just cars and wailing boxes. There will be a Headphonium, a Marketplace, LPs, CDs, and all manner of audio accessories in the Grand Ballroom. And it seems you can forget the normal bad show food too. I haven't found them yet, but there are rumors of gourmet food trucks, wine tastings, a home-theater demo sponsored by Sony, Focal, and The Source AV, as well as educational seminars sponsored by the Orange County Audio Society.
Oh oh, I'd better run—the gearheads are assembling outside the Irvine like soldiers on the horizon. The siege begins!