Sasha Matson's Day 2 at the Newport Show
My very full second day at THE Show Newport continued with some wonderful quality time and listening. Had a good visit with designer/owner Keith Herron (left), of appropriately named Herron Audio. This company is based in St. Louis, and Mr. Herron is particularly interested in the musical aspects of his gear, and stated to me that he felt musicians respond particularly well to it. Being a composer myself, I think he is spot-on.
Herron Audio covers most of the bases with the very reasonably priced system that was up and running at the show. Starting with a Herron Audio VTPH-2 vacuum-tube phono stage ($3650), into the Herron Audio VTSP-3A vacuum-tube stereo preamplifier ($6550), and downstream to the Herron Audio M1A mono power amplifiers ($6850/pair). Interconnects were Au24 SE ($1190 per meter), with Audience Au24 SE speaker cables ($2300 per 8ft pair), Au24 SE MP power cords ($1280 per 6ft length), and Au24 SE HP power cords ($2400 per 6ft length). Also in the system was an Audience AdeptResponse aR6 TSS-O power conditioner ($6000 with a PowerChord SE).
The loudspeakers here were Audio Physic Avantis—but I was told by Keith they are no longer in production. We listened to a recording of the Masterwork Chorale in St. Louis, which sounded simply gorgeous, and I really got a kick out of hearing a couple of film tracks from Burt Bacharach and Henry Mancini as well. The gear is very compact, musical as hell, and affordable—at least in high-end terms. A lot to like here—thumbs way up and wavin'.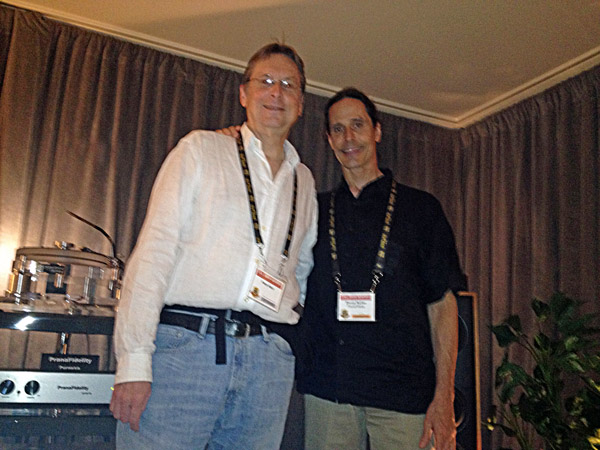 The next room I hit was extremely stimulating for several reasons. PranaFidelity (yes—one word), and Groove Note Records were sharing the space, and this was a great powerful combo of personalities- involving both hardware and software (ie, music). And no sooner than I had sat down, then in walks my longtime dearest pal, and another of my first audio gurus, violinist/concertmaster Peter Kent, seen here above left, with his friend, PranaFidelity designer/owner Steven Norber on the right.
Steven's company is based in Denver, and they cover the major audio system bases. The PranaFidelity Purna amplifier ($8950) puts out a whopping 400Wpc into 8 ohms and runs both balanced and single-ended. The PranaFidelity Purna preamplifier ($4500 to $9950 as per options), is described as "Full function symmetrically balanced." Delivering the goods with huge authority were the not-small PranaFidelity Vayu/fs Loudspeakers ($6950/pair). Frequency range on the speakers is stated as 29Hz–22kHz with an 89.5dB sensitivity measurement.
A kicker in this setup was the tape source—an Ampex ATR-102 deck, reconditioned/modified by Bernie Grundman Mastering. That figures, as surprising me from behind my chair was Groove Note Records principal Ying Tan! So we heard some swingin' Groove Note recordings, as well as some right-off-the-master-tape things that I did not get artist info on. One more key item to mention briefly here, is that the PranaFidelity Purna speakers have a two-way tweeter that is adjustable, and Steven Norber did just that in real-time as I listened—dialing in a Supertramp LP until it sounded absolutely killer. So much so, that I got up and danced, much to people's amusement. Hey—that's entertainment! Super bang-for-the-buck here.
I then caught up with Peter Selesnick of Venice Audio. Peter sold me my first pair of Harbeth loudspeakers a few years back, and I'm sure glad he did. Peter continues to retail Harbeth and also Naim electronics, and these two fine companies were featured in his show system here. The all-Naim rack included their SuperNait 2 integrated amplifier ($5695), the SuperLine phono stage ($4195), and for digital a UnitiServe 2TB Server/Hard Disc Player ($4395). LP playback used a Well-Tempered Lab Amadeus GTA Mk.2 turntable ($3850). Producing super fine music were the Harbeth Super HL5Plus loudspeakers in a handsome Rosewood finish ($6,995).
Art Dudley recently reviewed these speakers, and I personally own the Harbeth 30.1 Monitors. So I can confidently tell you that you really can't go wrong here- Harbeth speakers are as musical as all get-out, and justly deserves their excellent reputation. In addition they are very fairly priced, in my opinion. Peter Selesnick surprised me by summoning up on his iPad, my own composition Range of Light. Strange world: there I am sitting and auditioning myself—and I sounded pretty good!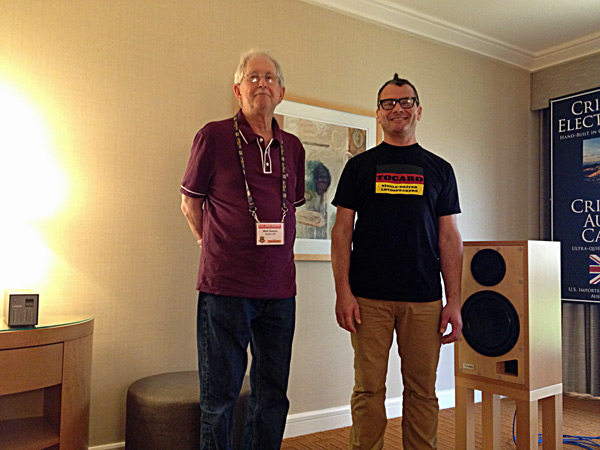 Austin Hifi Inc was next on my hit list. And they did not disappoint. Austin Hifi imports Crimson Products from the UK and Tocaro loudspeakers from Germany. I heard the Crimson CS 710 preamplifier with MM/MC phono stage ($7,000), the Crimson CS 640E-III mono amplifiers ($6000/pair), driving a pair of Tocaro Model 42 loudspeakers ($14,000/pair, stands included). Crimson also were providing the interconnects and loudspeakers cabling ("prices vary"—that is what it says on their price sheet. Couldn't say it better myself.)
Creston Funk and Mark Heaston patiently explained to me that Crimson Products have deep roots in British audio—the company was started by Brian Powell of Decca. The monoblocks put out 175W, and the speakers include a full-range 10" driver, and a tweeter with a wooden membrane, and no crossover. Listening results were highly musical and non-fatiguing. And believe me—this late in the show I was already one fatigued listener! Fast, fun, and tuneful on some Ellington. Great gear.
It was time to get with some cutting-edge technology from Japan, and the presence at THE Show of Panasonic/Technics sure fit that bill. What was going on in this room was too complex technically to describe in a brief show report IMO. However, Senior Manager for Panasonic, Kentaro Tamaki, was here and on-hand with a fascinating demo. Technics is taking the all-in complete system approach here, ie, the components are not being offered separately, at least not at THE Show.
Two contrasting new systems were both running, and they could be A/B'd. On the upper budget end was the Technics R1 Series ($55,000 complete system), and the little brother Technics C700 Series ($5000). That's right—my zeroes are correct; one being 11 times the cost of the other. That is quite a price spread, and the fact that both were very high-quality was creating much debate right there in the listening room. People were arguing about which one they liked on the way out!
The large floorstanders in the R1 Series include 5 drivers, and were described to me as a 3.5 way design. Contrasted by the C700, with their stand-mounted single dual-concentric cabinets. While I was there, playback of Steely Dan's "Babylon Sisters" was switched back and forth. Wow—what a devil of a choice! Some of my fellow listeners really preferred the smaller, whereas I found that system a little too brittle to handle the full-range nature of that track. By contrast, the much larger R1 speakers handled that funky tune with aplomb. Here you have highly sophisticated designs at price points that really bracket my "medium" budget show tent. You decide which might work better for you—but I can state with total confidence that Panasonic/Technics are back in the High End with a vengeance. Check it out.
There's more than one way to skin a cat. Importer Mark Gurvey dragged me by the scruff of the neck like a mama cat down the hall and into the Sound Decisions Audio room, and I'm glad he did. There I was introduced as well to Scott Hotfelter. Featured here were a pair of actively powered Avantgarde Zero 1 loudspeakers ($17,500/pair), with music sources coming from the Lumin S1 Universal Audiophile Network Music Player + External Power Supply ($12,500). There you have it! You're pretty much done, and ready to make state-of-the-art music playback. A fine example of fitting the utmost in current technology into just a couple of units.
The Zero 1 speakers are an active 3-way array described as 2x50W (for the tweeter and mid), and 1x400W (for the 12" woofer). Digital crossover network, 24-bit converter chips—the list goes on. For its part, the Lumin S1 includes DSD capability, and PCM up to 384! The musical end-result of this firepower? The bit of Beethoven's 5th Piano Concerto I heard was really stunning—super-fast distinction on piano transients, with the orchestra beautifully arrayed before me. A stellar music/audio marriage.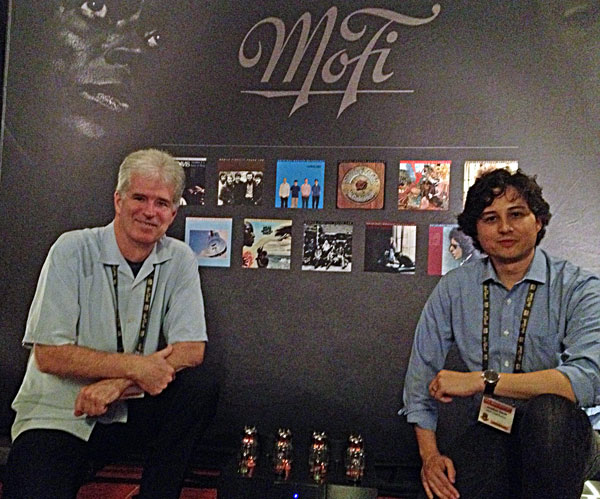 At the suggestion of my new pal and scoutmaster, Jason Serinus, I located the MoFi Distribution room. There I was introduced to Jonathan Derda (right) and the rest of the MoFi team here at THE Show. Having spent time just the day before with Tim de Paravicini, who has been working with Mobile Fidelity on their remastering technology, this was a most fortuitous visit for me. I personally have been so impressed with MoFi's recent LP re-masterings, and I own quite a few. Plus, for whatever reasons, it was immediately obvious that this room was sounding good. In fact, I haven't heard a lot of bitching about rooms here at this year's THE Show. The consensus seems to be that this is really quite good for an audio venue—unless someone comes along and builds a hotel dedicated to audiophiles, and that may be a long wait.
The first thing I spied walking in were the very handsome pair of Quad ESL 2812 loudspeakers ($12,000/pair)—Hurray! Quad is back!—being driven by a BAT VK-55SE stereo amplifier ($6995). The preamp was also by BAT, the VK33SE ($9995).
MoFi Distribution does not refer to only LPs. A number of outstanding hardware brands find their way around the US this way, and one of those is Avid. This allowed for a very intriguing demo; three Avid turntables at different price points were set up and active. The Avid Diva IISP ($4495), the Avid Sequel SP ($9995), and the Avid Acutus Reference SP ($26,995). The kicker? Each of the three turntables had been set up with the same tonearm, the SME 309 ($2100 approx.), and the same cartridge, the Koetsu Black ($2495). So here was a comparison of 3 turntables from the same manufacturer, with no other variable than the tables themselves. All three were routed through the Avid Pulsar phono stage ($7495).
We heard a Mobile Fidelity ('natch!) pressing of Lou Reed's "Walk on the Wild Side." This was not a blind-listening deal—I was told which table was which, progressing up the price ladder. On the first switch I thought something was going on in the low-end but couldn't quite put my finger on it. Upon getting to table number three it was quite obvious—the pacing had changed and tightened, causing the electric bass to appear to swing a bit more and better focusing the background vocals. I am just going to say it—I've never really connected to Lou Reed recordings, but this room and gear had me smiling and tapping my foot. Yes—old dogs can learn knew tricks. Then as a reward, I asked for some Bob, and they played me "Don't Think Twice". Made my day. Thanks MoFi Distribution!