The Newport Beach Show: Set-Up Day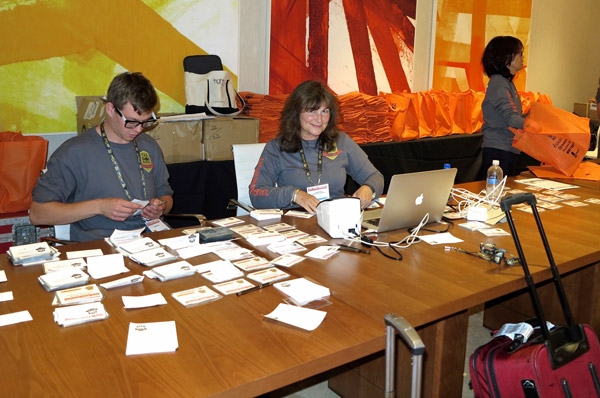 Six weeks before the start of THE Show Newport Beach, word got out that the show organizers were poised to add a last-minute "Trade and Press Day" for Thursday May 28. As it turned out, the actual announcement came later, less than a month before the show. The idea, if instituted correctly, could have been a good one. But done so last minute, it seemed, at best, half-cocked.
Which is exactly as it turned out. At least one exhibitor has already voiced his displeasure on Facebook, lamenting that he had people coming into his room while he was trying to set up. (Duh, why didn't you lock the door?) A press person who lives nearby lamented to me that half the rooms he tried to enter weren't ready for him. And one exhibitor declared, "Yesterday was a disaster at the show. Wasted a whole 6 hours in the room and nobody came. I want to kill the show organizers."
Be that as it may, I was able to register with the lovely Lucette Nicoll (above center) and take in just a few rooms before dinnertime.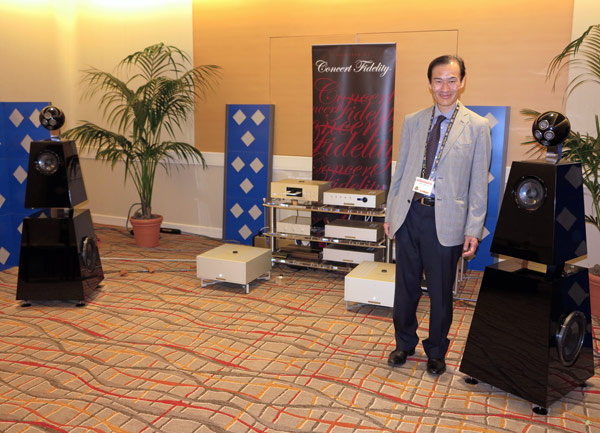 The four of us covering THE Show for Stereophile have divided up territory by price point, more or less. My beat being "cost-no-object," the actual starting point for such a category being a subject of inevitable contention, I struck pay dirt when I opened the lobby level door to the large exhibit from Concert Fidelity—Diasoul—Kotobuki. Here I encountered Kokei Teramoto, designer of the forthcoming Diasoui I loudspeakers. While the US price has yet to be set—the company is searching for US distribution—$120,000/pair is one likely scenario.
Teramoto spent 35 years at Mitsubish and Diatone before starting his loudspeaker company in Japan just a few years ago. His speaker's 3-way, 7-driver system includes 4 36mm powered spherical wave tweeters with dome and cone diaphragms constructed of B4C pure boron; a midrange driver of solid line NCV (nano carbonized high velocity), which, as best as I can make out, is an injection-molded nano-carbon tube with multiple resins; two 250mm woofers, with an NCV diaphragm and mechanically coupled in reaction-cancelling configuration; and built-in 400Wpc digital power amplifiers (800W total) plus DSP that offers four preset patterns. The speaker claims a frequency of 20Hz–80kHz with its Network Controlled NW1, nominal impedance of 4 ohms, and an on-axis sensitivity of 92dB.
Midrange and tweeter are powered by external amplification, and the woofers via internal amplification. Thus the use of the NW1, which "divides the frequency range to match each amplifier's range of operation and performs correction of the frequency response within that range."
Allied to Concert Fidelity's ZL-200 solid-state monoblock power amplifiers ($38,000/pair), CF-080LSX2 tube hybrid line-stage preamplifier ($18,000), and battery-driven tube hybrid DAC-040 BD ($10,000) that, for some reason, could not decode a hybrid SACD despite the presence of an Esoteric X-01D transport; lots of unusual Kotobuki room acoustic treatment; and other components from Audio Excellence and Stillpoints—I'm leaving out the analog components because I didn't hear them—the system was either seriously over-damped or in need of more warm up. Violins on my beautifully engineered Reference Recordings disc of ballet suites from Sylvia and Coppelia sounded a little wiry, and midrange and lows lacked the volume, weight, and impact one might reasonably expect from such a system. Depth, on the other hand, was excellent.
Leave it to Jeremy Bryan of MBL to not only fill me in on the acoustic challenges in some of the air-walled lobby level conference rooms, but also tackle those problems with gusto. "They added the soffit to the ceiling after we booked the room a year ago," he declared. "The ductwork and fluorescent lights rattle constantly. We spent the better part of the day dealing with that. Look at all the magazines we piled up there to stop the rattling. And we've also got a big bass suckout—there's nothing below 30Hz—and a big spike around 42."
None of which stopped the system, which clearly need more warm-up time, from sounding fabulous on rare, seldom-heard pre-mastering phase tapes of Billie Holiday's "Lady Sings the Blues," Holly Cole, and the Mamas and the Papas. Trumpets sounded just great, especially when the volume was turned up.
The system was a modified MBL Reference Combination D system ($259,700 total) with MBL 9011 mono amps on the woofers plus additional MBL 9008 A mono amps ($60,600/pair) on the Radialstrahler loudspeaker system. Source was Greg Baron's UHA Phase 12 OPS (Outboard Power Supply) analog tape deck (starts at $20,000), cables Wireworld Eclipse Series 7, and tapes priceless.
Arnold Martinez of Chicago's Tweak Studio was showing an all-Burmester system that he had hoped would include their $90,000/pair loudspeakers. With those failing to materialize, he presented a smaller system that included Burmester's B 25 loudspeakers ($15,000/pair), a 3-way bass reflex design with a 35Hz–45kHz frequency response and sensitivity of 88dB; 082 1-integrated amp ($20,000), which outputs 100Wpc into 8 ohms and 150Wpc into 4 ohms; 911 350Wpc power amp ($35,000); 102 CD/DAC used as transport ($10,000), 113 DAC ($6500), 948 line conditioner ($10,000), and Rack V 1 rack ($6000). I'm told the four Stillpoints Aperture panels ($650/each), which I'm currently experimenting with at home to great effect, helped widen the soundstage, improve layering, and improve air and focus. There were also Stillpoints Ultra SS supports on the speakers. Cables were MIT SL matrix 90 (90 poles of articulation) speaker cables ($10,000), SL matrix 50 interconnects ($5,000), power cables ($499 up), and Oracle MA-X Magnum Digital Cable ($4,000).
Beyond the small and low image thrown by the loudspeakers, I loved the really nice, warm timbres of piano and violin. This system was capable of conveying both lovely delicacy and macro-dynamics. While it may not have conveyed the sheer scale of a piano, it threw a surprisingly large soundstage for the San Francisco Symphony's beautiful recorded, fairly recently released performance of Fauré's Pavane (Masterpieces in Miniature), and again supplied just the right amount of warmth and tonal beauty to make the presentation quite special. Color me smiling.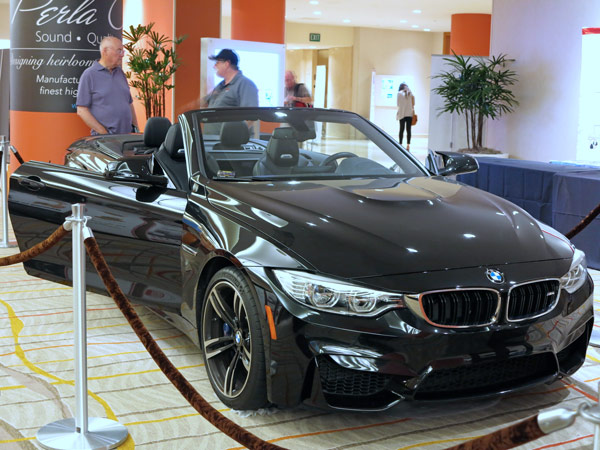 While exhibitors were still zooming about frantically, trying to get their systems up to snuff for the official open at 10am Friday, Reus Audio Systems moved both indoors and outdoors this year to showcase car audio in some beautiful vehicles. As lovely as this BMW looked . . .
Everyone's mouth was watering over this Lamborghini. Even as I tried to snap a picture, no less than three industry folk offered to pose at the wheel or take me for a spin. A car fit for many a CEO or well-heeled politician.
This shot of a bit of the large indoor/outdoor dining facilities at the Hotel Irvine. Soon to populate the restaurant, which is so noisy that I had to eat with paper stuffed in my ears to avoid sonic overload, were our other three bloggers, Herb Reichert (lower-priced systems), Sasha Matson (mid-priced systems), and industry veteran Tom Norton (whatever strikes his fancy). I left the dinner high from the company, albeit hoarse from attempting to shout over the din.