THE Show Day 3: the Reichert Report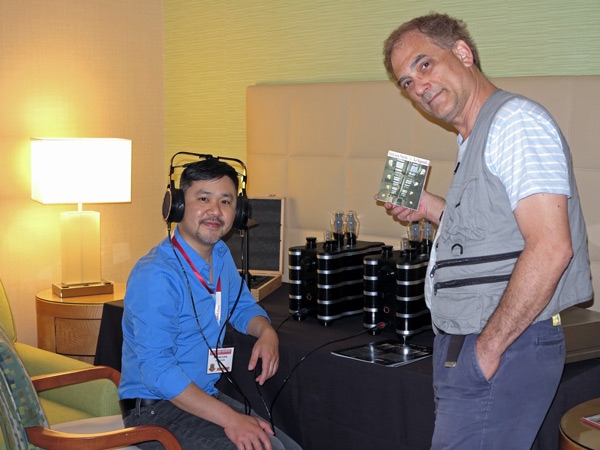 During THE Show, the Woo Audio/M•A Recordings room became my restful oasis. I am an extreme fan of M•A Recordings and its most worldly proprietor, Todd Garfinkle (right above in Jason's photo). Todd makes perfect-sounding recordings of real in-the-world music. Not audiophile recordings of some faux chanteuse in clown makeup singing songs she doesn't understand for an audience that cares more about sonics than poetic expression. In contrast, Todd Garfinkle picks up gypsies in the Paris Metro and brings them home. He shares his best food and wine with them—and finally, when they are properly "prepared," he turns on his recorder and gets them to chant, shout and play wedding songs—with tubas, clarinets, trumpets, trombones, accordions, drums and fierce stomping boots! Think Gogol Bordello but more mad and hysterical!
What? You don't think you'd like this record? Well, in the Woo Audio room I could listen to all of Todd's other unique and beautiful recordings via Stax, Abyss, Audeze, Sennheiser, or Beyerdynamic headphones. Rooms like this are not found anywhere in the everyday outside world. To find them, we must venture to hi-end shows, get lost in new music, and savor our lost days.
I read a reader's response to one of Stereophile's show blogs where the man was complaining about too much talk about the audio-world's "cult-of-personality" and not enough talk about the actual gear. Well, I am a natural-born gearhead and I disagree. Audio would be nothing without its eccentric and wildly passionate characters. I came out of drag racing and without colorful personages like Don "The Snake" Prudhomme, Shirley "Cha Cha" Muldowney, and Jungle Pam; ¼-mile racing would be nothing but tachometers, top speeds, and elapsed times. Totally boring.
The word "boring" will never be applied to Merrill Wettasinghe, proprietor of Merrill Audio in Bernardsville, NJ. His audiofest rooms are always perfectly assembled, carefully lit, and extremely hospitable. This proves he is a smart and experienced audio dealer. He face is always smiling and softly happy. This means he is probably a pleasure to deal with. The sound in his rooms is consistently top shelf delicious, and irreproachable. This means he knows what he is doing and has good taste! I visited his room to experience the new Thor class-D monoblocks ($4800/pair). With class-D, one never knows what to expect. The sound can range from November gray and dismal to pure April sunshine.
In the Merrill Audio room the Thors drove the Alta Audio Celesta FRM-2 speakers ($13,000/pair) with sexy and detailed authority. What I liked most about the sound in Merrill's room was the way it morphed from sweet to tart to fully in control—all in accordance with the demands of musical program.
All the broken twigs and footprints in the dirt suggest the future of high-end audio may be sitting right in front of us—on our desktops! Instead of monoblocks, tower speakers, and cable-lifters, imagine a sturdy desk sporting an iPad and an "intelligent" integrated amplifier with a first class DAC, a state-of-the-art headphone amp, and a power stage capable and worthy enough to drive some extremely high quality desktop speakers. If you like that vision as much as I do, you should check out the new Schiit Ragnarok integrated amplifier ($1699).
In Norse mythology, Ragnarok means "Fate of the Gods" and refers to a series of future events that lead to the destruction of the present (audio?) world and the creation of the next—which is exactly how I felt while listening to Holst's The Planets (on Telarc) via the new HiFiMan HE-1000 headphones ($3000). The Holst/HiFiMan/Schiit Ragnarok experience was like watching a new universe take shape. The sound was more vivid, detailed and considerably more exciting than any of those giant boxes were conjuring upstairs.
The Schiit Ragnarok features adjustable gain and a low noise stepped attenuator. For loudspeakers, it delivers 100W into 4 ohms. For difficult-to-drive headphones, it produces an amazing 15W into 32 ohms. Most importantly, this "fate of the gods" product was designed by a timeless wizard named Mike Moffat.
Joshua W. Miles is an artist. He showed me his paintings in a book and I loved them. His mother is a painter too. She was beautiful and I loved her smile and motherly ways. But, most of all I admired the shear beauty and luscious detail of the sounds Joshua's Alyson AML Large Monitors ($6900–$7200/pair) and custom Karen 6 turntable ($1700) were making in the room. In my notes I drew a picture of the loudspeaker with hearts and stars flying around it.
Everything in the room except the Balanced Audio Technology electronics, Ortofon Winfield cartridge, and turntable hardware by Rega, was made "one-at-a-time" by Joshua's own hands. JWM Acoustic is located in Kallua, HI and specializes in using locally grown hardwoods to fashion one-of-a-kind custom loudspeakers and turntables that are tailored to each customer's desires. I walked out reminiscing about my own mother—she was an artist too.
Sunny Components is a full-service audio consulting firm located in Covina, CA. I went in their room to hear the GoldenEar Triton 3 speakers ($2200/pair) and educate my ears for my forthcoming review of the new GoldenEar Triton 5s. Immediately I was impressed by the relaxed full range presentation. Musical energy filled the small room in a natural, lightly detailed, and easy-flowing way. Then I noticed the twin REL subwoofers ($1500/each) and the T+A 200K turntable ($7900) and phono stage ($700). This set-up seemed perfect for that ol' California Dreaming.
The Channel Islands (CI Audio) D100 was the first class-D amplifier I thought worthy of audiophile consideration. I not only liked its sound I thought its shape and presence were smart and new-fashioned—in an old-fashioned Bob Carver sort of way. When I looked in their room at Newport Beach I was impressed with the beautiful simple aesthetic of what I saw. I was impressed with the colorful drama of the room display, and I was curious about the YFS (Your Final System) modified Mac mini and its accompanying PS-12m Linear Power Supply ($1895).
YFS takes your Mac mini and tops the RAM off at 16GB then adds a 120GB SSD for OS X. Then YFS (or the owner) adds a custom Internal Power Filter ($375) directly in front of the motherboard where the original Apple power supply used to be.
When I came in and sat down, I forgot all about the Channel Island/YFS stuff and got drawn in, and seduced by what Dusty Vawter's prototype loudspeakers were doing with the music he played. Dusty kept saying, "These speakers aren't for sale yet," and "The final versions will have different drivers." What? Why? Vawter's un-named prototypes sounded amazing. There were delightfully rich and dynamic. They let music move forward in a most unstoppable way. Tone was right on. Best of all, this wide-spread, room-boundary enhanced placement was throwing a gigantic sound stage! I asked whether the final version would sound like these. He smiled and replied, "Better!"
Have you ever heard the expression, "A tempest in a teacup"? Or heard someone say, "Geeze, I sure stuck my foot in it that time"? Well, I am an Aries, which means I was born with my foot in my mouth and it took me 'til noon on the show's final day to quell the tempest in a coffee cup caused by two sentences I had written about drinking coffee in the Audio Element room. On day one, I explained how I understand what it means in terms of cost and psychic energy to put up a great sounding room at six or more hi-fi shows per year. I also understand that nobody—and especially not a "relative" newcomer like Brian Berdan (son of famed California High-End dealer, the late Brooks Berdan) and his wife Jennifer needs a smart-aleck cub reporter to use their carefully set-up room as a launching point for some early-morning literary theater. (I only listened to one song before I ran out.)
Jason Serinus sent me nearly 1000 emails. He wanted to know what I was doing venturing off my "budget" sharecropper plantation. So I promised Jason I'd drink my coffee first—and then go over and give the AE room a more serious listen. And you know what? I had to ask them to turn it up. The music they played was graceful and sophisticated. I was happy and the sound was totally worthy of Jason's and my praise.