MBL Corona C15 monoblock power amplifier Measurements
Sidebar 3: Measurements
I performed a full set of measurements using my sample of the top-of-the-line Audio Precision SYS2722 system (see www.ap.com and the January 2008 "As We See It"). The Corona C15 has a switching output stage, which produces ultrasonic noise that would overload the Audio Precision's input circuitry. To eliminate this noise, I carried out most of the tests using, ahead of the analyzer, Audio Precision's AUX-0025 passive low-pass filter).
Before performing any measurements, I ran both MBL Corona C15s for an hour at one-third the specified maximum power of 280Wpc into 8 ohms. This is thermally the worst case for an amplifier with a class-B or -AB output stage, but is an irrelevant test for an efficient class-D amplifier, which uses almost all the power drawn from the wall to create the output signal. At the end of that period, the C15's chassis was only mildly warm, at 85.6°F (29.8°C), though I was sure that the amplifier was now fully warmed up for testing.
The MBL's voltage gain at 1kHz into 8 ohms was to specification, at 26dB for the XLR High and RCA inputs, 19.95dB for the XLR input setting. Both the balanced and unbalanced inputs were non-inverting, the XLR jack being wired with pin 2 hot. The input impedance was also close to the specified values at low and middle frequencies, measuring 19.6k ohms balanced and 9530 ohms unbalanced. These figures dropped slightly at 20kHz, to 19k ohms and 6760 ohms, respectively. The output impedance was very low for a class-D amplifier, at 0.1 ohm at 20Hz and 1kHz, rising slightly to 0.13 ohm at 20kHz. (Both figures include 6' of speaker cable.)
With this low and consistent output impedance, the modulation of the amplifier's frequency response by the Ohm's law interaction between this impedance and that of our standard simulated loudspeaker was minimal (fig.1, gray trace). What is also significant about the traces in this graph is that, unlike typical class-D amplifiers, in which a low-pass filter on the output must be optimized for one specific load impedance, the C15's low-pass function into 4 ohms (cyan and magenta traces) and 2 ohms (green) is very similar to its 8 ohm behavior (blue, red). Usually, the mismatch into loads other than the one for which the amplifier's filter has been optimized results in ultrasonic peaking. (See, for example, fig.1 in my measurements of the Mark Levinson No.53 amplifier.) The C15's output is down by just 0.5dB at 20kHz into 8 ohms, and the amplifier's reproduction of a 1kHz squarewave into that load (fig.2) was superbly well defined, with just a trace of critically damped leading-edge overshoot. I haven't shown the 10kHz squarewave, because I couldn't get sufficiently consistent triggering to average enough captures to get a graph suitable for publication. But the risetime of the 10kHz squarewave was slowed by the amount I expected from the ultrasonic rolloff in the frequency-response measurement.
Without the AUX-0025 passive low-pass filter, and with no signal present, one C15 had 897mV of ultrasonic noise present on its output, with a center frequency of 318kHz. The other amplifier had 969mV of noise with a center frequency of 311kHz. With the filter, the unweighted audioband signal/noise ratio, taken with the XLR input shorted, was 76.2dB ref. 2.83V into 8 ohms for one amplifier, 74.8dB for the other. These ratios both improved by 0.8dB when the input was switched to XLR High mode, and to 82.1dB and 78.8dB, respectively, when A-weighted. Spectral analysis of the low-frequency noise floor while the C15s drove a 1kHz sinewave into 8 ohms at 2.83V (fig.3) revealed that the random noise in their outputs was low in level, at –110 and –113dB, but each had a small amount of 60Hz at –81dB (0.01%), along with some much lower odd-order harmonics. Although this was most likely due to magnetic interference from the AC transformers, I could hear no hum, even with an ear pressed up against a speaker's woofer.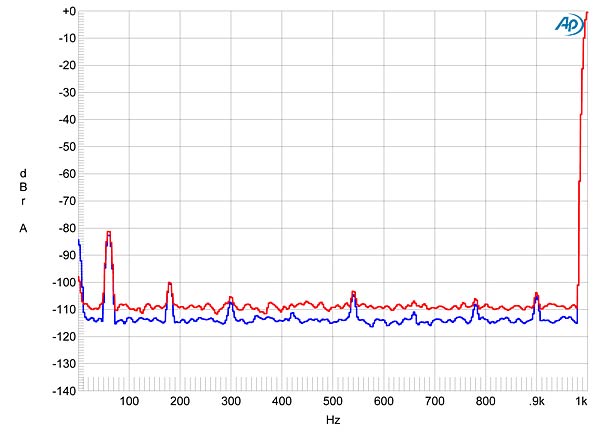 The C15 is specified as delivering a maximum output of 280W into 8 ohms (24.5dBW). I measured an output of exactly 280W into 8 ohms at 1% THD+noise (fig.4), which is our usual definition of clipping. I measured 520W into 4 ohms at 1% THD+N (24.15dBW, fig.5), which is slightly more than the specification of 480W into this load. I tried to measure the clipping power into 2 ohms, but cut short the test at 620W (21.9dBW). The distortion level (not shown) was 0.28%, but the amplifier being tested was starting to mechanically hum and buzz, and I was concerned I would break it. Even so, this is well above MBL's specified maximum power of ">500W" into 2 ohms.
The shapes of the traces in figs. 4 and 5 suggest that the THD+N percentage is dominated by noise below a few watts, so I measured how the THD+N varied with frequency at 8.94V (equivalent to 10W into 8 ohms, 20W into 4 ohms, and 40W into 2 ohms), a level at which I could be sure I was looking at true distortion. The results are shown in fig.6. The two C15s are very closely matched, and while the THD increases from 0.015% into 8 ohms (blue and red traces) to 0.05% into 4 ohms, as expected, the 2 ohm trace (gray) is no different from the 4 ohm traces (cyan, magenta). Other than the 2 ohm result, where there is a small rise in THD above 5kHz, the traces in this graph are remarkably flat with frequency. Some class-D amplifiers suffer decreasing linearity as the frequency increases, but not this MBL.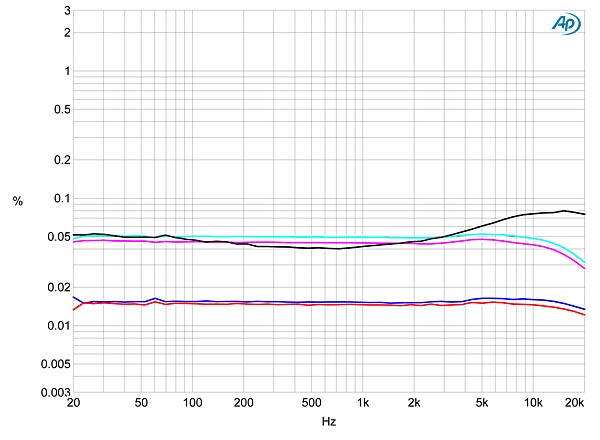 The distortion waveform at 12W into 8 ohms is predominantly third harmonic (fig.7), though some higher-order harmonics, as well as the second, are present at levels between –90 and –100dB (0.001–0.003%). While the levels of the harmonics increase at higher powers into 8 ohms, the third remains predominant (figs.8 & 9). Reducing the load to 4 ohms brings up the level of the second harmonic (fig.10), though still not to the level of the third. The C15's transfer function appears to remain relatively consistent with both frequency and output current. Spectral analysis of the MBL's output while it drove an equal mix of 19 and 20kHz tones into 8 ohms at a level a few dB below visible clipping on the oscilloscope (fig.11) indicated that actual intermodulation distortion was low. The difference component at 1kHz lay at –90dB (0.003%), and the higher-order products at 18 and 21kHz lay at –74dB (0.02%). However, some low-level enharmonic components make an appearance.
I am always leery of measuring class-D amplifiers—their performance can be, shall I say, idiosyncratic. But no excuses need be made for MBL's Corona C15. This is an impressively well-engineered amplifier.—John Atkinson