Jason's Day One Continues: One Step Closer to Oz
The most outstanding system I heard on the first day of AXPONA 2017 sang magnificently in the Kyomi Audio room of Chicago dealer/concert pianist George Vatchnadze. Whether I was listening to hi-resolution files of Melody Gardot and Lori Lieberman, as supplied by distributor Philip O'Hanlon's On a Higher Note and played through a Merging Technologies NADAC ($14,000) and MBL 1621A CD transport ($28,000), or to the LP version of Chet Baker's 1981
Someday my Prince will Come
, played on a TechDas Air Force Three turntable ($29,750) with Graham Elite 10" tonearm ($12,000) and Koetsu Jade Platinum MC cartridge ($9995), I could not stop repeating to myself over and over again that the sound of this particular combination of Jadis electronics with Vivid Audio Giya G1 Series II loudspeakers ($68,000/pair), Stealth cable, and Artesiana Audio racks and supports was incomparably lovely and seductive.
Kyomi Audio's was the first room I'd entered where I was so taken by the sound that all I wanted to do was sit and listen, and then listen some more. And it wasn't just the fabled Jadis midrange that had me in its grip; the bass was also quite good, and the highs divine. Which is all the more astounding given that the Jadis JA200 MK II monoblocks ($33,900/pair), which are now upgraded to perform with KT-150 tubes, had only 30 out of the requisite 200 hours of break-in on them.
The JA200s were paired with a Jadis JP200MC tube preamplifier with MC phono stage ($32,900), whose detented volume control is only adjustable in 1dB increments. This, in my experience, is less than ideal. Whenever I have owned components that were incapable of finer volume adjustment, I frequently found that the ideal volume setting for some recordings lay in between what the units would allow.
Regardless, I trust that the JA200 MK II monoblocks don't need a Jadis preamp to sing. In fact, I intend to find out. Hopefully, by the end of the year, I will know how they sound with a dCS digital front end and Wilson Audio loudspeakers. Please stay tuned.
In the room shared by Merrill Audio and Distinctive Stereo, the new omnidirectional German Physiks Borderland Mk.IV loudspeakers ($36,500/pair), mated with Merrill Audio's Veritas monoblocks ($12,000/pair), Christine Reference line-stage preamplifier ($12,400), and Jens phono preamplifier ($15,449) produced a fine midrange and slightly hot top end. There was much beauty on an LP of Ray Brown and Laurindo Almeida, thanks in no small part to the VPI Reference Avenger turntable with Magnetic Drive ($23,000) outfitted with VPI JMW 12" 3-D printed arm ($1500) and Lyra Delos cartridge ($1995), but the leading edge of the guitar strings was a bit over-emphasized.
Ted Denney (pictured) of Synergistic Research and Scott Walker of Scott Walker Audio delivered a gorgeous midrange by pairing Synergistic Research Galileo UEF cabling—including the new Galileo UEF interconnect ($7500) and Galileo UEF USB ($2995)—new Synergistic Research PowerCell 12 UEF SE power conditioner ($5995), and a helluva lot of Synergistic Research system and room acoustic treatment and grounding accoutrements with a Berkeley Alpha DAC Reference series 2 w/Alpha USB module ($19,500—review forthcoming), Baetis Reference 2 server ($14,620), Constellation Pictor preamp ($18,000), Constellation Centaur II power amp ($40,000), and Magico S5 Mk2 loudspeakers ($38,000/pair). The bass seemed a bit overdone and the presentation distinctly dryer and less colorful than that of the magical Jadis/Giya/Stealth combo. It was classic Constellation, which means impeccably controlled and detailed and a bit dark, but it was also very musical and neutral. The big and spacey presentation on a track by Hans Zimmer was especially engaging.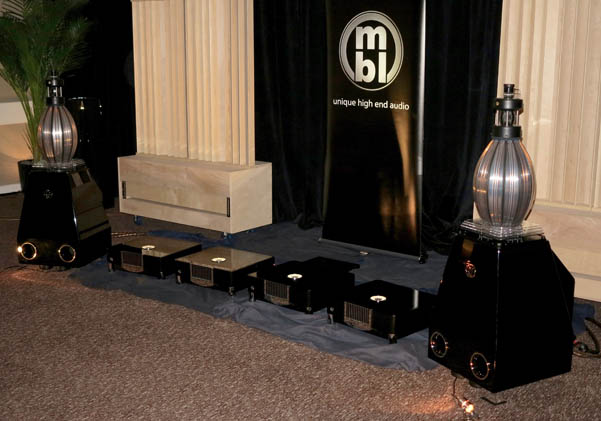 When does MBL sound every bit as good as you'd expect MBL sound, except that it sounds like no other MBL system you've ever heard? Answer: When Jeremy Bryan of MBL North America finds himself in a conference room whose walls are covered with reflective, glassy erasable wallboard, and the black draping he's requested to cover the walls is so thick that it completely soaks up the shiny, sweet, and pearly signature that I've long associated with MBL electronics.
Ever the set-up wizard, Jeremy restored depth and color to the system by skillfully positioning diffusers on the front wall behind his speakers. But nothing could restore the pearly shine that those heavy drapes selfishly sequestered for themselves.
Now, please ignore everything you've just read. Because if you didn't know a thing about MBL, and you had found yourself in the sweet spot in which I was sitting, you too no doubt would have been amazed by the eerie three-dimensionality, fast and thrilling percussion, arresting contrasts between a host of different idiosyncratically colored percussion instruments, speed, clarity, and fabulous sense of space the system produced on a CD of the music of Lou Harrison. The range of unique timbres produced by the found and repurposed-for-percussion instruments on Double Music, composed with John Cage, and the very different color palette of the percussion array heard in the first movement of the Violin Concerto were to die for.
Doing the honors were the MBL N31 CD-DAC ($15,400), which John Atkinson is reviewing for Stereophile; the first public showing of the N11 preamp with remote control ($14,600) and four N15 mono power amplifiers ($17,800 each), and the 100 E MKII loudspeaker ($70,500/pair). Doing the dishonors were the room and…
When the music had concluded, I turned and asked the large group of MBL converts behind me if anyone knew the name of the composer. Imagine my surprise when one man immediately responded, "Lou Harrison." Imagine my additional surprise when another man, standing in back, exclaimed, "That's not music! Play some real music." And with those words, he bolted from the dreaded unknowns of music that was composed 76 years ago and headed for the contemporary safety of the Chicago streets.
As if that experience wasn't bizarre enough, when I entered the next room, a man was intentionally straddling two seats in the front row—the sweet spot and the one to the left—in order to have two of the best seats in the house to himself. Sitting next to the two hims, I proceeded to attempt to listen to what sounded like one of the best speaker buys of the high end, the Salk Signature Sound Song3 Encore floorstanding speaker system ($5895/pair), when two men behind us began to carry on a conversation that had nothing to do with audio. When I turned and politely said, "I'm trying to listen," the two-seated man to my left, who was their friend, blew up and exclaimed, "Why don't you press people attend on press day instead of bothering the rest of us. That was so rude!"
For the record, there is no special press day, and "us" includes press. In fact, it includes both those who rudely take two seats for themselves and expect the world to fall into lock step behind them, and those who stand their ground and know a bully when they encounter one.
So, with much deep breathing on my part, did I remain seated and discover that the Salks, paired with Salk StreamPlayer Generation III ($1695), Exogal Comet DAC ($2500) with upgraded power supply ($500), Wells Audio Innamorata Signature amplifier ($15,000), Bybee Technology conditioners, and goodies from Gingko Audio and Danacable produced a really smooth top and excellent midrange. The sound was so good that I didn't even mind my umpteenth exposure to Rimsky-Korsakov's ridiculous The Dance of the Tumblers. Equally clean and fresh was the sound of Jennifer Warnes' Famous Blue Raincoat. With the Bybee conditioners eliminating the top sizzle heard on several systems on the Westin's Lower Level, the sound was so good that nothing, not even music so frequently aired that it has become an audiophile cliché, could steal the joy.
Although I saved a serious listen to the new components from ModWright Instruments and Daedalus Audio for a promised second encounter on the 5th floor, I lingered long enough in their room on the Lower Level to snap a photo of the very first sample of the new Rosewood finish ($6500 projected price) that will grace the VPI Prime Signature turntable. The turntable sported VPI's JMW 3D-R 10" arm with a dual pivot and an Ortofon Windfeld cartridge.