Jana at AXPONA 2017: the First Morning
AXPONA is the show that breaks barriers and defies stereotypes.
The audiophile community is filled with kind, generous people who are fiercely passionate about good music and good sound. But it is no secret that there are a small number of audiophiles on the dark-side (and not of the moon) whose sole purpose in life is to sour it up for the rest of us. They are foul beings of the dark underground hi-fi network that globally infiltrates hi-fi shows, dealers, regional clubs, and even the occasional Can-Jam. I won't even begin to tell you about my findings on their black-ops missions with rogue assassins or just how many government conspiracies they're responsible for. You know that rancid elevator odor you sometimes smell at hi-fi shows? It's not body odor. It's the smell of pure evil.
But let us not get carried away.
I only go into such detail to say that I have found no such evil lurking at AXPONA thus far. (And all female audiophiles have exceptional built-in radars for such mansplaining audiophile curmudgeon.)
AXPONA is extremely diverse in every way possible. There are millennials, there are couples, there are females; there are African Americans, Latinos, and Asians. There is more acceptance for lifestyle-focused audio, Bluetooth, and Spotify. There are the usual lust-worthy cost-no-object systems, and the lofty but still widely attainable mid-priced systems—when combined, I believe, are still in the majority. But most importantly: there is a stronger presence of and acceptance for affordable high-performance hi-fi and for lifestyle centered audio, all without pretentious evil-audiophile-vibe stigma.
Which brings me to my assignment: affordable gear . . . and anything else of interest.
Emotiva is known for being consumer friendly, affordable, and diverse, with a wide selection of components for two-channel, home theater, and pro-audio customers. On their website, CEO Dan Laufman even has a blog post about the company's core philosophy and beliefs about providing affordable products. He writes: "When I started the company, I wanted to offer exceptionally designed and high-performance products and offer them at prices that more people could afford and enjoy. As a former manufacturer for other brands, I saw the markups and I knew what the products cost to make, and the differences between the two was striking." By looking at Emotiva's price list and venturing around their cave-like show suite on the ground floor, it is evident that their words are not just empty promises.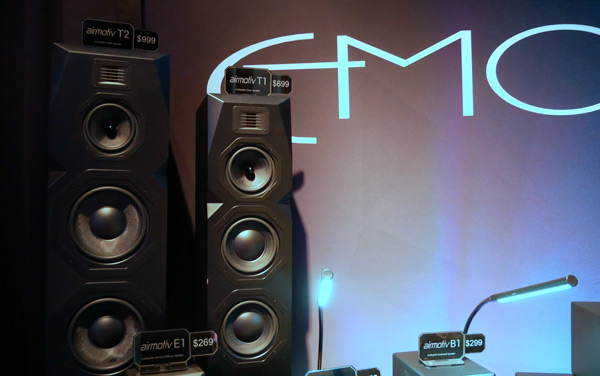 At AXPONA, in terms of two-channel audio, Emotiva debuted the BasX CD-100 CD player/transport ($299) and previewed the AirMotiv T2 tower speakers ($999/pair). BasX refers to a family of affordable components produced by Emotiva, including home-theater gear. The CD-100 sports a steel chassis and solid milled aluminum faceplate, and plays commercial CDs, CD-Rs, CDs with HDCD encoding, discs with MP3 files, and will start shipping this coming week. Not bad for just $299! The AirMotiv T2 speakers are not yet available (nor on the website!) and feature dual 8" woofers, a 5.25" midrange driver, and a 25x32mm folded ribbon tweeter. The T2 is shown above next to their smaller, older sibling, the T1. The T1 sports 6" woofers and 5.25" midrange drivers.
I wasn't able to listen to the CD-100 or T2s in a musical setting, but I was able to experience the T2s in an 11-channel home-theater setup at the back of Emotiva's cave where the movie Iron Man was playing. They were indeed very powerful.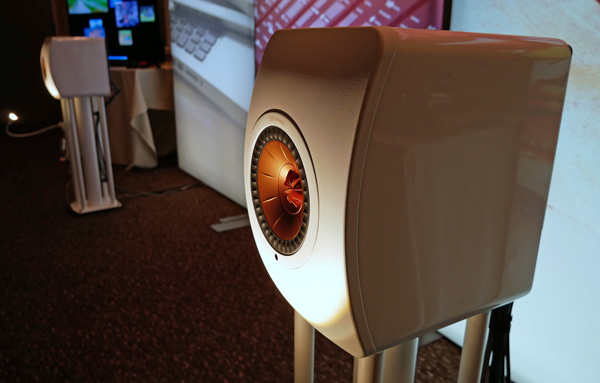 "Who likes the KEF LS50 wireless most in white?" I raise my hand.
"Of course, the lady." KEF's brand ambassador Johan Coorg says.
The nearly full room of hands was split in three: gloss white/copper, titanium grey/red, and gloss black/blue. White is my favorite shade for everything. Speakers are no exception to this rule. Show me black boxes, wood boxes, Carrera red, Ferrari orange, or whatever, and all will lose to the beauty of a white speaker in my eyes. That, the hype surrounding the KEF LS50 wireless with its Uni-Q drive-unit, and its price ($2199/pair) are what drew me in to the KEF room.
Johan gave a very thorough presentation on the speakers, explaining their properties and features: an all-in-one fully active system in a box with an end-to-end hi-rez 192kHz/24-bit digital signal path, a streaming preamp, and two DACs per channel in a bi-amp configuration. It allows for connections via 2.4GHz/5GHz dual-band Wi-Fi, Bluetooth 4.0 aptX, asynchronous USB Type B, Toslink Optical, and RCA-type line-level analog inputs. The most interesting feature, however, is DSP control Johan played "Hey Laura" by Gregory Porter, which seems to be very popular here, and demonstrated the responsiveness by rewinding, fastforwarding, raising the volume, and so on. I'm a huge proponent for the future and what DSP technology has to offer in the two-channel and headphone worlds, so it was amazing experiencing DSP on the LS50Ws.
In the Music Direct room, Jon Derda was demonstrating three systems: good, better, and best. The "best" system featured a Spiral Groove Revolution turntable with a Centroid tonearm ($24,000), a Koetsu Blue Lace Onyx Platinum phono cartridge ($14,995), and a Balanced Audio Technology VK-P12SE with SuperPak phono preamp for the analog source, a Marantz SA-10 CD player ($6999) or Aurender A10 digital music player ($5500) for the digital source, through Balanced Audio Technology VK-33SE preamplifier and VK-655SE amplifier playing through Focal Sopra No.3 speakers. The "better" system featured a VPI Prime turntable with JMW 3D-10 tonearm ($4000) and a MoFi Ultratracker phono cartridge and McIntosh MP100 phono preamp for the analog source, a McIntosh MCT450 CD/SACD transport ($4000) for the digital source, all through a McIntosh MAC6700 ($6500) receiver playing through ELAC Uni-Fi UF5 speakers ($999/pair). For both the "better" and "best" system, a Shunyata power conditioner and power cords, and AudioQuest cabling were used throughout.
But as you can probably guess, I was here for the "good" system, the system that could cost under $1500 total (without the rack and speaker stands). The "good" system contained a Pro-Ject Debut Carbon DC turntable ($450) with a MoFi Studio Tracker phono cartridge ($199), a Marantz CD6006 CD player ($499), a Marantz PM6006 integrated amplifier ($499) and Wharfedale Diamond 225 speakers ($449/pair), with Shunyata power accessories and AudioQuest cabling throughout. We listened to the soon-to-be-unavailable Mobile Fidelity pressing of Bill Evans Sunday at the Village Vanguard ($99), mastered from the original master tapes with Mobile Fidelity's one-step process. Having attended many live concerts at the actual Village Vanguard, and having listened to countless versions of this album, I was surprised by the percussive details of Paul Motian's delicate touch that could be heard through this sub-$1500 system.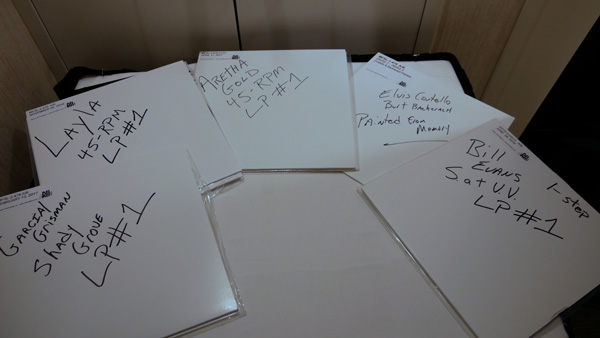 While I was in the Music Direct room, VP Josh Bizar (from my Marantz video blog—showed me some more test pressings from upcoming (currently unannounced until this blog!) releases from Mobile Fidelity that will be released at some point later in 2017: David Grisman and Jerry Garcia, Shady Grove; Derek and the Dominos, Layla and Other Assorted Love Songs; Aretha Franklin, Aretha Gold; and Elvis Costello and Burt Bacharach, Painted from Memory.