Jana's Day 3 at AXPONA
I love tubes and horns. So naturally, when Jason and I were dividing up rooms, I leapt at the opportunity to cover Destination Audio, a company rumored to execute tubes and horns well, even in small hotel rooms.
As owner Sam Wisniewski explained to me, the name Destination Audio refers to the point of sound he had always been searching for. After many years of experimenting, he finally created Destination Audio's eponymous three-way, fully horn-loaded speakers ($95,000/pair). And, as implied by his company's name, these are the only speakers he will ever create and sell, because he's reached his final sonic destination. Each pair takes Wisniewski and his five-man team a labor-intensive six months, so only two pairs are born a year. (This six-month rule does not apply to Destination Audio's electronics.) As the company was officially formed in 2013, it's safe to assume that the pair heard by attendees of this year's AXPONA is one of fewer than ten pairs in existence. Wisniewski explains that he will outright refuse to accept money from potential buyers who are only interested in the speakers being their next temporary toy. Understandably!
Along with the speakers, the system contained two Destination tube preamplifiers ($16,000/pair) and two Destination tube mono power amplifiers ($24,000/pair). We listened to the Kings Singers' "The Boxer," and I marveled at the depth of the soundstage and how, through such towering speakers, this beautiful male a cappella ensemble filled but did not overpower the limited-size room. Afterwards, we listened to "Ode to Billy Joe" by Patricia Barber, and the amount of detail and variation in each "snap" left me wanting more. As I'm listening, Greg Roberts of Volti Audio—another maker of horn speakers I deeply adore—happens to sit next to me. It's a beautiful thing when you see a show exhibitor take a break to sit down and enjoy another designer's offerings. As I dragged myself away in hopes of staying on schedule, I thought to myself, "what an exceptional way to start the final day of Axpona."
In the Sonner Audio room, I got to meet Owner/Designer Gunny Surya and listen to Sonner Audio's Allegro Unum speakers ($9990/pair) with a Balanced Audio Technology VK 33SE preamplifier ($9995) and VK 76SE amplifier ($13,995), connected with Nordost Heimdall 2 speaker cables ($2700) and two Nordost Tyr 2 interconnects ($5860). The digital front end comprised a Computer Audiophile Pocket Server Zuma ($1550), an Abingdon Music Research DP-777 Special Edition DAC ($5500), and an iFi USB Mercury cable ($600).
The Allegro Unums are very fashion forward, traveling aboard the not-so-packed removable-magnetic-faceplate train slowly making its way through the high-end world. Gunny showed me their assortment of black, blue lagoon, buckskin, chestnut, orange spice, and red poppy colored faceplates. He offered me the iPad and I selected Brad Mehldau's rendition of "And I Love Her" on his Blues and Ballads album. On the Allegro Unums, Brad's touch came through, but it seemed somehow slightly veiled. I hope I can hear them in a different environment in the future to get a better idea of how they sound. You can never tell in these unforgiving hotel showrooms.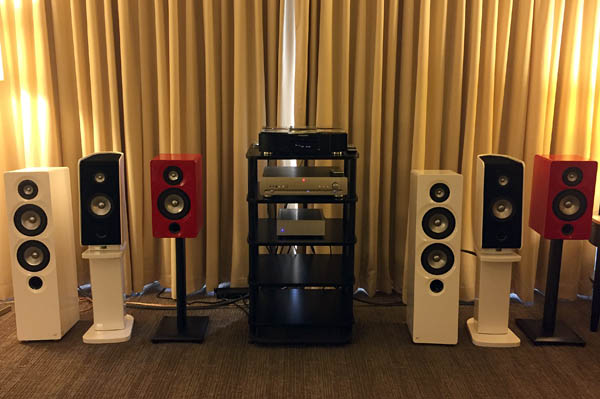 The name "MarkAudio-SOTA" comes from combining loudspeaker company Sota-Acoustics Ltd. and South China-based driver manufacturer MarkAudio Loudspeakers Ltd. It was founded by tech entrepreneur/audiophile Steve Cheng, and joined by veteran designers Mark Fenlon, Matsubara San, and Dr. Scott Lindgren. In their AXPONA showroom, Dwight Sakuma (President of Tadashi Sales, their exclusive distributor in the Americas) presented the Cesti T two-way floorstanding speakers in white ($3495/pair), the Cesti B medium-sized two-way bookshelf speakers in red ($2995/pair), and the Viotti One two-way stand-mounted loudspeakers in black/white ($1895/pair). The source was a Marantz CD6006 CD player ($495) connected to a Parasound P5 preamplifier ($995) and a Burson Power Amplifier ($1495). Sakuma explained that this is MarkAudio-SOTA's first official showing in the US market, although they did show prototypes of this line two years ago. The entire line is currently available and shipping.
When I walked in, the Viotti Ones were playing "Drive," by Joe Bonamassa. While details were communicated flawlessly, they were also bright: The tweeters seemed to glare their high-beam headlights unforgivably into my dark, unaccustomed ears. We then listened to the classic "Walk of Life" by Dire Straights, and the acoustic strumming, punchy snare hits, and occasional tambourine again blinded me with glare. Many industry folks I'd spoken to expressed their concern (read: anger, irritation) with how bright all rooms sounded and how much exhibitors had to compensate for this. So to be fair, it is unclear whether the brightness was more due to the room or the speakers in this case.
"It is a matrix-like gestalt. Takes two seconds once you find it," my notorious muse Herb Reichert once said to me (in a context I can no longer recall.) But these precise words came into focus as soon as I heard the system in the Well Pleased Audio Vida room. Throughout the entire show weekend, I had encountered many sonically and aesthetically pleasing rooms—with prices ranging from the affordable to the aspirational—that would have satisfied me for years on end. But this…this was something else. In the moment, and in thoughtful retrospect, this system was my favorite of the whole show.
Music was selected from an iPad pulling from Tidal and an Innuos Zenith music server ($3499) through an Aqua HiFi La Scala MKII Optologic DAC, a LinnenberG Maestro preamplifier, LinnenberG Allegro power amplifiers ($5400/pair), and out to Rethm Bhaava loudspeakers ($3900/pair). All wired by Anticables. I selected my defaults: Brad Mehldau's interpretation of "All The Things You Are," Kidsuke's "The Other Day We Thought Of Our Friends," and Telefon Tel Aviv's "Fahrenheit Fair Enough." Mark Sossa of Well Pleased AV selected a bass-heavy track from DJ Shadow's newest album, The Mountain Will Fall. The Rethm Bhaava speakers, with their mysterious angles and shy radiance, shocked me with their sonic maturity and depth. Pure sonic bliss.
I kept wanting more and more. I had to forcibly hold myself from back from adding entire albums to the queue. As I was leaving, a gentleman who clearly wasn't a fan of electronic music belched, "play some jazz!"
Michael Green Audio (MGA), a company that describes their areas of expertise as Room Tuning, Audiophile System Tuning, Pressure Zone Controlling, Vibratory Tuning, and Soundstage Controlling, must have had the most treated room in the entire show. With a single sweet-spot seat surrounded by MGA platforms, multiple Brazilian pine Cable Grounds, three Pressure Zone Controllers, two RoomTune Deluxe floorstanders, and RoomTune pillows, I and a few others eagerly waited our turns. The system comprised a Magnavox MDV2100 DVD player (used to play CDs; price unknown), Audio Note AN-E SPx Alnico speakers—said to be "the ultimate near-wall two-way speaker" ($25,000/pair), an Audolici Audio A-25M tubed integrated amplifier ($5150), an Audio Note Lexus interconnect, and a Transparent power cord.
Instrumental hip-hop called to me from outside the Needle Doctor room. I was beyond starved and my bottomless pit was growling mercilessly, but I chose musical over edible nourishment and entered the hip-hop fun house, otherwise known as the Needle Doctor room.
Two systems were featured. One with a Clearaudio Innovation Wood Compact turntable with Universal tonearm ($12,000), and a Hana SL MC cartridge ($750) going out through a Rogue Ares phono stage ($1995). And the other with a Clearaudio Innovation Wood Compact turntable with a Clearaudio Satisfy Carbon tonearm ($2000) and the newly released Clearaudio Charisma MM cartridge ($2000) out through the also newly released Musical Surroundings Super Nova III phono stage ($5000). Both alternated with the following: a Rogue RP7 preamplifier ($4995), Rogue M180 monoblocks ($5995/pair), and Dali Epcon 2 speakers ($7990/pair), with cables by Sain Line Systems, AudioQuest, Kimber, and Audience. (They mentioned that, during previous show days, the Sumiko S9 subwoofer ($999) had also been connected, but at that time that I entered, it was not. I didn't think there needed to be a subwoofer, though.)
From a variety of hip-hop instrumentals to Prince's "I Wanna Be Your Lover," to Chet Baker's "Alone Together," we switched back and forth between the two different analog front ends. Though the Hana had a nice, fun spirit, the Charisma seemed to distribute a much more elegant tone—especially notable in the percussion.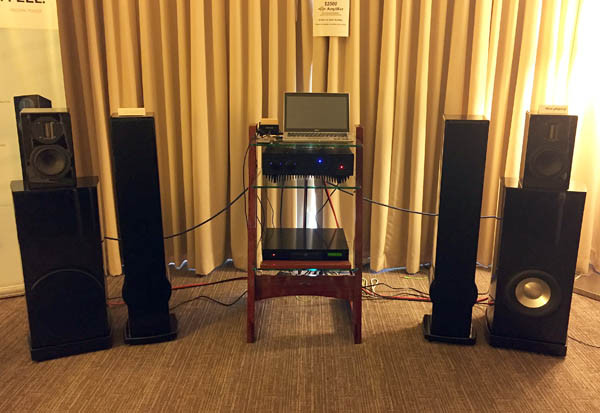 When I first entered the Colleen Cardas Imports/Redgum Audio room, the sleek black wave-esque heatsinks on the Redgum Audio RGi35ENR Black Series integrated amplifier ($2500) caught my eye immediately. "Put your hand on it," said Redgum designer Ian Robinson in his Aussie accent. It was cool as a cucumber. "That amp has been running for four days and runs colder than the temperature of this room." In response to my shocked look, he explained, "Most amplifiers have internal heatsinks, but as speaker impedance become lower and lower—which has been a common thing over the last ten years—the amount of heat developed goes up substantially. So we decided we needed to really increase the size of the heatsink dramatically. At the same time, I thought I'd make a casting, which would allow us to mount all of the major products and support them at the same time. The whole bottom of the amplifier is a one piece casting. The outputs, power supply, and transformer are bolted to it. It's a completely rigid thing. And the outside of the amp is really only the cover."
Along with the Redgum RGi35ENR integrated, I listened to a prototype of the Redgum Black DAC8 (basic version, $750), and Axis Voicebox VBS (Voicebox S) two-way monitors ($2500/pair), controlled by a free music software called Daphile. (I'm only including Daphile to be thorough, not to recommend, as it looked about as user friendly as early Blue Sound interfaces.) Streaming Chris Jones's "No Sanctuary Here," these tiny 14-pound bookshelves were fierce in their attention to detail and emanated sound boldly, filling up the entire room effortlessly. Affordability meets high-performance sound quality yet again at Axpona 2017.
In the Channel D Audio room we listened to a couple of digital files ripped from an LP of Elton John's Goodbye Yellow Brick Road, stored on a Synology DS1513, 12 TB Gigabit Ethernet 5-bay NAS array ($1700), controlled remotely from a MacBook Air (operated from the back of the room by Channel D's Rob Robinson). The rips were made using the new Version 5 of Channel D's Pure Vinyl A-to-D software ($379), which was set up with a screen share on an Apple MacMini in the front of the room. The music went through a Lynx Studio Technology Hilo DAC out to Vandersteen Model 5A Carbon speakers ($30,000/pair) powered by a Hegel H20 (200Wpc) power amplifier. I last (and first) experienced Channel D at RMAF 2016, at an event hosted by Classic Album Sundays, but was unable to stay for long because the volume was much too loud. This time, I got to stay and enjoy Sir (and now Record Store Day legend) Elton John's beautiful voice and Bernie Taupin's brilliant lyricism at the perfect volume.
Pure Vinyl V5 has integrated some much-needed features, including an automatic track locator and an automatic pop-and-click remover, which can be turned off if desired.
Additionally, Channel D announced that they will soon release their new moving-coil phono preamplifier, the Seta L20 (price TBD).
The last room I visited on the final day of the show was the Jolida/Black Ice room, where I lingered for nearly an hour past the show's end, A/B testing and learning about their Sound Stage Expander ($400), and their XTR Crosstalk Reduction Circuit ($350).
To avoid confusion, the manufacturer currently known as Jolida will be changing their name to Black Ice Audio come 2018, so components will be referred to here as "Jolida/Black Ice." They presented a combination of prototypes and existing components, along with Von Schweikert Endeavor E3 MK II speakers ($8000/pair) in the front (pictured), Unifield MK IIs (discontinued, but the MK IIIs are $10,000/pair) as the rear speakers, and a Clearaudio Champion turntable with a Benz Micro Ace cartridge.
The Jolida/Black Ice prototypes demonstrated included: the Fusion F35P vacuum tube power amplifier ($1999), the F360 vacuum tube preamplifier ($1799), the F159 vacuum tube phono preamplifier ($1499), and the DAC DSD ($899). All but the preamp were built in collaboration with famed designer Jim Fosgate. Also demonstrated: their new Glass FX DAC DSD with a vacuum tube circuit ($699), and their already-on-the-market Fusion DAC transport, a dual-mono fully balanced DAC and CD transport ($2299).
Jolida/Black Ice had the unfortunate luck of being in a large room with a glass erasable-board backdrop that caused a swirl of unending reflections (especially evident during a particularly milky Pachelbel's Canon), but through it all, I was still struck by the affordability of their components! Most specifically, their Sound Stage Expander ($400), which is built in to their F360 preamplifier prototype, and the XTR Crosstalk Reduction Circuit ($350), which is built in to their F159 phono preamp prototype. The former does exactly what it says, allowing for adjustment in the size of the soundstage; the latter allows for reduction in crosstalk and axial tilt—both are incredible "hacks" for audiophiles with little or odd listening rooms, and little (or odd) budgets, to help make the most out of their system.