Jason Heads to the Finish Line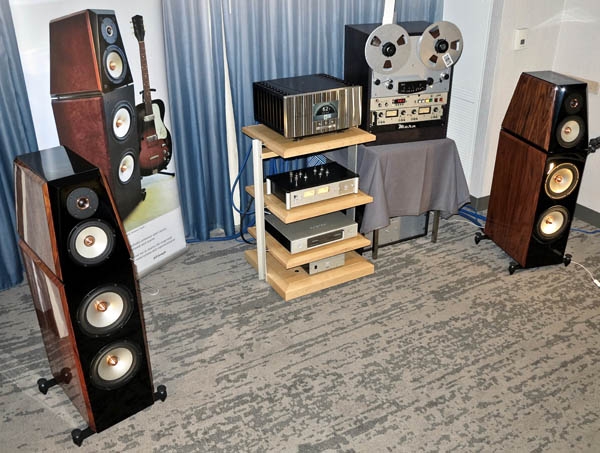 The final room I visited on the 15th floor turned out to be one of the best. Thanks in no small part to Jeff Joseph and Lucien Pichette's joint set-up acumen, plus a little help from what Jeff calls the "audio gods," a recording of the great Ella singing, on tape, Johnny Mercer and Richard Whiting's "Too Marvelous for Words" was a total delight.
Yes, the presentation through Joseph Audio Pearl 3 speakers ($31,500/pair), Jeff Rowland Daemon 1500Wpc integrated amp ($38,800), and Doshi preamp ($16,995) exhibited some of the 15th floor's signature warmth. Regardless, this system's smiling sound and wonderfully spacious, air-filled soundstage—the latter came to the fore when we heard, through the Aurender N10 with 4TB internal drive ($8000), an excerpt from Ansermet's Royal Ballet Orchestra recording of Tchaikovsky's Nutcracker Suite—were a joy. Also heard: Mara tape machine ($14,000), and Cardas Audio Clear and Clear Beyond cabling, as well as a not-yet-released Cardas power strip.
Off to the third floor. My first goal: to hear the sound in the Playback Designs room, which a writer for another publication had told me was super.
I entered just as jazz chanteuse Lyn Stanley was holding court, interjecting commentary in the midst of playing a very hi-rez DSD file of her recording, with pianist Mike Garson, of "My Funny Valentine." "Is it Lyn or is it Playback Designs?" read the sign conspicuously placed next to the equipment rack, as I heard a recording that, to my ears, offered up far more reverb than any voice of Lyn's size would naturally produce in an acoustic environment. In other words, as good as Playback Designs' new Dream Series MPS-8 integrated SACD player + D-DAC ($27,400 with Stream-X option), MPD-8 Dream DAC ($22,000), and MPS-8 SACD transport ($18,000, with stream, server, and Roon core options available for a total extra cost of $9400) may sound with the Playback Designs IPS-3 integrated amplifier ($14,000), what I heard sounded like a recording.
I vowed to return before the show's 4pm close to hear more of this system, which also included YG-Acoustics Carmel speakers ($24,300/pair) and Kubala-Sosna cabling. But when I made it back near to closing time, some equipment was already shut tight in shipping boxes. Thus did AXPONA 2018 end not with a grand musical flourish, but with the crinkle of plastic packaging tape.
Accustomed as I am to big presentations, it took a bit of adjustment to step down to the small, albeit very nice imaging of the Monitor Audio Silver 300s ($2000/pair) that were active in the Monitor/Roksan room. There was some digital edge and fuzziness on a CD of someone singing "Baby I'm Gone," but that was balanced by the nice imaging and respectable midrange produced by Roksan's K3 integrated amplifier ($1999), K3 power amplifier ($1499), K3 CD D1 player ($2299), K3 DAC ($1999), and Radius 7 + Nima ($3299). Cabling was a mix of AudioQuest models, with a Salamander Designs Synergy rack also holding everything together.
Some good news: Monitor Audio purchased Roksan a year and a half ago, and is on track with distribution. Once the line receives FCC approval, which is expected in June or July, it will return to the United States.
I cannot begin to tell you how happy I was to enter the Esoteric room. (Well, I just did.) After spending a good part of my day bathing in the warm glow of the 15th floor when I had no intention of taking a bubble bath, I virtually clicked my heels and leaped with joy upon encountering this neutral system.
That's not to say that there wasn't some grayness to the presentation. As I wrote in my notes, "Even with some gray coloration, I'm enjoying this so much. I could do with even more color saturation, but this system gets the beauty and magic of music as well as any I've encountered at the show."
First up, Al Di Meola, John McLaughlin, and Paco de Lucia performing "Friday Night in San Francisco." Then, Lena Hall's fabulous cover of Peter Gabriel's "Sledgehammer," on a 24/48 MQA file. Were that not enough, Dua Lipa's "I'd Rather Go Blind (Live)," and the start of the Guarneri String Quartet's great recording of Debussy's String Quartet. Talk about a non-hackneyed selection of knockout performances!
I also heard a track that I brought along, an aria from the Harmonia Mundi recording of Bach's Weichet nur, betrübte Schatten, BWV 202 "Wedding Cantata" on which soprano Carolyn Sampson holds forth joyously in the company of the Freiburg Baroque Orchestra under Petra Müllejans. I played this recording a lot during the show because its uplifting energy felt so fitting for the environs. The system may have toned down some of the color and bloom of voice and period instruments, but nonetheless, within its own gestalt, served the music beautifully.
Doing the honors: VPI Prime Signature ($6000) which I don't believe I heard, Canton Reference 3K speakers ($15,600/pair), AudioQuest cabling and power management, Auralex room treatments, and, from Esoteric, their new N-03T Network Audio Transport, new K03Xs SACD player/DAC ($13,000) with new DACs and power supply, G-01X Rubidium master clock ($20,000), E-02 phono preamp ($9000), C-03XS linestage preamp ($11,500), and S-03 power amplifier ($13,000).
For big sound from relatively small monitors, this room took the prize. Playing an excerpt from Orff's not so well-worn Carmina Burana, MarkAudio-Sota's Chinese-made Viotti One speaker ($2495/pair with stands) did quite a fine job in the bass department, and sounded almost too dynamic for the small space. I also enjoyed another familiar tune, Dire Straits' "Ride Across the River," which benefitted from winning airiness and an expansive soundstage. Together with the company's AR-M2 Music Player ($999) and PS Audio's Stellar Gain Cell DAC/preamp($1699) and 5300 power amp ($1499), whose prices are very, very different than what I was told in the room, this system produced winning sound.
For perfect end-of-show music, AVM's Peder Bäckman could not have done better than Keith Jarrett's "When I Fall in Love" from At the Blue Note. There was some grayness and lack of silence in the presentation, but the flow was so lovely and the beauty so plentiful that all I could do was smile. Heard through Elac Adante AS-61speakers ($2599/pair + $600 for the stands), AudioQuest Castle Rock cabling, and an AQ Niagara 1000 power product, AVM's brand new entry-level products—A 30 class-AB 125Wpc integrated amplifier ($3000) and MP 30 "Digital all-around-er" with Teac slot-in pure CD drive ($3000)—produced the best sound I've ever encountered from AVM's entry-level products. This system helped me bid AXPONA adieu with a big smile.