Jason Time-Travels to Day Three
"The core audiophiles, they are aging," the collective subconscious of exhibitors on the 15th floor seemed to say. "Since they're attempting to bask in the glow of their golden years, they don't want to hear anything in their sonic sanctuaries that might expose them to the harsh realities of the present day. Hence, we shall warm up the sound, add a few tablespoons of sugar, and ensure that everything sounds as safe, warm, and cuddly as those TV commercials for assisted living communities."
Thus, after spending my entire Saturday shooting video and watching John Atkinson deliver his astounding, detail-filled Keynote Seminar, "A Life in Audio," did Sunday begin with a very different sonic gestalt than on Day 1. After visiting every room on the 15th floor except the headphone exhibit in the Club Lounge that featured products from Kimber Kable, MrSpeakers, and Woo Audio, I confess that I came away longing for a taste of good old uncolored neutrality.
First up from German company Einstein, which celebrates its 30th Anniversary this year, was a shining system that included two new pieces: The Record Player ($12,000) and The Tonearm 12" ($8500). These joined The Pick Up ($5000), The Phonoamp ($15,000), The Preamp ($22,000), The Silver Bullet OTL amplifier ($50,000), and The Pure (speaker) ($55,000/pair) the latter weighing 230 lb apiece. Sounding very different from the sterling Einstein setup I heard at last year's AXPONA, this system granted a nice, warm quality to the Talking Heads' "Psycho Killer," from the album Stop Making Sense. In fact, it was a guaranteed non-ear burner that made rock sound almost as harmless as a Strauss waltz.
Art Dudley may kill me for what I'm about to say, but next up was a mono LP reissue of Johanna Martzy's live performance of the Mendelssohn Violin Concerto. Not only was the sound rather flat, with some booming lower down, but Martzy began the concerto somewhat impetuously and carelessly, jumping to at least two notes before the beat and failing to clearly articulate others. The high notes were gorgeous, and, for all I know, the remaining 25 minutes a convincing example of rare artistic intelligence. But this was not the best start to a concerto that I was weaned on, and know inside out.
Given my invocation of Strauss, what could have been more perfect than ending with the "Prison Scene" from Carlos Kleiber's famed recording of Strauss' Die Fledermaus? Unsurprisingly, voices sounded noticeably warmer than neutral, which actually worked quite well for comedy. I wish my German was more than sub-rudimentary, because the dialogue in this scene sounded like lots of fun.
In the Merging Technologies room, Nat Adderley's jazz trumpet sounded most enjoyable, and a Prokofiev (I think) track sounded ultra-smooth for digital. Tonalities were warm, the soundstage wide, and the clarity pretty good. A duet by Ray Charles and Norah Jones sounded equally warm and smooth. So did the opening of Mahler's Symphony 3, on a DSD256 file from Channel Classics of the Budapest Festival Orchestra under Ivan Fischer, where the horror and dread that I felt as horns blared and drums rolled was softened enough to not disturb many an afternoon tea.
From Merging Technologies came the Merging+Player ($12,000), Merging+NADAC ($10,500), and Merging+Power ($6500). From another Swiss company, PSI Audio, were the prototype Pair A25-H active speakers ($20,000/pair) and Pair AVAA C20 active velocity acoustic absorber ($2500). (Neither PSI Audio product is distributed in the US at present.) In addition, there were Star Sound Technologies platforms, Purist Audio Design cabling, and intriguing-looking Acoustic Geometry diffusers and panels.
If you're wondering what gives with the weird angles in this photo of the PranaFidelity room, picture me standing on a chair in the room's far corner, struggling to take in everything in the long wall display without capturing people's heads or feet. Given that someone in the first row had his legs crossed, with one of his shoes sticking way out, this is the best I could do without playing kindergarten school teacher and telling him how to sit.
Close your eyes if the photo gives you vertigo, because an LP of Yello featuring Shirley Bassey performing "The Rhythm Divine" had fabulous drive and lively sound without ever hurting the ears. Michael Friedman's kinda lame HDCD version of "I've Been Working on the Railroad"—how many people will be offended when I call this jazz for toddlers?—sounded overly sweet. Bertali's Chaconne on Rachel Podger and friends' Perla Barocca SACD from Channel Classics—a track I know very well from a recording I brought with me—was presented with a wonderful sense of space, but the violin's zing was toned down. Finally, switching from the larger PranaFidelity Vayu loudspeakers ($8950/pair) to the smaller Bhava ($4950/pair plus $698 for the stands), "Down in the Hole" by John Campbell exhibited a similar sonic signature.
Doing the honors: From Slovenia, an analog front end consisting of Kuzma's Stabi-Reference 2 turntable, 4Point tonearm, and CAR 40 cartridge. (Sorry, no prices supplied.) From Japan and Brookings, OR, an analog tape front end with Technics' RS-1500 reel-to-reel and Erhard Audio Nina tape head preamp. Also from Japan, Luxman's D-08u SACD/CD player with USB. From Denver, CO, in addition to the above speakers, PranaFidelity Purna/CA preamplifier ($4500-$9950, depending upon configuration) and Purna/ma amplifier ($8950). Finally, from Cedar Knolls, NJ, Kubala-Sosna Elation! cabling and Xpander power distributor.
The most natural sound on the 15th floor—on the warm side of neutral, to be sure, and most definitely extended in the best of ways—came from Kyomi Audio's Gryphon room. I really enjoyed the sound of Mandolin Orange's "Wildfire" and Jarvis Cocker and Chilly Gonzales's "Clara", auditioned on LP. Gosh, I even enjoyed Leonard Cohen's late recording of "Never Mind."
For Gryphon, this was a pretty entry-level system. (Their Evo stereo amps start at $39,000, and their 245 lb, top-of-the-line monoblocks cost $122,000/pair. I am also told that the amps sound best with their preamps.) Doing much of the honors were Gryphon's Scorpio S CD player ($9400), new Sonnet phono stage ($7500), Diablo 120 integrated amp ($11,200), and Mojo S speakers ($29,500/pair). Add in Pear Audio's Kid Thomas turntable ($10,000) with Ortofon Cadenza Black MC cartridge ($2729), Magnan Audio Reference series cabling, Shunyata's Denali 6000S line conditioner ($3995), and Artesania's Exoteryc 4 shelf rack and KRION turntable platform, and you have one fine system.
Of the two systems in the large MBL/Kyomi Audio room, I stuck with the bigger one, which was playing when I entered. So many things about this system struck me as wonderful. For starters, Carol Bach-y-Rita's rendition of "Nature Boy," on LP, sounded warm and lovely. But when I turned to CD, "Black on White Paper" from Zen Widow's Screaming in Daytime (Makes Men Forget), on which producer Joe Harley recorded percussionist/AudioQuest power expert Garth Powell and trumpeter Leo Wadada Smith live to two-track analog, the system exhibited absolute control, moved fast, rang not an iota, and was unfazed by deep percussion. It also nailed the brass edge of Smith's trumpet. The system's only weakness was that its warmth softened the brutality of this biting music.
Turning to an SACD of a soprano who sounds anything but biting or brutal, the system nailed Carolyn Sampson's youthful expectation in her performance of the Bach Wedding Cantata. Curiously, it also conveyed space and resonance differently than I'm accustomed to, and didn't allow Sampson's voice to soar freely. In addition, the system's warmth homogenized timbres of the period-instrument accompaniment, and missed the root, lower-chakra component of the sound. (Sorry to invoke language that, for some, will sound woo-woo, but I don't know any other way to describe it. Hey, if Harry Pearson could use "yin/yang," albeit incorrectly, I can talk about chakras.) Another way of saying this is that all singers breath from the hara, and there just wasn't enough hara energy in an otherwise sterling system that many will love.
With thanks to Kyomi Audio's George Vatchnadze, who answered my late-night email for an equipment list, and to Jeremy Bryan of MBL, who provided clarification, we heard MBL's 101E MkII loudspeakers ($70,500/pair), new Noble N15 monoblocks (2 pairs at $36,600/pair), which output 560W/4Ohm, Noble N11 preamplifier ($14,600), and Noble N31 CD/DAC ($15,400). On the analog side were the TechDas Air Force III turntable ($29,750) with Graham Engineering Elite 9" arm ($12,000) and TechDas TDC01Ti cartridge ($15,500). The Gryphon Legato phono stage ($21,000) joined Stealth and MBL cabling, SMT room treatment, and an SRA Scuttle rack ($7000) to produce what many would consider dream sound.
In case you haven't guessed what I'm going to say, the 15th floor's Gingko Audio system continued the trend of fine albeit warm sound. Whether on a Bach Three-Part Invention by Bela Fleck, Joshua Bell, and Edgar Meyer or the "Saga of Harrison Crabfeathers" from Brian Bromberg, I heard a lively top and all-pervasive warmth. Ditto for a 2L hi-rez track from Britten's Simple Symphony, where admirable liquidity was tempered by sweetness and warmth.
Heard: Gingko Audio ClaraVU 7 Mk. 3 system speakers ($9000/pair), Triode Corp of Japan TRX-P3M monoblocks ($6500/pair), Wells Audio Commander preamp ($4000), Denafrips Terminator DAC ($4500), Salk Stream Player Gen 3 server ($1700), Danacable and TruStream cabling, and Gingko Audio ARCH vibration-control devices ($200-$400).
Maybe there was lots of talking in the AudioThesis room because, when I entered, the sound on the track that was playing was so hot. Eventually, once it finished, I took a seat in the first row, which sounded much better than farther back in the room, and things quieted down as I listened to more sweet sound plus a booming bottom on The Punch Brothers' idiosyncratic rendition of Debussy's Passepied, streamed from Tidal.
Having said that, I was very happy to again see Rosso Fiorentino loudspeakers in the US: I've really enjoyed the sound of some of this Italian company's models. Here, it was the Rosso Fiorentino Certaldo 2.5-way ($6500/pair), which kept company with the North Star Design Supremo DAC ($4000), which does PCM up to 384 kHz and DSD up to 256, depending upon input, Mastersound Box class-A 35Wpc integrated amplifier ($3000), and North Star Design Magnifico upsampling CD player ($4000). I'm not sure if the latter was used solely as a transport.
1:15 pm. Having skipped breakfast, it was time for a quick lunch.
It was only on the last day, during my brief grab of an overpriced salad, that I ventured past the registration table into the ground floor of the Renaissance Schaumberg Convention Center. That's when I discovered how huge the place is.
Things had quieted down by Sunday afternoon, to the extent that, in this photo, you can begin to see how large the Marketplace was. Note that there were three aisles of equal length, two of which had booths on either side all the way down. Equally large were many of the showrooms all over the ground level.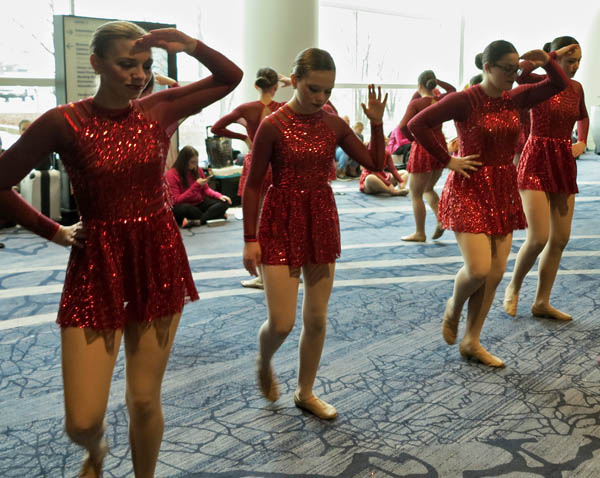 The place was so large that, even with 165 active exhibits and Lord knows how many booths and static displays, the Convention Center had room to host other activities. I have no idea what these young women were practicing for, but seeing their routine helped engage my "reality re-set" button. For a whole two minutes, I was lifted out of the world of audiophilia and into the real world of…well, whatever it was.