Herb's Day Three in Chicago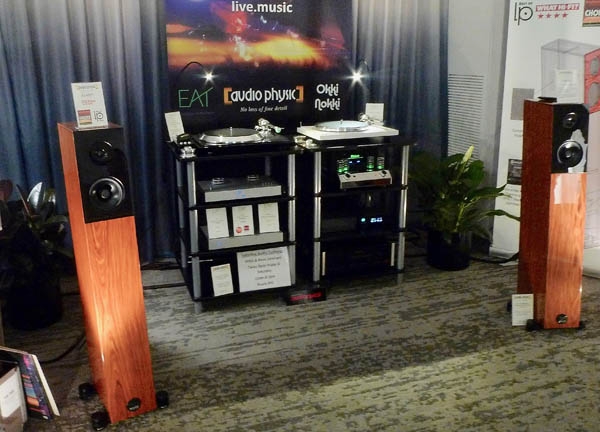 I remember the sound character of early (1990s) Audio Physic loudspeakers. They were the first radically slender floor-standers. They generated humongous soundstages, and precise imaging was their
raison d'être
. Users would position the speakers extremely far apart, usually on the long wall. They used plenty of toe-in, crossing the speaker's direct waves in front of them. Finally, the listener would sit closer to the speakers than the distance
between
the speakers. Their side-firing woofers made tight-ish bass, but, if memory serves, their midrange, though quite clear, was less rich and dense than I prefer.
Today's Audio Physic loudspeakers, like the $7995 Avantis that were playing in the room of Audio Physic's US distributor, Vana Ltd., look kind of similar, but sound more musical and less audiophile than their forebears. The Avanti uses ceramic-coated aluminum cones with ACD (Active Cone Damping) to suppress cone resonances.
The system I auditioned had a $2195 Mytek HiFi Brooklyn DAC connected to a 100Wpc (into 8 ohms) McIntosh MC 252 hybrid integrated amplifier ($3500), with AudioQuest cabling all around.
I have a long-standing love them/not sure/maybe/like them a lot relationship with ATC loudspeakers and Prism Sound's Callia DAC. Every time I experience products from these two fine British companies, the sound is pure and neutral, and, for lack of better adjectives, dry and well-scrubbed. Unfortunately, I prefer my playback a little more rough, wet, and in-my-face alive.
The system in the Prism Sound/ATC room featured ATC's active/powered SCM 40A loudspeakers, which cost $12,999/pair, driven by the output of Prism Sound's Callia DAC ($2750—recently reviewed by JA), which was served by an Aurender N100C digital player ($2500). They played Roy Hargrove and Dave Brubeck, and the sound character was conspicuously fresh and well-paced. Meandering, rolling rhythms held my attention and enhanced my appreciation of these artists. Brubeck's piano and Hargrove's trumpet were delivered with authentic tone. No well-adjusted audiophile would complain about anything, except me: I thought Roy and Dave sounded kind of dry, hesitant, and uninvolving.
The Lone Mountain Audio room moved me all the way up to the top of the ATC loudspeaker price ladder: they were demonstrating the fierce but piano black elegant looking ATC SCMS 50A SLT ($26,999/pair).
The 50A SLTs are tri-amped (MOSFETs) using an active crossover, and at AXPONA and sourced by ATC's new CDA2 Mk.II CD player/preamp/DAC, which sonically and cosmetically seemed like a bargain at $4990. Like ATC's loudspeakers, the CDA2 MkII is handmade in England and features a discrete class-A preamplifier with two line-level inputs, a CD player, an AKM 32-bit DAC with USB, coaxial, and optical inputs supporting up to 384kHz PCM and native DSD256. There is also a headphone amp with a discrete output stage and a 6-year warranty!
I speculated whether it was MOSFET tri-amplification or (more likely) the DAC, that made the sound so rich, wet, fast, and muscular. The music was straightforward and engaging. I wondered further, why haven't I seen and heard more of this loudspeaker?
The slogan on the Cambridge Audio banners said, "Rediscover Music With Edge." For a second I thought I was experiencing an Oxford comma meme: For at least a full minute, I tried, without success, to fix that four-word phrase. Rediscover Music, With Edge? Oh well. Never mind.
When I stopped staring at the banner, I realized they must be referring to the amplifiers. The $4K Edge NQ preamplifier/network player and the $3K Edge W power amplifier looked heavy, stylish, and businesslike. I wondered if they made music edgy or sharp. Cambridge's Edge W amplifier was connected to a pair of Bowers & Wilkins 805D loudspeakers with Nordost cables. The room and the system looked fantastic, but a FLAC file of the LPO playing Holst's The Planets sounded clear and powerfully dynamic: not edgy at all, but maybe, just maybe, a little generically digital.
Once upon a time I used to buy and sell vintage Western Electric gear. I did it mostly because I needed money, but the gear itself was spectacular in its form-follows-function beauty. To my taste, no audio gear is more attractive to the eye than a WE 49B preamplifier or 43A amplifier. Even the lightning-bolt font of their logo is exciting to look at. So it comes as no surprise that I had to visit the latest reinvention of that legendary brand.
The centerpiece of the new Western Electric presentation was the $10K "91E" integrated amplifier that Western Electric's Charles Whitener says operates in parallel-feed single-ended mode, wherein a single WE300B tube puts out 22Wpc (!?). And come September 1st, we can all buy new, not New Old Stock (NOS), Western Electric 300Bs for $1495/pair.
A new $8500 Western Electric 203C tube CD player drove the 91E amplifier, which drove a pair of Gauder Akustic Berliner 7 loudspeakers with big lucid transparent vivo. (I was surprised by the ease, flow, and sense of power these single 300Bs developed in parallel-feed.) Those big carbonized plates were transmitting a giant soundstage populated with dense images and vivid instrumental tone. Speaker cables and interconnects were new-manufacture Western Electrics, made from cloth-covered wire, just like the rolls of NOS WE wire I used to repair the vintage Western Electric amps I sold.
I never mention age, but GoldenEar's Sandy Gross has been designing, manufacturing, and presenting loudspeakers at audio shows—since before there were audio shows. More than anyone I know, Sandy knows how to position his loudspeakers in a room. He consistently generates easily enjoyable audiophile sound, in even the most hostile hotel environments. Best of all, Sandy Gross plays real music. Which is one of the reasons I am closing by describing a room my Editor, John Atkinson, already covered.
JA mentioned the $8498/pair GoldenEar Triton Reference speakers and the humble PrimaLuna EL34 tube amplification. But he did not mention that Sandy was playing CDs only—via a $6500 McIntosh MCD550 CD/SACD player, using AudioQuest cables and a $1K Niagara 1000 power conditioner to flush the grunge from the hotel AC.
The Triton Reference speakers were spaced far apart—between them was my nomination for the best equipment rack at the show, courtesy of Hotel Housekeeping—and they drove the room just right: not overpowered or underpowered. The soundstage was expansive, and the system's best features were easy-on-the-ears tone and super-fantastic boogie factor.
JA mentioned how he was not a fan of Dean Martin's style of singing on "If You Were The Only Girl in the World," but he did not mention how Sandy is the man when it come to playing not audiophile pap, but music made by real artists. Big beats and head-bopping rhythms stole the show, as did one life-changing recording: Pete Seeger singing Tom Paxton's "Ramblin' Boy," live at Carnegie Hall, 1963. Every time the audience sang along, "Well here's to you my ramblin' boy, may all your rambles bring you joy," I sobbed, choked up, and I swore, when I got home I'd buy a copy of this profoundly moving music.
Late one night in a jungle camp
The weather was cold and it was damp
He got the chills, and he got them bad
They took the only friend I ever had


He left me here to ramble on
My ramblin' pal is dead and gone
If when we die we go somewhere
I'll bet you a dollar he's ramblin' there