Jason Finishes Day One with Quality Sound
With very few exceptions, the 4th floor of the Renaissance Schaumberg was filled with fine to extraordinary sounding rooms. The sound was so good that Jana Dagdagan and I returned to the floor on Day Two to shoot video in three of the rooms. You'll see what fun we had (in very cramped quarters) when the video appears down the road.
Once I heard the sound from the Verity Audio/High Fidelity Services system, I knew from the lovely midrange and well-balanced presentation that the room was a prime candidate for video. In particular, René Laflamme's recording of Dubois' Les Sept Paroles du Christ demonstrated what a gorgeous job this setup did on soprano voice.
Since you'll soon be able to hear for yourself what I'm praising, I'll simply note that the system included the North American debut of three products: Verity Audio Otello three-way speakers in high-gloss Makore finish ($18,695/pair), which claim 93dB sensitivity, 35Hz-50kHz frequency response, and 8/6 ohm nominal/minimum impedance; Trilogy Audio Systems 135Wpc, fully balanced, 925 hybrid amplifier ($15,995) with triode "super tube" input stages; and Trilogy Audio Systems 907 class-A phono preamplifier with external power supply ($3995). Equally essential: TW Acustic GT SE turntable with TW 10.5 tonearm ($18,000) and Ortofon A95 cartridge ($6500), Playback Designs Merlot DAC ($6500), Signal Projects and Vibex cabling, and Vibex Granada Dual CD and Alhambra AC mains power filters ($5000).
OMG. Jeffrey Catalano's High Water Sound system did an absolutely sterling job of communicating the deliciously different, complex timbres of the five glasses, five woodblocks, five dragon mouths, five tom-toms, five cowbells, five suspended and muted brake drums, wooden rattle, windglass, gong, triangle, snare drum, tam-tam, contrabass drum, sistrums, and guiro on a rare LP of percussion genius William Winant playing Lou Harrison's "Song of Quetzalcoatl". The album on which it appears— Five American Percussion Pieces is something this analog-challenged reviewer must search out in hi-rez digital format.
Through the new Horning Aristotle Ellipse loudspeakers ($16,000/pair), which were making their North American debut, Kip Hanrahan's "Shadow's Song (Mario's In)", from the Pangaea LP Vertical's Currency, exhibited a gorgeous midrange, with initial shouting and booming minimized once Jeffrey changed the impedance setting. Also doing the honors on this highly recommendable, off-the-beaten-path system: TW-Acustic AC/3 turntable ($21,000) with two 10.5 tonearms ($5500/each) and the Miyajima Madake stereo cartridge ($5900); Arte Forma Audio Jadeite line stage ($3500) and Due Volte 805 SE amps ($7500); Vibex Granada/Alhambra power filter ($5000); Furutech and Teo cabling; and, shades of my dear departed friend Charles, Shun Mook room tuners. Thanks for the great music, Jeffrey.
In the short amount of time I could spend in the crowded second High Fidelity Services room, baritone Christopher Maltman's voice—I think it was he, but it might have been Gerald Finley, Simon Keenlyside, Bryn Terfel or some other superb English baritone—sounded extremely beautiful. An LP of Freddy Hubbard's Open Sesame—was that the recording?—sounded rather lively on top, but with fine pace and potential for excellence.
Heard: the North American debut of Neat Acoustics' Iota Xplorer speakers ($4995/pair) and Trilogy Audio Systems 906 class-A phono stage ($1395), plus Audio Flight FL3S integrated amplifier with DAC and phono stage ($3995); AnalogueWorks TT One turntable ($2895) with SME 309 tonearm ($1795) and Ortofon Cadenza Black cartridge ($2729); Chord Qutest DAC ($2000); Signal Projects and Vibex V3 cabling; and Vibex Generalife DC power filter ($1795).
Doug White's The Voice That Is did it again. In a system headlined by three pieces from audio company Tidal—Tidal Piano G2 speakers ($39,900-$42,900/pair), Tidal Preos preamplifier ($32,900), and Tidal Impulse dual mono amplifier ($35,200), plus Tidal reference cabling—Denise King and the Massimo Farao Trio performing "La Vie en Rose," from the LP Save Your Love for Me, sounded very open, clean, and lovely. In addition, a track by Eric Bibb sounded quite lively on top, with a fine midrange.
Finally, on my own choice—Carolyn Sampson and the Bach Collegium Japan's SACD of "Et incarnatus est" from Mozart's Great Mass in C Minor—the system did a pretty fine job with colors, but sounded a bit silvery on top and delivered less warmth and expanse in the midrange than I'm accustomed to. On the other hand, the bubbly woodwinds were perfection itself. Any way you look at it, this system produced excellent sound.
Also heard: TW-Acustic Raven AC-1 turntable ($15,500) with TW-Acustic Raven 10.5 tonearm ($5500) and Transfiguration Proteus cartridge ($6000); Antipodes DX music server ($7700); Dynamic Design power cord; and StillPoints ESS racks, Aperture Panels, and Isolators.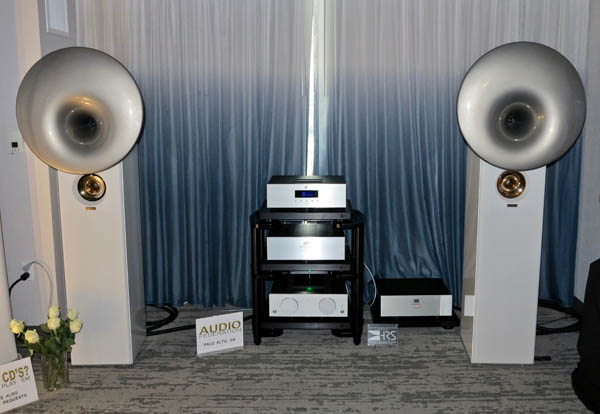 With the Odyssey room still in set-up/fine tuning mode—the request to "come back tomorrow" might have worked better with Scarlet O'Hara in Gone with the Wind than with this damn Yankee—I headed to the room sponsored by Audio Federation (relocated to Palo Alto, CA). There, Acapella's Audio Arts Cellini High loudspeakers ($59,990/pair) and LaMusika integrated amplifier ($109,600) joined with Audio Note UK's CDT Five transport ($52,000) and Fifth Element DAC with Fifth Force external power supply ($147,850), cabling from both companies, and an HRS SXR equipment stand with M3x Isolation Bases ($18,330).
The sound and presentation in this room were so different from that in The Voice That Is room—from any other room I auditioned—that I am at a loss for words to describe it. This system had a sound all its own that, together with Acapella's hyperspherical midrange horn and ION plasma tweeter, must be heard.
I had an absolute ball as Hermann Winters played me recordings—of long-deceased German tenors—that, I assure you, could be found in no other room save for those that might have had access to them via the Tidal streaming service (not to be confused with the Tidal audio company discussed above). It was thrilling to once again hear the voice of Joseph Schmidt, a short, gorgeously voiced German Jew who died in a Swiss internment camp during WWII. Schmidt sounded a bit pinched on the high Cs, but that surely was not the fault of the equipment.
There are times when a system does such a special job on a recording that's special to begin with that the room transforms into a holy shrine where you couldn't hear a pin drop, but only because everyone is too transfixed to fiddle with pins. Such was the case in the Raidho/Chord room when I pulled out my Avie SACD of Lorraine Hunt Lieberson performing Handel, and asked to hear her transcendent performance of the aria "As with rosy steps the Morn advancing," from the opera Theodora, with conductor Harry Bicket and the period-instrument Orchestra of the Age of Enlightenment. Although the sound was dry in the middle—it sounded dry as well on a CD track of Joyce DiDonato singing Bellini—the detail was so absolute, and the dynamics and control so excellent, that listening was a spiritual experience.
Doing the honors: Raidho D-4.1 speakers ($145,000/pair); Chord's CPM3350 class-AB amplifier ($14,300), Blu Mk. 2 upscaling CD transport ($15,500 as best I can read my scribble), Dave DAC ($12,488), and Symphonic phono stage ($3500); SME 10 turntable with SME 309 tonearm ($8700) and Ortofon Cadenza Black cartridge ($2000); and Nordost Valhalla 2 cabling and Sabatini Acoustic paneling.
On Clark Terry, Freddie Hubbard, and Dizzy Gillespie's recording of "Alternate Two" from The Alternate Blues, this system absolutely nailed the mellowness of the lower pitched instruments and the bite of the trumpet. Focus was so excellent and, despite a bit of midrange dryness that I did not hear the next day, the overall presentation was so outstanding that I resolved to return the next day (Saturday) to video the room with Jana. Upon my second visit, my reaction was so ecstatic that it's best understood in the context of the forthcoming video.
After the show, Vince Galbo of MSB responded via e-mail to my question about his borderline-obsessive but oh-so-worth-it approach to power: "Be aware at shows, the power is almost always horrendous. This show was no exception. I am not sure how the other rooms sounded, but the power at this hotel was as bad or worse than Las Vegas. I think it takes extra care in such an environment to reduce shared noise; hence the separate conditioners for each component. The reality in a home tends to be much less critical, and the noise far more treatable.
"The distance from wall outlets back to the breaker panel in show hotels tends to be 75-150 feet, which is far longer than in a home. As per the goal in my wall power paper, a hotel's abnormally long wall wire distance causes the amps to starve for current; thus, the effort of the amp trying to get the current (modulated by the music itself) impresses itself on that outlet, and essentially makes its own noise. We don't want to share that noise with other components upstream.
"For that reason, it is best to keep the amp(s) in a separate outlet on separate conditioning. Keeping the source power (transport or server) and the DAC separate is a smaller scale extension of that thinking. Having separate conditioners is far less critical in the home, but if someone is willing to go the extra step, keeping the server or computer on a small separate conditioner away from the DAC seems to be a consistent advantage."
Hence Vince used several conditioners: an AudioQuest Niagara 5000 ($5995), which was sometimes exchanged for an Isotek Mosaic Genesis ($7995) for the amps, and a Tweak Geek Stealth Dark Matter ($6995) on the transport and DAC. Sometimes he also uses a Galbo-(highly)-modified Tripplite IS1800HG when he needs to experiment with additional solutions.
The rest of the system: MSB Select DAC ($89,500) with Mono Power Base option ($19,500) and Femto 33 clock option ($9950), MSB Reference transport ($18,000) with Reference Transport Power Base option ($11,500), MSB M204 mono amplifiers ($39,500/pair), YG Sonja 2.2 speaker ($72,300/pair), and Analysis Plus Gold and Ultimate cabling. Total estimated system price: $260,000 give or take.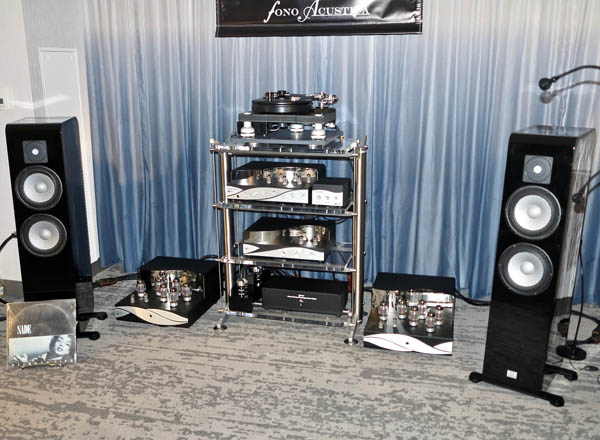 I love finishing a day with Zesto because, in addition to the company name giving me a lift, the sound is usually quite fine. No deviation from the norm here, where I heard an open and lively sound that drew me in. It was just what I needed to keep me afloat when the bell was striking 6, and my energy was poised to plummet below ground level.
Doing the honors on a very long list: Zesto Audio's Andros Téssera tube phono stage ($12,000), Allasso step-up transformer ($2995), Leto 1.5 tube preamp ($7500), and Eros 300 class-A monoblocks ($19,900/pair); Merrill Williams Audio Real 101.3 turntable ($7995) with two Tri-Planar U2 class 10" tonearms ($7200/each) with Benz Micro Gullwing SLR MC ($3600) and Ortofon Cadenza Mono MC cartridges; Marten Django L Black speakers ($10,000/pair); Stillpoints ESS42-26-4 rack and Ultra 6 feet; and lots of Fono Acustica Armonico cabling, plus Sinfo power distribution