Jason Ascends Higher on Day Three
Impressive bass control and speed on a recording of taiko drums, excellent timbres, and an equally captivating sense of spaciousness on Lyle Lovett's "North Dakota" left no question that this attractive mid-priced system from Paradigm and Anthem would make many an audiophile very, very happy. Even with the "Dance of the Tumblers"—it seems I cannot get through a single audio show without a listen to the well-worn, increasingly wearing music that seems to be one of those fallback tracks of choice for people who don't have much classical music on their server—the system nailed the recording's depth, and controlled an entire orchestra hell-bent on tumbling through Rimsky-Korsakov's rousing bombast without breaking a sweat.
Deserving of your attention: Paradigm Persona 3F speakers ($10,000/pair); the debut of the new Anthem STR preamplifier/DAC ($3999), complete with Anthem Room Correction and bass management for two subwoofers, MM and MC phono, upsampling to 32/192, and the ability to play up to 32/384 and DSD 5.6 mHz; the 400Wpc (into 8 ohms) STR amplifier ($5999); and Transparent Premium and Super cabling and Transparent PowerWave 10 power conditioner ($1895). Not demanding of your attention: the defeatable meters on the STR amplifier, which can be turned off.
The best sound I can recall hearing from ATC powered loudspeakers at an audio show greeted me in the room manned by their US importer, Lone Mountain Audio, and US sales representative, Rutherford Audio. We began with "Dreamer" by Hiromi, which Michael Bishop recorded with ATC speakers as his monitors. Control was perfect, speed ideal, and the sound excellent, with the system's strengths most apparent in the midrange and bass. The surface noise on an LP of 12 songs by Leonard Cohen, which the system did not sugarcoat, suggested that one poor record was in desperate need of either deep cleaning or reincarnation, and a listen to Snarky Puppy confirmed that the top was a bit toned down. There were some bass issues on this recording as well, but that could have been due as much to the phono setup as anything else.
Heard: ATC SCM50ASLT 350W class-AB tri-amped active speakers ($27,000/pair) with soft-dome mid driver and the latest 234mm SL Spec bass driver, not too shabby Burmester 111 music server ($55,000), Vertere MG1 turntable with Scheu MC Ruby cartridge ($15,000 total), Vertere Phono 1 phono preamplifier ($2000), and Artnovion room treatment ($118 to $397 panel, depending upon function).
This sweet little assemblage from PrismSound of the UK showcased the oft-blogged Callia USB and S/PDIF digital preamplifier/DAC ($2750), which does PCM up to 384kHz and DSD up to 128 via DOP. Together with an ATC SCM40A active speaker ($12,999/pair), Aurender N100C steamer, and Gik acoustic treatment (from $156), the system displayed a fine sense of air on 24/96 files of the Royal Scottish National Orchestra performing Saint-Saens' dismayingly overplayed Danse Macabre. The speakers did boom a bit on the bottom, but everything else sounded peachy keen. (Hey, I've got to find something as equally arcane as JA's "gobsmacked.")
For my second overplayed track, I was offered my first encounter with Patricia Barber at RMAF 2017. Depiction of her low voice was excellent, the sense of space quite fine, and timbres really fetching. Now all these folks have to do is update their music server with less hackneyed music.
Acoustic Zen's pairing with Convergent Audio Technology (CAT) electronics and the Sound Science Music Vault MX IO Ultra music server ($8999) was mostly successful. In a room without room treatment or visible power conditioning, highs were a mite wiry on a recording of Scheherazade, but midrange and bass were very impressive. Further listens suggested weird room reflections were not on speaking terms with the sound.
A visitor to the room couldn't figure out why I kept moving my seat back. Had he sat one row forward or bothered to ask rather than making a snide comment, he would have realized that the front row was much too close to the Acoustic Zen Crescendo MK II full range speakers ($24,000), whose central image peeled to either side of my head until I moved back. On other tracks—a snippet of Beethoven's Emperor Concerto, and a Swedish choir singing something or other—I wished for a warmer, richer midrange. I wonder if the amps were biased correctly.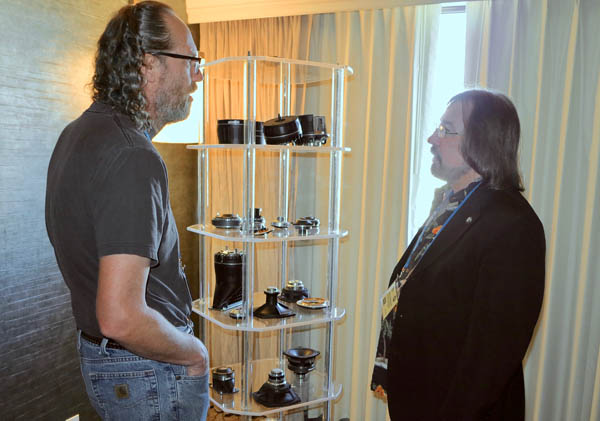 In this photo, Jack Arnotton of BMS speaker components of Hanover, Germany discusses speaker design with Vance Dickason, editor of Voice Coil magazine. There was no system to play music in this room, but there was a lot to lament when I asked Vance how his magazine was selling in an age where everyone downloads, and programming and video gaming have replaced hi-fi building.
Music through the larger Studio Electric FSX loudspeakers ($9500/pair), driven by a ModWright KWI 200 integrated power amplifier ($5500, and available with an optional, factory-installed phono and 24/192 DAC), sounded as perfectly controlled as through the smaller Studio Electric M4 standmounts ($2400/pair) driven by ModWright Ambrose A30 tube monoblocks ($15,000/pair). The bigger speaker fared better on organ down below, of course, but the absolute control of this system, regardless of material, made a deep and most recommendable impression. The source was a ModWright Instruments tube-modified Oppo UDP-205 ($2500 for the mod, approx. $3800 total), with everything connected by WyWires Silver.
Let's end on a high note. Matt Alterman and crew from Crescendo Fine Audio in Denver set up a lovely little system that showcased the brand new 40th Anniversary Dynaudio Special 40 speaker ($2999/pair) and new Ayre QX8 digital hub ($4350). Joining them to depict Rosa Passos's voice to perfection were the Rogue Audio RP-1 tube preamp ($1695) and ST-100 tube amplifier ($3495), Technics SL-1200GR turntable ($1699) with Ortofon 2m black cartridge ($755), Shunyata Denali 6000/T power distributor ($4995), Cardas Clear cabling, and, for HRS, their more affordable HRS RXR audio stand ($4995) and S3 isolation base ($2195). True, Ron Carter's bass boomed a bit through the small speakers, but timbres were ideal.