Jason's Lively Start to Day Two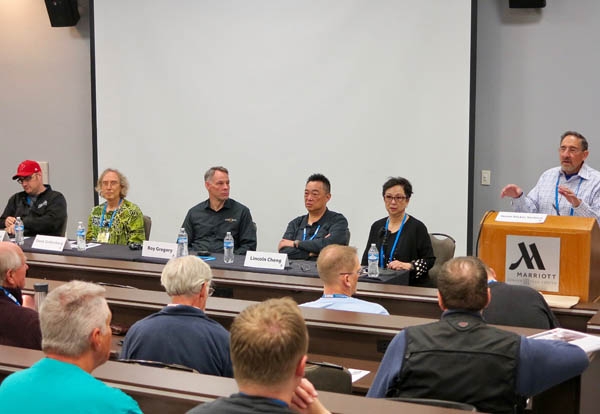 When the Greek poet Hesiod and Roman comic dramatist Plautus wrote about moderation in all things, I'm not sure they had in mind RMAF's Saturday morning seminar, "High Resolution Audio: Have files Eclipsed Physical Media?" Nor, in fact, did I, until, just 10 days before the event, I discovered that my offer to participate had been transformed without my knowledge into serving as seminar moderator.
"Moderation in all things, especially moderation" may read like one of Ralph Waldo Emerson's more pithy sayings, but it unfortunately fails to address situations where the moderator feels as much like a ringleader in a multi-ring circus as anything else. I will leave it to you, once you learn the names of the participants, pictured left to right—Chris Connaker of ComputerAudiophile.com; Steve Guttenberg of Cnet.com and Stereophile; Roy Gregory, European editor of TheAudioBeat.com and founding editor of Hi-Fi Plus; Lincoln Cheng, the editor of Audio Technique, who is considered the most influential and respected high-end authority in Asia; and Rebecca Chin, publisher of Audio Technique, Hong Kong, China's leading audiophile publication and organizer of the 30,000-attendee Hong Kong Audio Show—to fantasize who got into what, and who threatened to sidetrack the panel time and time again with intentionally provocative comments so off the wall as to warrant the descriptor "idiotic."
Suffice to say that if I look like I'm praying for peace in the above photo, there was ample reason to do so. Given that I was stooped over to begin with, moderating this panel certainly didn't help matters.
For me, the high points of the seminar came when we in the United States were afforded the invaluable opportunity to peer beyond an America-First perspective, and gain understanding into what audiophiles in Hong Kong, China value. Other than that, as someone less concerned with who's on top than understanding what is of value in various content delivery mediums, I'm not sure that we ever successfully muddled our way through the mental mindfield to fully address what hi-rez files have to offer. But, as those readers who watch the video of the panel will discover, once it's posted to audiofest.net, we did manage to share a fair amount of information and address some very solid questions from show attendees.
My sincerest thanks to the audience member who went far above and beyond the call of duty by volunteering to use my camera to take photographs. Thanks as well to Roy, Lincoln, and Rebecca for helping us see outside the box.
Kudos to Philip O'Hanlon (pictured kneeling) of distributor On A Higher Note for affording so many attendees first listens to the RIHPA Integrated Amplifier of the Year, the Gryphon Diablo 300 ($16,000 as shown). Unfortunately, that winning piece of gear, which here included its optional onboard 8x DSD DAC and phono stage, was plugged into an Isotek line conditioner that was not designed to handle high current loads. Only toward the end of my listening session, when the Diablo 300 was plugged directly into the wall, did the soundstage open up, the presentation become winningly transparent, and bass regain its rightful place in the octave span.
Even before the switch, it was possible to hear the beautiful detail and delicacy in Eva Cassidy's cover of "Ain't No Sunshine". Bass aside, timbres were lovely and truthful. Doing the honors, both before and after the switch, were, in addition to the above, Gryphon Scorpio CD player ($9400) and Gryphon Pantheon speakers ($52,000/pair), Clarus Crimson cabling, and a correctly spelled Artesania Exoteryc 3-shelf rack ($6000).
What you are seeing is anything but a mess—it is one of Nordost's quasi-legendary cable and product demonstrations in progress. In the company's usual room on the Marriott mezzanine, Michael Marko and Steve Greene took turns showing what a change in Nordost cabling or power distribution actually sounds like.
When I entered, Steve was letting us hear how the addition of Nordost's full-system Qkore 6 artificial ground unit ($4999.99 with two wires plus $360 for each 1m wire, or $400 for 2m) can shunt away noise, add weight and depth to the midrange, increase upper bass, and make music sound more convincingly real. (The description is mine, derived from a brief listen; I am not merely regurgitating what we were told we might hear.) The unit, which is surprisingly heavy for its size, utilizes patent-pending low-voltage attractor plates to augment the functions of a traditional grounding wire, or take its place when hooking up a grounding wire is not possible.
Utilizing special wires to connect it to power distribution products and components, a Qkore requires no power of its own to do its thing. Nordost Sort Kones can further isolate it from vibration, including vibrations within the unit. The different QKores, which ground different units—the Qkore 6 is the all-in-one—start at $2499.99.
As Dave Gordon of Audio Research informed me after I had concluded listening, the Audio Research Reference Phono 3 phono stage ($14,000) and Reference 6 line stage ($14,000) in this system only had 45 hours of break-in. Hence, the muted pastel cast of sound in the Musical Surroundings/The Audio Alternative room on the mezzanine level may not represent the system's ultimate sonic signature. Regardless, on Peggy Lee's classic recording, "Fever," bass control was excellent, and sonorities were midrange-strong and attractive, as well as a bit muted.
Doing all they could: Audio Research Ref 750 SE amplifiers ($66,000/pair) and Reference CD9 CD player/DAC ($13,000); Clearaudio Master Innovation turntable ($29,400 as shown) with TT1-M1 tangential tonearm ($32,350), Olympus turntable stand ($13,400), Goldfinger Statement cartridge ($15,000) and Outer Limit record clamp ($1350); MartinLogan Neolith speakers ($80,000/pair), MIT cabling and power conditioning, HRS SXR Audio Stands with M3X Isolation Bases, and ASC Tube Traps.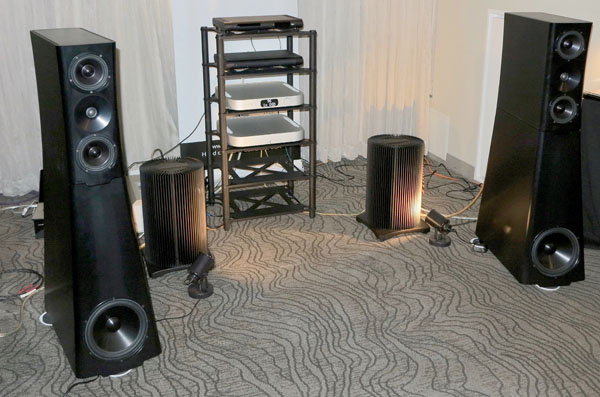 Given that Herb has already commented at length on this MSB/YG Acoustics system, I simply want to add that, once Vince Galbo turned up the volume, listening to a snippet of the Sibelius Symphony 2 was a bit like peering through a stereopticon, and discovering a magical, layered universe in which more and more wondrous, layered detail unfolded the deeper you looked. Textures were gorgeous, albeit with a dark cast, bass totally tight, and air and depth exceptional. (I may like a more illumined presentation, but that's just me.) The system's only weakness—a bright edge on treble instruments—was traced to a defective power cord, which was first discovered 90 minutes before the show closed on Sunday. Even with that, definitely one of my Top 5 Systems at RMAF.
Excellent dynamics, a surprisingly full range presentation, and pleasing timbres distinguished the pairing of bi-amped handsome little devils—Monitor Audio Silver 6G: Silver 300 loudspeakers ($2000/pair)—with Roksan electronics, AudioQuest cabling and power conditioning, and a Salamander Designs Synergy rack. I won't pretend that depth and refinement were the system's high points, but listening to the finale to Haydn's Symphony 101 and the second movement of Harrison's Violin Concerto confirmed that this setup did a fine job conveying the weight of percussion and correct timbres of instruments.
Given the price of the Roksan components—K3 integrated amplifier ($1999), K3 power amplifier ($1499), K3 CD D1 player used as a transport ($2299), K3 DAC ($1999), and Radius 7 turntable w/arm and cartridge ($4300/total)—this system ranks as one of my more affordable RMAF 2017 picks, at least for folks who have the means to afford.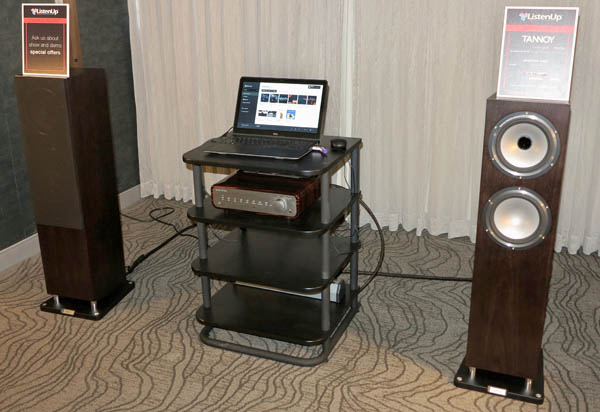 Let's keep things affordable, ListenUp seemed to say with their pairing of the Tannoy Revolution XT 8F-DW loudspeaker ($2,299.98/pair) with Peachtree Audio's nova300 integrated amp ($2499) and AudioQuest cabling. Control, alas, seemed to be a low priority in the setup. If only there had been less booming bass and less woof from the woofer…