Jana's Final Rooms at the Denver Show
Day three began with me feeling sick and beaten down. I needed to pay a visit to the doctor.
Dr. Vinyl
. (But also probably a real doctor, too.)
Jose Ramirez (aka Dr. Vinyl) always knows how to make his listeners feel at ease. It doesn't matter if you are a member of the press or not—we're all here to have a good time. You feel it the moment you walk in the room. His system featured the Pear Audio Blue Reference preamplifier ($6495), Reference amplifier ($6495), Kid Howard/Cornet 2 turntable/tonearm ($4995), and Small Platform ($795), with a Hana SL cartridge ($750), Bob's Devices Sky Cinemag 120 step-up transformer ($1225), a Wireworld Matrix power strip ($795), and Larsen 8 speakers ($6995/pair). I was so happy when the man next to me requested "Dos Gardenias" by the Buena Vista Social Club—an excellent track to gauge the balance of instrumentation and the musicality of the vocals—but most importantly, the trumpet sound! (Trumpets so often sound obnoxiously bright or unnecessarily fluffy depending on the system, so I like to pay really close attention to trumpet sounds that I'm familiar with.) "Dos Gardenias" sang proudly with a full range of color, warm tones, and a clean, controlled trumpet sound with just the right amount of body.
Thank you, Dr. Vinyl. Day 3 was off to a great start.
Across the hall, in the GamuT room, they were playing GamuT Zodiac speakers ($149,000/pair), M250i mono amps ($25,990/pair), D3i dual-mono preamplifier ($8390), phono or R2R board for D3i preamplifier ($1990), Reference Bi-wire speaker cables, 3m ($6190), Reference interconnects (RCA/XLR) 1m ($2990), Reference power cables 1m ($2990), a Pear Audio Blue Kid Thomas/Cornet 2 turntable/tonearm ($7995) with external power supply ($1995), and an Ortofon Cadenza Black MC cartridge ($2729).
Swan Song Audio, whose products are designed and built in the US, showed their Instrumentation Line phono preamp ($3900), 6SN7 SET amplifier ($15,000), and 48" tall, 140-lb Baltic birch Horn Speaker ($25,000/pair). Also pictured but not heard: their DAC/preamplifier ($3750). In listening to "Ride Across the River" from an LP by Dire Straits, I jotted down in my notes that, while the midrange seemed a bit veiled, the soundstage was wide and immersive, with a boomy, forward-driving feel. Kind of like being in a club? Also seen but not heard: a humidifier! I thought I was the only one affected by Denver's drying demons, but I guess not. This won't happen, but I hope more showrooms bring humidifiers to Rocky Mountain in future years…
Heard in Berlin-based manufacturer Voxativ's room: the Voxativ 9.87 speaker ($44,900 as configured at the show), a Voxativ T-211 SET integrated amplifier ($19,900), with Voxativ Ampeggio speaker cables ($4500) and Ampeggio signal interconnects ($2800)—all on a Prototype rack of their own design (price TBD).
I was informed that the 9.87 speaker is a sum of two parts, the top being their second-gen "Pi monitor" with a Voxativ wooden cone AC-4D full-range driver, and the bottom being a "Pi-Bass" active dipole bass module with a built-in class-AB amplifier. When "The Beat Hotel" by Allan Taylor started playing, I was struck by the system's gentle, riding intensity and the amount of detail—most audible in the guitar picking.
"We call this the millennial amplifier" said Roger Gibboni of Rogers High Fidelity, making me laugh. "Why do you call it the millennial amplifier?" I learned that the user can control volume, tube mode, and input selection from an iPad app…and that millennials tend to like this amplifier.
The room shared by Rogers High Fidelity and Burwell and Sons Loudspeakers featured the Rogers High Fidelity 65V-1 25Wpc class-A amplifier ($4000) sporting two EL34 tubes, Burwell and Sons "Plain Jane" speaker array ($87,500/pair), an Oppo Sonica DAC ($800), Transparent cables, Acoustic Sciences Tube Traps ($3000), and a PS-Audio P-10 power conditioner ($5000).
When Daft Punk's "Something About Us" came on, I breathed a sigh of relief—finally, a Daft Punk track other than "Get Lucky" (for a hundredth time in a row). (It's the third day of the show. Am I jaded now?) I wrote down—in capital letters—"FAT SOUND, room filling, bold but controlled, on fire!" Maybe there is some truth in the "millennial amplifier" thing, because I walked out of this room feeling happy.
Magico had a static display featuring their latest M6 floor standing, three-way, five-driver loudspeakers. The M6 features a "six sided monocoque enclosure sculpted of ½" carbon fiber, leveraging the latest Aerospace materials and technologies…four massive aluminum billets…meticulously machined to produce a curved exterior with no angles"—and many more exotic, high-performance features. They are expected to ship soon (third quarter, 2017) at $172,000/pair.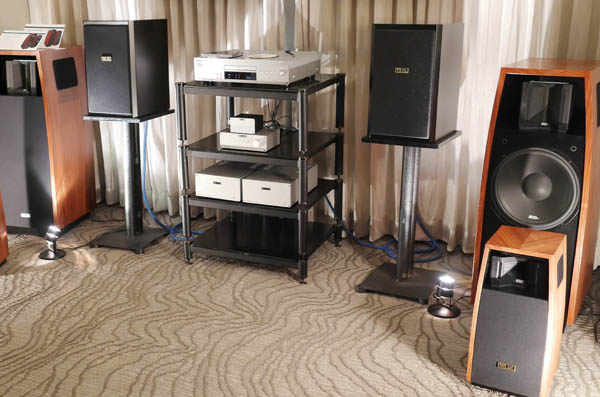 ESS Labs, 45 years old and known as the first company to use Heil Air-Motion Transformer drivers, demonstrated the ESS 6" AMT speakers ($1895/pair) and ML-8 studio monitors ($2200/pair). The rest of the system comprised a Sony NS3100ES DVD player, a Channel Islands Audio VAC-1 high-current power supply and PLC-1 MK. II remote passive, and Channel Islands D200 Mk.II monoblocks. Selections from a lovely Queen Latifah CD were played on both the 6" AMTs and ML-8s. I found the ML-8s much more pleasant in the upper ranges, with a more agreeable midrange, and clear bass.
In this room, while hearing Damien Rice sing "The Professor * la Fille Danse" from the album B-Sides, I had one of those cliché super audiophile moments where I felt so intimately close to Damien's voice, hearing his every breath and quiver. (I had never heard of Damien Rice before Rocky Mountain, and now I'm a little obsessed.) The system I heard included the 100Wpc Exogal Ion amplifier ($3850) and Comet Plus DAC with the Comet Power Supply upgrade ($3500), Vehement Audio Brezza Savant loudspeakers ($6995/pair), a Core Power Technolgies Equi=Core 1800 power conditioner ($2000), Artnovion Acoustics Sound Panels ($2500), an Audio Vault USA rack ($6000), and Verastarr Cables.
I won't make an Oz joke—I'm sure he gets too many of those. But in the High End by Oz room, there was some magic to the sound that did make me feel like I was going to see the wizard. (Okay, I made one away and it wasn't that good. Sorry.)
Oz was playing a CD by South Korean jazz vocalist Youn Sun Nah, through a system featuring an Aavik Acoustics U-150 All in One Integrated Amplifier with built-in DAC (PCM/DSD/MQA compatible) and built-in phono stage ($20,400), Vitus Audio Masterpiece Series MP-T201 Mk.II CD transport ($21,600), Raidho Acoustics XT-2 floorstanding speakers ($18,000), Ansuz Acoustics DTC speaker cables, interconnects, power cords, Mainz D 8 Power distributor ($4000), and Resonance Control Feet, and a Raidho Acoustics rack ($1700/level). For such small speakers, the XT-2s were quite magical in their ability to produce a massive sound with charming highs and effortlessly full lows.
GTT and Von Schweikert featured two systems at Rocky Mountain. It was an interesting room-within-a-room layout, where one could not access the second room through the main hallway. It felt special to get invited inside. The first system: a Kronos Pro turntable ($38,000), Kronos SCPS-1 power supply ($13,500), Andre Theriault Black Beauty tonearm ($8500) with a ZYX Audio Ultimate 4D cartridge ($4400), an Audionet PAM G2 with EPX phono stage ($20,000), an Audionet PRE G2 line stage ($23,350), Audionet MAX monoblocks ($30,500/pair), Von Schweikert Audio VR-55 Aktive loudspeakers ($60,000/pair), and a Von Schweikert Shockwave V12 subwoofer ($11,500—used for active room correction). Cables were by MasterBuilt Audio, room conditioning by Acoustic Sciences Corp, and racks and monoblock platforms by Artesania Audio. "What do you want to hear? Classical?" Hmm. "Not classical." Everyone around me seemed to nod in agreement. I love classical, but I wanted to hear something else right now. An LP of Dean Martin singing "I'm Confessin' (That I Love You)" came on. It was luxurious, luscious, rich, and tender—I loved every moment of it.
The second system: an Audionet Plank Red-Book CD player ($18,800), Audionet's new—premiering at this show—WATT integrated amplifier ($18,800), and Von Schweikert Audio Endeavor E-3 Mk.II loudspeakers ($8000/pair), with MasterBuilt Audio cables and Acoustic Sciences Corp treatments as well. Relaxed but with ever-present force, London Grammar's "Hey Now" was cunning, calling me to dance.
Did you know that Martha Stewart and Snoop Dogg host a cooking show together? Me neither. It's called Martha & Snoop's Potluck Dinner Party and is already on its second season on VH1. It's one of those things you look at and think, "Well that's something I never thought I'd see or like, but it's kind of awesome." That's how I felt about the PureAudioProject room. The system featured the PureAudioProject Quintet15 Horn1 with modular open-baffle speakers ($9990/pair), a Whammerdyne Truth 2A3-based SE tube amplifier ($15,000), an Exogal Comet DAC ($3700), and a Roon player. What's cool about the Quintet15 Horn1 speaker is that it's DIY! But not incredibly hard DIY: "breeze-simple self assembly" reads the website, with no soldering or prior experience required. You only need a screwdriver and an Allen Key—and some screws can even be screwed in by hand, I am told!
Winning the award for "Most Interesting Speaker" seen at the show: the Jern14 ES speaker, in its America debut. "Jern" mean "iron" in Danish, and the ESs are built out of cast iron. We rarely hear—or hear about—audio components built of iron; the only two exceptions that come to mind are Oswalds Mill Audio's limited Ironic speaker, and Fern & Roby's turntables. Ole Lund Christensen of Jern explains: casting is a big, difficult investment for those who aren't already in the casting business, so a speaker designer would probably have to work in collaboration with a casting company, further complicating the process and adding to the final cost. Jern is interesting in this way: the company began when Søren Dissing, audiophile and owner of casting company Dansk Skalform, wondered how a loudspeaker molded out of one piece of solid iron would sound.
At Rocky Mountain, Jern presented a pair of Jern14ES speakers on Jern rubber bases and a Rel T5i subwoofer on a Jern damping plate ($5000 together), and a Parasound Zamp v.3 60Wpc amplifier ($350), with music coming from Tidal off of an iPhone SE. We listened to "Wasted Time" by The Eagles (is this the equivalent of "Hotel California" for audiophiles in Denmark?), and the small Jern14 ESs surprised me with their big, wide sound. I'm interested to see how these do in the US market.
In the Elite AV Distribution room, Madonna's "Live Like a Prayer" spun on a Kuzma Stabi S turntable ($3615 with external power supply in brass finish), 4Point9 tonearm ($3995 with CC wire and ETI silver bullets RCA plugs), CAR-20H high-output MC cartridge ($1695), with a Plinius Koru SS phono stage ($3450). This fed a Manley Labs Jumbo Shrimp vacuum tube line-level preamplifier ($3995) and a Plinius Audio SA-201 stereo power amplifier ($6545), out to an HRT Stage II speaker system (two pairs, at $500/pair) on Sound Anchors Pro Series speaker stands, and a REL S/3 powered subwoofer ($1999)—with Furutech cables and accessories throughout. Hearing the song's lyrics—"feels like flying/I close my eyes/Oh God I think I'm falling/Out of the sky"—I felt like Icarus, son of Daedalus, my wings burned by the system's sheer brightness and volume, causing me to fall into the dark depths of the sea…cast into the hallway to move on to yet another room.
One of my favorite rooms of the show!
When asked, in a 2014 interview, what she would never wear, Anna Wintour, supreme fashion goddess and editor-in-chief of Vogue, replied, "head-to-toe black." In my opinion, the same rules that apply to fashion should also apply to audio design. Black and silver boxes will never win against hot tubes and cool color palates in my eyes.
I heard Joseph Audio's Pearl3s ($31,500) at last year's RMAF, during a Classic Album Sundays session, but they were set at a much higher volume than I would ever willingly expose my unprotected baby ears to. So having never really heard Joseph Audio's Pearl3 speakers before, my initial gut reaction was: the perfect balance of classic and contemporary sound—swoon! I don't know if you can tell from the picture, but their rich yet subdued accents created a level of elegance I'm not accustomed to seeing at audio shows. Their sound could be described similarly—paired with Doshi Audio's V3 monoblock amplifiers ($34,995/pair), V3 line stage ($16,995), V3 phono stage ($16,995), and a Studio Series tape playback preamplifier ($16,995).
I first heard "Garota De Ipanema" by Ron Carter & Rosa Passos off a MacBook Pro. At the risk of being cliché: the speakers disappeared, and my ears centered in on Ron's soft, warm, old-school tone, conveyed perfectly. Then, a tape of Ella Fitzgerald singing "Too Marvelous for Words"—and I swooned yet again. Pure bliss. Thank you, Joseph Audio and Doshi Audio.
"High Fidelity Services"—sounds like a conversation with a telemarketer: "Hello madam, are you interested in upgrading your high fidelity services with us today?" Or, like something your gangster older cousin with that too-worn-out leather jacket would say in his Jersey accent (even though he's not even from Jersey): "You need high fidelity services? I know a guy."
In the (not at all telemarketing or gangster related) High Fidelity Services room, Steely Dan's Gaucho grooved through Neat Acoustics Iota Xplorer speakers. (These were prototypes, to be released in the first quarter of 2018, at around $5000–$5500/pair.) I had read Ken Micallef's review of Neat Acoustics' Iota Alphas, which intrigued me. And—I'll admit it—I find Neat Acoustics' speakers physically attractive. The Xplorer is the third model in the Iota range, and features, for the first time, an AMT tweeter. (What would Ken think of the upper frequencies on this versus the Alpha? I wondered.) The rest of the system I heard featured an Oppo Sonica DAC/server with a Melco N1ZH Mk.2 source ($5794) and an Audia Flight FLS 10 integrated amplifier (debuting at the show! $11,295).
Hearing Gaucho made me feel sad, because I have many fond memories of listening to Steely Dan in the car with my dad while growing up, and it's hard to think about Walter Becker being gone—almost as if it threatens the life of my memories, too. Which I know isn't true. Last year, Steely Dan was on tour in New York and the only tickets left were on Gaucho night. We had planned to go, but I ended up telling my friends, "I don't really feel like going. Gaucho's not my favorite. I wish I had gotten tickets earlier for Aja or Greatest Hits." Because I'm dumb. So I never got to see them live, and it's no one's fault but my own.
Anyway, the Xplorers conveyed "Gaucho", a song I never really liked enough to go hear in person, in such a hearty, musical, gut-wrenching way that made me tear up a little. "Have to keep working, gotta hear another room!" I told the gentleman manning the room as I sped out. What I couldn't say was, "Hearing 'Gaucho' on this system made me think about mortality and regrets and life and my childhood all at once, and I really can't let myself cry in front of you." I am no alpha, but I'll try to be neat. Thank you, High Fidelity Services. Rest in peace, Walter Becker.
Heard in the Nola room: the Nola Boxer S2 bookshelf speakers ($2900/pair), a VAC integrated amplifier ($1400), an Audio Research CD8, and Nola Blue Thunder cables ($800/10' pair). The gentleman sitting in front of me was ecstatic; he kept remarking on how wide the soundstage was, and how excellent everything sounded. You know, at hi-fi shows, so many people look like they woke up on the wrong side of the bed and listening to music is a torturous forced group activity. Do they know something about the end of the world that I don't? Will they tell me what it is? In the Nola room, everyone was friendly, chill, and seemed to be having a great time. The Boxer S2s are the "premium version" of the Boxer 2s, with the same driver complement but with "other internal upgrades," including "Nordost mono-filament silver wire throughout and Mundorf EVO oil capacitors" according to the literature I received. The system sounded lush and filling!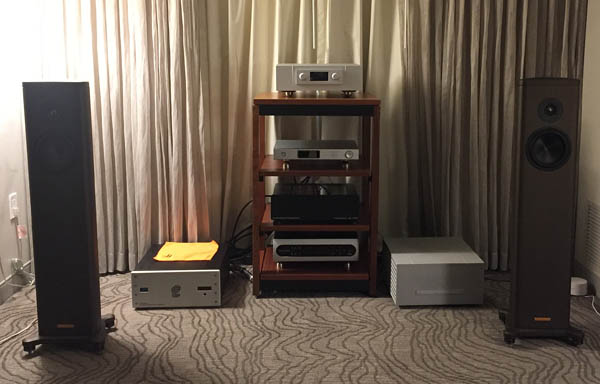 I arrived at Austin hifi dealer Lone Star Audio's room right after they had begun breaking down, so while I didn't get to listen, I did get a photo and a system list. They had been playing music through Magico S1 Mk.2 speakers in cast bronze ($16,500/pair), a Constellation Inspiration preamplifier 1.0 ($9900) and stereo amplifier 1.0 ($11,000), and an Aurender A10 server/streamer/DAC ($5500), with MIT Heritage Series cables and various Synergistic Research treatments throughout—all atop a Critical Mass Systems Sotto Voce 38" 4-shelf rack ($4500). Hope to hear them next time!
My final assignment of the show: Esoteric, a word that could also be used to describe the thoughts swimming in my mushy, show-drained brain at this point.
The exhibitor says to me, "I'll play you a couple of tracks." I brace myself: what kind of audiophile music is he going to play? I can't hear any more of it. Please. Too much. Can't handle. Then, like a blessing from the heavens, Elton John's "Candle in the Wind" (my favorite) starts emanating from the Canton Reference 3K loudspeakers ($15,600/pair). The system includes an Esoteric N-01 network audio player ($20,000) debuting at this show, an Esoteric K-01X SACD/CD player/DAC ($20,000), an Esoteric G-01X master clock ($20,000), and an Esoteric S-02 power amplifier ($20,000). Elton's beautiful voice was lively and colorful, with a meaty midrange and nice full low end. What a nice way to end the show.