Herb's Denver Day Two, Part Two
Legendary Japanese electrostatic headphone manufacturer Stax, Ltd. was demonstrating a new—and very upscale looking—"Vacuum Tube Input Driver Unit For Earspeakers" (
ie
, an amplifier) for their highly esteemed SR-009 Earspeakers ($5250). It is called the SRM-T8000 and costs $6000—which is a considerable price leap from the Stax SRM-007tII amp ($2400) I compared it to. During my brief audition, this new, 6922 tube-equipped Stax amplifier played smother, slightly fuller, a little lusher, and, less electrostatically than the SRM-007tII.
I thought the sound character of the Stax SR-009 headphone unit improved dramatically when driven by the Woo Audio WES fully balanced electrostatic headphone amplifier ($4990). No question electrostatic headphones like tubes: the more tubes, and the bigger the tubes, the better the sound gets.
The Woo Audio WES amplifier uses four EL-34s (two per channel); four 6SL7s (two per channel); two 12AU7s (one per channel), and two 5AR4 tube rectifiers (one per channel). That's a lot of tubes, and the WES is a LOT of amp. It has two chassis: one for the tube-rectified dual-mono power supplies, the other for audio circuitry.
I've also listened to the Stax SR-009s with the Cavalli Audio Liquid Lightning amp ($5000) and the HeadAmp Blue Hawaii SE amp ($4980-5880): both are extremely fine sounding amplifiers (I especially love the Blue Hawaii); but today, in the Denver Tech Center, the Woo Audio WES seems more light-filled, textured, transparent and alive, than either of these esteemed alternatives.
The prattle above is mostly old news. The big story in this tower suite is Heinz Renner, who was formally an engineer with AKG and Phillips, and is currently, chief designer and CEO of the newly formed LB-acoustics Messgeräte GmbH located in Vienna, Austria.
During his tenure at AKG, Herr Renner designed the legendary (and quite unusual) K1000 headphone, which, instead of pressing against the ears, hangs from the listener's head like a pair of rectangular bunny-ears. I never experienced the K1000s, but my peeps say the sound was wonderfully detailed, and extremely big and open, but shy on bass weight and power. (Some headphone aficionados believe the K1000 delivered the best midrange ever.) Heinz formed LB-acoustics to continue his research into the full potential of off-ear/near-ear headphone design.
Renner's latest invention, the new, not yet released Mysphere 3.1s ($4000) are simply the most sophisticated looking, most smartly engineered, strongest, most durable headphone I've ever seen. Based on my very brief audition of Nina Simone doing "I Put A Spell On You" and the compelling "Sinnerman," I can easily say these new Mysphere 3.1s are a possible contender for best-sounding headphone of 2018. Only time and more listening will tell for sure.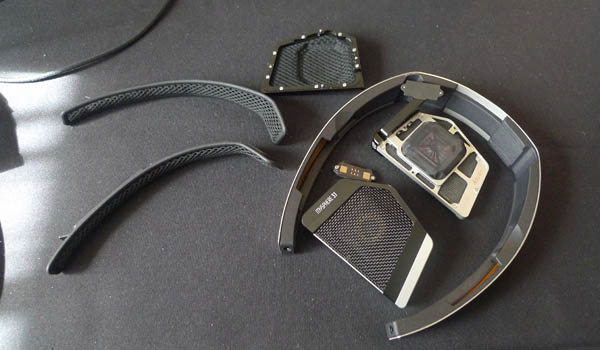 The Mysphere 3.1s are completely modular; they disassemble and re-assemble easily. Each parts, including the five-layer square sandwich diaphragm (one layer is pure gold), can be replaced, changed, or upgraded by the user. Its hard-anodized aluminum frame is nearly indestructible. Its overall aesthetic is Germanic and timeless.
My brief Mysphere 3.1 experience suggested that headphones, while already exceeding floorspeakers for low-distortion accuracy, might still be in their infant-toddler stage of development. This new LB-acoustic design looks and sounds like the next level in two-channel reproduction and the beginning of the future.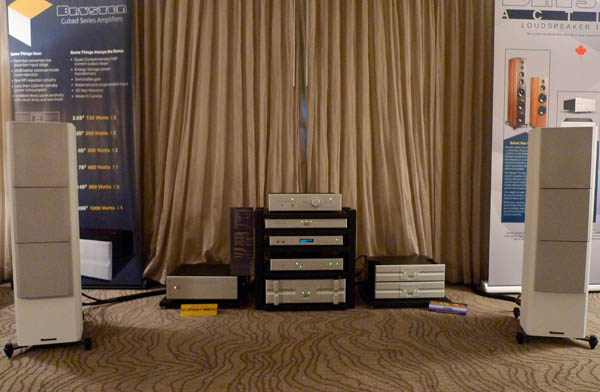 Bryston started by making amps and preamps, but has slowly evolved into a full-service audio manufacturer that makes practically everything from speaker stands to cables, crossovers, and power conditioners. In recent years they began making loudspeakers, CD players, and turntables. Their website is beautiful, and so are their amplifiers—which, as always, have one foot in professional audio and the other in perfectionist audio. But Bryston's stuff is so designer-friendly, they must have at least one toe stuck in the pages of Architectural Digest.
Here at RMAF their room was wide, spacious, and neat…and, more important, they played really excellent music—like the Colorist Orchestra and Emiliana Torrini from their self-titled collaborative album. The sound was a pleasure to absorb and dream to.
Bryston's featured products were the $3995 BP17 (cubed) preamplifier and the $6200 Middle T active loudspeakers with optional BAX-1 DSP ($3995). Musical choices were expressed by Bryston's BDP-3 digital player ($3495) and BDA-3 DAC ($3995). The three-way Model T loudspeakers were tri-amped: by a 3B (cubed) stereo power amplifier ($4995) for the lows; a 2.5B (cubed) for the mids ($3995); and another 2.5B (cubed) for the tweeters. There was a BIT 20 isolation transformer/power conditioner ($3995) feeding a bevy of Pro Thunder power cables ($500/ea.). Interconnects and custom tri-wire loudspeaker cables were by StraightWire.
Okay folks, I can tell you up front, Vinnie Rossi's modular ($13,995 as configured) LIO "Super Integrated" amplifier driving the new Harbeth M30.2 40th Anniversary Edition loudspeakers ($6495/pair) made exactly the kind of sound I prefer when I'm home alone with my records. Rich and easy flowing, with superb tone character. Recordings via the Rossi/Harbeth system sounded exceptionally natural.
The Harbeths were set up perfectly: splayed diagonally between the room's long and short walls. This "askew" arrangement positioned listeners in the extreme nearfield, with the speakers at radically different distances from room boundaries. Tonal balance and vocal-instrumental impact seemed just right. (I was sitting up close, no more than six, maybe seven feet from the front baffles.) While I listened, I was fascinated by the elegant stance, beautiful natural finish, and architectural ingenuity of the German made Ton Trager speaker stands ($1395/pair).
While I absorbed the space, texture, and poetic charm of Hope Sandoval & the Warm Inventions, I kept spying the strange but captivating look of the LIO integrated with its two PX4 tubes sticking up from its chassis top. Vinnie Rossi's LIO is unique in its ability to be purchased al la carte: you can buy it as a straight power amp, line stage, integrated amp, DAC, phono stage, etc. The LIO's unique directly heated triode line stage is class-A, OTL, and zero-feedback. The user can switch or choose between 2A3/45, 300B, PX4/PX25, 101D/205D, and SV811 directly-heated triode tubes.
Black disc playback was accomplished using a German-made Acoustic Signature Manfred Mk2 turntable and matching Acoustic Signature TA1000 tonearm ($4999). (No cables or line conditioner were specified.)
I would never name my audio business "Serious Stereo"—would you? And I wouldn't say stuff like "Heard the world's best amps? Then its time to upgrade" and "The Best Sound Total Reliability and Repeatability" in my promotional handouts—would you?
But Serious Stereo's sole proprietor, Dennis Fraker, would—and I love him for it. Mr. Fraker is the kind of man I admire. He's from Montana, where it gets cold early and stays windy, and I believe there are no French suits, pointy shoes, or Hawaiian shirts in his closet, just as there are no fancy watches on his wrist. He wears sneakers, Dickies jeans, and flannel shirts from Target. His cap is from Farm and Fleet. I love him because he hand-crafts single-ended 2A3 amps—just like I used to do. I love him because he tests them on Altec 604s in big cabinets—just like I used to do. Dennis is so damn cool, if he were in Brooklyn, he'd be a god.
His single-ended 2A3 monoblock amps (they use the JJ 2A3-40 tube) come in excellent colors, have tube rectifiers, and cost $19,750/pair. His Serious Stereo speakers cost the same amount. He plays records on a Pioneer PLX-1000 record player. He smiles all the time.
This year, Dennis played Jim Reeves again (he knows I like church with my music) and Ernest Tubbs's "Apartment No.9" (he knows I like the Texas Troubadour). The sound could not have been better.
Mainly, I love Dennis Fraker because he is real and unpretentious—exactly like his products. While I was listening, the guy sitting next to me said, "Records sound like themselves on this system."