Herb's RMAF Day Two
Each year, in honor and remembrance of her late husband and RMAF founder, Al Stiefel, Marjorie Baumert donates one exhibit room to support "…a new manufacturer with an innovative product, or one who simply needs a little help." This year, The Colorado Audio Society selected JWM Acoustics of Austin, Texas to be the ninth recipient of The Al Stiefel Legacy Room.
JWM also exhibited at RMAF 2016, when there were fewer RMAF rooms to cover, so at that time I was able to linger, for a full half-hour, in JWM's warm bath of good music, fine sound, and the extremely enjoyable company of Joshua Miles, owner, engineer, designer, and dreamer behind JWM Acoustics—and his mother, who is a most charming and knowledgeable partner in the JWM enterprise. The three of us sat together and discussed music and the art in Joshua's portfolio: Mr. Miles not only makes fine loudspeakers like the large Alyson Monitors ($8500), and turntables like the Karen 12 SE ($6000) and the budget Karen 3 SE ($1850), and accessories like his Cable Cradles ($80-100 per set of four), he also makes fine art paintings—and good vibes.
This year, the Alyson Monitor loudspeakers, driven by the Aries Cerat Diana Forte single-ended 60Wpc Stereo Amplifier ($28,500) and Impera II Signature preamplifier ($82,500), delivered deep, rich tones, with an unusually punchy, bouncy manner that brought the music directly to my chest and mind. Detail was all there, but it never drew attention to itself. Bass had wallop. This system delivered lifelike piano sound coupled with maximum PRaT and substantial drive. Very impressive. (The Aries Cerat Kassandra Reference DAC MKII ($35,000) provided the digital.)
I was especially enamored of a new phono cartridge by Etsuro Akiyama: The Etsuro Urushi Cobalt Blue ($5250). This moving-coil cartridge, connected to an Echo-Diastasis PH-79 phono stage ($3850), was so manifestly engaging, I never knew where its magic stopped and the rest of this truly wonderful system picked up. Cables were by Douglas Connection. Power was conditioned by a PS Audio P10 power conditioner ($4999). Just like last year, Joshua's room was a singular high point of my RMAF experience.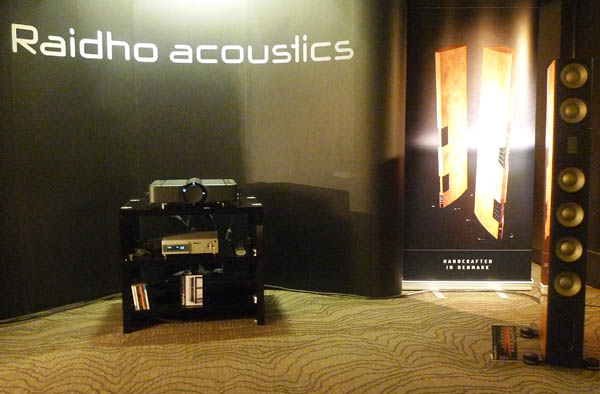 Last fall, I traveled to Denmark to experience music via vintage reel-to-reel magnetic tape decks, 100-year-old Western Electric 12A horn loudspeakers, home made record players with one-of-a-kind cartridges, and amplification designed by friends with cool brains and hot soldering irons. Almost all of this stuff was built in America, Korea, or Germany. Surprisingly, while I was there, I never once thought that the slender, elegant-in-the-extreme, seven-driver, Raidho loudspeakers were actually made on that same Jutland Peninsula where sun seemed peculiarly dim during November.
The differences between these contrasting types of audio gear could not be more extreme: The giant snail-shaped WE 12As are unabashedly glued-and-nailed pieces of wood, spray painted with black primer—while the birdseye maple Raidhos were seamless, flawlessly crafted, and polished to the highest degree. Not surprisingly, each speaker's sound matched its look: The Western Electric horns (with their ribbon tweeters) played with greater ease and moved more air than the slender Raidhos (and their ribbon tweeters). The WEs were more relaxed and, despite their huge size, more invisible as sonic sources. But, in modern audiophile terms, the ancient WE cinema speakers were no match for the exquisitely refined, low-distortion, Raidho house sound.
During several previous auditions, I thought various Raidho speakers sounded excessively tight and leaning toward sterile. I did not get them.
But today, listening to the $46,500/pair Raidho XT-5s was a completely different experience: I sat hypnotized by Joyce DiDonato singing "Riedi al soglio" from Rossini's Zelmira, and realized that now, finally, after years of trying, I truly get these super handsome Danish speakers. I think now I understand their raison d'etre. The XT-5s play music with a fine-grained, refined beauty that described every vibrating molecule of Joyce DiDonato's voice. The XT-5s realized every micro-inflection—which caused me to finally grasp the need for this kind of highly purified audiophile sound. I am not sure how the XT-5s would handle Hazel Dickens or Ernest Tubb, but today, the Raidhos showed me the art and painterly coloratura that defines this spirited mezzo-soprano. When the Rossini ended, I was slumped in my chair and breathless.
A Nagra DAC/CD player ($30,995) and the 300Wpc (8-ohms) Aavik U300 integrated amplifier ($30,000) provided the stimulus, and Ansuz provided the power and the cables.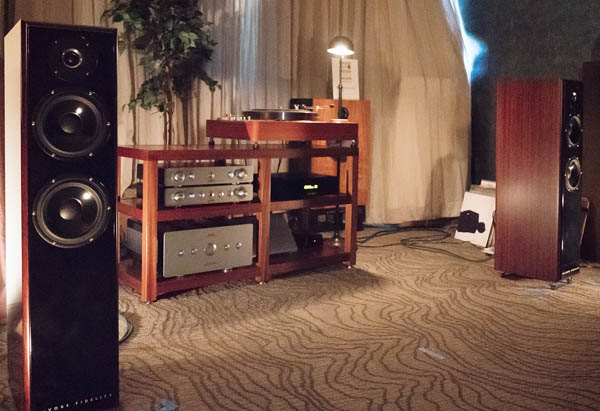 The only way to follow a tall, narrow, lean-sounding Scandinavian speaker is with a shorter, thicker, fuller-sounding American speaker: the DeVore Fidelity Gibbon Super Nines ($10,800/pair).
Driven by a Sugden Masterclass LA-4 line preamplifier ($3750) and a 40Wpc class-A Sugden Sapphire FBA800 amplifier ($7500), designer John DeVore's new Super Nines played the soundtrack to the Dennis Hopper's unsuccessful film The Hot Spot (featuring music composed by Jack Nitzsche) with a firm stylish élan. (The film was pretty bad, but the music sounds wild, rich, and tantalizingly surreal.) I would best describe the Super Nine's personality as: steady and assured, fast, slightly damp, and tantalizing life-like.
I suspect a big portion of the DeVore system's assuredness was provided by the $24,000 belt-drive Spec GMP-8000EX turntable and its heavy gunmetal platter. This wide, orange-plinthed turntable was fitted with an EMT 997 tonearm ($5495) and an EMT JSD-S75 moving-coil cartridge ($5400) connected to a Sugden Masterclass PA-4 Phono preamplifier ($2500).
The forward momentum of Spec's massive record-turning machine gave music a new weighty authority that exceeded even the Kronos turntable mentioned earlier. The GMP-8000EX's powerful drive was most likely caused by its advertised platter inertia of 3260kg/cm2. More than simply turn its platter at the right speed, a perfectionist turntable must drive the recording forward in a way that exposes the music's intent and engages the listener's mind. The Spec really did that. To my ears and sensibilities, the Spec GMP-8000EX turntable made all others I've heard sound weak and hesitant. Too bad (for me) it's so big, wide, and heavy.
Alternatively, digital playback in the DeVore Fidelity/Tone Imports room was achieved via a TotalDac D1 Tube Mk II DAC ($11,000), and all cabling was by Auditorium 23. There were no AC line conditioners.
The DeVore/Tone Imports room and new Super Nine loudspeakers get my second nomination for best sound of show; the Spec turntable deserves a Grammy.
Me old wild audio friend Bob Carver was just down the hall from my sleeping chamber. Our paths had not crossed in twenty years, so I was anxious to hug-and-chat with the smart old audio-veteran in a sailor's hat.
Bob Carver Co. CEO (and Chicago's own audio mobster) Frank Malitz was in the room too. I could have spent the entire day chatting with them and their Chi-town crew, but Stereophile's Comrade General had commanded me to "Keep it moving, stay out of Can Jam, and cover every room!"
Remembering my job, I stopped chatting for a minute and listened to Buddy Guy do "Crawling King Snake" with Eric Clapton and BB King. Carver's "Amazing Line Source" loudspeakers ($18,500) almost touched the ceiling and imaged BIG in all directions. Bob and Frank had the Amazing's bass enhanced with a $3000 SubRosa Subwoofer. The system was not lacking for power or resolution. As expected, Buddy Guy and his Crawling Snake were life-size and going at it full-tilt boogie style. The sound was deep, wide, strong, and clear, because that is how Carver's Model 350 tube monoblocks ($9500/pair) drive his line-source loudspeakers.
I should mention that the above-mentioned 350W (into 4 or 8 ohms) amplifier comes with a 10-year warranty, which includes tubes! Carver's other amplifier, the classic Silver Seven 700 monoblocks, cost $32,000/pair and come with a lifetime warranty—which also includes tubes!
Ten-year warranty? Lifetime warranty? Includes tubes? I wonder, what does Bob Carver know about tubes those other manufacturers (whose tube warranties last only 6 months or a year) do not? Answer: Probably a lot!
Say "Schiit and Salk," over and over, fast, ten times! Then imagine a high fidelity system costing less than $10,000 that allowed me to listen to Jennifer Warnes' Famous Blue Raincoat all the way through (well almost). "Raincoat" is beautifully executed and recorded, but my hipster coolness makes me rail against audiophile chestnuts—every time but this time.
What I was experiencing was Schiit Audio's high-value new direction: realistically priced audiophile separates aimed not at the headphone world, or the extreme audiophile neurotic, but at the newly informed, upwardly mobilizing, young gentry. (Smart urban hipsters with Tidal subscriptions?)
The Schiit-Salk display system began with a Salk Streamplayer Gen III-SE (prototype, $2495) sourcing a Schiit Gungnir Multi-Bit DAC ($1249)—one of my favorites, and probably a big contributor to the overall fine sound in this room—driving the new Schiit Freya preamp ($699), plus Schiit Vidar monoblock amplifiers ($699/each; connected to Salk Song3-A loudspeakers ($3695/pair). Now all Schiit needs is a turntable—which is rumored to be hiding in the wings.