JVS Works His Way Up the Marriott Tower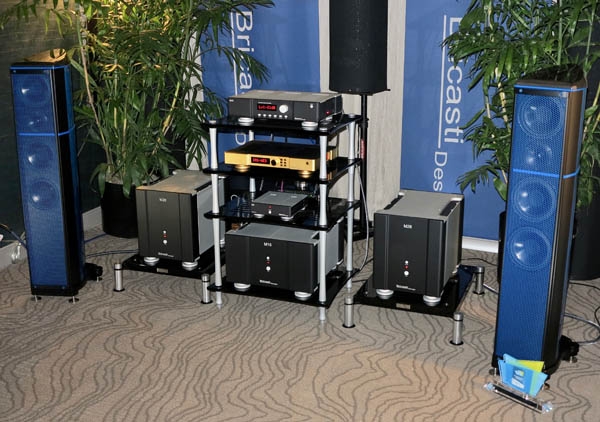 I didn't need Rapunzel to let down her golden hair in order to ascend the Marriott Tower. Rather, on Saturday afternoon, I encountered so many good systems in a row on the 7th floor that the music simply pulled me up. Although I hated bidding adieu to each fine listening experience, there were so many of them, at least for a while, that a song from
Finian's Rainbow
that played over and over in my youth, "When I'm not near the girl I love, I love the girl I'm near," resounded in my head. I'll leave it up to you to decide if that's an amusing reference or a call for 12-Step intervention.
No intervention was needed in the Bricasti Design room. This darker-cast system may not have sparkled on top, but its notable clarity, excellent bass control, and compelling layering of contrasting lines and timbres in the bass region confirmed the synergistic match between Bricasti electronics, Wilson Benesch A.C.T. One Evolution loudspeakers ($38,800/pair as shown), Oyaide cabling, and StillPoints Ultra Isolators. Deserving of honors on the Bricasti end of things: M12 dual-mono source controller ($15,995) with network player functionality, M1 Limited Edition DAC ($15,000), and M28 monoblock amplifiers ($30,000/pair). Another of my listening high points…of which there were many, I am happy to say.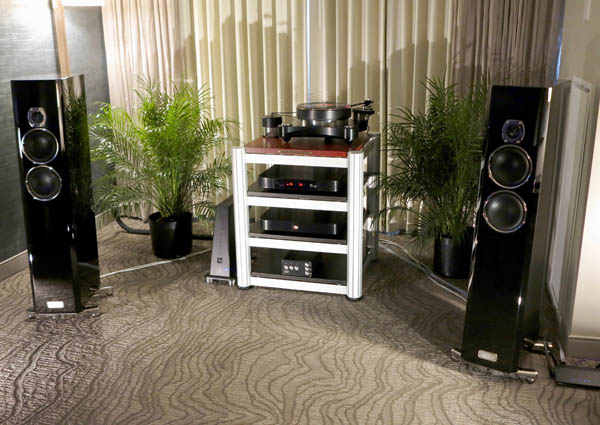 A handsome looking system, as systems go. I am not inclined to pretend that equipment is "sexy," but I must say that this doubly excellent setup, in both looks and sonics, confirmed Bel Canto's and Tidal Audio's attractiveness on multiple fronts.
The depiction of piano on an MQA-encoded track by Milt Jackson and Ray Charles was uncannily real, and voices on a recording of Duruflé Requiem were presented with equal beauty and credibility. "Highs were pretty fetching," I scribbled in my notes, "even if they were a bit toned down on top. This system sounded very, very nice."
Hearing Björk sing the very song that soprano Renée Fleming had sung at Seattle Symphony several weeks earlier was a special treat. Doing the honors: the new, Roon-ready Bel Canto Black EX DAC control preamplifier ($13,990) that even contains an MM/MC software-controlled analog phono stage, bass equalizer, and Tidal/MQA streaming capability; new Bel Canto Black EX amplifier ($11,990); Tidal Piano Diacera G2 loudspeaker ($39,900/pair); TW-Acustic Raven AC-1 turntable ($15,500) with their Raven 10.5 tonearm ($5500) and Transfiguration Axia S cartridge ($2450); and Dynamic Design Titania cabling. I wish I could tell you the brand of equipment rack, but since it wasn't black…
Doug White's The Voice That Is upped the Tidal Audio ante by showing that company's Akira loudspeaker (a mere $215,000/pair as pictured). This loudspeaker made fabulous music with Tidal Audio's Presencio reference preamplifier ($77,600), new Ferios monoblock amplifiers ($67,900/pair), new Camira DAC with volume control ($28,500), and new reference cabling.
This was a far more open and illumined system than I heard in some other rooms at the show. It's always risky to tout such a sound, because it's not as "safe and demo-proof" as more damped systems can be in lively rooms. But when it works, as it did here on tracks by Joe Zawinul, Gregory Porter, Malia, and the partnership of Lee Ritenour and Dave Grusin, it leaves me smiling. As does Doug White's flawless-of-late set-up acumen.
Also in this excellent system: new Antipodes DX Gen 3 music server ($7750-$17,200, depending on internal storage capacity); TW-Acustic Raven Anniversary turntable ($22,000) with Raven 10.5 tonearm ($5500); Transfiguration Proteus MC cartridge ($6000); Signal Projects Poseidon S40 power conditioner ($10,200) and Dynamic Design Neutron SW16 digital cables ($10,200 total).
Gorgeous, just gorgeous. I know, that sounds like my Jewish mother desperately trying to push eligible women on her gay son, but it's really how I felt about Zesto Audio's sound at RMAF. "Sound one could live for a long, long time," the matchmaker in me wrote in my notes, "and great for such a teeny space. Very, very impressive."
Zesto, which received a RIHPA nomination for its Andros Téssera tubed phono stage ($12,000), may not have produced sound as gleaming as in Doug White's Tidal Audio room, but music sounded super regardless of source. From Jimmy Forest to Steely Dan's "Babylon Sisters" we went, the equipment producing a consistent sonic signature regardless of source material. That means excellent, clean highs, alluring transparency, fine tonality on voice, and an ideal integration of ranges from top to bottom.
From Zesto, in addition to the Andros Téssera, came the new Allasso step-up transformer ($2995), Leto 1.5 tube preamp ($7500), and Eros 300 class-A monoblocks ($19,900/pair). Also heard: Merrill-Williams Audio Real 101.2 turntable ($7200) with two Tri-Planar U2 10" tonearms ($7200/each) respectively sporting Benz Micro Gullwing SLR ($3600) and Ortofon Cadenza Mono MC ($1280) cartridges, Marten Django L speakers ($9000/pair), Stillpoints ESS42-26-4 rack ($10,000) and Ultra 6 feet under power amps ($899/each), and Fono Acustica cables and power distribution.
Playing the same Yarlung native DSD recording by the Sibelius Trio that I reviewed for Stereophile.com, the Merging Technologies system wanted for more warmth in the midrange and less edgy highs. In fact, the midrange core of the sound was MIA, and richness was hardly the system's strong suit. This, presumably, had more than a little to do with the pair of older Def Tec speakers (maybe $3000/pair when new) that were drafted for demo purposes at the 11th hour, because Merging Technologies first decided to exhibit at RMAF very late in the game, and did not have sufficient time to round up a better pair of current-model loudspeakers.
Heading the system was the Merging+Player PL8 ($13,500), a multichannel model that was switched to stereo mode to optimize performance, and that has an embedded Roon core. (The Merging units on the shelves below it were not in use.) Beyond that, we heard the Ayre Acoustics VXR Twenty stereo amplifier, the above-mentioned (and, it seems, best forgotten) loudspeakers, Star Sound Technologies Rhythm Sp4 equipment platforms and Apprentice XL speaker platforms, the Luminist revisions to various levels of Purist Audio Design interconnect and loudspeaker cabling, and Purist's Corvus power cables.
I expect the attractive pair of bi-amped Alta Audio Hestia Titanium speakers ($32,000/pair), as well as the totally redesigned Van Alstine FET valve CF SLR preamplifier with optional Vision Q phono stage ($2628 with remote), had more than a little something to do with delivering the best sound I have ever heard from low-cost Van Alstine equipment at an audio show. For a company that has been in business for 50 years, to achieve such a dramatic sonic improvement in a challenging hotel environment is double cause for celebration.
The sonic standouts here were the system's very dominant and beautiful midrange, and its euphonic presentation. Soundstaging was nothing to write home about, given the setup, but the sheer seductiveness of the sound was. Also in the system: Van Alstine 4/2 solid-state amplifier ($3699), which bi-amped the speakers; Van Alstine DAC MK5 ($1899), which does DSD up to 128 and PCM to 192; a VPI Avenger Plus turntable equipped with a Soundsmith low-output Hyperion cartridge with cactus stylus; and Anticables cabling.
AudioThesis put together an intriguing system that included the fine-sounding Rosso Fiorentino Volterra loudspeaker ($11,500), AudioThesis North Star Design Supremo DAC ($3000) and Magnifico upsampling (to 768 kHz-32 bit PCM or 11.2 Mbit/s DSD) CD transport ($3400), Mastersound parallel single-ended Evolution 845 integrated tube amplifier ($17,000), and Wireworld cabling. I wish I could give a thorough report on system performance, but I admit to an allergy to loud, repetitive, formulaic, easy-listening music. When I asked for something non-repetitive, I was offered the same sort of repetitive, cool, in-the-groove track.
For reasons I cannot fully explain—we are who we are—the system from Ashraf Nashed of American Sounds of Canada failed to involve me. I tried to figure out what was going on, but could not understand why I remained an observer throughout the listening process. All I know for certain is that on what I believe were tracks by Gene Evans and Chris Isaak, and a classic LP from Phoebe Snow, the presentation had a lot of impressive "check list" audiophile positives, yet neither digital nor analog material allowed me to find my way in.
Heard were a new Bergmann Galder air-bearing turntable with vacuum hold-down and Odin tonearm ($34,000) and new Phasemation (formerly Phasetech) PP2000 MC phono cartridge ($5550), Phasemation EA-500 dual-mono phono stage ($7300), Aurender A10 music server/DAC ($5500—look for my review in the January 2018 issue), Phasemation CA1000 three-chassis preamplifier ($32,000), Phasemation MA2000 Mono SET 300b tube power amplifiers ($32,000, presumably for the pair), Avantgarde Acoustic Uno XD loudspeakers ($32,500/pair), Transparent XL G5 series cabling and power conditioning, and HRS rack and platforms.
Given the quality of equipment in the Xact Audio room—my final room on day two of the show—I spent a long time listening to multiple extended selections. Yet I left the room both impressed and puzzled.
The room included the CH Precision L1 preamp ($34,500) that won a Rocky Mountain International HiFi Press Award, and that was designed and manufactured by the same company whose CH Precision M1 stereo power amplifier was also nominated for an award. I've gone wild about Swiss-made CH Precision gear multiple times in the past, and entered the room extremely eager for another listen.
The system also included the Schröder Linear Tracker tonearm with magnesium arm wand upgrades ($12,500), which hails from the same company whose Schröder Reference SQ tonearm also won a RIHPA. The setup was in the very same space where Frank Schröder dazzled me with both his music choices and system sound at RMAF 2016. There was every reason for the system to blow me away and send me flying out into the night sky with stars in my eyes.
Instead, an LP of excerpts from Solti's historic Ring Cycle sounded flat—it must have been a bad pressing. Friedrich Gulda's piano on his jazz album that I've long wanted to hear, As You Like It, sounded a mite metallic, although the bass sounded quite warm and perfectly controlled. Even the wonderful soprano, Regine Crespin, sounded edgy in parts of the "Villanelle" from Berlioz's Les nuits d'été, although, when she sang softer, the beauty and fresh glow of her voice—a beguiling case of knowing innocence, to be sure—came through. Everything was almost there. Almost.
Was the needle on the van den Hul Crimson Stradivarius cartridge ($5500) dirty, or not aligned optimally? Could the new XX MagDrive turntable ($19,900) possibly have been set up incorrectly? Was something malfunctioning in one of the CH Precision pieces, which also included the CH Precision P1 phono stage ($31,000) and CH Precision A1 amplifier ($37,000)? Might this impressive assemblage of components, which was arrayed on a Stillpoints rack, abetted by the same Stillpoints Aperture panels I have in my listening room, and connected by van den Hul and Echole cabling, been a mismatch for the Zu Definition MKIV speakers ($18,500)? I simply don't know.