Jana's Day Two at RMAF
Overheard in the hallway:
"Babe, can you please buy me that cable?"
"But I just bought you so much for your birthday…!"
And just like that, day two begins.
"Everything is design": It's one of those phrases salespeople—and New Yorkers in general—like to throw around. I consider myself a humble student of design, constantly enamored of even the most basic packaging. Not even high-performing audio components are immune to my shallow, judging eyes. In the world of hi-fi, I find myself attracted to the angular, the modular, the funky, and the vibrant. There are plenty of good-sounding pieces of gear out there—enough that the compromise between performance and design should not exist. The distribution firm Well Pleased Audio Vida seems to understands this well, consistently joining together the good-sounding with the good-looking.
At Rocky Mountain, Well Pleased AV's Mark Sossa presented QLN Signature 3 loudspeakers ($7500), Qualiton's new A50i integrated amplifier ($7500), an Aqua Formula DAC ($14,700), and an Innuos Zenith SE music server ($7000), all wired by Anticables. He played me the multilayered immersive percussive piece "Oncoming Horizons" by Mino Cinelu—who I actually once booked for a concert series I was coordinating in a previous life: Small world! The QLNs, making their US debut at the show, greatly conveyed the out-of-this-world colors and one-of-a-kind tones that Mino is famous for. And as much as I'd like to keep this next one a secret, "Caterpillar" by The Colorist & Emiliana Torrini is a truly exceptional demo track! (Favorite demo track of the whole show?) I was finding myself missing the Rethm speakers (shown at previous shows) for their wildly spacious, trippy soundstage, but hearing "Caterpillar" (the perfect mix of electronic accents, string instruments, female vocals, and minimal driving percussion) helped me appreciate the QLNs for their subtlety and clean elegance.
I always leave every show wishing my schedule would allow me to spend more time in Well Pleased Audio Vida's room. This show was no exception. Hopefully next time!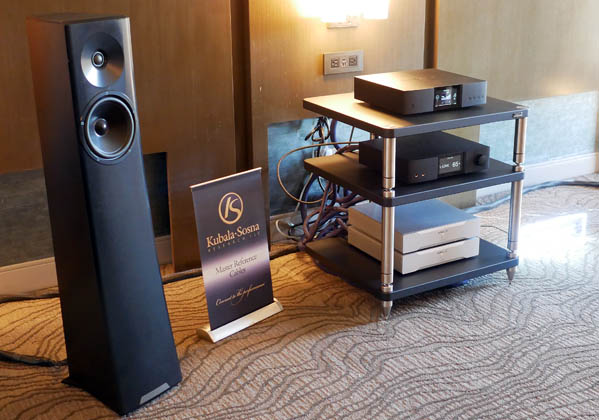 Auralic announced two new products at the show: the Vega G2 streaming DAC ($5699) and the Aries G2 streaming transporter ($3899); these were paired with the Polaris streaming amplifier ($2999), YG Acoustics Carmel 2 floorstanding speakers ($24,300/pair), and Kubala Sosna cables.
I once wrote that I felt haunted after hearing Auralic's room at a show—then months later met someone at a listening event who told me that certain frequencies can actually activate energies and spirits lying dormant in the room. "You were feeling haunted because you might've actually been haunted!" Didn't know what to say then, and don't know what to say now—except that, if the haunting spirits are reading this, I hope they know I don't want to die just yet, and if they want a free subscription to Stereophile, that can be arranged. Thankfully there were no haunting feelings this time around, but when listening to "Magnetic Lies" by Malia & Boris Blank, I did note a compelling low end and lush atmosphere.
A very excited gentleman—as in, more excited than the average audio-show-attending audiophile—sat next to me and said, "My two sons are named Vincent and Ryan, so of course I had to come in here!!!" Awww.
The system included a Vincent Audio SA T7 tube stereo preamplifier ($2499.95) and SP 331MK hybrid power amplifier ($2499.95), Ryan R620 loudspeakers ($3500/pair), and an Aurender A10 network music server/player ($5499.95), with Cardas speaker cables and Pangea accessories. "Hold On" by Max and Esmay Luck played with an ultra-realistic voice and precise, full guitar sounds.
In a second room with Ryan speakers, "Magnetic Lies" by Malia & Boris Blank was playing again (Auralic must have the same playlist), through Ryan S840 speakers ($8995/pair), which premiered at the LA Audio Show, with an Auralic Aries G2 streaming transporter ($3899) and Vega G2 DAC ($5699), a Constellation Audio Inspiration preamplifier 1.0 ($9900) and stereo amplifier ($10,999), and an AudioQuest Niagara 5000 power conditioner ($3995), with Cardas cables. "Magnetic Lies" on this system, compared to the Auralic room, was less deeply all-encompassing, but more centered, warm, and tangible.
Every time I ask for advice on writing show reports—the bane of my existence!—I'm told variations on the following: 1) make the reader feel like s/he is right next to you through the entire show, hearing what you hear, feeling what you feel; 2) don't make grandiose all-knowing sonic claims—after all, it's still just an audio show; and perhaps most importantly, 3) write like you're talking to a close friend—one that you'd like to keep close. Never lie.
Hello, friend. In a room featuring a Lampizator Super Komputer (€6900), Lampizator's new Pacific DAC balanced and preamplifier (€28,000), Lampizator mono blocks (€19,000), Salk Song3-Encore speakers ($5895/pair), and WyWires Platinum Series cables, I walked in to hear "Too Rich for my Blood" by Patricia Barber. There's this moment half way through where she holds multiple high notes out, while the drummer hits the toms and what sounds like different sized crash cymbals, and the guitarist does a little repetitive riff. All I could hear was sibilance and a piercingly bright ringing in my ears. I felt ashamed to do this, but I had to leave. I remembered loving Salk at the last show I heard them when they were paired with Schiit gear, so I walked right next door into the Schiit room, with a system composed of a Salk Streamplayer Gen III-SE (prototype, $2495), Schiit Gungnir Multi-Bit DAC ($1249), Schiit Freya preamplifier ($699), Schiit monoblock amplifiers ($699/each), through Salk Song3-A loudspeakers ($3695/pair)—a more affordable system. It was sweet, musical, and well rounded—as beautiful as I had remembered. I then walked back into the Salk/Lampizator room, to now hear "Blue Spanish Sky" by Chris Isaak. Same thing. It just wasn't for me.
Well, friend, here we are again, and I have to tell you: I really did not enjoy the sound in the Bang & Olufsen room. Let me start by saying: when I asked the price, the gentleman manning the room said "thirty-nine-two." I paused, thinking, $392 or even $3920 for the pair—now that wouldn't really be so bad. But on the other hand… "Err—what do you mean exactly by 'thirty-nine-two'?" I'm almost afraid to ask. "$39,200." Gulp. I've long been a fan of B&O's clean, modern designs and ultra-suave, forward-moving headphones. But when I entered B&O's room at Rocky Mountain, my heart sank. I stayed through two demo sessions, hearing a wide range of music—both queued-up by the demonstrator and requested by fellow show-goers. The active BeoLab 50s were excessively bass-y, painfully brittle up top, and overall incredibly boom-box-y. Design-wise, they look much better in photographs online than in person, and —I've never thought this about a speaker before—they look better grilles-on than grilles-off. I wanted to love them but I just couldn't.
But here's what is cool about the BeoLab 50s: seven dedicated amplifiers for a total of 2100W of power; the 3/4" tweeters live in acoustic lenses that mechanically ascend when the speakers are in use and descend back into the cabinet when they're not; seamless wired and wireless integration with B&O's BeoVision TVs; and the ability to optimize listening in the sweet spot by creating a setting using a microphone that will adjust the tweeter angle mechanically. But are these features necessary? $39,200 in audio components can go a long way when invested properly—but I don't think that's the market B&O is going for with these. While the BeoLab 50s are certainly radically innovative, I couldn't care less.