Gryphon Essence Mono power amplifier Measurements
Sidebar 3: Measurements
I tested the Gryphon Essence with my Audio Precision SYS2722 system (see the January 2008 "As We See It"). I preconditioned the amplifier by operating it with class-AB output-stage bias at one-third the specified power into 8 ohms for an hour. At the end of that time, the top panel's temperature was 88.3°F (31.3°C) and that of the side-mounted heatsinks 90.4°F (32.4°C). Repeating the preconditioning with class-A bias after letting the amplifier cool down resulted in a slightly higher heatsink temperature, 92.1°F (33.4°C). The Essence monoblock easily has sufficient heatsink capacity for its output power.
The Gryphon's voltage gain into 8 ohms measured 30.7dB with both output-stage bias conditions, and the amplifier preserved absolute polarity (ie, was noninverting), the XLR input jack being wired with its pin 2 positive. The input impedance was close to 10k ohms from 20Hz to 20kHz. Though this is half the specified 20k ohms, it is still sufficiently high not to cause compatibility problems with tube preamplifiers.
The Gryphon's output impedance in class-A was higher than the specified 0.015 ohms, at 0.26 ohm at 20Hz and 1kHz and 0.28 ohm at 20kHz. (These values include the series impedance of 6' of spaced-pair loudspeaker cable.) The output impedance was slightly higher in class-AB, at 0.29 ohms at 1kHz. Nevertheless, the modulation of the amplifier's frequency response, due to the Ohm's law interaction between this source impedance and the impedance of our standard simulated loudspeaker, was small, at ±0.2dB (fig.1, gray trace). The response into an 8 ohm resistive load (fig.1, blue trace) was flat to 20kHz and down by 3dB at 170kHz, which correlates with the Essence's superb reproduction of a 10kHz squarewave (fig.2). Commendably, there was no overshoot or ringing with the squarewave response. Into 2 ohms (fig.1, red trace), the response was –0.2dB at 20kHz and –3dB at 90kHz.
Measured with the input shorted to ground, the amplifier's unweighted, wideband signal/noise ratio was an excellent 86.5dB ref. 1W into 8 ohms, this ratio improving to 95.9dB when the measurement was restricted to the audioband, and to 100.8dB when A-weighted. This is a quiet amplifier. Spuriae at the 60Hz power-supply frequency and its harmonics were very low in level but varied with the output-stage bias. The spuriae at 60Hz and 180Hz were highest in level with class-A bias, at –104dB and –110dB ref. 1W into 8 ohms (fig.3, red trace), and were even lower in level with class-AB bias (blue trace).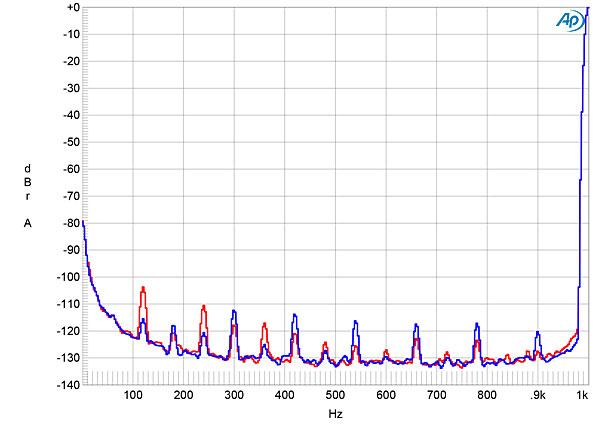 The Essence's manual specifies the amplifier's maximum power as 55W into 8 ohms, 110W into 4 ohms, and 220W into 2 ohms, all equivalent to 17.4dBW (footnote 1). Using our definition of clipping, which is when the output's percentage of THD+noise reaches 1%, the Gryphon didn't quite meet its specified powers, clipping with a 1kHz signal at 53W into 8 ohms (17.24dBW) with both class-A bias (fig.4) and class-AB bias (fig.5). In both bias conditions, the THD+N was very low at powers of a few watts. Into 4 ohms, the Essence clipped at 101W (17.03dBW), but the THD+N was lower at low powers with class-A bias (fig.6) than with class-AB bias (fig.7). The Essence didn't quite meet its specified power into 2 ohms, clipping at 182W (16.58dBW, fig.8, class-A; fig.9, class-AB). However, it is relevant to note that I don't hold the AC wall voltage constant when I test an amplifier's clipping power.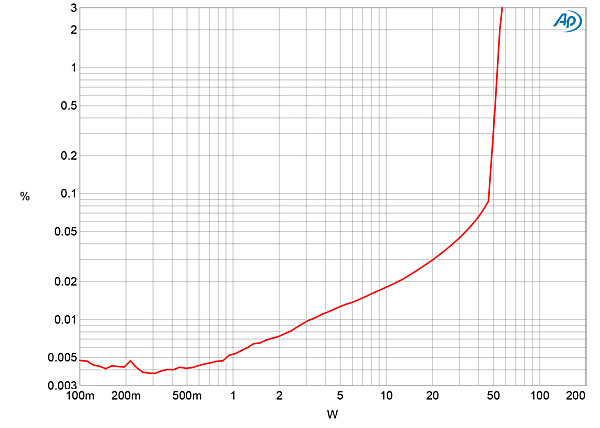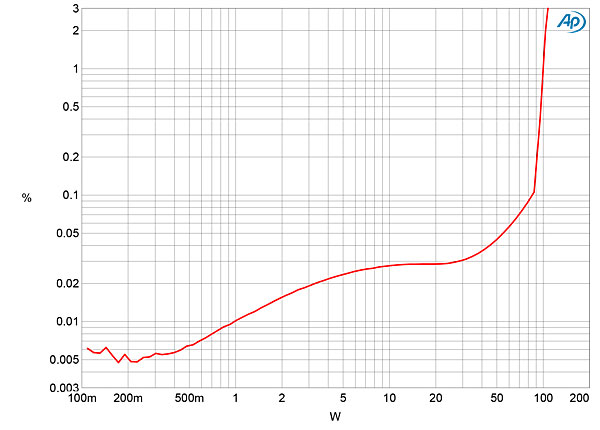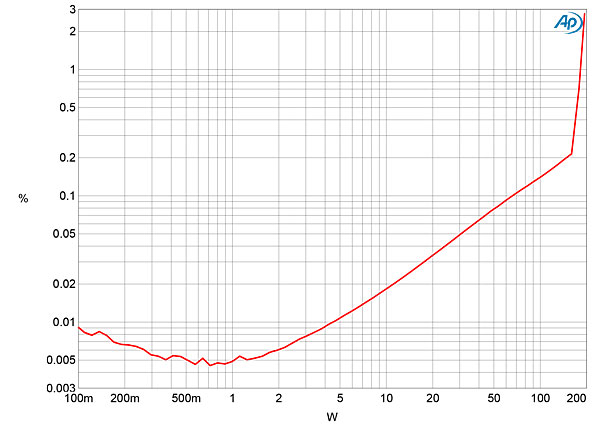 I measured how the THD+N percentage changed with frequency at 12.65V, which is equivalent to 20W into 8 ohms, 40W into 4 ohms, and 80W into 2 ohms, which are all approximately 4dB below the clipping powers into these loads. The THD+N was very low in the midrange into 8 and 4 ohms with both class-A bias (fig.10, blue and red traces) and class-AB bias (fig.11, blue and red traces), but rose into 2 ohms (red traces). There is the usual increase in THD+N in the top audio octaves, due to the circuit's limited open-loop bandwidth. (There is less gain margin available for negative feedback at high frequencies.)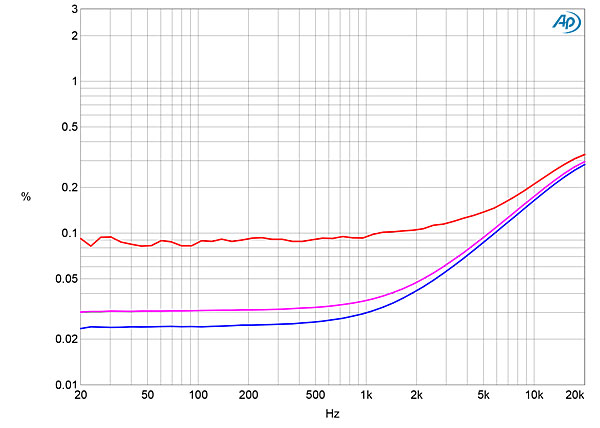 With class-A bias, the Gryphon Essence's distortion was predominantly an equal mix of the subjectively benign second and third harmonics (figs.12 and 13), each lying at –73dB (0.025%) ref. 20W into 8 ohms. Higher harmonics are all much lower in level. With class-AB bias, the second harmonic was the highest in level, at the same –73dB (fig.14), but there were now more higher-order harmonics present. When the Essence drove an equal mix of 19 and 20kHz tones with a peak level of 20W into 8 ohms (fig.15), the second-order difference product at 1kHz lay just above –80dB (0.01%) in both bias conditions with higher-order intermodulation products a little higher in level, at –70dB (0.03%).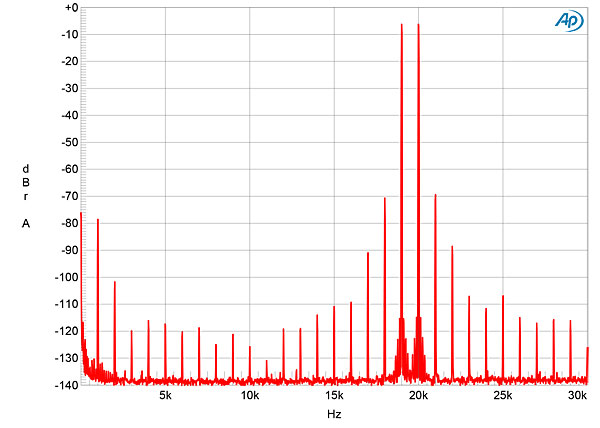 The Gryphon Essence performed very well on the test bench.—John Atkinson
---
Footnote 1: The website, but not the manual, specifies slightly higher maximum output powers in class-AB.