Day One for Herb Reichert
Jason Victor Serinus, Sasha Matson, and myself spent crazy time before the show started talking, scheming and dividing up RMAF rooms. But, in the end, after hours of planning, I finally declared, "You two cover the audio rock stars, I'll go find the rooms of the lesser known, still unknown, or up-and-coming, exhibitors that may have not made show-report headlines in the past.
One such newcomer was Dennis Fraker, of Serious Stereo ("We Build What It Takes") who, besides trafficking in alliteration, made Rosanne Cash's "She's Got Your Picture" sound sad, sexy and real. He was driving his racecar smooth Serious Stereo Speakers (Altec 604s by Great Plains Audio—$13,750/pair) with single-ended triode monoblocks ($16,750/pair). For those of you who have never experienced what 44 lbs of pure Alnico magnet can do driving a +100dB-sensitive, coaxial paper-cone speaker with a horn-loaded tweeter—it is time for you to get "Serious" about audio and check out Mr. Fraker's sound. I thought Mr. Fraker had exactly the gear it takes to make a great show listening experience.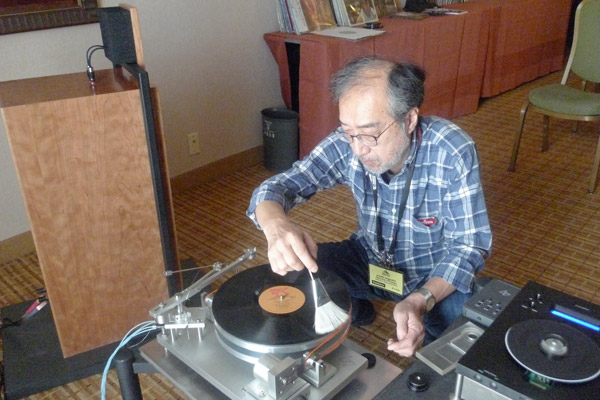 It was Albert Grossman Day in the Sakura Systems room.
I was a hippie once—well actually that's a lie, I was a gearhead greaser who loved hippie music. Albert Grossman was the legendary rock promoter who managed both Bob Dylan and Peter, Paul, and Mary, and Sakura Systems' Yoshi Sagoshi had original pressings of both artists. I spotted them the minute I entered the room. He also had the new Fuuga MC phono cartridge recently reviewed by Michael Fremer. Mikey has a way of making me "want" things and his report on the new $8950 Fuuga was still fresh in my head when Sakura Systems proprietor, Yoshi Sagoshi lowered the arm on the exotic Koma turntable/tonearm system ($14,500/$2250).
How good was the Fuuga? Well, the answer was "Blowing in the Wind" as Yoshi played me both the nasal-voiced Zimmy/Dylan version and the gentler more feminine, Peter, Paul, and Mary version. Listening through the new Sakura Systems En-Kuu speaker system ($15,000/pair), 47 Laboratory "Kaname" control preamp ($12,000), and "Fudou" power amplifier ($10,000), I had to ask myself, how many great cartridges (and hi-fi systems) must one man have before he can hear people sing? The answer is surely: not too many. After listening, I'd have to say the Fuuga will let the white doves fly and let any weary audiophile rest assured he made a good choice. Both of these iconic LPs sounded just like the inside of my expanded old mind always hoped they would. Thank you Yoshi.
I reviewed the new and completely innovative Vinnie Rossi LIO modular "integrated" hi-fi system in the September issue and I thought it was amazing in every way except, at only 25Wpc, it could get a little used-up by a demanding loudspeaker. When I said that to Vinnie, he grinned and winked, "Just wait until RMAF." He assured me a standalone 120Wpc stereo (250W bridged-mono) power amplifier was cooking in his lab.
Today I saw Vinnie's new ultracapacitor-powered VR120 amplifier. I touched it, I photographed it (above), and I listened to it play Thom Yorke in the most effortless, grainless, natural, detailed, visceral, musically exciting way.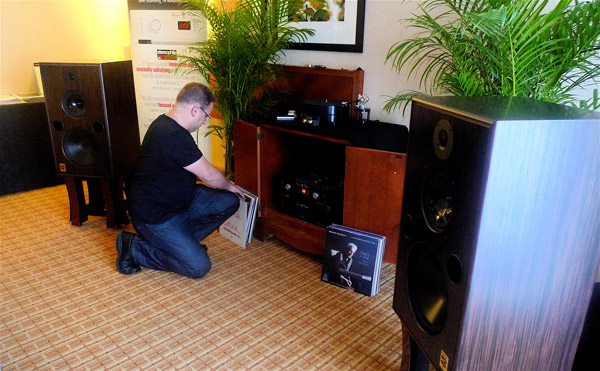 The VR120 was driving the Harbeth Monitor 40.2 loudspeakers, which were making their US debut at the show. To date, I have not found anything not to love about Vinnie's amps driving Harbeths.
This "What could be better?" combo was being sourced by a the sweet German-made authority of an Acoustic Signature Challenger Mk.III turntable with TA1000 tonearm ($6995) and a jumping Dynavector XX-2 cartridge ($1950). I apologize if my praise sounds too much like advertorial, but this gear fits my own personal taste: it plays music in a way I could live with for a long long time. But don't take my word for its quality, go listen and see what you think.
I am currently reviewing the new Technics SB C700 loudspeaker ($1700/pair) and have been listening every day for month to the SB C700s driven by the SU C700 45Wpc (8 ohms) SU C700 integrated amp ($1600). So, after getting very used to how this equipment sounds in my room, it was a wild, educating adventure to hear it in the bright and shiny Technics room at RMAF. I never could have imagined how the exact SB C700 traits I discovered at home (ie, fast, lively, clean, supremely balanced, and incomparably neutral) would jump right out at me and instantly validate my tentative findings.
Now, I will go home and finish my investigations; armed with even more confidence that I am perceiving this design as a serious breakthrough in the small monitor-type speakers. If you are an old funny-duddy with some weird prejudice against big Japanese audio, I am telling you now: get over it and check out this extraordinary new competition for my beloved KEF LS50 and Falcon LS3/5a loudspeakers.
When JA forbad me from entering RMAF's CanJam room, which would be heavily featured on our sister site InnerFidelity.com, I stuck out my lower lip and pouted heavily. I understood their fear of losing me and having to put my picture on a milk carton, but Jeeze Louise, we all know the real and biggest high-end listening adventures are happening on and between our ears. Current advances in headphone and headphone amp design are way more elegant, beautiful and exciting than anything happening with massive, floor-standing woodpiles and cool-running, class-D, aluminum monoblocks. But guess what? I fooled my superior!
I didn't have to sneak into CanJam to sample some of the best new headphones on the planet. Stax Electrostatic Audio Products (one of the true pioneers in electrostatic floor and earspeakers) had a room in the Marriott Atrium, which was right down the hall from my sleeping room. I couldn't help myself. The room featured a long table with Stax phones arranged in ascending order of price—all playing the same music. So I could grasp the full scope of their new lineup, Tats Yamanashi (Yama's Enterprises Inc.) set me in the first chair and played the Boston Symphony Orchestra's 1962 rendition of Saint Saëns Organ Symphony in C minor conducted by Charles Munch via Stax's classic entry-level SR-307 headphones ($425) and SRM-323S driver amp ($875). The sound was smooth, open and extremely articulate.
I was done, I could have stopped there and lived happily ever after but Yamanashi-san insisted I also experience the highly regarded SR-009 ($4450) and SRM-727II amp ($1950). Okay, I love these even way more. You can stop now. I am going home to cry and pine for these supremely vivid and naturally detailed transducers.
But now that the super Stax sound hook was completely set in my mind, Mr. Yamanashi grinned and told me it was my lucky day. I asked why and he explained that all the way at the far end of the table was the first and only example of Stax's new flagship models: the SR-L700 and SR-L500 ($TBA)—the first, complete re-design of their products in 36 years! He said they incorporated stator technology from the SR-009 and that many fans may consider the SR-L700 a "Baby 009. . ." I considered the sound Class A+. Folks, if you haven't experienced one of Todd Garfinkle's M•A Recordings CDs via a pair of Stax SR-009 earspeakers, you can not (yet) fully understand what high-end audio has to offer.