AXPONA: Off to a Great Start
Don't be deceived by this photo. Despite the short registration line on Friday morning, the line-up continued without let-up through most of the day. Virtually every room I visited on the first day of AXPONA, from the large suites on the basement and lobby levels to the standard and large hotel rooms on the twelfth floor, was filled with people. Registration figures are not yet available, but the JD Events folks are certain that attendance at the first day of the show has well outstripped last year's sterling attendance figures.
The other piece of good news is that most attendees, at least on Friday, are quite respectful of their fellow audiophiles. Most of the loud talking I'm hearing in rooms is coming from dealers and distributors, and most of the extraneous noises are produced by either cell phone rings or equally infernal crinkling plastic bags filled with recordings from the large Marketplace on the Lobby Level. Even John Hamm, CEO of PONO Music, found his own spiel interrupted by an alert of a message from his teenage daughter!
When AXPONA founder Steve Davis, who currently serves as Director of Sales and Industry Relations, told Stereophile that Chicago's Westin O'Hare had been completely refurbished, he was not engaging in hyperbole. Redone in relaxing shades of brown and beige, the truly lovely hotel includes, at the ends of floors, two-room suites with separate spaces for the bed and office/sitting area.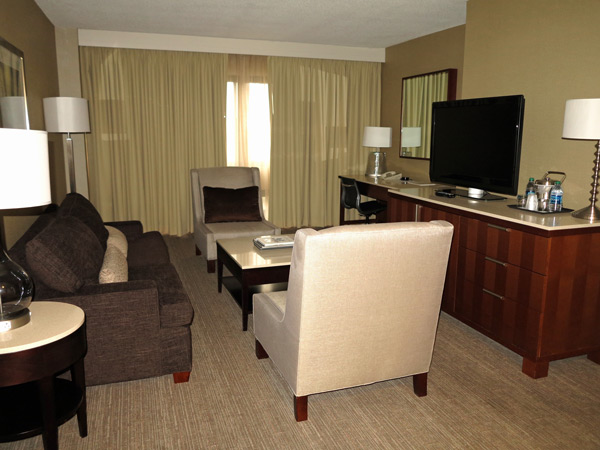 Exhibitors don't know how standard and large-size hotel rooms, as well as larger size conference spaces, will sound until they actually begin to set up equipment. The good news is, while I spoke to several exhibitors who, by the end of the first day, had not yet been able to fully conquer the sonic challenges of their specific locations, the bulk of hotel and conference rooms I've visited have surprisingly good sound. Yes, some systems have bright top ends, but there are enough that are extremely musical throughout the range to suggest that dealers with a modicum of set-up acumen are able to give committed and fledgling audiophiles a good sense of what their systems have to offer.
AXPONA and its new owner, JD Events, have already announced that they are returning to the Westin on the same April weekend in 2015. Given the quality of the sound people are able to produce, the good feel of the hotel, the warmth of the staff, the decent food and excellent service in the restaurant, and the plethora of nearby restaurants and amenities, this seems like a very good thing for audiophiles and the industry as a whole.