AXPONA 2014: Summing it Up
From whatever vantage point you choose, AXPONA (Audio Expo North America) 2014 in Chicago's Westin O'Hare was a major success. Attendance on opening day, Friday, April 25, was quite robust, and the feeling in the hallway and in rooms was extremely positive. Saturday was mobbed, with standees in many rooms during peak hours, and hallways buzzing. Saturday's half-hour wait for tables in the hotel restaurant sent many of us scurrying to either the hotel's Starbuck concession or the hotel's "Grab 'N Grub," or whatever they called it.
As is always the case at audio shows, Sunday was significantly slower. Yet even on Sunday, I rarely entered a room, even in the last hour, that did not have at least one or two other attendees who were eager to hear what manufacturers, distributors, and retailers had to offer.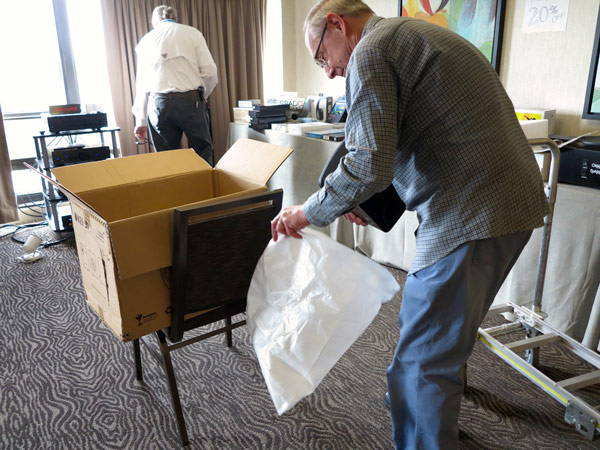 The penultimate photo I snapped was of someone packaging up a pair of bookshelf speakers he bought in one of the larger rooms on the third floor. A short time later, in one of the elevators, I encountered the three men from Chicago's Superior Audio Systems pictured in the heading photo, complete with cartons from a product introduction I inadvertently skipped, the new version of the Vandersteen Treo loudspeaker ($6490/pair), and other components from Conrad-Johnson. My mea culpa/I owe you one excuse is simple: the room was too crowded and active the two times I passed by to allow for serious evaluation.
Obtaining accurate and timely attendance figures from show promoters is always a challenge. It is to the credit of AXPONA's new owner, J.D. Events, that Joelle Coretti, J.D. Events' VP of Marketing and Strategic Partnerships, was able to write me less than 48 hours after show's close to confirm that there were 4372 tickets sold. This amounts to a 40% increase in ticket sales over 2013, which was the first year that the formerly peripatetic AXPONA arrived in Chicago.
When I asked for clarification as to the number of unique attendees, Joelle got in touch with Joel A. Davis, CEO of JD Events. Here is Joel's response:
As the newest organizers in the high-end audio show industry, JD Events is aware that some shows do not report accurate attendance information to the press and to their exhibitors. With AXPONA 2014 as our first event, we would like to be transparent to the industry about our attendance this year and each year in the future.
AXPONA sold 4372 tickets over the course of the 3 days—a 40% increase over 2013. This number represents 2509 unique attendee buyers, as many people purchased multiple day tickets. In addition we had 624 exhibitor personnel registered, many of whom do business with other exhibitors, bringing the total number of unique buyers and exhibitors in the venue for the 3 days to 3133 . . . More than 75% of the exhibitors have already signed contracts for display rooms in the 2015 event. We look forward to growing the show and growing the audience again in 2015 . . .
Given that I was unaware that some show promoters include exhibitor personnel in their attendance figures, I'm extremely grateful to Joel for his honesty. Nonetheless, there had definitely been some pre-show figure inflation.
With the show event guide for AXPONA unavailable in time for my show preview, I interviewed show founder Steve A. Davis (unrelated), who now serves as Director of Sales and Industry Relations. Just nine days before the show opened, Steve told me to expect 75 active exhibits in "standard" hotel rooms, and 35 more in significantly larger meeting rooms and suites. Compare this with the number of exhibit rooms identified in the show guide: 56 hotel rooms of various sizes plus 14 conference rooms. That's 40 rooms fewer!
Steve also told me to expect exhibits from 23 headphone and headphone amp/accessory manufacturers in the Ear Gear Expo on the lobby level. The program guide only identifies 14. As for the 70 marketplace displays from 30 different vendors, I'm not sure how Steve arrived at those figures.
Regardless of inflated numbers, the show worked. The Westin O'Hare had in fact been totally refurbished as reported, and the hotel rooms were of a far more comfortable and workable size than at some other shows. Although some exhibitors were caught unprepared to adequately address the significant, brightness-inducing / bass smearing echo in many rooms—AXPONA exhausted its supply of "pipe and drape" before all requests could be met—the most set-up savvy among them found ways to produce excellent sound in challenging environments. Next year, people will be able to draw upon their experiences and arrive better prepared.
Given that AXPONA is a smaller high performance audio consumer show than either T.H.E. Show Newport Beach or Rocky Mountain Audio Fest, many major manufacturers lacked representation. VTL, VAC, Ayre Acoustics, Synergistic Research, and Tannoy were just some of the major brands I missed seeing at AXPONA. On the other hand, I did make a first or repeat acquaintance with a number of small manufacturers who distribute on the net and rarely exhibit at shows.
Coverage Strategy
Speaking of preparedness, as Stereophile's sole reporter at AXPONA, I arrived with a bunch of protein bars, a bottle of Rescue Remedy, and various non-chemical sleep aids in tow. My thanks to Steve Davis and J.D. Events, who most generously secured me an extremely comfortable two-room suite far away from noisy exhibitors, attendees, and guests, I was able to write and rest undisturbed.
Knowing that I could not possibly cover anywhere near the 110 active exhibits I expected to encounter, let alone do justice to all the other features of the show, I made some rather ruthless decisions. All analog coverage, except in rooms where the only source was analog, was left for Michael Fremer, who covered AXPONA for both his Stereophile column and AnalogPlanet.com. As much as I wished to visit the 14 exhibitors in the Ear Gear Expo and each of the 26 displays in the Audiophile Marketplace, I left them for another lifetime.
Expecting at least 56 new product introductions, I decided to skip rooms that did not include anything new. That meant passing over a number of major manufacturers, including MBL, KEF, DeVore, and Audio Research. John Atkinson and I further narrowed things down by deciding not to post stories on rooms with disappointing sound. If you're an exhibitor whose room I visited, yet you fail to see your room covered in the blogs that follow, you now know why.
Besides covering Friday's after-hours seminar with John Hamm, Pono CEO, I only visited the seminar room long enough to snap photos of "Michael Fremer's Internationally Renowned Turntable Set-Up Seminar." (It is, btw.) I did plan to quickly check out and snap photos of Saturday's five-hour Silent Disco, powered by Sennheiser in the Grand Ballroom. Alas, the place was virtually empty when I stopped by early on.
Having been told that 400 people had pre-registered for the Silent Disco, I was led to expect that everyone was waiting for the 3 pm arrival of big name Chicago DJ, Manic Focus. Manic, alas, went on shortly after I evacuated the hotel for a false alarm. Having lost a half hour in the process, I had no choice but to skip the disco. Hopefully Stereophile readers who did attend can post reports in the comments section.
I deeply regret not having time to cover headphones and headphone-related events. While Stereophile has a sister website, InnerFidelity.com, devoted to can coverage, I'm well aware that the Ear Expo is the place where I could have most encountered and engaged with younger show attendees and budding audiophiles.
On the other hand, I certainly got my fill of computer audio. For better or worse, I think more rooms were equipped with music servers and turntables than with CD players. Rarely did I have the opportunity to play my own music. Which, in the end, wasn't such a bad thing. I heard more pop and rock at AXPONA than the classical music I frequently review. Though I missed my Mozart and Schubert, I greatly enjoyed the change of pace.
In some previous show wraps, Stereophile's writers have opined on their Best of Show(s). In this case, I trust my individual blogs make clear my favorites. Just in case you don't have time to read my every precious word, my AXPONA 2014 favorites certainly include, but are not limited to Wilson, Magico, Marten, Sadurni, Scaena, Sony, dCS, Merrill, Convergent Audio Technology (CAT), Balanced Audio Technology (BAT), Pass Labs, Nordost, and Transparent. If you want to know more about how they fared, please read on.