Accustic Arts Audio Mono II monoblock power amplifier Page 2
It was when I turned to reference files, streams, and CDs that I was able to pinpoint what makes the Accustic Arts Mono II's sound unique. With thanks to friend Peter Schwartzman for leading me to it, I cued up "John Taylor's Month Away" from King Creosote and Jon Hopkins's
Diamond Mine
(16/44.1 FLAC, Deep Six/Tidal/Qobuz) on Roon. Silences between notes were pristine, as though King Creosote was captured singing softly in the middle of a forest where the wind had ceased and birds had migrated elsewhere. There was something uniquely beautiful and warm about the midrange core of the guitar that sounds, a bit too prominently toward the beginning of the mix. The percussive heartbeat that surfaced later sounded full and open. Perhaps the ambient overlays at the song's end weren't as wide and deep as I've come to expect, but that mattered little in the context of such beauty.
Next, another favorite test file, the first movement of Iván Fischer and the Budapest Festival Orchestra's recording of Mahler's Symphony No.3 (DSD128, Channel Classics CCSA 38817/NativeDSD). Not only were deep percussive pounds on timpani, bass drum, and kettle drum superbly rendered, with ear-opening clarity and force; there also was something unique about the smooth top and midrange that made the sound exceptional. When I switched to the gorgeous voice of mezzo Marianne Crebassa singing Debussy's three sensual Chansons de Bilitis (Songs of Bilitis) on her and pianist Fazil Say's album Secrets (24/96 WAV/Erato 564483), I again noted the warm, captivating qualities of the midrange.
On another version of the Debussy songs, from soprano Carolyn Sampson and pianist Joseph Middleton's Reason in Madness (24/96 WAV, BIS SACD 2353), I began to realize that the Mono II's midrange emphasis, subtle as it was, favors the body of the piano over the leading edge of female voices. I expect this effect would be far less pronounced with a deep contralto voice, but with Crebassa, Sampson, and the ringing dramatic soprano of Lise Davidsen, the tonal balance moved the voice back a bit in the soundstage on softer passages lower in the range, but allowed it to move forward and become more prominent as pitch and volume rose. The experience may have differed from what I hear in a live acoustic, but that didn't detract from its aesthetic and emotional impact. In some cases, the Mono II's modest midrange emphasis made me want to listen deeper and longer.
Switching gears, I turned to Andris Nelsons and the Boston Symphony Orchestra's sonically stunning recording of Shostakovich's Symphonies No.4 and No.11 (24/96 WAV, Deutsche Grammophon 002859502). In the second movement of No.11, "The Ninth of January," bass was incredible: knockout-powerful, tight, and timbrally perfect—as outstanding as through my reference D'Agostino Progressions. I missed the last bit of air that conveys a spacious acoustic, but the huge dynamic range—the Decibel X PRO app on my iPhone 7 measured music as low in level as 51.7dB and as high as 93.3dB—along with its pile-driver bass, treble smoothness, and slight midrange warmth drove the terror and death-laden stillness of Shostakovich's depiction of carnage to an emotional peak.
Next, the midrange sounded glorious on a 24/96 WAV file of veteran Grammy Award-winning trumpeter Joe Gallardo's "My Funny Valentine" from a forthcoming Accustic Arts CD (yes, they make those). Ditto on soprano Sandrine Piau's recording of Loewe's "Ach neige, du Schmerzenreiche" on her and pianist Susan Manoff's recital Chimère (24/96 WAV/Alpha Classics 397), where I wished for just a bit more crispness on the voice's leading edge and little less midrange prominence in the already strong accompaniment.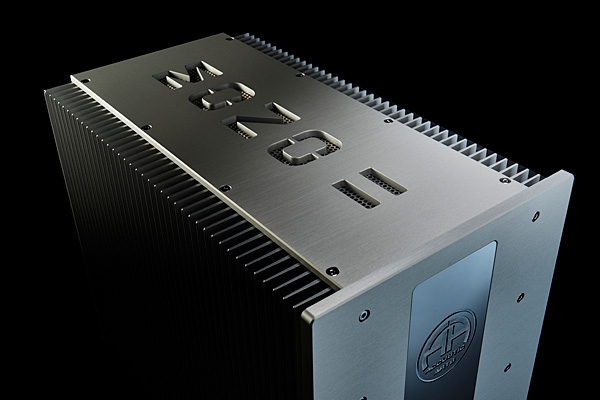 On CD, the gentleness of touch, clarity of percussive strikes, and midrange heart of each joy-filled note of Murray Perahia performing on piano Handel's Harpsichord Suite in E, HWV 430 (Sony Classical 62785), swept me away. The sonic beauty of Sarah Vaughan and the Count Basie Orchestra's incomparable version of Sondheim's Send in the Clowns, on her eponymous 1981 studio recording (Pablo/ JVC-XRCD VICJ-60246), underscored the musicians' interpretive brilliance.
Power conditioning/premium AC cords
After removing the AudioQuest Niagara 5000 from the chain but leaving in place the Nordost Odin 2 power cables, I heard less mellowness in the midrange, a slightly narrower presentation, and a more pronounced edge to the voice. Returning the Niagara 5000 confirmed that it also brought out more naturally vivid colors and color contrasts. Auditioning Shostakovich's Symphony No.11 both with and without the Niagara 5000 made it clear that without the Niagra colors were less vivid—somewhat grayer—and the bass was looser, flatter, less profound, and less airy.
Switching to the stock Accustic Arts AC cords—the power conditioner was still in the system—diminished percussive impact, overall clarity, and color contrasts and produced flatter, flabbier, and less involving bass. Removing the power conditioner and plugging the stock AC cords directly into the wall outlet further diminished colors and flattened the soundstage: The sound was wiry and less enjoyable. When I returned to Nordost Odin 2s and the Niagara 5000, all the excellence that I had come to associate with the Mono IIs returned. Shostakovich's huge, final percussive assault in the second movement of Symphony No.11 left my mouth agape.
Comparison
For $13,000 more per pair, my reference D'Agostino Progression Monos delivered even fuller sound, with greater body to instruments. A less pronounced and more naturally integrated midrange and more pronounced note attacks had the effect of moving voices forward and increasing transparency and depth. For example, the Progressions rendered Perahia's piano with greater weight and body, more ping on top, and less midrange emphasis, and the seemingly naturally vibrant highs of those amps enabled Ellington's brass to sound a mite brassier and less polite. On the Shostakovich, I heard greater sense of depth and space, clearer highs, greater air around percussion, and increased clarity on upper bass.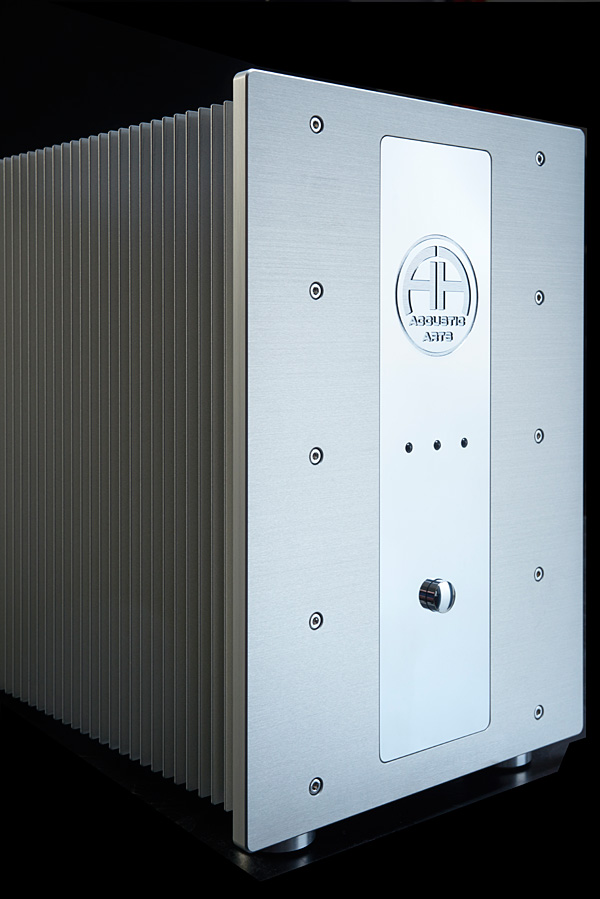 Contrasting bass slam was less clear-cut. Maybe bass was a mite greater with the Progressions, but I'm not certain. For overall bass impact, lovers of full symphonic onslaught, big band jazz, and rock will have a field day with both amps. Ears will ring less on triple forte with the Mono IIs, however, because the top is toned down, and the warm midrange core is more pronounced.
In case you missed the message
Any amp that produces sounds as inviting, beautiful, and smooth as the Accustic Arts Mono II deserves a high recommendation. There's a special magic to its moderately warm (but hardly fat or overly lush) midrange that is positively captivating. The Mono II's highs are also a bit less bright and brilliant than on some amps, which for many rooms and systems will be a plus.
When a monoblock also produces bass as tight and powerful as this, the recommendation ascends to Class A. Anyone who loves to feel bass vibrating in their gut, as well it should on rock, big band, and full-range classical, is in for a major treat.
In some ways less is more. These monoblocks' relatively light weight—approximately 55lb each—will make for fewer visits to the chiropractor and forestall if not eliminate entirely the need to contemplate back surgery. That's a major plus.
The time has come to stop the words and turn on the music: If you're considering amps in the Mono II's price range, you know what to do next.