Accustic Arts Audio Mono II monoblock power amplifier Measurements
Sidebar 3: Measurements
I performed a full set of measurements on one of the Accustic Arts Mono IIs, S/N M2-1JB1258, using my Audio Precision SYS2722 system (see the January 2008 "As We See It"). I repeated some of the tests on S/N 1259, the sample that Jason Victor Serinus found had developed a hum toward the end of his auditioning. Before doing any testing, I preconditioned the first sample of the Mono II by running it at one-third power into 8 ohms for an hour. At the end of that time the side-mounted heatsinks were hot, at 120.6°F (49.3°C). The top panel was also hot, at 104.1°F (40.1°C).
The Accustic Arts' voltage gain into 8 ohms is specified as 31dB. I measured 30.8dB into 8 ohms with the single-ended input; unusually, the balanced input's gain was 6dB lower. The amplifier preserved absolute polarity (ie, was non-inverting) for both inputs. The balanced input impedance is specified as 40k ohms, which was confirmed by my measurements. However, I measured 28k ohms at low and middle frequencies for the unbalanced input impedance, dropping to 23k ohms at 20kHz. While this is lower than the specified 100k ohms, the difference is inconsequential.
The Mono II's output impedance was very low, at 0.074 ohm at 20Hz and 1kHz, rising very slightly to 0.082 ohm at 20kHz. As a result, the response with our standard simulated loudspeaker varied by less than ±0.1dB (fig.1, gray trace). The audioband response into 8 ohms (blue trace) is flat up to 20kHz, with an ultrasonic rolloff reaching –3dB at 100kHz. The responses of the two samples matched very closely. The Mono II reproduced a 10kHz squarewave with very short risetimes, and no overshoot or ringing (fig.2).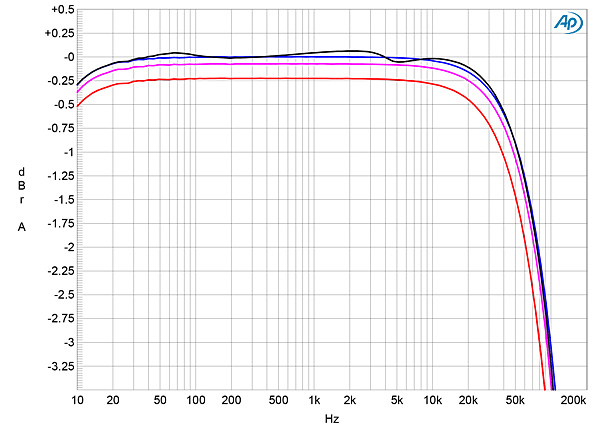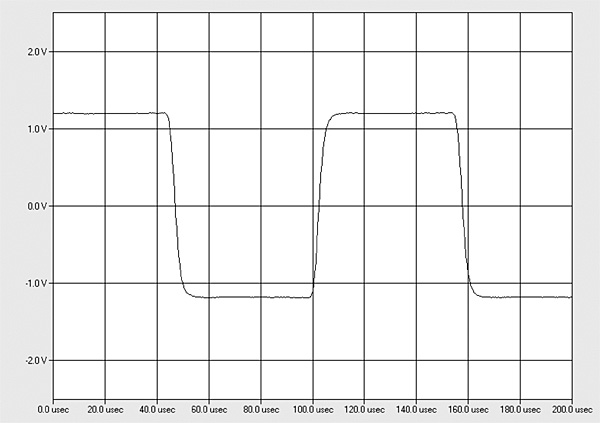 Despite JVS finding that S/N 1259 developed a hum, I didn't find any significant differences in the two samples' signal/noise ratios. The wideband, unweighted S/N ratio, ref. 2.83V and measured with the unbalanced input shorted to ground, was a high 79dB, which improved to 86dB when the measurement bandwidth was restricted to the audioband, and to 89.2dB when A-weighted. Spectral analysis of the Mono IIs' noise floors (fig.3) revealed that while 1259 (blue trace) did have higher levels of odd-order harmonics of the 60Hz power-line frequency than 1258, these spuriae were still very low in level and will not be audible. I don't know why, therefore, JVS found that '1259 developed a hum.
Accustic Arts specifies the Mono II's maximum power as 300W into 8 ohms (24.8dBW), 500W into 4 ohms (24.0dBW), and 700W into 2 ohms (22.4dBW). With "clipping" defined as when the THD+noise reaches 1%, I found that the Mono II failed to meet its specified powers. Fig.4 was taken with 1258 and indicates that the Accustic Arts amplifier clipped at 220W into 8 ohms (23.4dBW). I repeated this test with '1259 and got an identical result. Into 4 ohms (fig.5), the Mono II again failed to meet its specified power, delivering 385W (22.8dBW) at 1% THD+N. Into 2 ohms (fig.6), the Mono II clipped at 575W (21.6dBW).
These measurements were taken with a balanced input signal. I repeated them with a single-ended signal, and while the distortion was higher at low powers than it had been with balanced drive, I got the same clipping powers. This is still a high-powered amplifier, however. Figs. 4 and 5 indicate that the distortion with a balanced 1kHz signal is very low at all powers below clipping. However, when I tried to plot how the THD+N percentage varied as I swept the frequency down from 20kHz to 20Hz at a moderate power level, 50W into 8 ohms, the amplifier's protection operated as soon as it was fed the 20kHz tone. I had to reduce the level of the input signal by more than 6dB before I could perform the test without the Mono II turning off its output. The results at this lower level are shown in fig.7. The THD+N in this graph is very low at low frequencies into 8 ohms (blue), 4 ohms (magenta), and 2 ohms (red). However, as the impedance dropped, the distortion started to rise at an increasingly lower frequency, reaching high levels at the top of the audioband. This behavior suggests that the Mono II has a limited open-loop bandwidth, with less gain margin available for corrective negative feedback to be applied as the frequency rises (footnote 1).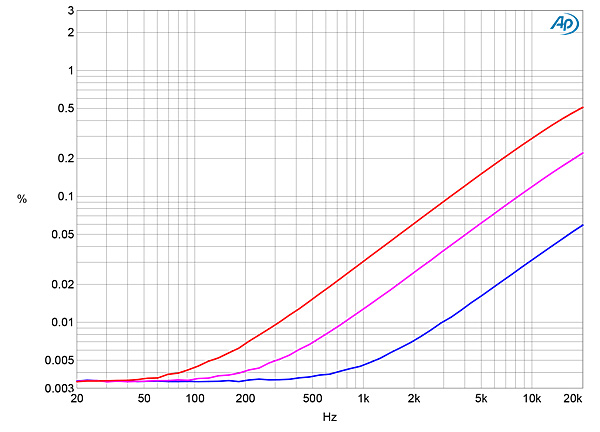 The waveform of the residual distortion and noise with a 1kHz signal (fig.8) suggests that the subjectively benign second harmonic is dominant, which was confirmed by spectral analysis (fig.9). The second harmonic is still very low in level, however, at –110dB (0.0003%) and rose by just 6dB when I reduced the load impedance to 4 ohms. When I tried to examine the Accustic Arts' intermodulation distortion with an equal mix of 19kHz and 20kHz tones, I again found that the amplifier's protection circuitry limited the power at which I could perform the test. At the highest power I could test the Mono II with this signal, equivalent to 40W peak into 4 ohms, the second-order difference product lay at a very low –90dB (0.003%) and higher-order intermodulation products were even lower in level (fig.10).
I was puzzled by the Accustic Arts Mono II's measured performance. Some aspects are excellent—the low levels of noise; the very low levels of distortion at low and middle frequencies with balanced drive; the dominance of the second harmonic in the distortion signature; the reproduction of squarewaves; and the generally excellent matching between the two samples. But the Mono II's inability to meet its specified powers and the dramatic rise in distortion at high frequencies into low impedances are disappointing.
The Accustic Arts Mono II is capable of much higher powers at low and middle frequencies than it is at high frequencies, especially into low impedances. This may not be an issue with classical orchestral music, chamber music, acoustic jazz, or bluegrass, but it could lead to problems with highly compressed rock that has high levels of energy in the top octaves. I was also surprised by the apparently limited open-loop bandwidth (footnote 1), which is uncommon in modern solid-state amplifiers.—John Atkinson
---
Footnote 1: See fig.3
here
.