Mid-Show Discoveries Buoy Serinus
Grand Prix Audio, whose attractive isolation racks, amp stands, turntables and other products featured prominently in multiple rooms at LAAS, debuted their less expensive Grand Prix Audio Parabolica turntable ($16,500). Here shown with TriPlanar 2SE tonearm ($7500) and Lyra Etna cartridge ($8995), the Parabolica rested on a Grand Prix Formula shelf upgrade ($2495) to the 4-shelf Monaco Modular isolation system ($10,250) that was supported by Apex Feet with levelers ($1320). I was told by the company's Jesse Luna that the Grand Prix Parabolica, which is based on the Monaco 2.0 turntable ($37,500), has a direct-drive system with factory-sealed hydrodynamic bearing that never needs servicing. This feature is central to its precise claimed speed accuracy and extremely low noise floor.
Together with an Aurender A10 ($5499), Aesthetix Metis linestage ($25,000), Aesthetix Rhea Eclipse phonostage ($10,000), Aesthetix Atlas Stereo Eclipse amplifier ($16,500) on a Monaco Modular amplifier stand ($3150) with Formula Shelf upgrade ($2495), Wilson Audio Sabrina loudspeakers ($15,900/pair), and Transparent Super cabling, the system sounded excellent on an LP by Count Basie.
Not having to brave huge crowds in every room made Saturday afternoon at LAAS a far more enjoyable experience than I had anticipated. (Not that every exhibitor was happy about the attendance—more on that in the show wrap.) It helped, of course, that there were many rooms with sound as good as in the Merrill Audio Room. There, a host of Merrill Audio products—Merrill Audio Veritas monoblocks ($12,000/pair), Christine line-stage preamp ($12,400), Jens phono-stage preamp ($15,449) and ANAP cabling—joined, on one end, German Physiks Borderland speakers ($36,500/pair) and, on the other, both a VPI Avenger Reference turntable ($20,000) with VPI Kevlar-wrapped "Fatboy" 12" 3D-printed arm ($1500) and Lyra Delos cartridge ($1995), and an Aurender N10 music server with 8TB drive ($8500) and EMM Labs DAC2X ($15,500).
With a Solid-Tech Rack of Science ($3000) helping to hold it all together, the system produced a lovely midrange and excellent, believable sound on both cellist Janos Starker's rendition of the Bach Prelude No.1 and Yo-Yo Ma's performance of the Dvorak Cello Concerto. After asking for something interesting and unusual, I was offered instead another audiophile classic, Alexander Gibson's RCA Living Stereo version of Saint-Saëns' Danse Macabre (from Witches' Brew). Even as I found the midrange especially captivating, I felt captive by an LP collection that featured too many "same old" recordings.
Do not, however, take that as a criticism leveled at only one exhibitor. On Sunday afternoon, I had one of those nightmare-come-true moments when, as I walked down one 5th floor hallway, I heard Rimsky-Korsakov's The Dance of the Tumblers coming from two rooms, and Rachmaninov's Symphonic Dances coming from a third. All three exhibitors clearly had the same Reference Recordings tracks on either vinyl, silver disc, or file. Given all the people who bring their own music to their stores and exhibits to audition equipment, have they never thought of asking what the title is and adding it to their collection?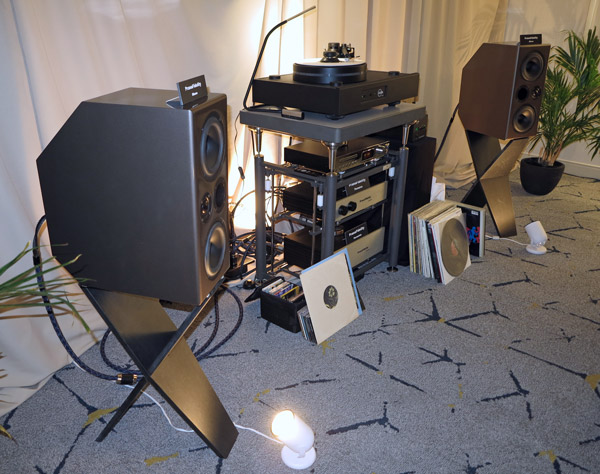 I shall forever delight in Steven Norber's astonishment when yours truly walked into the PranaFidelity room and asked to hear, instead of the mild classical music expected from me, a particularly brutal track from the superb Joe Harley-mastered, analog tape-sourced CD, Screaming in Daytime (Makes Men Forget). This track, which includes performances by AudioQuest Niagara designer and percussionist Garth Powell and trumpeter Leo Wadada Smith, was the antithesis of the very nice but ultimately repetitive and predictable Tuck and Patty track that Norber put on as soon as I entered the room.
Besides some room-related booming, the PranaFidelity Bhava loudspeakers ($4950/pair) produced a really lovely midrange. The speakers were seated atop PranaFidelity Yukta prototype speaker stands ($TBD), and driven by the PranaFidelity Purna/ma amplifier ($8950) and Purna/ca preamp ($4500-$9950, depending upon options). These were variously fed by a Kuzma Stabi M turntable with Kuzma's 4Point 14" tonearm and CAR-40 phono cartridge, and an EAR Acute Classic CD player. Cabling and power distribution were from Furutech, and the equipment rack and turntable platform from Artesania Audio.
On my aforementioned jazz disc, the system moved very fast. It also sounded much better in the second (rear) row, to which Steven suggested I move. Making allowances for the room's heavy black draping, which deadened the sound, I thought the system did a really excellent job (although I was scared by the very large excursion of the Bhava's woofers). When we turned next to my well-worn CD of soprano Elly Ameling singing Schubert—I didn't want to trash all of Steven's expectations, so I purposely chose it next—the piano's midrange was over-emphasized, weighing down the voice and preventing it from floating free.
Postscript: After the show closed, when I encountered Steven in the elevator, he told me how much he had enjoyed my jazz track. Too bad I didn't have time to play him the Lou Harrison and John Cage piece that EAR USA's Dan Meinwald had loved so much, let alone some Andrew Norman.
I'm wondering if I've devoted so many blogs to praising the refreshingly unusual music choices of Jeffrey Catalano, owner of New York retailer High Water Sound, that he's beginning to experience performance anxiety when I enter his room. Nonetheless, Jeffrey rose to the challenge, quickly flipped through big piles of discs, and totally delighted me and everyone present by going all '60s psychedelic on us. First came the hilarious (to me) "Walking on Nails" from Gabor Szabo's Jazz Raga, followed by Shakti with John McLaughlin playing "La Danse du Bonheur." Vraiment, the music was so fabulous that, at first, I didn't even want to think about dissecting the sound.
That, of course, means that the system was so supremely musical that it conveyed the essence of the musician's message and intent. Once I forced myself out of reverie and into analytic mode—that took some doing, believe me—I did notice that the low bass was a little muffled. But there was an inherent rightness to the sound, along with good depth, that suited the music to a "T." I loved it.
Doing the honors: TW-Acustic AC-3 turntable ($20,000) with two TW 10.5 tonearms ($5500/each), one with a Charisma Audio Reference 2 stereo cartridge ($2800) and the other with a Ortofon Cadenza mono ($1280) cartridge; TW-Acustic RPS100 phonostage ($18,000); Arte Forte Audio's Jadeite preamp ($3200), Due Volte 805 SE monoblocks ($7200/ pair), and 805 SE integrated amp ($4000); Horning Hybrid Aristotle Ellipse speakers ($16,000/pair), Vibex Granada/Alhambra power and DC filters ($4995), Furutech Nano & Line Flux cables, Silent Running Audio Scuttle rack, and Shun Mook audio resonance control devices. My late friend Charles would have loved to have been in the room with those Shun Mooks.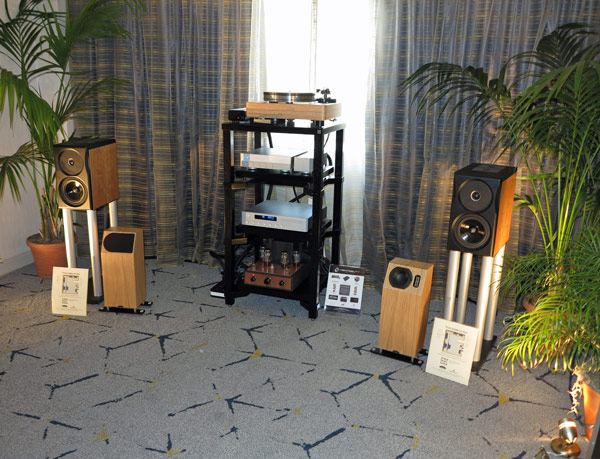 It's amazing how much you can learn about a sound system from a single piano recording. In the first of two rooms from High Fidelity Services, this one headlined by the North American debut of both the Neat Acoustics Ultimatum XLS Isobaric Monitors with supertweeters ($8495/pair, plus $1595 for the Neat Acoustics XLS stands) and New Audio Frontiers Legend MkII integrated amplifier ($7500), Murray Perahia's instrument sounded clangy on top, muffled on the bottom, and over-emphasized in the middle. I'll wager a silver dollar or two that this was a set-up issue more than anything else. Yes, when it comes to loudspeaker placement, ¼" does make a difference.
Also heard: Audio Flight Flight CD Three ($2895)—Analogue Works TT Two ($5595) with SME309 tonearm ($1895) and Ortofon Cadenza Black cartridge ($2729), Audio Flight FL "Flight" phono ($5995), Signal Projects Lynx and Vibex V3 cabling, Vibex Generalife DC power filter ($1795), and Hi-Fi Racks Grand Stand ($2495).
In the second room from High Fidelity Services, I had the distinct pleasure of meeting Maxime Julien, designer of Verity electronics (left above), and Julien Pelchat, co-founder of Verity and designer of their loudspeakers (right above). I also experienced the debut of the Verity Audio Monsalvat Series Pro-6 six-channel preamp with active crosser for Monsalvat speakers and built-in Pro-6 DAC ($68,000), which was configured for two-channel playback, and the Verity Audio Monsalvat Series Amp-60 ($58,000).
The Amp-60 is a three-stage solid-state amplifier with FET output, and has a very big power supply that contributes to its 160 lb weight. I was told that special attention was paid to eliminating AC noise contamination, which resulted in the design of a six-layer PCB with a special plane to shield and separate signals of various sizes and strengths. The preamp was designed as its ideal match.
Together with Verity Audio Sarastro IIs loudspeakers ($54,950/pair), which were updated 18 months ago; TW Acustic AC Anniversary turntable with 10.5" tonearms ($32,500), Ortofon A95 and Cadenza Mono cartridges, Signal Projects Andromeda and Vibex V3 cabling, and Vibex Granada Dual DC ($2995) and AC Mains ($2145) power filters, this system was clearly handicapped by the non-arrival of equipment stands listed on the product sheet. Given that I was most definitely hearing flight case-generated resonances lower in the range, suffice to say that on Lou Harrison's Violin Concerto, Tim Fain's violin sounded absolutely right on, and the close-miking of the instrument was also revealed. Most systems are not so revealing.