MQA at LAAS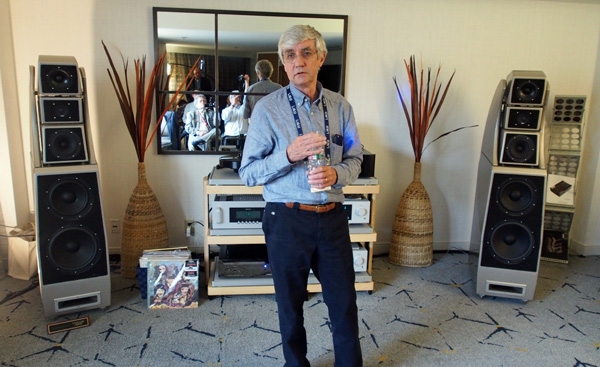 Despite there now having been many opportunities for audiophiles to compare MQA-encoded recordings with the PCM originals—as well as comparisons at shows and dealer events, the Norwegian 2L record label has offered downloads of MQA/PCM files for quite a long time—there are still members of the press who insist that no-one, other than some reviewers, has been able to perform such comparisons. At the 2017 LAAS, not only were some exhibitors demonstrating MQA—Aurender, Meridian—Covina, CA retailer Sunny Components devoted the show's Saturday afternoon to specific comparisons hosted by MQA's Bob Stuart and Wilson Audio's Peter McGrath.
The system used was Wilson Audio's Alexx speakers ($109,000/pair), recently reviewed by Michael Fremer, driven by T+A PA3100HV integrated amplifier ($21,500) and T+A MP3100 SACD/CD player ($19,000), used as a transport to feed CD data to a Meridian Ultra DAC (which clearly displays when an MQA file is playing), with an Audioquest Niagara 7000 power conditioner ($7995), an HRS RXR rack, and AudioQuest cabling.
Peter McGrath played the original PCM files for some of his own recordings from his laptop, feeding USB data to the T+A DAC, followed by the MQA versions, which in turn were followed again by the original. In the cases of the recordings I had heard in prior comparisons, the differences were the same as before, and always favoring the MQA files: more space appeared around the individual acoustic objects in the soundstage, rendering the presentation more palpable; more importantly, the music became more accessible.
An example: a few years back Peter had sent me a live recording he had made with his Joe Grado omni mikes of the Belcea String Quartet's performance of Twisted Blues, a work by Mark-Anthony Turnage based on "Stairway to Heaven." I love this recording, but it had taken me several plays to decipher the modern scoring, to become comfortable with the performance. When Peter played the same file in the Sunny room, it sounded just as I expected, somewhat opaque, somewhat raw, and somewhat intimidating. When Peter then played the MQA version, my jaw dropped—this was not the recording with which I was familiar. This was now a live string quartet playing in front of me. The music made instant sense in a way that it had taken me a long time to comprehend from the PCM original.
Some have argued that a mastering engineer could achieve the same effect through the application of EQ and more sophisticated DSP tools, but I don't think so. Such processes can make something sound different but not more real, which I have found is the consistent effect of MQA encoding.
Bob Stuart then played the MQA-encoded Astor Piazzolla CD, with the T+A transport feeding data to the Meridian DAC, which revealed it had been unfolded to 176.4kHz. Again, the sense of palpability was uncanny though I must admit that when I compared this CD in my own system with the MQA download that I purchased, which unfolds to 192kHz, I preferred the latter. Because the Red Book mandates a sample rate of 44.1kHz for CD, recordings that were originally made at 48kHz and its multiples have to be sample-rate converted when the MQA encoding is performed.
I could go on—these comparisons and Bob Stuart playing the MQA-encoded file of the restored Radka Toneff's performance of "Nature Boy" were the highlights of the show for me—but I will hand over to Jason Victor Serinus.—John Atkinson
Jason's Reaction
When I told John Atkinson that Peter McGrath and Bob Stuart had invited me to attend the MQA public demo in the Sunny Components room on Saturday afternoon, he urged me to listen to the non-MQA and MQA versions of the Belcea String Quartet's Twisted Blues. With Peter switching tracks, I found the difference between the two remarkable. Going from A (non-MQA) to B (MQA) and then back to A, the original digital recording sounded opaque by comparison with the MQA version.
"It's like you could take a knife and cut through all the noise," I wrote in my notes. The experience left me questioning the whole audiophile notion of "air," and wondering if what we commonly refer to as "air" is, at least in part, a by-product of timing errors that convey noise and haze where there were originally space and silence.
In another comparison of a before/after McGrath recording, this time of music by Stravinsky, the MQA file's colors were so much more striking, and the timbres far more real-life. When we switched to one of Peter's live recordings of the Kalichstein-Laredo-Robinson Trio performing Beethoven—I was present at the recording session—there was a fineness of detail to the MQA recording that seemed far more real than the comparatively thick-sounding non-MQA presentation. Quiet passages were extremely transparent. Even when all three artists in the trio were playing full out, I was able to listen deep into the presentation and pick out individual details otherwise obscured in the non-MQA version because the resolution was so great, and what I presume to be digital timing errors mitigated.
One of the many distinct joys experienced during the presentation was encountering a long-time member of the San Francisco Audiophile Society (formerly the Bay Area Audiophile Society) who, never having heard MQA, had been swayed by all the negative comments readers had posted to our various reports. After I pointed out to him that most of the critics had never heard MQA, I urged him to attend the demo. It was so gratifying to witness him discovering for himself what MQA can do, without the voices of naysayers pulling on him.
In terms of the system itself, while I was not totally won over by the color tint imparted by the T+A electronics, their pairing with the Meridian Ultra DAC and Wilson Audio Alexx loudspeakers was maximally revealing. I expect you can hear the differences MQA makes on far less costly equipment. But when you have a system as highly resolving as this one, even minute differences are easily discerned.
Thos of us at Stereophile who have experienced MQA are hardly alone in our interest in enthusiasm. Toward the end of the demo, when the Apple big wig seated to my right left and was replaced by my long-time audiophile buddy from San Francisco, no less a personage than Craig Kallman, Chairman and CEO of Atlantic Records, took the seat to my left. You can see him in this photo, which includes (L–R): Sunil Merchant of Sunny Components, Bob Stuart of MQA, a certain Contributing Editor to Stereophile who is determined to trim that belly if it's the last thing he does, Craig, and Peter McGrath of Wilson Audio and recording engineering fame.
Thanks to everyone who put the demo together. I'm eager to discover what's next on the horizon for MQA. I hear it will be a biggee.—Jason Victor Serinus