JA's First Report from the LAAS
Following my
keynote speech
at the ribbon-cutting ceremony Friday morning, my beat at the Los Angeles Audio Show was the Sheraton Gateway's 1st and 5th floors. Even with just the two floors, this was a daunting prospect—considering that this was the show's debut, it had a larger number of exhibitors than any of us had anticipated. So without further ado, here's the first of my three reports.
I photographed Vanatoo's Gary Gesellchen outside his room, because when I first visited, it was jam-packed. I had been impressed by Vanatoo's affordable, active, Transparent One bookshelf speakers at prior shows but the speakers featured at LAAS were the new Transparent Zero. Priced at just $359/pair, this small, active, two-way design adds Bluetooth connectivity in addition to optical S/PDIF and analog inputs, and a crossover implemented in DSP. The two class-D amplifiers for each speaker are housed in the left speaker, with a conventional speaker wire then connecting it to the right speaker so that only one AC cord is needed. Once the room had emptied enough for me to find a seat, the pair of Transparent Zeroes, placed on high stands, produced a surprisingly big sound. The midrange was uncolored and clean, though the sound did hardened up at climaxes— there's only so much dynamic range you can coax from a speaker with a 4" woofer. But this elegant little speaker should be a desktop winner.
Jason Serinus has already commented on the sound of the ATC SCM40 speakers in the Lone Mountain Audio room, but when I visited, they were playing a pair of ATC SCM50 passive, three-way floorstanders ($20,999/pair on high-gloss black; $17,999/pair in standard finish), bi-amped with this British manufacturer's P2 monoblock amplifiers ($4599 each). The SCM50 has a new tweeter, built in-house and developed from the company's unique soft-dome midrange unit that they introduced in 1976. (All the ATC speakers use proprietary drive-units.) With an ATC CA2 Mk.II preamplifier and a PrismSound Callia DAC sitting on a SolidSteel rack and all connected with Cardas cables, the SCM50s played that 1980s show stalwart, Stevie Ray Vaughan's "Tin Pan Alley" (24/96 file) with extended lows, a clean midrange, and smooth highs. (It was instructive to see that Lone Mountain had treated the room acoustics with panels at the first reflection points on the side walls.) Shelby Lynne's Phil Ramone-produced "Just a Little Lovin'" (24/96 file) had palpable imaging and superbly clean reproduction of cymbals—always hard for soft-dome tweeters to handle well.
Another room where the side walls had been treated, this time with Decorac Nemesis panels ($599 each), which feature images of musicians, was one of the two rooms featuring systems put together by La Jolla dealer Alma Music and Audio. A pair of YG's two-way Carmel 2 speakers, which I had reviewed in December 2015 ($24,300/pair) were being driven by a combination of Audio Research's GS 150 tube power amplifier ($20,000) and Ref 6 preamplifier ($14,000), with the source the Aqua Optologic DAC ($14,000) sourcing data from a Sound Galleries server ($16,000). The rack was from SolidSteel, power conditioning by Isotek, and all the cabling was Kubala-Sosna Elation!. Robert Plant and Alison Krauss's hauntingly sparse reading of Gene Clark's "Polly Come Home," from Raising Sand, sounded full and detailed, with the resolution I have come to expect from YG speakers.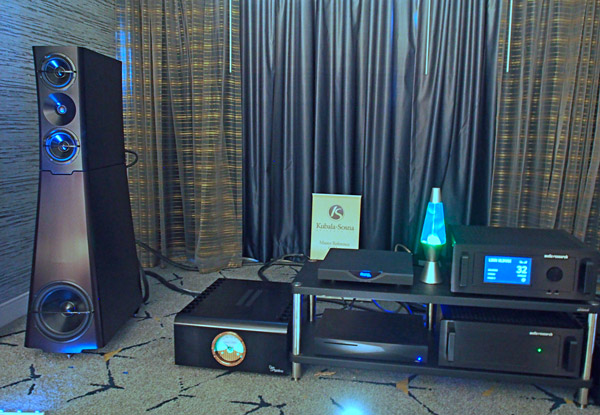 The second Alma room again featured Decorac panels, this time with the larger YG Sonja 1.2 speakers ($72,800/pair) again connected with Kubala-Sosna Elation! Cables and with the electronics sitting on SolidSteel racks. Amplification in this room was a pair of Dan D'Agostino Progression monoblocks ($39,000/pair, scheduled for review in the September Stereophile), with preamp the Audio Research Ref 10 ($30,000) and the source a Linn Klimax DS network player ($27,500). Once I had managed to stop staring at the lava lamp, I was taken by the large sweep of sound on Tom Jones's "Nobody's Fault But Mine." A great-sounding room, but it should sound great given the price of the system being demmed.
Yet another room where the exhibitor had applied sensible treatment for the room acoustics was the EMM Labs/Meitner room. The Vapor Audio Nimbus speakers ($22,995/pair, with their 15" woofers crossing over at 350Hz to twin 6" Audiotech midrange units, and RAAL ribbon tweeter, were being driven by a pair of EMM Labs MTRX2 1kW (4 ohms) monoblock amplifiers ($85,000/pair). Source was either an Antipodes Music Server or a EMM Labs XDS1 V2 CD/SACD Player acting as a transport, both feeding data to an EMM Labs DA2 Reference DAC ($25,000) and EMM Labs PRE2 stereo preamplifier ($15,000). Other than a Kimber USB cable, all the cabling was from Verastarr, using silver-foil conductors. An unfamiliar EDM track from Colombian musician Nicolas Jarre enveloped me with sound, with a wider, well-developed but stable stereo image.
Santa Monica's The Audio Salon had put together a system featuring electronics from the Australian Constellation company—Cygnus Media Player/DAC ($38,000), Revelation Series Pictor preamplifier ($18,000) w/DC Filter ($5000), Taurus Stereo 250Wpc channel power amplifier ($19,500), and Andromeda phono preamp ($18,000) w/DC Filter ($5000)—with Wilson Yvette speakers (25,500/pair), all connected with Transparent cables. Front-end was a Continuum Obsidian turntable ($35,000) with Viper Tonearm ($10,000) and Ortofon A-95 Cartridge ($6000). Pink Floyd's "Another Brick in the Wall" was playing when I entered the room and while I initially had to sit in the second row of seats, the soundstage opened up when the center seat in the front row became available. "Dynamics, bass power," read my notes, though when a big-band arrangement of "Sweet Georgia Brown" was played, the mid-treble was a touch too forward in the balance.
It is always surprising to find a pair of small speakers producing a bigger sound that you'd expect, and the tiny impeccably finished Kiso Acoustic minimonitors from Japan ($10,000/pair) in the Wynn Audio (of Canada) room were doing just that on a CD of music by Astor Piazzola. It must be admitted, however, that the speakers were definitely benefiting from some judicious boundary reinforcement in the lower frequencies. The rest of the system comprised an Einstein integrated amplifier, Metronome CD player, with a Critical Mass Systems rack and ZenSati cables.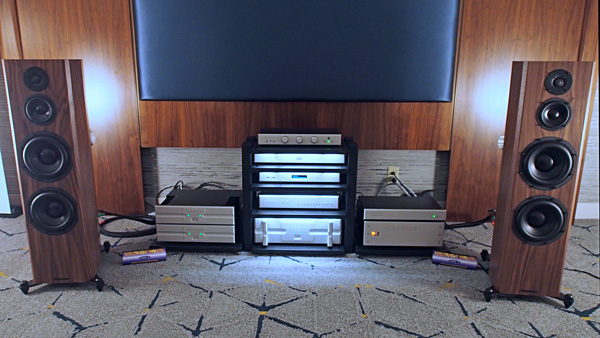 I admit to having a lot of respect for the audio engineering embodied in Bryston's products. As you will be able to tell from our review of the Bryston BCD-3 CD player in our August issue, they always measure superbly well, which in turn validates the test regime I have developed over the years. (When I encountered a product that measures, shall I say. "idiosyncratically," I have to then spend many hours checking and double-checking, to make sure that something amiss hasn't crept into that regime.)
At LAAS, Bryson was showing active versions of the Middle T speakers that Kal Rubinson reviewed in February 2015 ($6420/pair)), with the crossover realized in DSP (BAX-1, $3495), and amplification provided by two 3B3 200W amplifiers ($4995 each) for the bass and four 2.5B3 135W amplifiers ($3995 each) for the midrange and treble. Source was a BDP-3 player ($3495) feeding as BDA-3 D/A processor ($3495), with a BP26 preamplifier ($3495) with MPS-2 power supply ($1865). Racks and amp stands were all Target and cabling Straightwire Virtuoso. According to my notes the sound of this system in a rather small room was "big, open, easy."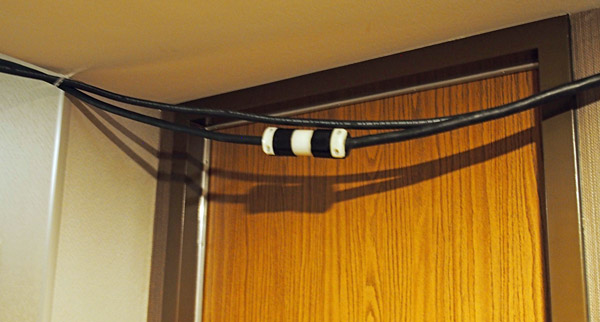 When Stereophile used to present its shows more than a decade ago, we always had to make special arrangements to ensure that the exhibit rooms had enough power. Discreetly hanging from the ceilings of the Sheraton gateway's corridors was the evidence that the LAAS organizers had worked hard to do the same.