Jana Wraps Up Her LAAS Coverage
In the Austin Hifi room, I heard the following: a Linn Sondek LP12 turntable with Ittok LVII tonearm (vintage), a Reson Lexe MC phono cartridge ($2600), a Crimson CS 710 preamplifier with MM/MC phono ($7000), Crimson CS 640E-III mono amplifiers (two pairs; $6000/pair), and Tocaro Model 42 loudspeakers (natural finish, stands included; $14,000/pair)—all connected by Crimson cables. Also pictured but not played during my visit: Resolution Audio Cantata music center ($6495). The exhibitor, Austin Hifi Inc., is the North American distributor for Crimson and Tocaro.
"Natural" doesn't only describe the finish of Tocaro Model 42 speakers. The speakers are hand-built and German-born, made with "only pure cotton from controlled organic farming" and driver membranes "made by hand from raw cellulose." Audio to complement your organic, locally sourced, seasonal, farm-to-table meal. Not to mention—their crossover-free sound was natural, organic, and a sonic textbook opposite from the usual (unnamed) liquid-sounding audiophile pinnacles. Listening to The Beatles' "Come Together" and Elliott Smith's "Walk You Home," I wrote down in my notes that the sound was "percussive, plump, and dark—in a very good way." Consider me a fan.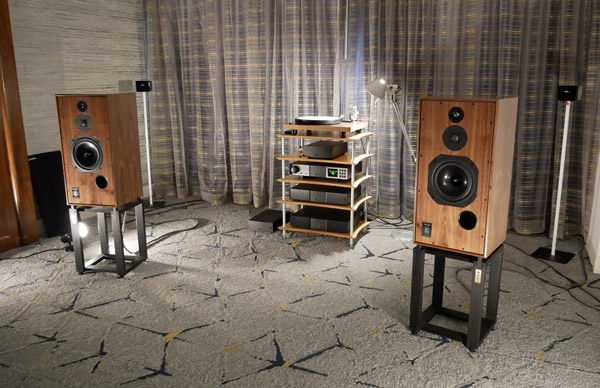 Next door, in local Los Angeles retailer Venice Audio's showroom: more handsome Harbeths to lust after; the Harbeth Super HL5plus loudspeakers ($7495)—reviewed by Art Dudley in mid-2015. I auditioned Curtis Mayfield's "Billy Jack" spun on a Well Tempered Lab Amadeus Versalex turntable ($4450) with an EMT TSD15 MC cartridge ($1950), going through the following Naim components: a SuperLine Reference MC phonostage ($4195), an NAC-N272 preamplifier with integrated streamer ($5995), an NAP 250-DR power amplifier ($6995), an XPS-DR power supply upgrade, and a HiCap-DR power supply ($2595). The system charmed me with its rich, detailed, grooviness.
All right, LA Audio Show. You have me convinced: the next pair of speakers I buy will be Harbeths.
In the AVM/PMC showroom, a surprising crowd (for a Sunday) of eager young boys showed great interest in a system featuring AVM's new SD 8.2 preamplifier ($10,999) and SA 8.2 amplifier ($14,999), playing music from a MacBook through a pair of PMC IB2 SE speakers ($24,000/pair). They demonstrated John Powell's Ready for the Big Ride, a cinematic orchestral piece from the soundtrack of the movie Face Off—a piece so tonally predictable it could easily be mistaken for a Disney soundtrack. The IB2 SEs struck me to be pretty, agile, and impactful.
In the Studio Electric/ModWright/WyWires room, not only were there complimentary cookies, but also: 16-bit sound files from a MacBook Pro, an Oppo UDP-205 "4K Ultra HD Audiophile Blu-ray Disc Player" used as a DAC ($1299) with ModWright modifications ($2500), a ModWright KWI 200 integrated amplifier ($5500), and Studio Electric FS1 loudspeakers ($5900/pair without grilles; $6250/pair with grilles). The modifications to the UDP-205 include: a 6922 tube buffer, transformer coupling, and an outboard power supply.
Manning the room was David Macpherson, owner of Studio Electric. We spoke about his extensive 32+ years designing and building loudspeakers in the pro-audio market, and how his speakers were used on Broadway, in concert halls, theme parks, and cruise ships! The FS1s incorporate three drivers, weigh 90 lbs, and are environmentally friendly, made of recycled Wenge from reclaimed wood products. He played me "Caravan" performed by Marty Williams, and the FS1s soundd musical, neutral, and refreshingly even throughout the frequencies. Pro-audio sound with a hi-fi touch.
Also pictured but not played (at the time of my visit): a VPI Prime Signature turntable with a JMW-10 tonearm and Dynavector XX2 Mk. II MC cartridge and WyWires phono cable. I hope more rooms at hi-fi shows start offering cookies.
The last room on my list: Vinnie Rossi, Spatial Audio, and Anticables.
"Wicked Game" by Jenna Mammina and Rolf Sturm sung through a system that comprised a Vinnie Rossi LIO "super integrated" amplifier ($11,880 as configured; a Stereophile Class A Recommended Component 2015–2017), a pair of Spatial Audio X1 "UniWave" loudspeakers (standard painted $14,000/pair, gloss Lucite surface $17,500/pair), and Anticables throughout. The sound of the LIO's ultracapacitor-powered, modular system paired with the X1's uniwave dipole design was widespread, transparent, and profoundly engaging—the perfect end to my Los Angeles Audio Show experience.