LAAS: It's A Wrap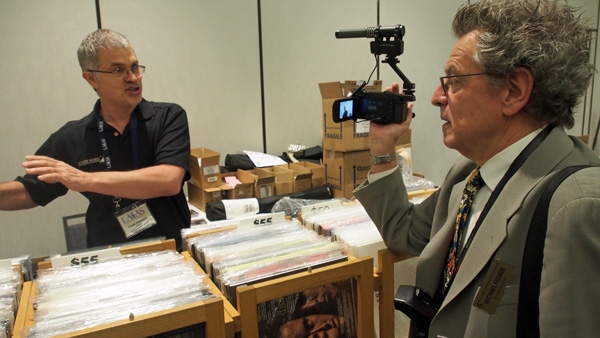 The first Los Angeles Audio Show, the audio show that may very well supplant the transplanted-to-Anaheim, September-scheduled T.H.E. Show as the Southern California audio show of choice, has just come and gone. Even as exhibitors unpack their wares and begin the multi-month process of assessing the show's impact on sales and brand recognition, some observations on the show's success and otherwise are in order.
Although I do not recall feeling like a lost puppy when Stereophile held its show 11 years ago in the same, then not-yet-renovated Sheraton Gateway, the place sure felt different in 2017. Due in no small part to a lack of sufficient big-lettered signage, lots of people had difficulty finding their way around the exhibits on floors 2–5, where hallways branching out from a central elevator bank presented a special challenge. Navigating the lobby, too, seemed to have been a chore, with at least one upper-floor exhibitor claiming it took him two days of quick stops to figure out where the Marketplace was.
Another big issue with the hotel concerned food service and prices. Not only did the menu at the supposedly fancy restaurant not vary from lunch to dinner, but the service, at least for Saturday lunch, was execrable. (It was much better on Sunday night.) When I went to bid adieu to a table of San Francisco Audiophile Society members, they complained that they had been waiting 40 minutes for their meal. Thankfully, many who chose to eat in the hotel opted for the breakfast buffet, and one of the two quick-serve lunch buffets on the lobby level and 2nd floor. As long as you could find a place to sit, the food was okay. The bar space, on the other hand, was extremely spacious, and often packed.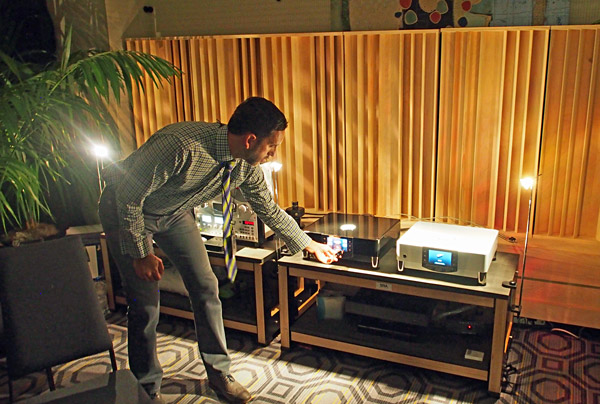 Attendance
Room and exhibit table traffic depended a lot upon where you were perched. Some exhibitors did quite well, others less so. The shrewd marketing team of Ted Denney and Scott Walker, who steered folks from the closed door Synergistic Research demo on the 2nd floor directly into their adjacent equally large sales room, reportedly cleaned up. But another cable manufacturer, whose table was hard to see from a distance due to large pillar in between, suffered.
The big day, Saturday, was exactly that for some exhibitors, and a disappointment for others. On the last day of the show, the perpetually slow Sunday, a number of exhibitors on the fifth floor were crying from hunger. In fact, when I mentioned the record-setting claim of 7500 pre-registrants to an exhibitor whom I have always considered the epitome of a soft-spoken gentleman, he went into a near rage that was accompanied by cries of incredulity. Suffice to say that his outburst would have led you to shield the ears of young children as you watched your cat scurry under the bed.
One first-time show attendee, who traveled from Seattle to Los Angeles, had this to say: "Some areas did have some traffic all 3 days, but attendance definitely did not meet my expectations. I thought it would be much busier. Perhaps I was expecting more. After all it was my first time . . . and probably my last. I was so happy I brought food. Given $26 for breakfast buffet! I would have brought a cooler."
And this from an exhibitor whom I called to check on equipment prices for this report: "I wish there had been more people, but the show was absolutely worth doing. The customers who came in asked quality questions and seemed genuinely interested."
What caused the perceived lack of attendance, especially given the amount of PR we were assured was done beforehand, is unclear. Some people claim potential attendees bailed because Angelinos feared driving to the congested area around LAX. But hey, what isn't a congested traffic area in Los Angeles? John Atkinson tells me that when Stereophile's 2006 Home Entertainment Show was held at the Sheraton Gateway LAX, the attendance had been surprisingly low, especially when you consider that the magazine's 1992, 1995, and 1998 shows had been very well-attended and those shows had been held at the ziggurat-shaped Doubletree (now a Westin?) just a few blocks further away from the airport.
Perhaps attendance was higher than it appeared, but the bulk of attendees favored certain rooms and spaces over others. Maybe a huge number spent all their time in the Marketplace, took in a seminar and a few rooms, and then left. All I know for certain is that there was only one exhibit room where I had to briefly wait for a seat, and I could always squeeze into the elevators. A mini-Munich this was not.
The LAAS Audiophile Awards
One of the most controversial aspects of LAAS was the creation of the "Alfie" and "Extreme" Headgear Awards, which were presented at a $110/plate dinner. (The price may have gone up after March 23.) For $185, show attendees received, in addition to "access to all events & exhibits, (1) Plated meal at Award Dinner, (2) 15-minute appointments with exhibitors of choice, and a VIP Badge for admission to daily breakfast in the Insider's Lounge alongside Exhibitors and Press." In other words, exhibitors had to buy their way in, and attendees with sufficient dough received extra perks. Even most members of the press were asked to pay. Very LA, I must say.
I know of at least one exhibitor who, after being informed in advance of their award, was pressured into attending the dinner. They refused, and rightfully so. As many folks said to me post-show, the price of the meal and award ceremony should have been figured into the exhibit price.
Then there was the whole dress code thing. While show director Marine Presson asked men to wear nice shirts and ties, Bob Levi of the Los Angeles Orange County Audio Society called it an "elegant affair" to which men should wear jackets. From an iPhone shot of the winners that Michael Fremer sent me, the majority of men rejected that call.
But the issues go deeper than cost and dress. As of March 14, initial judges for the "Extremes" included Warren Chi, Cavalli Audio; Charlie Randall, CEO & President of McIntosh Labs and the McIntosh Group, which includes brands Audio Research (ARC), Sonus Faber, Sumiko, and Wadia; and Jason Lord, Co-Owner of The Source AV Group, a specialized headphone retailer. It seems unrealistic to expect that these folks could act impartially and vote for brands that were not in their self-interest.
Judges for the "Alfies," which were positioned as the high-end's version of the Oscars, were announced as including Roger Skoff, Vice President of LAOCAS and founder of XLO Electric cable company, as well as "the legendary John Curl and Bob Carver." While, in the end, others stepped up to the plate, including two journalists for web-based publications and industry veterans EveAnna Manley and Mary Cardas, Curl withdrew because he felt that audio journalists were far more appropriate for judging and granting awards than folks with a perceived conflict of interest.
Finally, the whole premise of the awards warrants examination. While it is potentially possible to judge headgear under show conditions (although how accurately you can judge performance of open-backed headphones when folks are talking all around you is a question worth asking), pretending that the performance of speakers and electronics in hotel rooms, in this case rooms with which the majority of exhibitors were not familiar beforehand, is a fair way to judge is another story (footnote 1). Proper evaluation takes time, and is best performed in one's own reference system, in a known environment.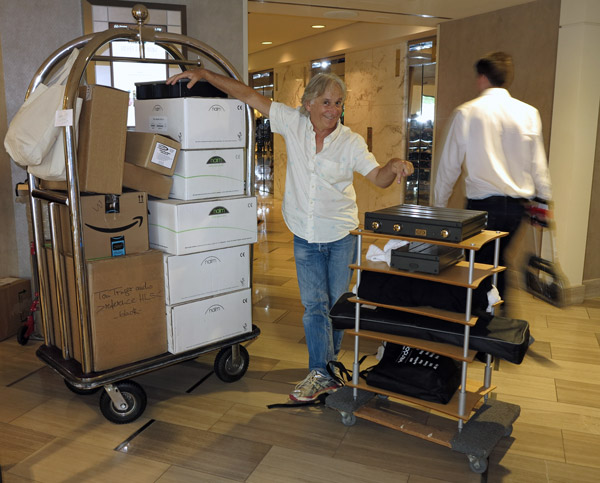 Summing Up
When all is said and done, it was a fine show. I can't speak for the Headgear exhibits, but there was a preponderance of good-to-excellent sound in the exhibit rooms, and much to love. There was also a lot of positive energy within and outside rooms. And for those eager to learn about the potential hi-rez format of choice for streaming and even discs, there were plenty of rooms that offered listens to MQA.
I am certain that well before the doors open on LAAS 2018, multiple kinks will have been worked out. LAAS is an event with the potential to get better and better.
A gentle reminder. What we offer you in our show reports are not reviews. They are snapshots in time, often taken in quick-frame mode. Given that some rooms were secured by exhibitors who did not have the capital or resources to bring in adequate acoustic and power treatment, and that many rooms were not equipped to play music with which we were familiar, some of our reports are more accurate reflections of a system's ultimate potential than others. If something you read about or experienced at LAAS interests you, it would be wise to investigate ways to evaluate it in your home system.
Whatever you do, don't forget to indulge in the audiophile equivalent of stopping to smell the flowers. Equipment is but a tool. The music is where it's at.
---
Footnote 1: Back in the 1980s and 1990s, when
Stereophile
organized shows, we asked
attendees
to vote on what they felt was the best sound at each show, asking them to nominate their top three rooms: 3 votes for the best room, 2 votes for the second-best room, 1 vote for the third-best room. That way, we felt that given enough ballots—and we would always get around 1000 returned—the statistics would ensure a fair, representative outcome.—
John Atkinson