Jana Finishes Up Day 2 at the LA Show
One of my greatest personal discoveries at the LA Audio Show this past weekend was that I absolutely love Harbeth speakers. I adored every system I heard them in. In the Gene Rubin Audio/Fidelis Distribution room, there was a beautiful pair of Harbeth Monitor 30.1 two-way speakers ($5495/pair), driven by an LFD NCSE Mk.II Plus integrated amplifier ($6795), with the source being an Acoustic Signature Challenger Mk.III turntable ($4995) with an Acoustic Signature TA 2000 9" tonearm ($2395) and a DynaVector 20X2 cartridge ($995), through an LFD LE/SE phonostage ($1790). Also pictured but not active during my time in the room: an Aurender N10 server/streamer ($7999), and a CanEver ZeroUno DAC ($7990).
Gene Rubin (of Gene Rubin Audio) played "God Bless the Child" on the album The Bridge by the Sonny Rollins Quartet. The honest realism of Sonny's dry, airy tone was refreshing. Systems—at hifi shows and otherwise—often make Sonny's—and many other saxophonists—tone sound more lustrous and liquid than he really is—and I can't stand when they do that. Hearing the 30.1s manage this so freely is what made me fall in love at first listen with Harbeth.
Dragonfire Acoustics, founded by Serbian "planar-magnetic guru" Dragoslav Colich, made its US debut at the show. Colich's background includes singlehandedly designing all Audeze headphones for the past decade, and "designing various planar-magnetic and ribbon transducers and sound systems for home, professional, and military applications for more than 40 years." My interest was piqued as soon as I learned about his background in Audeze.
Their very crowded room featured a pair of fully active planar-magnetic DRC-1 floorstanding speakers and a pair of DSP-controlled, active DFA SB-12 subwoofers—both couldn't be positioned more than a few inches away from the wall. The top section of the DRC-1s uses customized Audeze planar-magnetic transducers, while the bottom uses H-PAS loaded woofers. Listening to a variety of songs, the DRC-1s created a similar ambience to the Audeze sound signature: heavily cinematic, air-moving, and darkly vivid. (I wasn't able to get track names because the CD belonged to an attendee who couldn't speak English.)
A pair of the DRC-1s will cost $35,000 alone, or $45,000 including the two subwoofers; prices include installation and room correction service. The DRC-1 can also be ordered without internal amplifiers. Each pair of speakers is a custom order and will take roughly four weeks to produce.
In the Cambridge Audio room: a pair of Aeromax 2 bookshelves ($599/pair) next to a pair of Aeromax 6 floorstanders ($1299/pair), sourced by a CXC dedicated transport ($749) or a CXN upsampling network player, driven by a CXA80 80Wpc integrated amplifier with DAC ($999).
They played "Sous Le Soleil De Bodega" by Les Négresses Vertes and "Can I Sleep in your Arms" by Willie Nelson. I didn't think either piece was the best choice for showcasing the system, but I do applaud Cambridge Audio's dedication to affordability and ease-of-use.
The Lenbrook room featured another minimal system featuring: the recently released NAD M32 integrated amplifier ($4000) and a pair of PSB T2 tower speakers ($3500/pair), with AudioQuest Rocket 44 cables.
The NAD M32, released roughly a month ago, is another modular, do-it-all component by NAD, with its latest trait being the consolidation of all preamplification and power amplification functions into a single amplifying stage. Listening to Steely Dan's "Babylon Sisters," the T2s sounded tight and direct, with a very focused soundstage. I imagine that that the M32, like most of NAD's creations, will appeal to college graduates who appreciate lean products with audiophile capabilities and a user-friendly interface. JA is working on a review of the M32.
The Kubotek room featured HSP1C04 speakers and HDCA01 digital control amplifiers ($12,000), an HAMP05 mid/high range tube stereo power amplifier ($4000), a low range tube monobloick power amplifier ($6000), a HCTR01 Mk.II precision vinyl data pick up system ($12,000),
The Haniwa HSP1C04 full-range speakers are cute little wooden cubes roughly half the size of my Rogers LS3/5As, or about the size of my face—to give you an idea. They add new meaning to the usage of the word "compact" in the high-end domain, and excel at what most Japanese technology does well: convenience, high-performance, and rare-factor. Listening to Eugene Ormandy & the Philadelphia Orchestra perform the fourth movement in Sibelius' Symphony 2 in D, Op. 43, the HSP1C04s struck me as heartwarming. For their petite size, they are able to successfully convey emotional depth.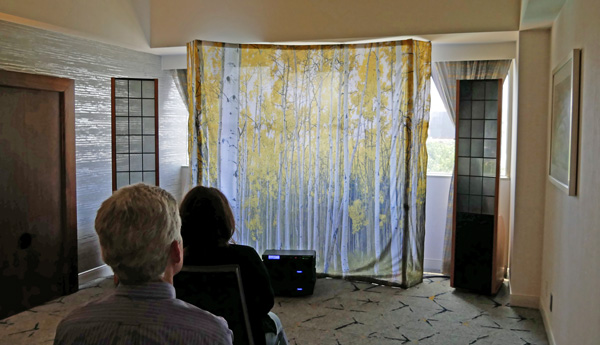 The Sanders room was well-lit with the nature themed backdrop, which will be familiar to readers of our prior show reports, and three seats in single-file. A variety of some few dozen demo tracks played through a system that consisted of the Magtech Stereo amplifier ($5500), Magtech preamplifier ($4500), and a pair of Sanders 10e electrostatic speakers ($17,000/pair). The music included female vocal, male vocal, instrumental, orchestral, and so on—but my most favorite track to listen to (on the 10es, and on all other electrostatic speakers) was the solo drum demonstration track. The 10es are marvelous, precise with imaging, full of dimension, and produce more bass than one might expect from electrostatic speakers.