Jason's Stroll to the Finish Line at LAAS
In the first of two floor rooms from Elite Audio Systems of San Francisco, Viola Audio Labs' Paul Jayson partnered with Elite's Michael Woods to pair the Viola Bravo 2 amplifier ($58,000) and Viola Sonata preamplifier ($35,000) with Kharma DB9 loudspeakers ($37,500/pair), Linn Klimax LP12 turntable ($25,000), Viola cabling (produced by ZenSati), and an Isotek Titan power purifier ($4999) with matching power strip ($1500). Paul's choice of the Speaker Corner reissue of Michelangeli's live 1979 performance of Beethoven Piano Concerto 1, with Giulini and the Vienna Symphony, enabled me to hear the system's lovely shine and ability to convey extremely rapid timpani rolls with minimal smudging and utmost credibility. There was also excellent control of Ron Carter's double bass on his
Entré Nous
Chesky CD with Rosa Passos, but the balance between instruments was not right.
Moving on, I couldn't figure out why Alison Krauss's voice sounded so lovely, but the bass so messy, until Paul invited me to move back a row. There, the bass was much, much tighter, but the highs had dropped off. Clearly, the ideal seating position was somewhere between those two rows, where bass and treble came into line, and bass nodes were minimalized. I expect, had I sat in the golden seat from the get-go, this report would be an unqualified rave.
This leads to a point so important to show reportage that I will indulge in capitalization:
IT IS UP TO EXHIBITORS TO INFORM PRESS ABOUT IDEAL SEATING POSITION, AS WELL AS LACK OF BREAK-IN.
This doesn't mean that press "must" sit in the ideal seat, which often requires uprooting paying attendees against their will, or throw everyone out of the room (both of which I strongly resist). But it does mean that, in my case, if someone tells me, "The bass sounds much better in the [first/second/third] row," I will make allowances for my less than sweet seat in my report, and modify my assessment of the sound in a manner I consider fair to all.
Oh goodie! Another opportunity to hear the CH Precision gear, some of whose products I couldn't get enough of at AXPONA less than two months ago.
In the second room from Elite Audio Systems of San Francisco, the CH Precision I1 integrated amplifier ($38,000), CH Precision D1 SACD player ($38,000), Meridian media core 200 ($4000), Spiral Groove SG1.2 turntable with Ortofon Cadenza black cartridge ($42,000 total) joined Manger p1 floor-standing speakers ($13,800/pair in ebony finish), and cabling from Crystal Cable, AudioQuest, and CH Precision to convey the sheer deliciousness of contrasting instrumental colors in soprano Carolyn Sampson's rendition, with Masaaki Suzuki and the Bach Collegium Japan, of Mozart's "Et incarnates est." That, in itself, was a joy worth celebrating. That the presentation remained extremely musical, despite the fact that the voice did not rise free and lacked sufficient air between it and instrumental textures, was no doubt due to the excellence of the turntable and electronics.
Speaking of delicious, behold this intentional snake-pit presentation from what some consider the ultimate purveyor of snake oil: a cable company. In this case, it was Voodoo Cable, whose reps were clearly out to have some fun. I really didn't have time to take in the sound, but since there was no way to compare the sound of these cables with those from other companies, I'm not sure how much you could have learned from a report (unless I has said that the sound was godawful, which it most certainly was not).
Suffice to say that I was delighted to find an exhibitor playing tracks from the Kate Royal recital that I carried around to shows a number of years ago. Voodoo, schmoodoo, these folks got taste.
With my review of Dan D'Agostino Master Systems Progression monoblocks ($39,000/pair) slated for the September issue, I shall simply say that, in the room from Alma Music and Audio room of La Jolla, despite the fact that the amps sat on the floor, without any vibration-isolation control, they triumphed in their pairing with Audio Research Ref 10 preamp ($30,000), Linn Klimax DSM network music player ($27500), Innuos Zen MkII network music server ($2400), YG Acoustics Sonja 1.2 speakers ($72,800/pair), Isotek Aquarius ($1195) and Mosaic Genesis ($11,995) power conditioners, Kubala-Sosna Elation and Realization cabling, Solid Steel HW-3L rack ($2199), and, with cheers to a dealership that actually included mention of their attractive acoustic paneling, Decorac Acoustic panels ($599/each).
So, what does "triumph" mean? Despite the less than ideal set-up, Patricia Barber's voice and instrumentation sounded very neutral and solid, with excellent bass. The texture of Carlos Montoya's guitar was also captured to perfection, as were every creak and page shuffle on an excerpt from Maria Callas' (second?) recording of Puccini's Tosca. I expect that the Decorac absorptive panels had a "say" in how well-controlled the presentation was. As for the ability to hear detail usually obscured by either noise or less than totally resolving detail, look to the amps.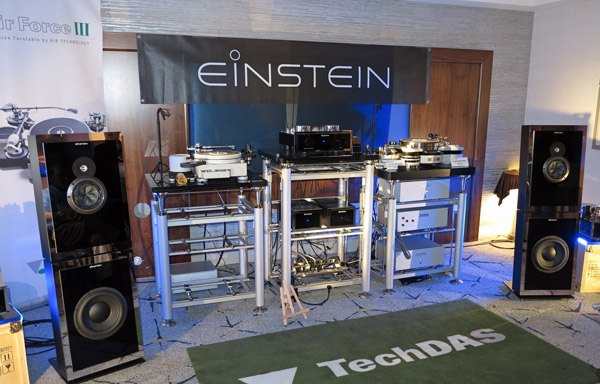 What better way to end a show than with a touch of genius? In this case, it was provided by German-made Einstein electronics and the TechDas turntable. I simply do not understand why Einstein has yet to secure dealers in the United States. Volker Bohlmeier's equipment, which has been manufactured since 1988, is that good.
True, the initial choice of LP tracks that were played before Bohlmeier returned to the room from the hallway, consisted of some ultra-soppy Asian fare and, yes, The Eagles' "Hotel California." The latter, I might add, elicited some strange, sibilant "tss tss tss" sounds on certain peaks, which suggests record wear to these mainly digital ears. (Vinyl lovers know more than I about this.) Beyond that, the sound was gorgeous.
The highlight of my visit came when Bohlmeier offered up an old Telefunken LP of Ludwig Streicher playing double-bass concertos by Johann Baptist Vanhall, conducted by Othmar Costa. The texture of Streicher's instrument came through with laudable clarity and truth. For all those exhibitors who insist on dragging out Gary Carr's tired bass one more time, choosing from a host of non-audiophile-approved alternatives, including Streicher with orchestra, could prove most illuminating. I know of at least one member of the press who would thank you.
With this audio porn shot of some expensive jewelry, I take my leave, but not before I tell you that the TechDas Airforce One Premium, which includes Einstein The Tonearm ($7500) and Einstein The Pick Up ($5000 for MC), was the system's source. From Einstein were Einstein's The Preamp balanced tube preamp ($23,000) and The Silver Bullet Mk.II OTL Monoblocks ($58,000/pair). Einstein The Pure speakers ($56,000/pair) have an active (700W) subwoofer, a midrange that is directly connected to the output tubes of the OTLs without use of a crossover, and horn tweeter with 6dB/octave crossover. Einstein cabling provided the extra illumination.