TAVES 2016: Day 3
How often do you find that a new model of a loudspeaker or other audio component is less expensive than the one it replaces? I'd say "Not often." But that was the case with the ACA Seraphim loudspeaker. At last year's TAVES, there was a demo of the ACA Seraphim Skogrand Edition speakers, priced at $US45,000/pair; this year, they had the new Seraphim Prime, shown in the photo above, which is said to represent ACA's latest thinking in speaker design—at just $US22,000/pair. Most of the savings represent changing from the ultra-expensive Skogrand internal wiring to the more sensibly priced Kimber Kable, but there's no evidence that there has been any cutting of corners. The Seraphim Prime still uses a SEAS Millennium tweeter, custom ACA midrange and woofers, WBT Nextgen binding posts, Soundcare SuperSpikes, and premium components in the crossover. The cabinet finish (Cocobolo high gloss) is impeccable. And the sound—with Melody Valve P2688 preamp ($US7200), M845 monoblock amplifier ($US6,899/pair), and Onyx OCD-103 CD/media player ($19,000)—was outstandingly good: one of the best at the show.
Whatever their other positive attributes—and they are numerous—Acapella Audio Arts horns are camera magnets: I can't go past one of these speakers without taking a photo. The new Acapella Atlas ($CAD118,00/pair) on display at TAVES 2016 certainly qualified. Looking at the specs, I see that each speaker weighs 340lbs. I think those of us who are visitors to shows like TAVES have little appreciation for the effort that's involved in exhibiting such a product.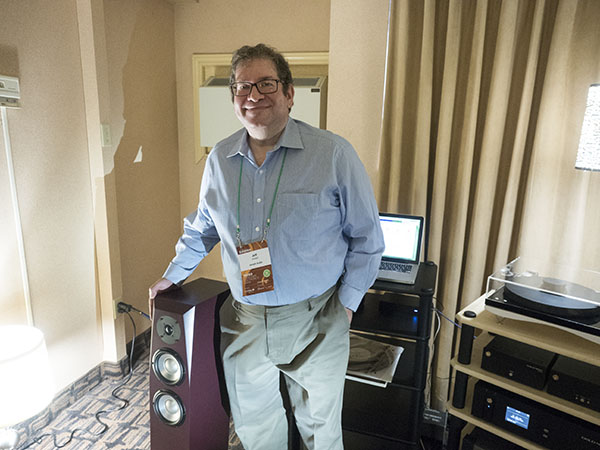 No audio show would be complete without seeing the smiling face of Jeff Joseph and listening to Joseph Audio speakers in his almost-patented diagonal setup. TAVES 2016 qualified on both counts. The dimensions of his exhibiting room—one of the small ones in the Best Western—were not ideal, but the speakers (Joseph Audio Profiles, $US7400/pair) still managed to give a good account of themselves. (The system used a Gold Note turntable and Gold Note electronics, all distributed in Canada by Tri-Cell Enterprises.)
Toronto-area dealer Audio By Mark Jones describes their approach to selling audio equipment as "bespoke," selecting products that match the customer's taste—an approach that seems difficult to emulate under audio-show conditions. In any case, for the past two years at TAVES, they've exhibited with Magico loudspeakers, but this year the electronics of choice were CH Precision rather than Tenor (which remains in the Mark Jones product line). For the reader who commented that his credit-card limit makes it difficult for him to read these show-report blogs, I can only say that I feel your pain: this is expensive stuff. The Magico S5 Mk.II speakers ($US38,000) were used with a CH Precision C1 D/A converter ($US33,000), P1 phono stage ($US31,5000), L1 line-level preamp ($35,000), and M1 power amps ($US95,000). The sound was impressive, to be sure, but a bit more forward than I like—something that I imagine could be corrected by the application of Mark Jones's bespoke approach.
Sonic Artistry is a Canadian distributor/dealer for a number of products, several of which were on display/demo at TAVES 2016. Perhaps the most interesting of these was the Davone Audio Solo loudspeaker ($CAD9995/pair). Made in Denmark, Davone Audio speakers have curved lines that suggest Scandinavian furniture, and are designed with aesthetic as well as technical factors in mind (avoidance of internal standing waves being an example of the latter). The system featuring Davone Solo speakers included a Devialet 200 Expert integrated amplifier ($CAD9995), with a Döhmann Helix turntable ($CAD52,000), Schröder CB 12" tonearm ($CAD5720), and various BIS audio cables. It sounded good, but I doubt if many owners of a $9995/pair loudspeaker would use a $52,000 turntable in their system.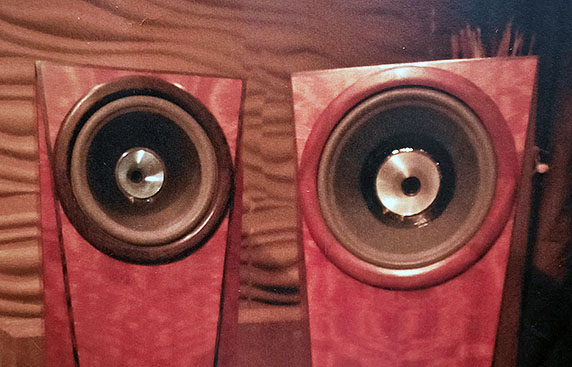 Readers experienced in photography may notice that the photo accompanying this blog entry is of noticeably lower quality than the others. They may even identify the reason: this is a photo of some printed literature. I somehow missed taking a photo of the Coherent Audio loudspeaker, and I thought this would be better than having no photo at all.
In fact, the photo that you see is of the Coherent Models 10 and 12, the numbers representing the diameter of the driver. That said, the Coherent loudspeaker being demonstrated at TAVES was their Model 15 Neo Be ($CAD14,000), the drive-unit of which incorporates a 3" horn-loaded tweeter with a Beryllium dome. Rated sensitivity is 100dB. The Model 15 Neo Be was being driven—successfully—by a Triode Lab SET amplifier with an output of 2Wpc.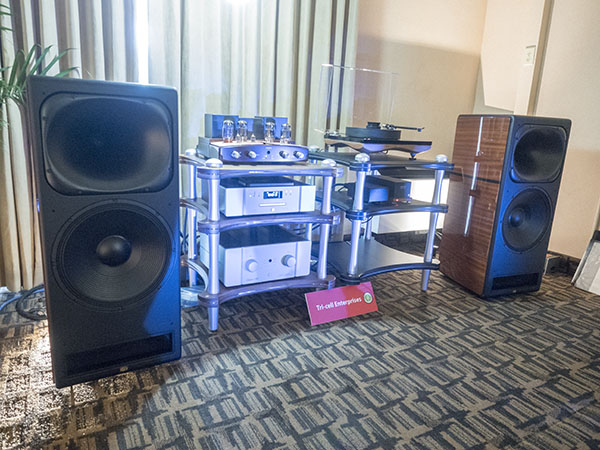 Brand new at TAVES 2016 was the Max 2 loudspeaker from Unison Research, a design departure from this Italian company. It's a two-way, high-sensitivity (96dB) floorstander of substantial size, using a 1.4" compression tweeter with a titanium diaphragm and a 15" woofer. Power handling is specified as 500W, so it will play loud. I was told that Unison's aim with this speaker was to compete with the big floorstanding Tannoys. The sound, with Unison Research electronics and digital source, had the quickness that characterizes high-sensitivity designs.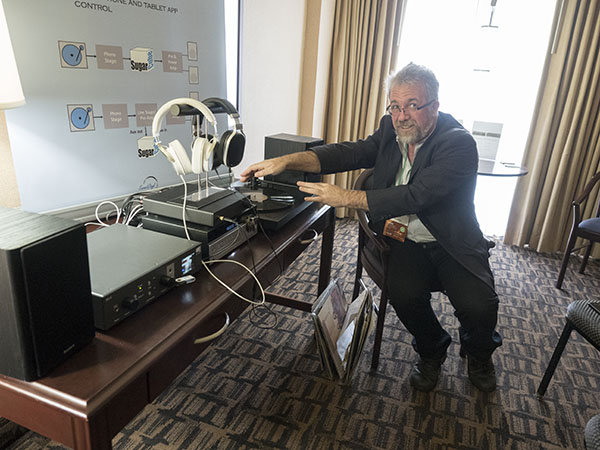 Last June, on AnalogPlanet.com, Michael Fremer posted about a device that removes pops and clicks from vinyl playback, apparently without harming the music. The company is called SweetVinyl, and they were exhibiting at TAVES 2016. They have two models, both called SugarCube: the SC-1 ($US1500), which just removes pops and clicks, and the SC-2, which adds the capability of digitally recording LPs. I have no interest in this sort of "archiving" of my LPs, but I have my share of LPs with pops and clicks, so the idea of being able to remove these in playback intrigues me. SweetVinyl's Dan Eakins gave me a demo, and, at least in brief listening, it was very impressive, the pops and clicks disappearing as if by magic, with no obvious loss of musical information or change in tonal balance. I'm told that Michael will be getting a sample of the SC-1 for review; I look forward to reading his evaluation.
Plurison (Audio Plus Services in the US) is the distributor for a good number of high-end audio products, and I knew that a visit to their room would give me some more new products to write about—and so it turned out. SPL is a German company that's been active in the pro-audio field. (They built a mastering desk for famed engineer Bob Ludwig.) SPL has now entered home audio, with a line of products promising "studio quality in your living room." Prices range from $CAD2299 to $CAD4999—not cheap, but not priced exorbitantly, either, and the company's design credentials are impeccable.
Plurison is also the Canadian distributor for Clearaudio (distributed by Musical Surroundings in the US). New at TAVES 2016 were the Innovation Basic turntable ($CAD6000) and TT5 radial-tracking tonearm ($CAD4000).
A press release from Naim Audio—labeled "UNDER STRICT EMBARGO Until 06th October 2016, 11:00 GMT"—announced a new series of all-in-one models, doing just about everything you can name: streaming, ripping and storing of CDs, TIDAL, Spotify, Apple Music, multiroom playback, HDMI connectivity, etc. Just add speakers and you're ready to go. Alas, the entry level Uniti Atom ($CAD3800), shown in the photo above, does not include CD playback.
So how was the show? Attendance figures are not available yet, but my impression is that TAVES attendance—which in 2015 was said to be up by 55% over the previous year—is continuing to climb. Of course, how much of the attendance represents people interested in video gaming, virtual reality, robotics, and other non-audio-related pursuits can only be estimated. If you did not visit the parts of the show devoted to the non-audio areas, you could mistake TAVES for any audio-only show. How much of a spillover there was—ie, people who come for robotics, etc. getting their introduction to high performance audio—must also remain a conjecture. My guess is still "not much," but, by the same token, I have seen no evidence that the presence of non-audio exhibits and people interested in them has harmed the audio part of the show. I was disappointed that there was no live music at TAVES 2016. I think having live music not only serves to remind us of what this is all about, but also acts as a useful reference, highlighting how much hi-fi is but a pale imitation of the real thing.
Last year, there was some controversy about the venue—not so much involving the fact that the show was in the suburbs rather than in Toronto proper, but the fact that TAVES was advertised as being at the Sheraton when much of the show was in the adjoining Best Western. This year, the advertising identified both venues—and I heard no specific complaints about the venue. It would not be an audio show if some people did not complain about rooms being too small, too big, too poorly isolated, too hot, too cold, too confusingly laid out, etc. Audiophiles love to complain, but the complaints that I heard at TAVES 2016 were relatively few. Show organizers Suave Kajko and Simon Au, assisted by their very able staff, did their utmost to create a congenial atmosphere, and the show must be rated a success.
Postscript: Today (11/2/2016) I heard from Suave Kajko, who told me that TAVES was attended by 7600 visitors this year—up from 6500 last year.