TAVES 2016: Day 2
Muraudio, based in Ottawa, Ontario, pioneered the design of the omnidirectional electrostatic loudspeaker in their Domain Omni PX1. The follow-up to that model, the PX2 ($US79,500/pair), was introduced at TAVES 2016, and sounded very impressive indeed in a system including Simaudio Moon digital and analog electronics, with Shunyata cables and power-line conditioning. However, with a total system price of $US196,500, while not nearly the priciest of the systems demoed at TAVES, this is still well out of the reach of most audiophiles. In talking to company founder and chief technology officer, Murray Harman, I got the clear impression that he's uncomfortable with Muraudio speakers being within reach of only the most well-heeled of audiophiles. His eyes positively lit up when he told me about the next Muraudio product: a speaker similar in design to the PX2, but with only two electrostatic drivers, at a projected price of $US18,000–19,000/pair. This product is now in an advanced development stage, and, according to Harman, indications are very promising, the speaker reportedly retaining most of the PX2's distinct spatial characteristics and overall sound quality—at a much lower price.
If memory serves—I could not find a reference confirming this—I first saw and heard the KEF Muon loudspeakers in 2007 at the Salon Son & Image in Montreal. The sound was superb, but the price of $US198,000/pair was enough to take my breath away. Production was to be limited to 100 pairs, and I gather that those speakers have all been sold. However, the Muon Mk.II ($US225,000/pair) is available now, and was being demoed at TAVES 2016 in a system using a VPI Titan turntable ($US48,000), VPI Aurora phono stage, Lyra Atlas cartridge ($US12,000), Hegel H30 monoblocks ($US15,000), Nordost Valhalla 2 cables (about $US70,000 altogether), IsoTek voltage regulator ($US10,000), and Massif Audio Design stand ($US9,000). The sound was still superb, although I can't comment on how it compared with the sound of the original Muon all those years ago. The speaker retains the Muon Mk.I's feminine curves, but everything else—tweeter, midrange, woofer, crossover—has been thoroughly revised. And if you're one of the consumers who bought the original Muon and now you're looking with despair at the all the improvements in the Mk.II, be of good cheer: for a fixed price of $US10,000, KEF will send one of their engineers to your home—no matter where that is—and rebuild the speakers to Mk.II level.
So you thought that the KEF Muon Mk.II/VPI system at $US410,000 was expensive? Maybe so, but it's well short of the price of the system assembled by Wynn Wong of Wynn Audio, which comes in at $CAD839,500. That's right, folks: close to a million Canadian bucks. I won't even attempt listing the components; suffice it to say that speakers were Tidal Sunrays ($CAD180,000/pair). Yes, the system sounded very good (its ultimate potential is hard to judge under show conditions), and Wynn Wong is to be commended for the effort involved in bringing this ultra-expensive (and very heavy) system to TAVES 2016, but I just find it difficult to relate to such stratospherically-priced systems.
Venture is an audio manufacturer whose products I have not encountered before, but their literature indicates that this is their 30th anniversary, and that their products are "Handmade in Belgium." Their flagship speaker, the Quantum 8, is fully active, and uses a 2" tweeter made of Venture's own Abaca Graphite Composite (AGC). Due to an error in communication, I initially thought the speaker was $US19,000/pair, which I thought made it an outstanding buy, to the point that I queried how they could produce a speaker of such high quality for the price. I then I found out that the speaker is actually $US90,000/pair. The Venture VP200D preamp with built-in DAC is $US68,000, and their VP100P phono stage is $US38,000.
Paradigm is a Canadian speaker manufacturer whose products have been mostly in the low-to-moderate price range. This is not about to change, but at TAVES 2016 they introduced a brand new line called Persona, coming in above their Reference line, with all-new drivers (Beryllium is used in both the tweeters and midrange drivers). The top-of-the-line 9H ($CAD39,000/pair) has powered subwoofers (front and back, in a "balanced" configuration), and includes Anthem Room Correction (ARC). The grilles you see in the photo above are not removable; they're part of the design, acting as phase-alignment tools, intended to improve dispersion. Perhaps most surprising is the sensitivity: 96dB, approaching horn territory. A brief listen to the Persona 9H, driven by the new Anthem ST integrated amp ($CAD5000), made me think that, with this new line, Paradigm is moving up to a level of sound quality that their previous products have only hinted at.
I don't know if he would consider himself as such, but Tash Goka (in the photo above) strikes me as an inveterate tweaker, always exploring ways to improve the Reference 3A speakers he designs. When I asked what was new at TAVES, he showed me the back of the Reference 3A Reflector ($USD12,000/pair), which now sports a back panel damper—an addition that will be incorporated all of his speakers.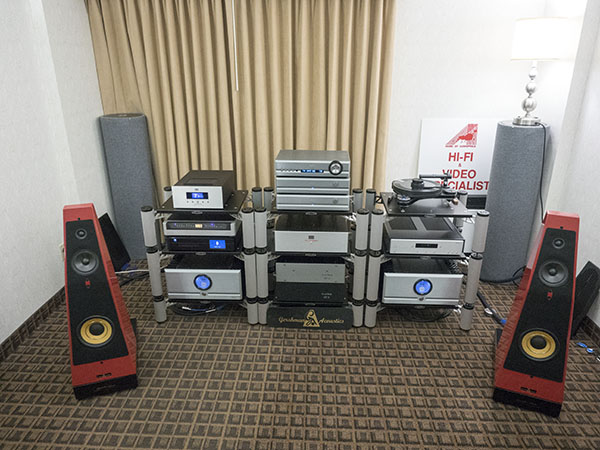 Gershman is another speaker manufacturer that keeps tweaking/refining their offerings. The speakers demoed at TAVES 2016 were the very fine-sounding Grande Avant Garde. Asked if anything was knew with their offerings, Ofra Gershman told me that they have a new felt covering on the front baffle (with, of course, cutouts for the driver). Shades of John Dunlavy…
For lovers of vinyl, TAVES 2016 had lots of LPs for sale: some well-known to audiophiles, and others that are more obscure. Looking through the rack of LPs, I spotted a recording by Cheryl Ladd, the former Charlie's Angel. She looked really good on the album cover, and I recalled vaguely that she had done some musical theater. I went back later, with the idea of buying that record, but, alas, it was gone. There's a lesson in there somewhere.
Canada HiFi magazine has changed its name to Novo, the new name reflecting the broadening of its mandate. Suave Kajko—who, with his partner, Simon Au, is the owner of TAVES—remains as Editor. Here's a photo of some of the women who help make both TAVES and Novo a success.