TAVES Takes Toronto: Day 1
Does marketing work? You betcha! Micah Sheveloff, who handles Bryston for WIRC media, sent me an e-mail reminder of Bryston's presence at TAVES 2016. (Just to be sure that I got the message, he also sent the same e-mail to John Atkinson.) So when I arrived at the show, it seemed only natural that the first exhibit I checked out would be Bryston's.
Bryston is on a roll. After making their reputation with built-like-a-tank power amplifiers, the company followed up with preamps, digital components (DA converters, digital players, etc.), phono stages, speakers, headphone amplifiers, and even a turntable. Don't these guys ever sleep? Apparently not. James Tanner, Bryston's VP of Sales and Marketing, is shown in the photo above proudly displaying the power supply for their new BLP-1 turntable ($CAD3995).
In addition to the BLP-1 and the company's new BCD-3 CD player, Bryston's system featured: the BDP-2 digital player; the top-of-the-line Model T loudspeaker ($CAD7995/pair); Cubed series 7B amps ($CAD5695 each) on the bass and 3B amps ($CAD4995 each) on the mids and tweeters; and the new, long-promised BAX-1 digital crossover ($CAD3495), which has the capability of transforming the Model T loudspeakers into fully-active mode. The BAX-1 accepts an analog signal, which it then converts to digital (96/24) and then back to analog, to drive six channels of amplification (three channels per loudspeaker). The digital processing allows for very fine adjustments to compensate for response non-linearities. The BAX-1 is firmware upgradeable, which can include bass EQ and other new features. Amplifiers other than Bryston's can be used, as long as the channels have equal gain. I've heard the Model T a number of times since its introduction, and I must say the sound at TAVES 2016 was by far the best that I've heard from these speakers: big, seemingly effortless, and with excellent imaging. Alas, the Model T active system requires three power amplifiers, and the price, depending on the amps chosen, ranges from $CAD25K to $CAD40K. But with all that hardware, at least you can see where your money goes.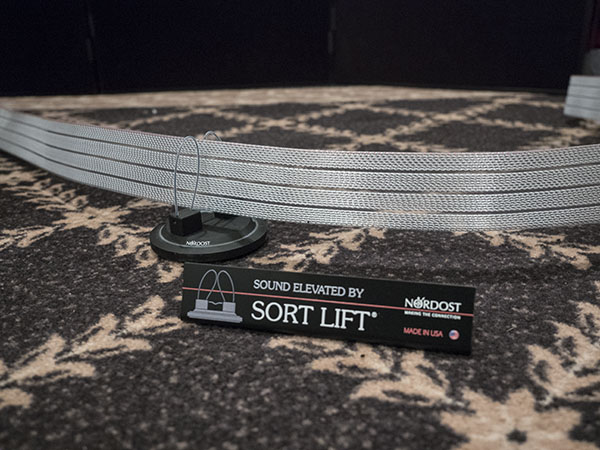 Nordost is another company that sent an e-mail alerting me to the presence of their new products at TAVES 2016. Marketing/Public Relations coordinator Meredith Gabor informed me that Nordost would be introducing two new cables, the Tyr 2 USB 2.0 ($CAD1559.99 for 1m) and Tyr 2 Digital (both AES/EBU and S/PDIF, $CAD1799.99 for 1m). Also on display was a new product category for Nordost: their Sort Lift cable elevator ($CAD719.99/pair), shown above.
Turntables were much in evidence at TAVES 2016. I was particularly heartened by the efforts by some of the top audiophile turntable manufacturers to produce 'tables at prices that are affordable to a broader range of customers, offering great value.
One such manufacturer is Oracle, located in Sherbrooke, Quebec. Until now, Oracle's least expensive turntable/arm combination was the Paris, at $CAD3500 with tonearm but without cartridge. The new Oracle Origine is $US2000, including arm and an Ortofon 2M blue cartridge. Oracle co-owner Jacques Riendeau—on the left in the photo above, alongside Sales Manager Martin Lefebvre and co-owner Stephane Nadeau—told me that he was immensely proud of this turntable, which he says represents everything they've learned in the design and manufacture of more expensive turntables, all the elements combining to produce a player that "just works."
Known for their high-end turntables and arms, VPI Industries introduced another entry in the field of relatively affordable turntables. Called simply the Player, this is an upgraded version of what VPI previously sold as the Nomad. It's a turntable/arm/cartridge (Ortofon 2M Red) combination that includes a phono stage and headphone amplifier. All you need is a set of headphones or a pair of powered speakers, and you have a complete record player.
Loudspeaker manufacturer Totem—credited as a Presenting Sponsor at TAVES—had two adjoining exhibiting spaces, the smaller one featuring their new Sky compact loudspeaker ($CAD1850/pair). The Sky is the replacement for the Totem Model 1, which first established the company's reputation among audiophiles. Like the Model 1, the Sky is a very compact two-way. Designer Vince Bruzzese (shown in the photo above with his baby) claims that the dome tweeter used in the Sky has response extending to 33kHz. I was quite taken with the sound of the Sky (used with a class-A amplifier from BSC Audio, a Naim Audio preamp, and a Torus power line conditioner), which had the crisp dynamics of Totem's more expensive speakers, and bass that seemed to go lower than the claimed 48Hz –3dB. The Sky is said to be unfussy in its placement requirements, performing well on a stand as well as against the wall on a bookshelf.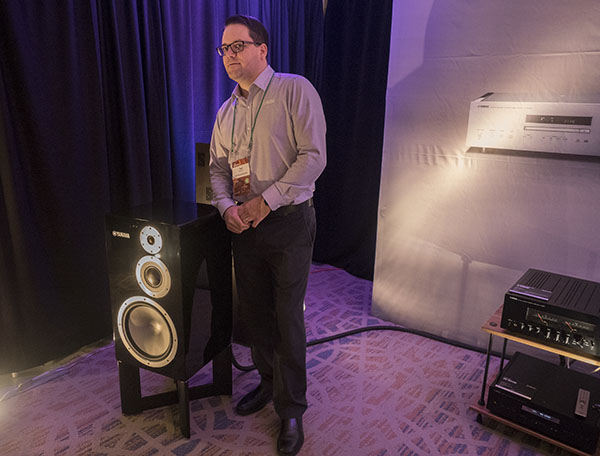 Yamaha, known today mostly for motorcycles and musical instruments, was once a significant player in home audio. Well, Yamaha is back, and, as demonstrated at TAVES 2016, theirs is an auspicious return. Making its North American debut was a system featuring the company's NS 5000 speakers ($US14,999/pair) and AS 3000 integrated amp ($US8999). The drivers in the speaker are said to be the result of extensive development, and use proprietary materials in their construction. And the sound was very good indeed, with clarity and dynamics in spades. (Shown above is Yamaha's Key Accounts Manager and Product Specialist Paul Bawcutt.)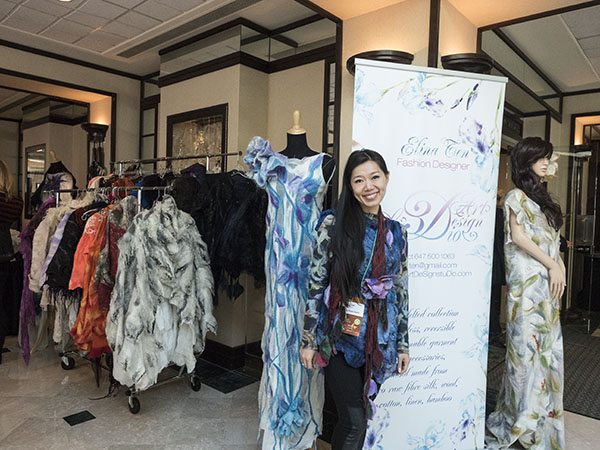 In the past, TAVES has featured the sale of art, in the form of paintings; at TAVES 2016, this took the form of what might be called "wearable art": a booth selling dresses, scarves, and various other fashion accessories, all the work of fashion designer Elina Ten, above.