Soundots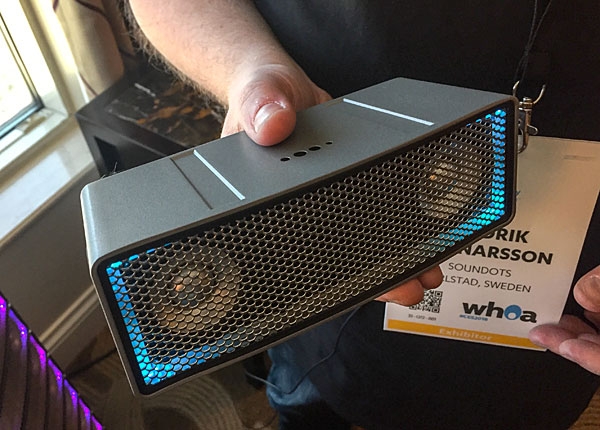 This is hands down my favorite new "Concept of Show". Here is a small powered speaker coming out of Sweden that has some surprising tricks up its sleeve. You can see from the photo that these are not big speakers, but they have a unique method of overcoming this limitation.
"What we have here is a scalable speaker system," Soundots Frederik Gunnarsson begins. "You can scale the performance depending on how many units you put together. You can put them on top of each other . . ." And as Gunnarsson said this he moved two speakers next to each other which then magnetically snapped together and docked, their lights flashing a different color and then turning blue again as they both start playing the same music.
Gunnarsson then explains that "as this happens, the SPL is increasing, and we can push lower in frequency." He then adds a third speaker which does the flash and then starts playing with the other two as the depth of sound increases. The speakers have a hefty feel, are quite well built and inside, the battery is claimed to last up to eight hours. Each speaker costs $290 and is available online now.
How the speakers synchronize is ingenious. If you look closely at the top photo, you can see some dark round dots on the top center of the speaker. The same dots are on the bottom and each side. These are infra-red transmitters/receivers and are how the speakers communicate with each other when they are brought in proximity.
"Each speaker adds a 6dB doubling SPL output," Gunnarsson continues. In the photo below, 66 units are synced and playing in the room, and Gunnarsson says you can add a lot more as they create a mesh-type network. One of the units will act as master and take a Bluetooth or optical input that tops out at 24/192, and then send that signal to all the others.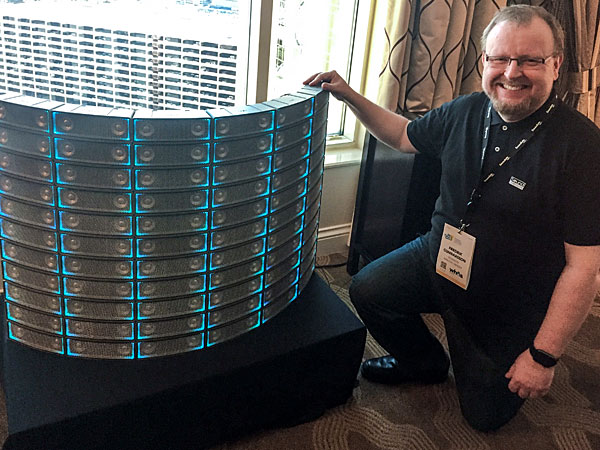 Which all reminds me of an afternoon in the early nineties at our audio store in San Luis Obispo, CA. Near the front we had a wall about 20 feet long and 8 feet high where we displayed the 20-30 portable all-in-one players popular in those days. One slow day, we decided to tune all of their radios to the local college station (KCPR) and crank 'em all the way up. It was a deafening but surprisingly rich sound (and awesome) which we quickly dubbed "The Wall O' Blasters" or "The WOB" for short. Several employees from the Benetton shop next door (we were separated by a 2 foot thick brick wall!) came running over to see what had happened. It was glorious.
Much of this same effect is heard when dozens of these Soundots are stacked up and cranked as a Wall O' Dots (The WOD?). Instead of just a louder version of the single unit, a synergy kicks in that lends a big sound with deeper bass and natural tonality than seems impossible from such small drivers. Stereo imaging doesn't really work in this huge setup, but still, the sound is surprisingly impressive.