T.H.E Show: On Your Mark, Get Set, Go!
Friday morning, May 30, was Day One of T.H.E Show Newport Beach. With the opening bell struck, as it were, by a ribbon-cutting ceremony in the lobby of the Hilton that I miss due to a very slow kitchen at the adjacent Atrium hotel, I dash from hotel to hotel to discover, instead of a frayed red Mylar ribbon or a row of hot, class-A amplifiers, a line of audio hot-rodded classic and contemporary cars.
"The car show folks must be very happy," I think. After several years of finding themselves hidden away in the far reaches of the Hilton courtyard, basically off everyone's beaten path, they're featured front and center, in a location that everyone must pass. Both folks who were attracted to the high-end for its eye candy, high-priced "luxury" aspect—think Robb Report lifestyle—and those who simply love cars lingered and lusted for all three days of the show.
One of many other places they lingered was the Record Collector Vinyl Ballroom in the Atrium. That marketplace may have been a smaller version of the Hilton's two audio software ballrooms, but it did feature, among other vendors, Steve Holt of the Audio Nerd (above).
Steve, formerly of MIT Cables and Light Harmonic, has recently taken over KoolKatJazz.com, a website that offers superb copies of hard-to-find LPs. Of special delight to this opera lover was the discovery of a vintage LP of soprano Eileen Farrell, who post-opera career recorded several superb American Songbook classic albums for Reference Recordings. La Farrell initially astounded the classical world in the 1950s when she released her idiomatically-styled I've Got a Right to Sing the Blues albums, on which she sounded, not like her Wagnerian soprano self, but instead like her other genuine cabaret artist/show-tune self, who was right at home with Duke, Dave, Bill, Thelonious, and the like.
"We sell everything," Steve told me. That includes, of course, products from MIT and Light Harmonic, as well as Garry Lambert's headphone preamp.
"Almost everything," on the other hand, was my nom de plume for T.H.E. Show. That's because I was repeating my 2014 AXPONA marathon as Stereophile's sole blogger. Except that, this time, I had at least 120 active exhibits to cover rather than 70. Knowing that Tyll Hertsens of InnerFidelity.com was also in attendance, and would spend a lot of time with everything headphone-related in T.H.E. Headphonium, T.H.E. Headphonium, Too, and other exhibits (many of which were organized by Michael Mercer), I ignored all the headphones and headphone amps I was dying to audition and instead headed back to the Atrium to take in as many exhibits as I could in one day.
First stop was Muraudio, an Ottawa-based company whose US debut showcased the Domain Omni ESL (above. $58,000/pair for the PX1, or $67,000/pair for the active DA1 that contains 350W Hypex class-D amplifier modules). The world's first 360°, point-source, omnidirectional electrostatic loudspeaker, the Domain Omni ESL PX1 kept international company with Canadian products—Bryston's 7B SST2 monoblock amplifiers and Pre2 preamplifier, and EMM Labs' DAC2X and TSDX Reference CD/SACD transport—and born-in-the USA Nordost Tyr 2 cabling.
Muraudio's PX1 was shown by company principal Murray Harman, who first launched the speaker last November after 10 years of development. The PX1s did a really nice job of allowing me to peer deep into the soundstage on Reference Recordings' version of Rimsky-Korsakov's Dance of the Tumblers. Although the presentation was not highly detailed, and Bryston's warm but somewhat flat sonic signature did not win me over, the speaker's low-bass extension, ability to sound convincing from multiple listening perspectives, and laudable smoothness left me hungry for the opportunity to listen some more.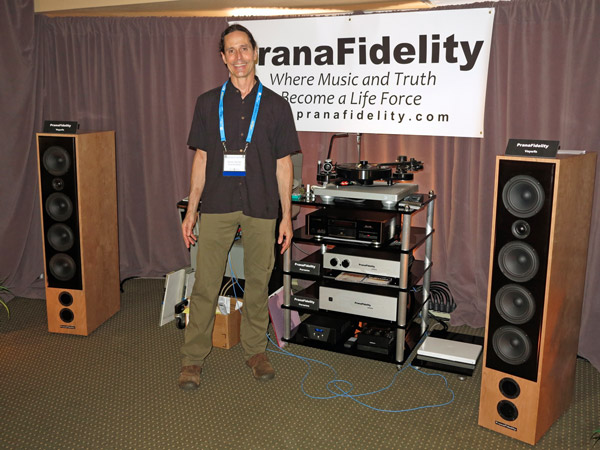 Yogi Steven Norber of PranaFidelity (above) demmed the new production model of the PranaFidelity Vayu/fs, 2-way, quasi–line-array loudspeaker ($6950/pair). With a frequency range of 29Hz—22kHz, 8 ohm impedance, and 89.5dB sensitivity, the Vayu/fs kept company with PranaFidelity's Purna 400W amplifier ($8950) and Purna, full-function, balanced preamplifier ($4500–$9950 depending upon options). Cabling was from Audio Conductors.
Playing Fiona Apple's The Songs of Cy Coleman on a Brinkmann Bardo table with either the Kuzma 4Point arm and Miyajima Kansui cartridge or Graham Phantom Supreme 2 tonearm with Dynavector XV1S cartridge, the sound was lovely and warm. A return visit, which came after a combination of speaker repositioning and port trimming addressed the sonic repercussions of the hotel's overly flexible walls, revealed a gorgeous midrange and fine balance when the speaker's midrange setting was finally moved to "normal."
Perla Audio (above) sounded 5000 times better than it did at Las Vegas, which means very nice indeed. Perla's Signature 50 integrated amplifier ($9000), PRS-2B loudspeaker ($8800/pair) with stands ($2250/pair), Composer USB DAC ($2150), and KESH Reference cable (series 1) threw a really nice, transparent image that hung way high in the room. Alas, when my hybrid SACD of Mahler Symphony 2 was played directly from a computer's internal drive, the system could not produce sufficient volume for symphonic levels. The sound was nonetheless very smooth, albeit not very detailed, dynamic, or tight on the bottom. Verdict: great for extended listening without fatigue.
Santa Cruz-based Piraeus Audio offered up one of Von Karajan's versions of Beethoven Symphony No. 9 on its 750-watt/channel DSP processing engine active loudspeakers with built-in 24/192 DAC (above. $23,500/pair). The sound, to these ears, was rather flat, and lacked the profound bass I expected from timpani.
EAR USA presented the first public showing of the wonderful Marten Coltrane Tenor loudspeakers ($85,000/pair). After listening to some stupid, formulaic techno-babble that showed off the speaker's impressive full range, I endured a bizarre transcription of Mahler vocal music for voice and, OMG, organ. The speaker's mighty low-frequency capability caused everyone to go on a hunt for what was rattling in the room. Sources included EAR's Acute 4/DACute 4 CD/SACD player ($13,000, and no, I have no idea why the name has multiple 4s in it) and EAR Discmaster turntable ($28,000). Also heard: EAR 509 monoblock amplifiers ($15,700/pair), EAR 912 preamplifier ($13,000), Jorma and Waveform Fidelity cabling, and World Power Power Wing AC line conditioner ($2850).
Importers Profundo and Syncopation showed an off the beaten path system that included the Heed Audio Obelisk DT digital transport ($1900); Funk Firm Vector/FXR turntable/tonearm with Transfiguration Axio cartridge ($2450) and Heed Audio Phi phono preamp ($2400); Heed Audio's thesis linestage, power supply, and monoblock amplifiers; Trenner & Friedl Pharoah loudspeakers ($13,000/pair), and Cardas Clear cabling. While the speakers had performed impressively when Dean Peer played through them at the 2013 Rocky Mountain Audio Fest, here the sound was loosely focused, overly warm and smooth, and lacking in detail. I have a feeling we were dealing with first day break-in issues and some very challenging rooms.
Direct from the Munich show, furniture maker Robert Lighton introduced his new statement products: The Robert Lighton Audio Regency 300B integrated amplifier, Essex turntable, and either RL5 or RL8 Monitor loudspeakers ($9200/pair and $17,000/pair). The speakers, which Lighton says are designed "to go really loud," sounded very warm and smooth on a cut from the Chet Baker Trio's Daybreak. Alas, nothing stood out to differentiate Lighton's sound from that of most of the rooms I visited earlier in the day. What was different, however, was that on Shirley Horn's "New York's My Home," Lighton was the only exhibitor to display his love of music by singing along in a volume that might have made sing/grunt alongers Arturo Toscanini and Keith Jarrett blush.