T.H.E Show 2014: Day 3 Morning
Stephen Mejias, formerly of
Stereophile
, now VP of Communications at AudioQuest, performed a most convincing cable comparison using the company's top-of-the-line AudioQuest Diamond Ethernet cable ($695 for 0.75m, $1195 for 1.5m). In a system whose JRiver-equipped MacBook Pro fed CD-quality files to an Audio Research Reference DAC, Audio Research Reference 75 amplifier, and Vandersteen Treos outfitted with a double bi-wire pair of AQ WEL Signature cabling, Roy Orbison's "Crying" sounded one-dimensionally flat and a little bright on top via a generic Ethernet cable. When Stephen switched to the AQ Diamond Ethernet cable, voice and instruments suddenly and dramatically acquired depth, air, dimensionality, and subtlety.
"The sound is more rounded and full," I scribbled gleefully. "Sounds like a different track altogether." At demo's end, Stephen noted that AudioQuest's Ethernet line begins with Pearl ($29/1.5m).
In my second listen to the pairing of Vandersteen Model 7 loudspeakers ($52,000/pair including speaker wire) and Vandersteen M7-HPA monoblock amplifiers (also $52,000/pair), I noted the lovely midrange and wonderful depiction of cymbals and trumpet and Lee Morgan's Tom Cat.
"Thoroughly enjoyable, flows really nicely," I wrote of a listening session overseen by Richard Vandersteen (pictured) and DJ'd by Shane Buettner. Even on CD, the system nailed the air and depth of the orchestra. While the sound was very non-fatiguing, the loudspeakers' powered bass didn't fully define the bottom line of double basses in my recording of Mahler's Symphony 2. I've also heard richer sounding cellos. But overall, the presentation was quite excellent."
The liquid-cooled M7-HPAs are high-pass amps designed specifically to handle 100Hz and up on the Vandersteen 7s and Quattro 5A Carbons. Sharing the honors were Audio Research's Reference 10 preamplifier ($30,000), Reference Phono 10 phono stage ($30,000), and Reference CD9 transport/DAC ($13,000); a Basis Inspiration table with Lyra Atlas cartridge, Harmonic Resolution Systems stands and bases, and AudioQuest cabling.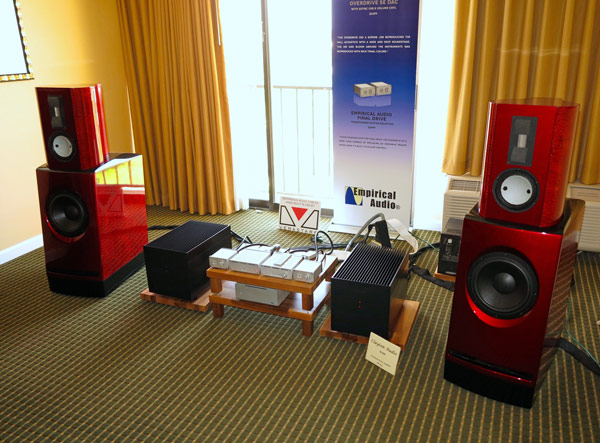 As I soon discovered in the Vapor Audio room, don't try to evaluate music sourced from the Antipodes DV music server ($3990) while it's in the midst of ripping files, because sound is compromised. Once the task was completed, a 24/192 reduction of Ivan Fischer's DSD recording of Mahler Symphony 4 exhibited fabulous depth and air, and Shelby Lynne's voice was again worth lovin'.
A listen to Reference Recordings' Rachmaninoff Symphonic Dances also showcased the excellent, full-range sound and engaging depth produced by Vapor Audio Joule White loudspeakers ($12,995/pair). Also heard: Clayton Audio M300 monoblocks ($16,500/pair), DAC conversion via Empirical Audio's Overdrive ($6399) and Short Block USB filter ($199), a Final Drive Transformer Buffer ($2999), VH Audio Plasmatron power conditioning ($4000), cabling from Antipodes and Verastarr, and Hi-Fi Racks racks.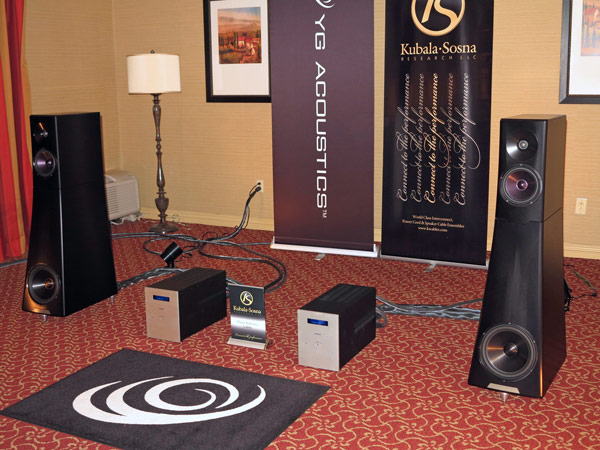 The pairing of YG Acoustics Hailey loudspeakers ($42,800/pair) with Audionet's new MAX monoblocks ($30,500/pair), PRE G2 preamp ($23,350), and DNC streaming DAC ($10,100) was an absolute winner. Through a Kronos Limited Edition turntable and Black Beauty tonearm ($40,000 total) with unspecified cartridge, and Kubala•Sosna's Xpander power distribution box ($4800 and Elation! Cabling, the vinyl version of Count Basie's 88 Basin Street sounded exceptionally warm and full, with realistic piano timbres. Sound was also extended in all directions, and left me feeling as though I was hearing all Basie's recording engineer(s) had hoped music lovers would hear.
A 45 rpm pressing of de Falla's Three Cornered Hat, conducted by Ansermet, delivered fabulous depth and a warmer sound that I had previously heard from YG loudspeakers. This was definitely one of the finer systems at T.H.E. Show Newport Beach.
Yet another winner came via Dynamic Design AV Anniversary Edition 15 Series cabling, which together with Stillpoints Aperture Acoustic Room treatment ($600/2x2 panel), produced the most liquid sound I've ever heard from ModWright electronics. Johnny Hartmann's voice sounded simply fabulous, and playback of Reference Recordings' Fiesta LP was distinguished by outstanding depth.
The system also included ModWright Instruments' flagship electronics, new modified Sony HAP-Z1ES music server, and modified tubed Oppo BDP-105; Annalyric Systems AC-8 AC conditioner ($1800), and Marten Getz loudspeakers ($20,000/pair), and a Helius Alexia turntable/tonearm with Scantech Helikon cartridge. Note that the Stillpoints panels are claimed to act as an all-in-one resonator/absorber/diffusor, and are said to self-regulate depending upon volume.
In the Nordost room, the company demmed its new Heimdall 2 headphone cable ($799/2m with adapters) on both Sennheiser HD800 and Audeze LCD-3 headphones connected to an Auralic Gemini headphone amp. As eager as I was to hear the difference—I'll try listening at home on Audeze LCD-2 headphones—time necessitated that I leave the comparison to Tyll Hertsens of InnerFidelity.com, and instead investigate Nordost's new Blue Heaven ($214.99/1m) and Heimdall 2 ($459/1m) iKables. Available in various configurations, the iKables are designed for portable players, iPhones, and anything with a mini-output.
Compared to a generic cable transmitting a 24/192 conversion of a DSD file of the LA 4 through an Astell&Kern 120 player, Valhalla 2 cabling, and Nola KO loudspeakers equipped with Nordost Sort Füt loudspeaker footers, the Blue Heaven iKable delivered a lot more harmonics on guitar, and sounded rounder, fuller, and smoother. The Heimdall 2's sound was even cleaner, clearer, and more impactful, to the point where I felt I could finally hear the leading pluck of the guitar's strings before the full body of sound commanded my attention. A return to the generic cable confirmed how shallow its presentation was. A second, equally convincing comparison on a track by Leonard Cohen confirmed that the Heimdall 2 iKable delivered the warmest, smoothest, and fullest sound of the lot, with lots more delicious height, depth, and width to the presentation.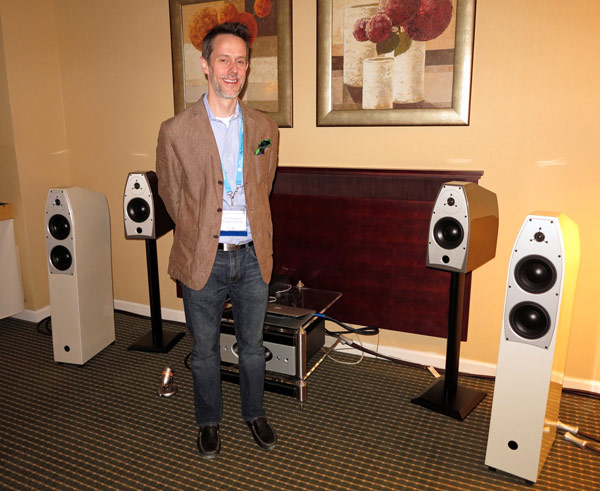 Jim Thompson of EgglestonWorks was on hand to show off his new Emma loudspeaker ($4000/pair) and Nico bookshelfs ($3000/pair). Both are entry-level loudspeakers that use proprietary drivers, and whose front ports are designed to work well in smaller rooms. The Emmas delivered very neutral and smooth sound via a Rogue Pharoah amplifier, Hegel DAC, and Hemingway cabling. Percussion on a track of dubious musical value from an Usher CD sampler was also quite impressive, albeit a mite toned down on top.
Albert von Schweikert has of late been towing his imposing VR 100 XS loudspeakers ($140,000/pair including two subwoofers) to shows. When paired with Constellation Audio's Centaur 500 monoblocks and what may have been a Virgo II preamp, a custom Esoteric CD player, and Master Built cabling, I noted how lovely, crystalline, and pure the highs of Myung Whun Chung's piano sounded. Bass, however, seemed a bit disconnected, perhaps because of my proximity to the speakers in such a small room, and the midrange lacked the last iota of liquidity. Regardless, subtle dynamic contrasts that are often glossed over by lesser speakers and electronics were delivered with notable excellence, making for an exceedingly musical presentation.
In the first of two rooms from Audio Skies of California, GamuT RS5 loudspeakers, electronics and cabling may have sounded a little gray in the midrange and bass in the Hilton, but their bass was exceedingly profound, and they came to life higher up. On an orchestral recording whose title I didn't note because the exhibitor was scribbling a component list in my notebook while I listened, the triangle sounded quite fine, and the spatial presentation was excellent. Doing the honors were GamuT's RS5 loudspeakers ($36,900/pair), M250i monoblocks ($12,300/pair), D3i preamp ($9990), and CD3 CD player ($8830), as well as Wormhole cabling. I'm not sure I heard the Kid Thomas turntable/Pear Audio Blue tonearm/Ortofon cartridge/Lehman phono stage combo.