T.H.E Show 2014: Day 1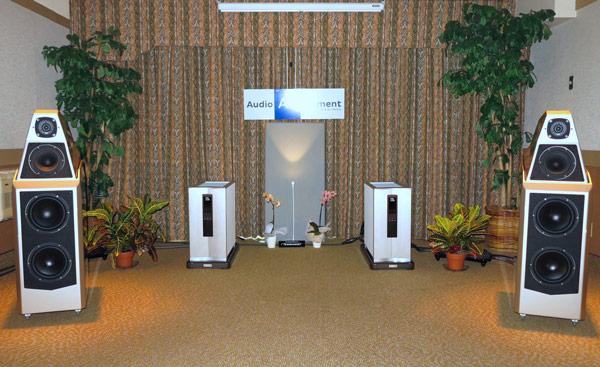 Entering the first of four rooms sponsored by Brian Berdan's Audio Element of Pasadena felt like coming home. Not only was I among familiar friends—Wilson Audio Sasha Series 2 loudspeakers ($29,950/pair); mighty VTL Siegfried Reference monoblocks Series II ($65,000/pair), accompanied by VTL's TL-7.5 Reference line preamplifier Series III ($25,000) and TP-6.5 Signature phono stage ($12,000); dCS four-stack, state-of-the-art Vivaldi Digital Playback System ($108,996 total); Transparent Opus MM and Reference cables ($105,500 total); Grand Prix Audio Silverstone 4-shelf Isolation system ($19,175), Monaco-5 shelf Isolation system ($8400), and Formula Platforms ($6900); Audience AdeptResponse aR12TSS power conditioner ($11,545); and, a bit less familiar, Grand Prix Audio Monaco 1.5 turntable ($23,500) with new Tri-Planar SE tonearm ($7500) and luscious Lyra Etna cartridge ($6995)—but I also finally heard a quality of musical presentation that decades upon decades of attending live performance have led me to hunger for.
"Needed my fix so bad," I wrote in my notes. "Gorgeous, airy, real sound. It may be a touch warm, but the difference between this and the other setups I've heard is musical truth."
Thanks be to Peter McGrath, whose playlist of 88.2/24 master recordings began with soprano Lauren Snouffer, 26, singing the heavenly Benedictus from Schubert's Mass in G. (I believe I sang this mass in high school, feeling like a fool while trying to smile the way my mother insisted I smile during singing.) The detail the system conveyed on massed voices was marvelous. I heard more color and magic in this room, and far less artificial shine, than in the sum total of the eight or so rooms that preceded it.
At last having visited musical paradise, it was time to balance spiritual fulfillment with physical sustenance. Trying to ignore the fact that, on this particular day, the Hilton's chef had decided that vegetables are a dispensable commodity, I chose for dessert the truly fabulous, teasing voice of Nina Storey. Sponsored by darTZeel, what a show Ms. Storey put on at Atrium Poolside. I wish I could have stayed to give you a full report, but it's easier for you to catch her in action on YouTube or, even better, her own site, than to hear many of the systems combos assembled in Newport Beach. So back to the Atrium's second floor I headed, where I entered. . .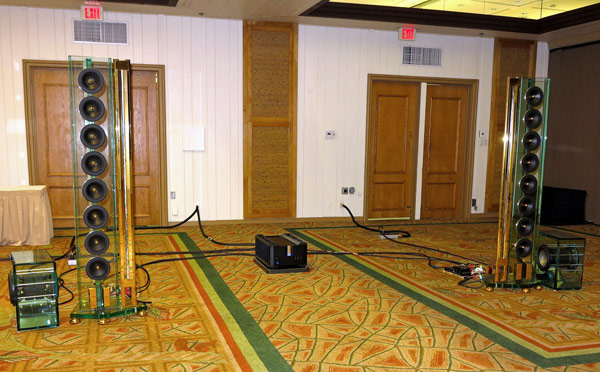 . . . the oversized room shared by the Perfect8 The Force loudspeakers ($350,000/pair, complete with four DSP-controlled powered subwoofers, two of which were in use); BAlabo BP-1 Mk.II power amplifier ($88,500), BC-1 Mk.II linestage Control amplifier ($67,500), BD-1 DAC ($37,500), and MS-1 music server ($8500); Zanden 2000P CD transport ($33,500) and Model 120 phonostage ($7500); Bergmann Sleipner linear-tracking turntable ($63,000); cabling from Perfect8, Hemingway, Argento, and Stage III; HB Cable Design Powerslave Marble power distribution center ($8995); and equipment stands from Perfect8 and Grand Prix.
With Perfect8's Jonas Räntilä serving as DJ, the sound was least brittle in the front row. Nonetheless, LPs of music by Rachmaninoff and Rimsky-Korsakov sounded somewhat off, with thuddy bass and the lack of the tonal underbelly that completes the sonic picture and supplies essential warmth. The music server's depiction of a Red Book track had a bit more tonal bottom, but still sounded wiry on top. I'd like to chalk it up to the impossible room.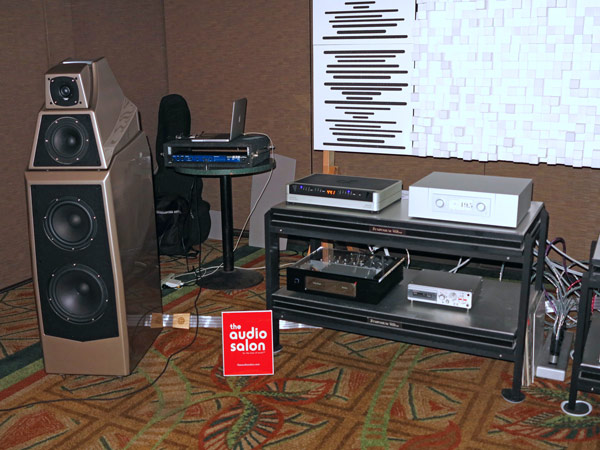 "Wonderful midrange, very strong, extremely grounded and illumined," I wrote of the room assembled by Maier Shadi of The Audio Salon, Santa Monica. Maier paired Wilson Audio Alexia loudspeakers in custom Desert Silver ($52,500/pair) with Constellation Audio's Inspiration Series 1.0 preamplifier ($9,000) and 1.0 monoblocks ($20,000/pair).
On the digital end, the world premiere of Berkeley Audio Design's Reference Series Alpha DAC ($14,000) was complemented by the Aurender W20 Music Server ($17,000) and Nagra CDC ($19,000). Analog came courtesy of the excellent Spiral Groove SG 1.1 and Centroid arm ($36,000) with Brinkmann EMT Cartridge ($5,000) and Constellation Performance Series Perseus phono preamp ($27,000). Cabling was Nordost's equally excellent Valhalla 2, complete with Nordost QB8 power distributor. Acoustic control came via Audio Salon's Acoustic System with Vicoustic Panels ($9000).
Despite some ringing on the voice of tenor Vittorio Grigolo, and a slightly exaggerated midrange, this setup produced wonderful sound. Imaging was fabulous on a 24/96 track from Fleetwood Mac's Rumours, played via the Aurender server, although the bottom was a little dry and powdery. "Overall, so much is very, very right" I wrote of an extremely challenging room whose sound reportedly improved on the last day after a few more panels were added to the ceiling and the Audio Salon Kilovolt 7.5 Power and Grounding System ($10,000) cleaned up the hotel's dirty power.
Here's a close-up of the very first Berkeley Audio Design Reference Series Alpha DAC ($14,000) ever played in public.
Given that I had so many rooms to cover, and Wilson loudspeakers were in multiple exhibits (including those from Sunil Merchant's Sunny Components of Covina), I skipped over few of them. But I couldn't resist snapping a photo of this Sasha 2 in custom Rosso Corsa, aka Ferrari Racing Red ($31,850/pair).
One of the big attractions at T.H.E. Show involved Stillpoints' claim that their new 14 lb Aperture Room Treatments ($650/panel, which can be covered with the art of your choice for an extra $200–$250), are so effective that they could tame reverberations in the Atrium's sonically impossible Sunset Lounge. While I could hear no reverberation or glassy harshness in the space, what I did hear was flat, washed out, and monotone gray. However, given that the Apertures seemed highly effective with the different, vibrantly-colored equipment I heard on Day Three in Dynamic Design's difficult-to-control standard size room at the Hilton, I'm pretty certain what I was hearing in the Sunset Lounge was the sonic signature of Astell&Kern's diminutive Castor loudspeakers ($25,000/pair), Cube One 300B amplifier ($11,000), and brand new 500N Network music player ($10,000–$12,000).
Courtesy of Audio Element, I visited a second Wilson Audio Alexia ($48,500/pair) set-up because it included the US premiere of Aesthetix's Metis linestage preamplifier ($20,000) and Romulus Signature CD player w/DAC ($10,000), as well as Grand Prix Audio's new Woodcote shelves and amp stands ($3875 for 9-shelf rack, $1500 for an amp stand). Together with Aesthetix Atlas monoblocks ($16,000/pair) and, on the analog end, a complete Clearaudio Master Innovation turntable set-up ($61,300) with new Graham Phantom Elite 10" tonearm ($12,500), the imaging was fabulous on an Alison Krauss CD, but there was also a bright edge to the voice and some unfortunate bass booming.
In yet another Audio Element room, Ayre's new MX-R Twenty monoblocks ($29,900/pair), KX-R Twenty preamplifier ($27,500) and QB-9 DSD DAC ($3250) complemented the US premiere of AMG's phono preamplifier ($5000), Viella 12 turntable ($16,500), new Teatro MC cartridge ($2000), and Reference tonearm cable ($1500). Speakers were the gorgeous Sonus Faber Elipsa SE ($22,900/pair), cables Cardas Audio Clear, racks Grand Prix Audio Monaco, and power conditioner Audience AdeptResponse R6TSS ($7550).
Even though my focus was digital—I attempted, admittedly unsuccessfully, to leave analog coverage to Michael Fremer—Musical Surroundings' Garth Leerer insisted on going the LP route. Thus I heard an audiophile pressing of the awful Dallas Symphony Orchestra Turnabout issue of Rachmaninoff's Symphonic Dances, conducted by Johanos. I am well aware that others I respect have praised this recording, but it not only plods along at a lugubrious tempo, but also makes a large orchestra sound like a handful of players. Ugh.
Garth also played an LP of Söderström and Ashkenazy performing Rachmaninoff. The soprano's midrange seemed a bit disconnected from her top, with a slight dryness in the middle that I did not expect to encounter.
In the Acapella room, soprano Elly Ameling initially sounded heavenly, with an extremely warm, nurturing, and all-embracing midrange that flattered the orchestra on Edo de Waart's recording of Grieg's Peer Gynt. Alas, once dynamics increased, major distortion set in all around. The tremendous space on Mercedes Sosa's recording of the Misa Criolla was quite enjoyable until, once again, the music became more dynamic and distortion ruined the presentation. Heard were Acapella's Atlas loudspeaker with Ion Tweeter TW 1 ($98,000/pair) and LaMusika hybrid amplifier ($116,000), fed by an EMM Labs CD player. I'd like to think the room's small dimensions were the culprit.
Volti Audio's five-piece Vittora loudspeaker system ($25,000), which comes complete with an extended low-frequency cabinet that includes an 18" down-firing driver, was making music with BorderPatrol Audio's S10 EXC + EXS PSU 9Wpc, 300B SET dual-mono amplifier ($25,750 total), Control Unit EXC triode line stage with EXD ($16,250 total), and DAC2 ($9750). Cabling was from Triode Wire. One of Stereophile's runner-ups for 2013 Loudspeaker of the Year, and rated Class A (Restricted Extreme LF), the Volti system had a very natural sound that, at least with these electronics, couldn't quite convey the bottom bass line in Ivan Fischer's recording of Mahler Symphony 2.
Highs were very fine, but lacked the air and transparency I would expect from equipment in this price range. "I feel removed from the experience," I wrote in my notes. While there was no hard edge on the top of tenor Vittorio Grigolo's ringing voice, there was a slight disconnect between it and his midrange.
Angel City Audio of Rancho Cucamonga showed a system whose ACA Trinity loudspeakers ($3500/pair) included a newly repaired crossover that was not broken in. Perhaps that, together with the brand new Onix OC 130 CD player ($13,399) and hardly broken MN845 monoblocks ($13,500/pair), accounted for the treble distortion I heard. A Melody Pure Black 101 preamp ($5000), MG Audio Design cabling, and Spiritual Audio VX-9 power conditioner ($3000) completed the chain.
One of the most unusual encounters I've ever had at a show came at the end of a demo of Magnepan's not yet available MG.7 loudspeakers ($TBD). A replacement for the MG 12, the .7s sounded quite lovely with a Bryston SP-2 amplifier and either a Pioneer or Denon CD player. Thanks in part to a hidden center channel that Wendell Diller of Magnepan often fails to point out, and which I had forgotten about until a member of the Bay Area Audiophile Society mentioned it during our Saturday night dinner, the small system's really gorgeous highs and slightly muffled bottom exhibited impressive dynamic range.
No sooner had the music ended than Diller launched into an out-of-left-field, totally inappropriate rap about how people claim that Stereophile hates Magnepan. Note that this occurred, not in private, but rather in the middle of a public demo that included Paul Seydor of The Absolute Sound (who chimed in with something like, "Well, so and so of TAS loves Magnepans").
As has previously been discussed in the pages of Stereophile, this magazine does not currently review Magnepan loudspeakers. That's not out of choice, but rather because, as Diller himself acknowledged during his rap, he chooses not to supply them to the magazine's reviewers because, when John Atkinson measures them, they do not measure well. [Actually, while this is something I have suspected, Wendell Diller's prior public statements were that he did not want me to measure Magnepan speakers because doing so would reveal proprietary information.—JA]
Why Diller is getting so bent out of shape by ill-informed gossip on forums is beyond me. After staring in disbelief at Diller while he went on for a good minute or two, and interrupting only to ask, "Why are you telling me this?", both Seydor and I stood up, told him that neither of us bothers with forums, and left the room.
OMG. Was it really 6pm? Yessiree. With just enough time to head back to my room before dinner, I found my journey accompanied by Dean Peer's peerless bass guitar and drummer Bret Mann's empathetic percussion.